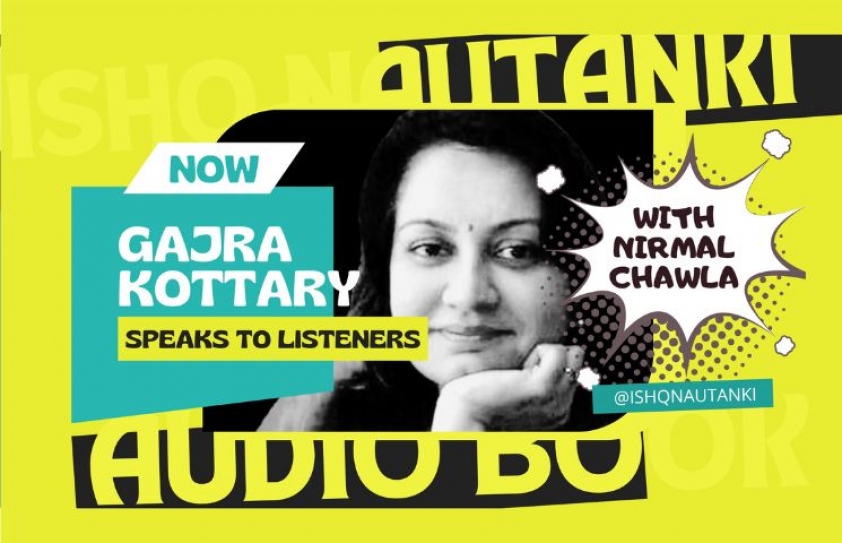 NOW GAJRA KOTTARY SPEAKS TO VIEWERS, READERS & LISTENERS
by Shantanu Ray Chaudhuri
January 16 2023, 12:00 am
Estimated Reading Time: 10 mins, 39 secs
The versatile author and screenwriter Gajra Kottary spoke to Shantanu Ray Chaudhuri on the demands of an audiobook as distinct from the printed word, and on collaborating long-distance with her sister-in-law Nirmal Chawla, without fighting with her.
Even as Na Umra Ki Seema Ho continues its popular run, Gajra Kottary is out with Ishq Nautanki, an audiobook in Hindi that takes into its sweep aspects of the generational gap and the age-old debate on theatre vs film, within the ambit of a romantic novel.
'Everything is fair in love and war.' 'Victory is more important than the truth.' Sameer is your quintessential Zen Z-er. An aspiring Bollywood actor who kind of believes in winging his way through, supremely confident and somewhat disdainful of the proper/right way of doing things. When his mother, Anindita, a veteran theatre artist, suffers a heart attack, leaving her group on the verge of being rendered ineffectual with the rise of new-age theatre groups like Epic Blossoms, Sameer thinks nothing of 'infiltrating' the latter with a view to ruining it from the inside. He has however not reckoned with Paddy, who runs Blossoms, and in whom Sameer meets more than his match. Queering the pitch for him is Paddy's 'past' with Anindita. And Sameer is up for the act of his life.
What makes Ishq Nautanki an interesting project for me – apart from the fact that this is my first experience of an audiobook – is the collaborative nature of the work between Gajra and her sister-in-law, Nirmal Chawla.
As Nirmal Chawla says, 'Writing is not my profession. It is a hobby. Until 2004 I had no idea that I could be creative. It all started with Gajra requesting me to help her with writing the screenplay of one of the serials she had taken up at that time. Her encouragement motivated me to explore this hidden skill of mine and I continued assisting her. The interesting part was that we communicated for hours together on the phone. This strengthened our understanding about each other's thought processes, leading to a beautiful Nanand-Bhabhi rishta where both are unconditionally supportive of each other. Interestingly this sounds unrealistic in our society where sisters-in-law are supposed to be naturally and traditionally antagonistic.
An independent writer in her own right, with a book on marriage, Jab Karni Ho Baat Pakki, to her credit, Nirmal Chawla is now working on a biography of her father-in-law, the well-known classical maestro Pandit Amarnath. Ishq Nautanki though is not her first collaboration with Gajra. They have previously written the novel Kora Kagaz together. However, the audiobook was a new format for her. 'The writing style for an audiobook is different from writing for the print/visual media as one cannot be descriptive in the former. The dialogues have to convey the feelings and motivations, filling in for the written expression. But writing Ishq Nautanki was fun. Though Gajra and I hardly met during the process, we used to have long telephonic discussions about chapter plans, specifications about each character and how the scenes would evolve. I then wrote out the chapters and mailed them to Gajra for approval.'
Shantanu Ray Chaudhuri: Tell us something about how Ishq Nautanki originated as an idea?
Gajra Kottary: About five years ago my son Advait decided to quit his prestigious new engineering job to pursue a career in acting. He was selected as the lead, Jaan, in Wizcraft's Bollywood musical Jaan-e-Jigar at Bollywood Parks in Dubai. It was a grand musical and as both a proud and curious mother I watched the show many times. I also heard so much about the behind-the-scenes goings-on – the angst, the heartaches, the controversies and the creative differences. What stood out for me at a generic level was that all the actors had their skills honed by theatre, but dreamt of being in films, and that hardcore theatre persons looked down on films. And then of course there were types and types of theatre… I began to feel that this was a world that hadn't been captured for the layperson, and yet it might be fascinating for them to know about. I began to make notes about some of these people, whom I then used as characters in the audiobook.
The character of Sameer, for example, is modelled after Advait, a protected city boy who wants to make it big in Bollywood, and who gets a reality check, both in terms of his craft as well as his ideas about the world, after being forced into the world of theatre. I would like to believe that Advait loves his mother, as much as Sameer loves his mother Anindita!
I penned a basic synopsis and it was picked out by Storytel from among a few that I had offered to do as audiobooks.
Shantanu Ray Chaudhuri: You share the credits with Nirmal Chawla – what was the division of work like?
Gajra Kottary: Nirmal Chawla happens to be my sister-in-law (my brother's wife) and she is extremely rooted with Hindi as a language. She has assisted me on some of my TV projects and we enjoyed working together. We published a Hindi novel called Kora Kagaz with Prabhat Publishers some years ago, so this is our second novel but first audiobook together. She is based in Delhi and reads and writes a lot, only in Hindi. Since this was an offer to write in Hindi, I thought of collaborating with her.
The world of theatre was a relatively alien world for her. While I am in the thick of the entertainment industry here in Mumbai, she had all the time and patience that goes into penning the book. We would either meet or have long discussions on the phone (due to the COVID scenario). First, we planned the chapters together, then all the scenes within a chapter, etc. She would then write the script of each chapter and I would finalise it. Sisters-in-law are supposed to fight, not write with each other… but she just does not fight with me…
Shantanu Ray Chaudhuri: Did you think of this as originating as an audiobook or did you have a written format in mind to begin with?
Gajra Kottary: No, it wasn't planned as an audiobook to start with. It was a good subject and turned out interesting even as a synopsis, which is why it was picked by Storytel. But then I had not conceived it as a print book either. But I do want to see it on screen one day as it does lend itself to a good visual treatment. Hopefully after the audiobook is heard and visualised it will get picked up.
Shantanu Ray Chaudhuri What is the extent of author involvement in an audiobook? Do you create the 'radio' play or do you just provide the story and leave the structure to someone else?
Gajra Kottary: The onus of the complete script in terms of basic content is with the authors. They have of course edited the script as per their requirements, but not drastically so. Once we gave them the script and they okayed it, they took over completely. From the recording to the editing and sound effects and now the marketing. They take over and take complete charge.
Shantanu Ray Chaudhuri: Listening to the story, one gets a sense of how an audiobook differs from the written word – there's little scope for getting the 'ambience', the background details – character descriptions, the locations (which the written text will capture). There's one bit that I found intriguing: Anindita's room is described in some detail at one point. But not others. There's the narrator, for example, who is setting the ground for the action so to speak. I bring this out to ask: how does an author overcome these limitations (if they are limitations indeed) of the audio format?
Gajra Kottary: The comparatively fleeting or the ephemeral character of listening to an audiobook makes the writing challenging in its own way. Unlike my TV shows where the producer might fire me for writing in difficult or grand locations, here it's available for free – likhne our bolne mein kya jaata hai? But the point is, how much of detailing will make a difference to the listener in their perception of a story, character or situation. It is more important to trigger the right 'feeling' in the listener as much as the viewer. Information is much more important if it is in print.
Your point about describing Anindita's room in detail and not the others is pertinent. It is simply because it will have a role to play in terms of relationships past and present. Otherwise, we refrained from too many descriptions that weigh down the listener. I have to admit that listening to an audiobook is not as captive an experience as watching a movie or show, or for that matter reading a book, so one has to budget for people being more distracted and divided in their attention while listening.
Also, I am figuring out the finer differences between an audiobook and an audio series. An audiobook is still a bit more descriptive even if it is through a narrator, as compared to an audio series which I believe is like listening to a film.
Shantanu Ray Chaudhuri: Are you involved with the selection of voice artists, because that is an aspect that can make or break an audiobook – I, for example, found Govind's voice a little off-putting, not organic in the way some of the other voices are. Or, for that matter, that bit with Sameer's house-help and his reactions when Sameer is dressing down with cheap deodorant. Would you, as someone who has been in the AV industry for a long time, have a say in that?
Gajra Kottary: I had absolutely no involvement with the selection of voice artists. In an ideal world, authors should have a say, but it does not always happen.
Shantanu Ray Chaudhuri: As someone who has had other works out in the audio format, and someone who has also had a number of novels and story collections to her credit, your thoughts on the pros and cons of one vis-à-vis the other.
Gajra Kottary: The printed word should and will always carry a lot more respect, weight and importance, and legitimately so. Audiobooks are an innovation – in fact some are pure audiobooks – read-out versions of books, and then over the years original and specially designed audiobooks have come into existence. I find the original audiobooks to be closer to my audio-visual series than books, so I need to include a lot more drama and emotion into the telling than if I were to write a pure book. Frankly I would prefer to write the traditional book as there I could be myself – I could be more spontaneous than try and 'design' it. But given the dwindling number of traditional readers of fiction, as compared to the number of people subscribing to audio fiction books, I would like to write some more audiobooks too. It is also a medium one should use more often to tell stories that might otherwise be difficult to find takers for.
Shantanu Ray Chaudhuri: Finally, this marks a change of pace for you as an author. Your novels have always been fraught narratives with very serious undertones. This seems to be like 'Gajra Kottary at play'. Was that a conscious decision or was there any particular factor influencing it.
Gajra Kottary: Ha ha ha … that's an interesting way to put it, Gajra Kottary at play! Yes, I haven't written too much romance, especially romance centering around today's youngsters. So, I wanted to take on this challenge – in that sense it was a conscious choice. After all, it does get tiring being 'significant' all the time.
Having said that, I seem to have developed this image more from my TV shows than my novels, and even then, I am not complaining. It's just that I believe that if one is telling a youthful and romantic story, one can sneak in the author's voice about the changing world and its value systems or include inspirational characters who swim against the tide. Or simply chart out the journey of a young man like Sameer who falls in love and becomes a better human being and a better performer.