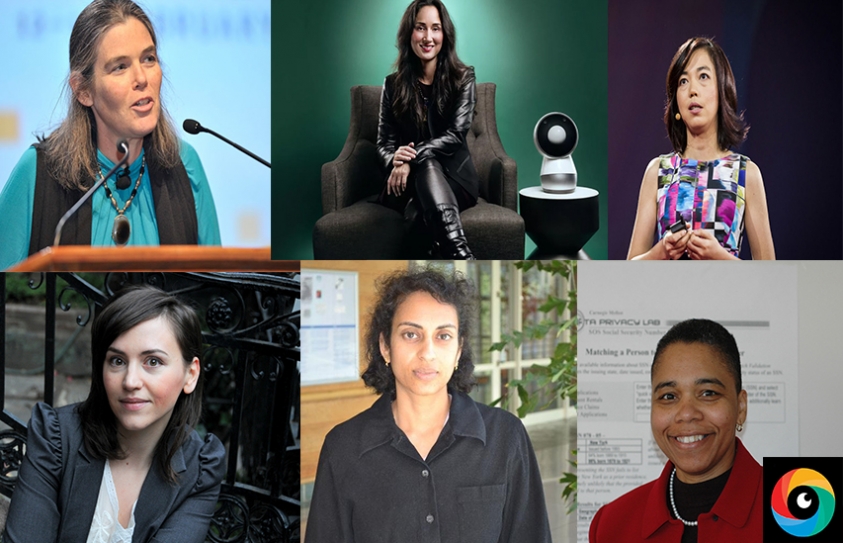 Exponential Impacts: Women Tech Enthusiasts Chip In For Artificial Intelligence
by Shubhangi Jena
July 20 2017, 4:51 pm
"Success in creating full Artificial Intelligence would be the greatest event in human history."
-Stephen Hawking.
The tech industry is brimming with scientific advancements as to what makes artificial intelligence tick. With AI and women empowerment both being the zeitgeist of the moment, the science world is witnessing many female torch-bearers for the same. Artificial Intelligence is the Holy Grail for all the researchers and tech geeks across the world. Breakthroughs occur when many blazed trails are clubbed together and are packaged neatly out into the material world for adoption.
Recently, Forbes Inc. has released a brief scoop of some of the female researchers which defies all common notions that there is a limit to the depth into which a feminine mind's curiosity can seep into. The profile of these leading researchers is not a comprehensive compilation, yet utterly compelling.
Roll Of Honor:
Fei Fei Li:
Fei Fei Li is a renowned academic in computer vision who has recently joined Google Cloud as Chief Scientist of Artificial Intelligence & Machine Learning. She continues to hold her position as an Associate Professor at Stanford and holds high her mission of "democratizing AI." Li has published over 150 scientific research papers and has a groundbreaking invention to her name- ImageNet. The ImageNet is a 15 million image dataset aimed at contributing to the newest developments in in-depth research and AI.
"We all have a responsibility to make sure everyone - including companies, governments and researchers - develop AI with diversity in mind," believes Fei-Fei Li. She also points out that restricting talent to academia inhibits creativity and innovation. In keeping in dialogue with this mentality, she also has her own non-profit organization named AI4ALL which undertakes K-12 educational programs for underrepresented groups in AI.
Daphne Koller:
Remember the blue graphics being promoted on Instagram called Coursera which provides an array of courses for the inquisitive thirst? No ringing bells yet? Daphne Koller is the co-founder of Coursera- the world's largest online education platform and is currently the Chief Computing officer at Calico Labs, an Alphabet(Google) R&D company. At Calico Labs, Koller is studying the biology of aging and developing interventions for longer and healthier lives.
Speaking about Coursera insights, out of all the learners who enrolled, 29% reported tangible benefits. Mainly for the underprivileged students with a low socio-economic background, the statistics count spiked to 48% .
Cynthia Breazeal
Cynthia Breazeal stands apart as a world renowned trailblazer in social robotics. She juggles her roles efficiently as an Associate Professor at MIT and Founder and Chief Scientist of Jibo, a personal robotics company.
Cynthia had to however face the brunt of skepticism during the initial stage. During those days robots were considered as industrial and physical tools rather than social and economic companions. Her first social robot Kismet was mockingly addressed as 'useless' by a popular press. Yet Cynthia kept clinging to her dreams and faith and emerged to be successful. She hopes her works and influence will ignite flames of curiosity in other young minds to craft robots "not only with smarts, but with heart, too."
Latanya Sweeney
Latanya Sweeney is a Professor of Government and Technology at Harvard. Another feather to her cap is her responsibility as the Director of Harvard's Data Privacy Lab. Latanya's responsibility is to tackle the challenges of security, privacy and bias in personal data and machine learning algorithms.
Sweeney's research has brought to light a lingering outrageous absurdity- the discrimination in online advertising, where internet searches of names "racially associated" with the black community are 25% more likely to yield sponsored ads suggesting that a person has a criminal record, which is in contradiction to the truth.
Ayse Naz Erkan
Ayse Naz Erkan is the data scientist at Twitter. Originally from Istanbul Erkan moved to the U.S. with lofty dreams in her eyes. She defines her 'startup days' as "incredibly life-changing"; accrediting her problem solving skills and pragmatism to these days. Currently she is leading the Content Understanding and Applied Deep Learning team at Twitter. She has worked to make this social platform and people's engagements through Twitter a 'safer place'.
Erkan comments, "Working on hate speech and abuse with Twitter data was quite exciting. "Especially witnessing first-hand how machine learning is impacting public communication design."
Rama Akkiraju
Rama Akkiraju has an impressive title to her name, "Distinguished Engineer and Master Inventor" at IBM. Ms.Akkiraju leads the mission of "People's Insights" at IBM Watson and delivers technologies that could construe personalities, emotions, tone, attitudes and emotions by gathering information from social media platforms using the linguistic and machine learning techniques.
Akkiraju reflects," Bots that really understand people can bridge the shortage of customer support agents, guidance counselors, and health coaches. These are all areas where our work can make a meaningful difference in people's everyday lives."
She has called the shots for many of Watson's Cognitive Services' teams, including the Tone Analyzer.
Their gleaming passion instills an urge to do something amongst other novices in these fields. Likewise, there are many more females whose names are pinned up on the roll of honor for their path breaking discoveries and contribution to AI and the AI world has its hopes pinned to such intellectual expansions, come may from any gender.