Rewinding: Ustad Zakir Hussain
by HUMRA QURAISHI
September 22 2020, 12:00 am
Estimated Reading Time: 5 mins, 53 secs
"I had interviewed Ustad Zakir Hussain, years ago in 1992; and he told me what made him emotional on stage once", writes Humra Quraishi
Winter was at its peak here in New Delhi and there he was, looking cool and comfortable with his curls, charm and confidence. Shall we say over confidence? Yes, that streak was amply evident… I am talking about our Tabla maestro here.
And, that afternoon when I met him for an interview at the Le Meridien' s coffee shop, he was getting a continuous flow of attention from those in the over-crowded place.
In fact the interruptions, some asking for his autograph, one planting a kiss on his left cheek whilst yet another marvelling his performance at the just concluded ITC Sangeet Sammelan, during the interview irritated me but he looked so thrilled! Oh, yes, he looked happy and entertained! He seemed to enjoy all the attention, basking in it. Along with that, he was trying to sound as though he was unaffected, "Its you media people who have made me into some number one… I am just okay."
He was more than okay answering the questions I'd put to him; but it's just that he'd sounded smart. Perhaps, these streaks come about if you shift base to the cowboy belt of the world. He was then based in the US, and was on a visit to his homeland.
Here are some excerpts from an interview with Ustad Zakir Hussain:
You say you are 41 years old but you look much younger. Why and how?
Well, that's the way I'm made. Also, I exercise and meditate regularly. I keep a very frugal lifestyle. I live with very simple habits: a Sufi existence so as to say.
Tell us about your family's musical lineage?
There's little to say on this, as my father Alla Rakha, was the first from his family to have entered the musical world. The other family members were farmers in Pagwal in the Rattangarh district of Jammu and Kashmir.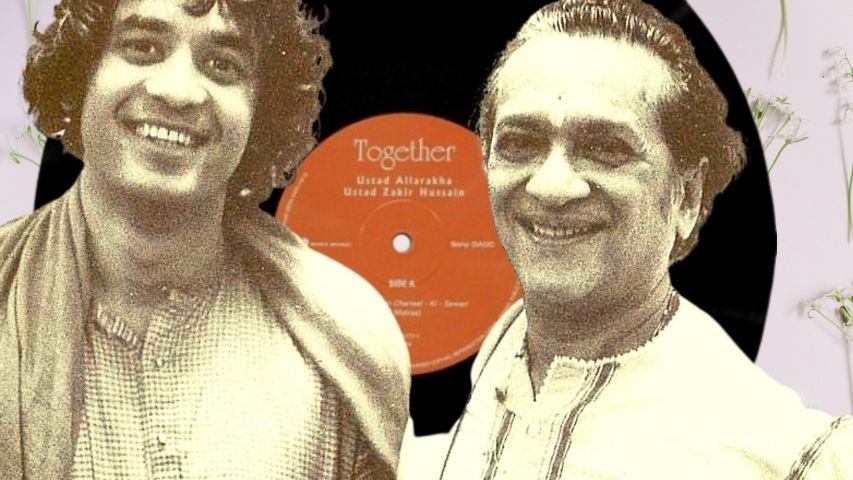 So for you a big jump - from Pagwal to San Francisco. Comment.
Why not! I would be stupid if I don't make it to the top at the peak of my career.
You have been getting so much attention from your fans, even right here in this coffee shop. Don't you get fed up?
Never. I love this attention. Makes me feel great.
Do these overtures develop into a relationship?
Not of any significance. I have never really had a relationship except with Antonio, whom I married.
That was in 1978. How come you and Antonio – a Kathak dancer - not fallen apart?
(Laughs) That's because I'm not home (San Francisco) very often. I think we are getting along because we give each other space. You can marry a Muslim, Hindu, Christian or American or Punjabi. The important thing is that your souls should meet.
You harp so much about India, its traditions and yet you settled down in the USA, with an American wife.
I have two bases - in Mumbai and in San Francisco. I'm here three times a year, for at least four months. I don't lose touch with my homeland. Pandit Ravi Shankar, had once told me that, to be appreciated in your own country is success in the true sense. My wife decided to be in the US because of my daughters' (aged 7 and12) education, though its hard on her as she is a Kathak dancer - Sitara Devi 's disciple - and she would have loved to be here.
Aren't you making the best use of your talent and fame, coupled with business acumen?
And why not! Who doesn't? Let me make the most whilst I'm at the top. Artistes like us charge a high fee because we have seen the plight of families of some famous artists of yesteryears. They live on the brink of starvation. So why grudge me my high charges. I have to care for my family, after all.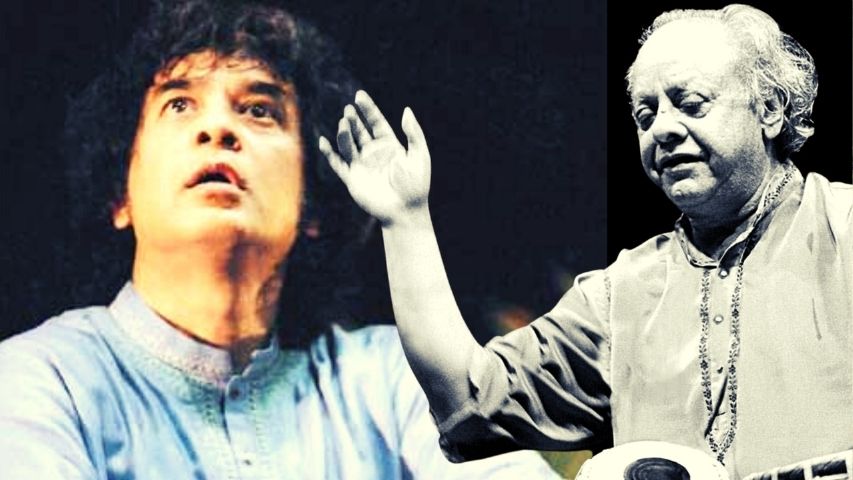 Does that make you an opportunist?
Who isn't! Please don't overlook the fact that half the concerts we perform are done free. I don't charge for charitable causes. I take part in 180 charity shows every year. It's not just me, other artists do likewise. But the masses are not aware of this.
Your ambition to make money; does this have deep psychological reasons?
My wanting to earn as much as possible today is natural. Anybody would. My needs are few and I just don't smoke or drink. My childhood days were tough. Initially my parents were well settled, with my father working as the music director for films like 'Bewafa' but just before I was born my father became unwell. And with that, we had to move to a two-room flat in the suburbs. I was born in 1951, and considered to be an unlucky child. Then a darvesh (spiritual mendicant) told my mother that I would bring luck to the family.
As I grew up, I kept falling ill but my father's condition improved. Till, one day, he began instructing me in the art of tabla playing.
Any touching incident of your life, which you recall?
Three years ago, I performed at St. Xavier's college; it was on January 25th, and it must have been around 3am. Pandit Ravi Shankar was playing with me and my father was sitting in the front row with the audience when someone whispered something in his ear. A whispering campaign took off amongst the listeners. I grew worried, wondering what happened and then got more worried as I saw someone come up to the stage; he mumbled something to Pt. Ravi Shankar. Panditji put his sitar aside, held the microphone and announced, "From now on I will call Zakir, Ustad Zakir, as it has just been announced that he is conferred the Padma Shri."
It was a very touching moment for me. I cried uncontrollably. And I could see tears streaming down my father's cheeks. It was an experience I can't ever forget.
Wouldn't you like to spread the message of peace?
I'm no politician but if I have following of five million fans then that itself is a message, a subtle one at that. Yes, there is chaos all over, even in the US. But I don't react with anger because it provokes more anger - the general scenario is depressing.