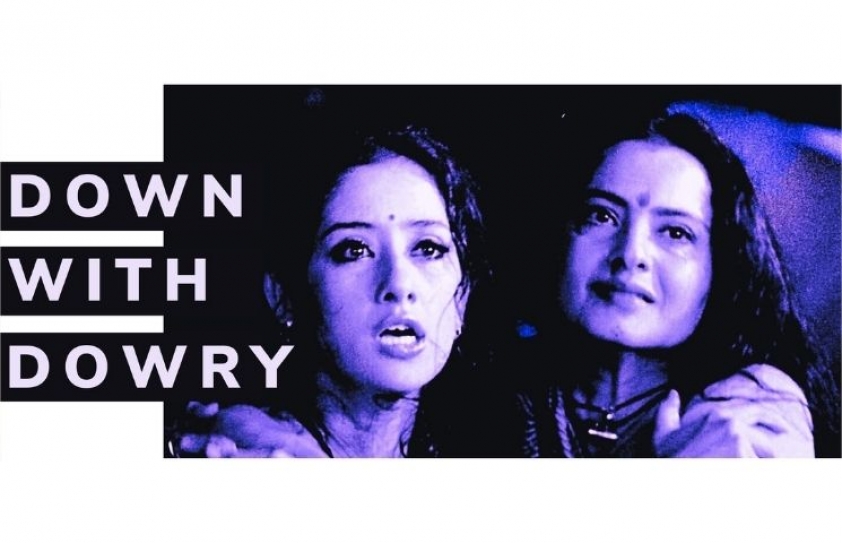 Down with Dowry!
by Dhruv Somani
July 11 2021, 12:00 am
Estimated Reading Time: 8 mins, 6 secs
Film historian Dhruv Somani looks back at a clutch of Bollywood films, which gutsily dealt with the evils of the dowry system.
The pernicious system of dowry persists, especially in the stretches of the rural lands of India. Although declared unlawful, there are devious ways to make dowry demands in the big cities too.
However, the evil appears to have all but vanished from our cinema, which once picked up themes of social concern from real life. Directors B.R. Chopra, Mehboob Khan, Guru Dutt and K.A. Abbas would make it a point to narrate stories on social upliftment.
In addition, there would be women-centric Hindi films, which would command house full shows. Among them were Bahu (1955), Bahurani (1963), Bahu Beti (1965), Bahu Begum (1967), Ghar Ghar Ki Kahani (1970), Babul Ki Galiyan (1972), Biwi Ho To Aisi (1988) and Chhoti Bahu (1994) to name a few.
Mehndi (1998), headlining Rani Mukherjee, was one of the later films, which touched on social evils but somewhere along, its plot line deviated into a revenge drama. The subject of dowry then shifted to TV soap operas, figuratively, on Balaji Telefilms' Kyunki Saas Bhi Kabhi Bahu Thi, where, beyond the marketing of the series as a piece lifted from the original Saas Bhi Kabhi Bahu Thi (1970) in essence, the long running story undervalued women, kept them mired in kitchen politics and stereotyped them in categories of the good woman and the bad woman – the demure that didn't question her predicament was revered and the bold that broke away from the mold was cursed. This went to the extent of even the clothes that they wore – the one fully covered from head to toe was respected and the one who spewed venom wore sleeveless blouses and loud make-up.
Today, I focus on some of the prominent films in the past, which made the clarion call of 'Down with Dowry.'
Dahej (1952)
Directed by V. Shantaram, it starred Karan Dewan and Jayshree supported by Prithviraj Kapoor and Lalita Pawar. Vasant Desai composed the music. The narrative revolved around Chanda who is blamed by her mother-in-law for bringing bad luck in their lives because her father-in-law passes away soon after the bahu enters the household. Her parents watch Chanda's helplessness but they are unable to rescue her from plight as she is permanently scarred with a totally unjust social stigma.
Saas Bhi Kabhi Bahu Thi (1970)
Featuring Sanjay Khan, Leena Chandavarkar, Om Prakash, Jagdeep, Lalita Pawar and Shashikala, it dealt with the relationship between the mother-in-law and a daughter-in-law. The plot revolves around Sadhana who is the daughter of Bhagmati, a widow from Rangpur, who falls in love and marries Deepak Chaudhary. Soon her own mother misguides her to abuse her mother-in-law. Her brother's wife in her own household is being harassed for dowry by her mother while her brother silently witnesses his wife suffer comes as a shocker to her. Sadhana takes things in her hand to solve the issue with guts and gumption.
Sau Din Saas Ke (1980)
This was surprise hit directed by Vijay Sadanah starred Asha Parekh, Reena Roy, Raj Babbar, Nilu Phule, Ashok Kumar, Deven Verma, Guddi Maruti, Siddharth Kak, Jaishree T and Lalita Pawar. It was a remake of the Marathi film Sasurvashin (1978) featuring Nilu Phule and Lalita Pawar. Kalyanji Anandji's music for the Hindi version was a major asset, especially the song Sau Sau Saal Jiyo Hamari Sasuji, which was often heard at family functions.
The script revolved around Bhavani Devi who rules the family with an iron hand. She is biased in favor of her daughter Shobha and is supported by her ever-scheming husband Khubchand. The mother is forever nasty to her sons and daughters-in-laws Sheela and Durga essayed by Asha Parekh and Reena Roy. Reena was applauded for her strong performance as Durga. This one is still watched enthusiastically on the MX Player channel.
Jawalaa Dahej Ki (1982)
Here was the story of a Rameshwar who is worried about his sister's marriage due to a paucity of funds. Even though he likes the village girl Lajwanti, he's under pressure to collect money for the dowry of his sister who has fallen into bad company. Hence Rameshwar agrees to a fake marriage with a wealthy city girl.
On returning to the village with gifts and money, he is shocked on learning that his sister has committed suicide after her marriage. Heartbroken he tries to amend his mistakes and looks for Lajwanti but is unable to find her as she has left the village. Directed by Chaman Nillay it starred Arun Govil, Shoma Anand, Sonia Sahni, Shivraj and Rajendra Gupta.
Ek Din Bahu Ka (1983)
Directed by Desh Gautam, it featured Suresh Oberoi, Swapna, Rita Bhaduri, Vijay Arora, Saeed Jaffery, Manmohan Krishna, Shashi Puri, Shubha Khote, Aruna Irani and Lalita Pawar.
The story centered around two close friends Indu and Suman. Suman is the only daughter of a local schoolteacher while Indu is the only daughter of a rich army colonel. Suman is the shy homely sort while Indu is a firebrand karate champion. Suman's marriage is announced with Lala Girdharilal's son Brij, who is an engineer from a wealthy family, but dowry is demanded. On the day of the wedding, unable to meet their demands, the ceremony is called off and Suman's father dies unable to bear the humiliation. Indu, unable to digest the events, marries Brij to teach her in-laws the lesson of their lives with the help of her boyfriend Deepak. The script was largely predictable, redeemed by some comic moments. Bappi Lahiri's music score was remarkable for the track Aadi Tappa.
Bahu Ki Awaaz (1985)
Directed by Shashilal Nair, this film had a crowded acting crew: Rakesh Roshan, Swaroop Sampat, Supriya Pathak, Naseeruddin Shah, Om Puri, Sulabha Deshpande, Bharat Bhooshan, T.P. Jain and Aruna Irani. The plot focuses on Kavita living with her widowed father Rai Bahadur and her younger brother. Fallen on lean days, their house is mortgaged. She is in love with an unsuccessful alcoholic advocate, Sunil, but agrees to marry Vimal Shrivastav in keeping with her father's wishes.
Vimal, however, is in love with Madhu from an affluent family. But he is forced to marry Kavita since she is presumed to be wealthy. Next, Kavita vanishes and the police begin their investigation. A decomposed body of Kavita is found but it is written off as a suicide.
Then, Vimal weds Madhu, the woman of his dreams, and she enters the household with a revengeful agenda on her mind. Well-crafted and intriguing, the film was noteworthy for a powerful performance by Supriya Pathak as Madhu. Yet, it tanked at the ticket counters maybe because the censors gave it 'Adults only' certificate.
Bandook Dahej Ke Seenay Par (1989)
A little-known film directed by Ramgopal Gupta, it starred Shashi Kapoor, Shekhar Suman, Anita Kanwar, Sonika Gill, Archana Puran Singh, Sadashiv Amrapurkar, Gulshan Grover, Kiran Kumar, Raza Murad and Prema Narayan. This was one of the last films on the dowry system set against a rural backdrop. Quite shockingly, it showed three sisters Anita, Choti and Badi who are married off by a broker named Shadilal in good faith without dowry. It is only later on they realize that their husbands are pimps with an agenda to exploit them. The three sisters escape into the jungle but become messiahs for such girls and avenge the exploiters.
Ghar Ho Toh Aisa (1990)
Directed by Kalpataru, this social drama starring Anil Kapoor, Meenakshi Seshadri, Raj Kiran, Deepti Naval, Sonika Gill, Saeed Jaffery, Bindu, Rita Bhaduri, and Kadar Khan was a remake of the Telugu film Attinlo Adde Mogudu. A greedy family's daughter-in-law Sharda comes from a poor family and is constantly tortured. Her brother-in-law, Amar, marries a rich sophisticated Seema who rebels against the gross injustice in the family. The popular jodi of Anil Kapoor and Meenakshi Seshadri managed to make the film a hit at the ticket counters along with Kadar Khan's hilarious double role.
Yeh Aag Kab Bhujhegi (1991)
Directed by Sunil Dutt, the story begins with the sociology professor Krishanand giving a talk against dowry. He lives with his mother and daughter Pooja, and is close to Radha, a professor of law who runs a crusade against the dowry system. Soon, Pooja is married to one Mohan Agarwal but her in- laws and husband are upset that she didn't bring any dowry to her new home. Pooja overhears their conversation about a plot to kill her father so that Pooja would inherit his property. Pooja tries to warn her father but is caught and killed by her husband.
Professor Krishanand decides to take revenge and is helped by his friend Radha. A well-crafted effort, it starred Sunil Dutt, Rekha, Kabir Bedi, Bindu, Shakti Kapoor and newcomer Sheeba. Initially, Dimple Kapadia was signed to portray the role of Radha but quit owing to creative differences. Rekha replaced her.
Lajja (2001)
Raj Kumar Santoshi thought-provoking Lajja wasn't based exclusively on the evils of dowry. It dealt with the struggle of four strong-willed women Maithili, Janki, Vaidehi and Ramdulari (all names of Sita) enacted by Mahima Chaudhary, Madhuri Dixit, Manisha Koirala and Rekha. Anil Kapoor, Jackie Shroff, Sharman Joshi, Gulshan Grover, Danny and Ajay Devgn essayed the supporting cast with equally prominent roles.
Lajja had a fiercely powerful sequence filmed on Mahima Chaudhary, Anil Kapoor and Manisha Koirala based on the dowry demand - a power-packed endeavor, from an equally powerful director. It just makes me wonder why the director shied away from making more social cause-oriented films.