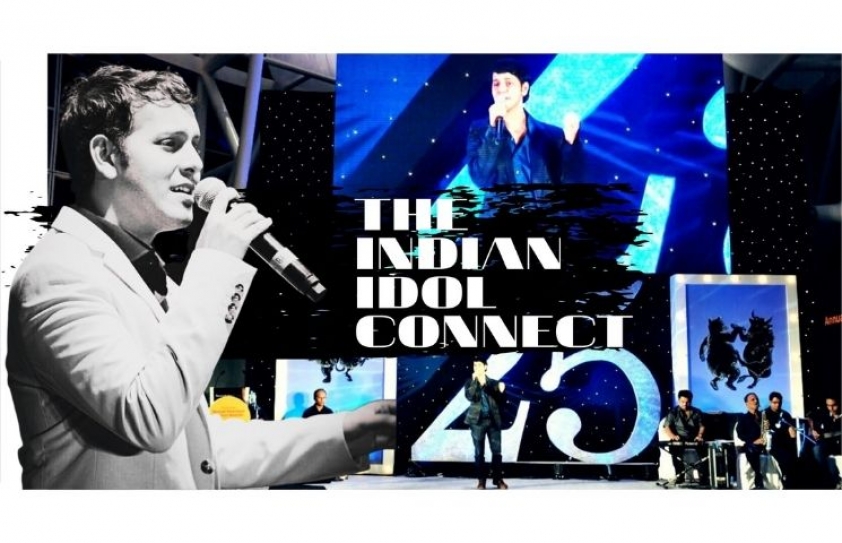 Sagar Sawarkar & the Indian Idol Connect!
by Aparajita Krishna
August 18 2021, 12:00 am
Estimated Reading Time: 15 mins, 0 secs
Aparajita Krishna travels with Sagar Sawarkar's musical journey and shares her experience with us.
On 15th August 2021 Indian Idol got its latest Idol. This talk was conducted before the finale. Herein I am going to flashback to Indian Idol Season 2, 2005-2006. That too on one of the 12 chosen finalists/contestants (12th), and one who got eliminated. Nonetheless, Sagar Sawarkar, who I discovered on YouTube - take a bow!
The Devil's Advocate in me also asks some devilish questions about a show that in totality I do admire. Is TV music contests completely fair plays? What happened to the winners over the years? Abhijeet Sawant, the winner of the first season of Indian Idol in 2005, gave playback, but is today said to be neither very active in singing or acting. He is said to be leading a life away from the limelight. Sandeep Acharya was the winner of the second season of the Indian Idol, having defeated the likes of Neha Kakkar, in whose competition-company was our young Sagar too. Sandeep unfortunately passed away in 2013.
Neha Kakkar, the eliminated one, nonetheless went on to make a mark for herself in playback singing, music videos and as a judge on reality shows including Indian Idol. In 2019 she was listed as one of the most viewed female artists on YouTube. Prashant Tamang, winner of season 3, released two albums and acted in a dozen or so Nepali films. Not much is known of his professional activity thereafter. Sourabhee Debbarma, the winner of season 4, was the first female winner. Sreerama Chandra Mynampati, the winner of season 5, sang in films like Brother Ki Dulhan, Khiladi 786, Yeh Jawani hai Deewani, M.S. Dhoni - the untold story, and Telegu movies. Vipul Mehta, winner of season 6, had cut his album and singles. Vande Matram was one of them. Now he is said to be away from the industry and instead does live shows. Then there was Anjana Padmanabhan, the winner of season 7/first junior Indian Idol. Salman Ali was the winner of season 10 and Sunny Hindustani of season 11…
Cutting back to Sagar Savarkar, let me confess at the outset that I have discovered him perhaps far later than is usual or he rightfully deserves - considering he has been singing since the age of 8. Thanks to his Facebook account, YouTube links, Instagram and podcasts, which are well designed and plugged I chanced upon his singing and admired the range of songs he displayed. His profile reads, 'Main aur mera mic (mike) aksar ye baatein karte hain.' We get talking.
Music rests in you or you rest in music? Or both? In these Corona times music must be giving solace.
Music has been an integral part of my family. Even though I'm the only person from my family that professionally ventured into this field, everyone loves music. Leisure listening has always been a family activity ever since I was a kid. Our tape recorder would always be on - playing melodious music in the background. While other kids would idolize cricketers, I would spend hours listening to Kishore Kumar, Lata Mangeshkar, Mohamed Rafi and Asha Bhosle.
So, music basically has always been an extension of my 'being'. Fast forward to today's times, yes, music definitely has been a great companion. In 2020, the world came to a standstill but it was blessing in disguise for me. I ventured deeper into my craft, doubled my 'Riyaz' and started my podcast called "Jiski zubaan urdu ki tarah", that to my surprise topped Apple charts and is being heard in over 40 countries where I discuss the great legacy of Urdu lyrics in Indian Cinema. So yes, musically and lyrically it has been a great experience.
Do inform, as a summary of your familial background, influences of music from the earliest years to the time you plunged into music yourself.
As filmy as this may sound, this is how my story goes. I was singing in my house one day when a gentleman was passing by who happened to be a music teacher. He came in and told my father that I have the gift of music and insisted that I should be trained formally. I must be around 8 years old. And that's when my formal training in Hindustani Classical Music started. Sometimes my banker father's friends would joke "Aurangzeb ke ghar mein Tansen kahan se aa gaya?"
Appreciation of good music was always a thing in the family. My mom and dad made sure that I was exposed to the best of artists. From Ghulam Ali, Mehdi Hassan's ghazals, Kishori Amonkar, Bhimsen Joshi's classical music to Kishore Kumar, Mohamed Rafi, Lata Mangeshkar and Asha Bhosle, we had almost all the major album cassettes at home. It kind of helped me in keeping an open mind and absorb as much and varied music as I could.
What was the initial training like?
Apart from the Hindustani classical music training, my parents made sure I learn the nuances of light music too. I was trained to pay attention to pronunciation, diction, enunciation, expression as much as sur, taal and laye. Around the same time, I bumped into the treasure of Rabindra Sangeet. True to the meticulous nature of my father, he made sure I learn Bangla from a Bengali teacher and learn Rabindra Sangeet.
What is your academic qualification and job profile if any?
I have done my bachelor's degree in Mass Media in Advertising and my Master of Arts degree in English Literature. But music has always been my true calling.
You had back in the years appeared on several TV shows, but it was Indian Idol on Sony that offered you the big platform and put the spotlight. You were one of the contestants of Indian Idol Season 2, 2005-2006. You were one of the 12 chosen contestants, but got eliminated. Winner was Sandeep Acharya. Judges were Anu Malik, Farah Khan, Sonu Nigam. Currently Indian Idol on Sony is in its 12th season. Do recall and share your experience as a participant back then. And how old were you then?
In Indian Idol, I was around 18-19 years old. Lots of glamour, exposure and friendships are how I recall that episode of my life. And, although, Indian Idol was a massive platform, end of the day, it was another competition, something I had been engaged in over the last decade of my life - in a way I was comfortable in the familiarity of the format.
Indian Idol has over the years provided a platform to aspiring singers to showcase their emerging singing talent on an All-India basis. Definitely. But is it a very transparent platform? Is TV music contests completely fair play?
Glamour and gloss dominated the scene. We were expected to dance while performing - an idea opposite to Hindustani training, where your body is in repose so your entire energy is devoted to singing. The show was and is still a contradiction because of its western sensibilities.
How did you feel on getting eliminated from Indian Idol? Did it provide you a platform nonetheless?
As mentioned before, it is just another competition. While one is in it, one gains popularity according to personality, talent and performance. Afterwards, contestants channelize their best to reach their own personal goals.
Even Neha Kakkar in 2005-2006 had got eliminated early in Indian Idol. She nonetheless went on to make a mark for herself in playback singing and non-film repertoire. How do you assess her success?
A family launch pad certainly helps, coupled with her own analytical understanding of her strengths.
A quote in the records of 2006 has the young 20-year-old Sagar gracefully remark: "All of us will not make it to the top. What we know for sure is that the exposure we are gaining will propel us forward. Quite frequently we get to interact with stars from the music and film world and hope this enriching experience will help us overcome our weaknesses."
Cover version music is itself a gharana of sorts and you seem to have made an incredible repertoire of it. The listeners of popular music, light classical, film songs especially like the emerging voice to be original and yet echo some past voice of recognition. You perfectly fit the groove. In your renditions I find the sound of the great Mohamed Rafi and the very talented Sonu Nigam - very melodious and all the makings of a playback singer. Your cover version renditions while being faithful to the original tracks subtlety improvise and highlight some new features. Interesting. You have also uploaded your songs without any music track playing, as in sirf awaaz and that is the biggest test of a singer. Devoid of accompaniments how does she/he sound to the naked ear? Tell us about your promotional strategy and reach to the listeners.
I am a learner. Cliché as it may sound, I want to better myself everyday and I am not afraid of failing. Maybe my listeners can see that effort in my renditions. As rightly pointed out by you, yes the singer's ability does get tested when there's no music and nowhere to hide. Even in my shows, at times I render some songs with just my vocals and soft piano in the background and my audience loves it. I feel that's when I get to the core of the composition. In my covers, I always love to sing what I genuinely like. Sometimes those songs may not be popular but they mean something to me. For example, I have covered the unheard version of "Kabhi kabhi mere dil mein" and "Mai har ek pal ka shayar hoon" by Sahir Ludhianvi. My purpose is to popularize these gems with today's generation. It's a legacy that needs to be preserved.
Listing many of the songs rendered by you. It is a big range of songs that travel eras. Your talafuz is very good. Do confirm and pick your chosen ones.
**'Sarfaroshi ki tamanna ab hamare dil mein hai' (written by Bismil Azeemabadi in 1921. Exactly 100 years ago)///KLSaigal's 'Main kya jaanu kya jaadu hai…'//'Jinhe Naaz Hai Hind Pe Woh Kahan Hain', a questioning anthem that is as relevant today as it was yesterday// 'Jalte hain jiske liye teri aankhon ke diye dhoondh laya hoon wahi geet main tere liye'///Original lyrics of 'Kabhie Kabhie Mere Dil Mein..' crossed 1 lakh views on YouTube/// 'Main har ek pal ka shayar hoon'/// 'Bekas pe karam kijiye' and 'Humko mann ki shakti dena' - 2 songs one raag - raag kedar//A rare version of 'Abhi na jao chhod kar'/// 'Suhana safar aur ye Mausam haseen'/// 'Mann re tu kahe na dheer dhare'/// 'Aa le ke tujhe main le ke chaloon ek aise gagan ke tale' /// 'Zindagi bhar nahi bhoolegi wo barsaat ki raat'//// 'Phir wahi raat hai khwaab ki'/// 'Udh ja kaaale kaavan tere moh vich khand paava/// 'Ghar aaja pardesi ki teri-meri ek jindari'/// 'Mujhse pehli si mohhabat mere mehboob na maang'/// 'Kun Faya Kun' /// 'Dil toh bachcha hai ji'/// 'Tere bina beswadi beswadi ratiyan o sajana/// 'Na toh caravan ki talash hai…'.
It is hard to choose which ones I like more. One thing that you will find common in all these is that the lyrics and music are equally powerful in these songs. Still if you ask, I would say my favorites are the RD-Gulzar mash up, Ud ja kale kawa, Chandni raatein, Bekas pe karam, Kun faya kun and Kabhi Kabhi.
One learns from your profile that you have performed in live concerts all over India and abroad. You have sung in concerts along with stalwarts like Alka Yagnik, Kavita Krishnamurthy, Sudesh Bhosle, Sadhana Sargam and others. Do share the experience and some highlight.
I have been fortunate to perform in more than 20 countries across the globe. God has been kind that I got to perform with such stalwarts. I must confess in each of these experiences, I have learnt a lot, be it about music, work ethics or life. I remember that Kavita Krishamurthyji, in spite of being such a legend was so humble that at one time there were less microphones on the stage and she shared hers with the chorus singers. Now that's humility and class. Ameen Sayani sahib would wait till the performance is over before entering or leaving the auditorium so that the artist on stage doesn't get disturbed. Sudesh Bhosle ji would make you feel so comfortable on stage that you would feel he is your college buddy. Apart from their craft, it is these small things that I admire them for.
You have been associated with Walt Disney Productions, as a singer and voice-over artiste. Do elaborate and inform.
With Disney, I have worked as a singer, actor and voice over artist. The journey with Disney has been amazing. It's like your childhood dream coming true. I used to watch all their cartoons as a kid and here I was, singing for them, giving a voice to the characters… unadulterated joy!
Do you record your songs in a studio or have your own set-up? 'Main aur mera mic (mike) aksar ye baatein karte hain' - you say.
Both actually. I record my songs in the studio and have one at my house too. As I said, I really like to learn, so my own set-up allows me to experiment while composing and recording. The peace to be behind the microphone is unparalleled.
Who are the music maestros you admire?
In singers, I love the ones with deep baritone. Right from K L Saigal, Kishore Kumar, S. P. Balasubhrahmanyam, Yesudas to Jagjit Singh.
In lyricists, I love Gulzar Saab, Sahir Saab, Anand Bakshi Sahab and Majrooh Sahab.
Your podcast - Jiski Zubaan Urdu Ki Tarah - unearthing Urdu words in Hindi film songs is a very fine effort towards language literacy through music. You say, " Urdu and Indian film songs is a match made in heaven. But sometimes we don't pay attention to what those beautiful sounding words mean. Here's a humble attempt to share some Urdu words with their meanings. If you like this effort, don't forget to share it with your friends. You can connect with me on Instagram: sagar.sawarkar Facebook: Sagar Sawarkar Music." Do tell more about this effort.
In my experience, singers generally tend to pay more attention to the musicality of the song, which sometimes may result in ignoring what the poet wants to say. I can't say about others, but I was like that. That's when I decided that we must know the meaning of each and every word that we sing. There are loads of Urdu words, which we sing without knowing the meaning. And that's where this idea of a podcast came to my mind. As the popularity of this podcast grew, I got calls and messages from people across the globe that they loved this initiative. Cherry on the cake was when it topped the apple charts all over India.
Many feel that Hindi filmon mein gaane khatam hogaye, rooh mar gayi. So, the young singers, musicians have to recreate the old, vintage songs. What is your say?
Like Javed Akhtar Sahib says, "In the pursuit of speed, we are losing depth". Yes, it's true to some extent. There are some songs with grammatical or enunciation mistakes. Probably because those involved are urban educated, with no taaleem in Hindi and Urdu. Initially we had directors like Hrishikesh Mukherjee, Bimal Roy, Chetan Anand who were well read and well versed with rich literature. And that's what came across. Times have changed. People don't speak the language they speak anymore, but there is still hope. In the new crop, we have Irshad Kamil, Amitabh Bhattacharya who are churning out amazing songs.
Rooh khatm to nahin hui hai, bas thodi jaan phoonkne ki zarurat hai.
Do you aspire to be a playback singer in Hindi films? Have you given a playback?
I have had my fair share of bits and bobs. It is not an easy circle to penetrate.
Do share a compliment or compliments from a musical senior stalwart/s that you prize.
Often all of them have appreciated the versatility and the depth in my voice. There have been several informal compliments. One compliment that I would always cherish is when I sang at Sachin Tendulkar's house. He requested me to sing "Phoolon ka taaron ka sabka kehna hai" from Hare Rama Hare Krishna film. I remember him shooting me on his phone while I sang that song. The idea that a piece of my performance, is resting in the collection of God of Cricket is one that truly amazes me!
Who do you think is going to win Indian Idol 2021?
Not following the show frankly.
On FB you introduce yourself as Singer, Traveler, Thinker. So where to from here?
The flip side of never really belonging in popular circles is one gets the privilege of making one's own trajectory. I have immensely enjoyed every step of my journey and am in no hurry to reach any particular goal. Currently, I'm learning Japanese and exploring their musical heritage. So much to discover and imbibe - hopefully onward, to an array of enriching experiences!