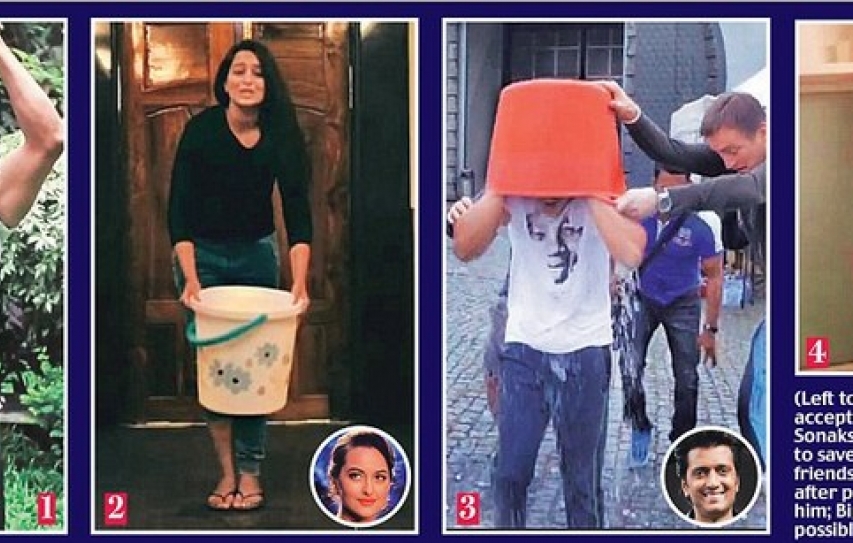 Getting chilly for charity: Warm-hearted Bollywood stars take on the Ice Bucket Challenge
by The Daily Eye Team
August 25 2014, 9:20 am
Estimated Reading Time: 1 min, 12 secs
The ALS Ice Bucket Challenge has reached India, and taking the lead in the country are Bollywood celebrities who have come forward to do their bit and participate. Starting with Bipasha Basu, who took up the dare to storm herself with a bucket full of ice water to support the unique campaign promoted by ALS Association, this challenge has been taken up by many Indian celebrities including tennis star Sania Mirza and singer Daler Mehndi.
The Ice Bucket Challenge has been promoted by the ALS Association, which aims to spread awareness and funds for patients suffering from the Amytrophic Lateral Sclerosis (ALS), also known as Lou Gehrig's disease or Motor Neuron Disease. The game is simple. Challenged participants have to either donate $100 (Rs 6,000) for the cause or douse themselves with ice water, film the entire process, share it on social media, and nominate challengers to keep the chain growing. In another, more popular tweaked version, participants are expected to donate $10 (Rs 600) if they have poured the ice water over their head and donate $100 if they have not.
The latest celebrities to take up the challenge include Akshay Kumar, Riteish Deshmukh, Abhishek Bachchan, Sonakshi Sinha and Siddharth Malhotra, among many others. Sonakshi Sinha tried to be cheeky and environment friendly when as she overturned a bucket with only one ice cube, but she urged fans to donate liberally for the cause instead of wasting water.