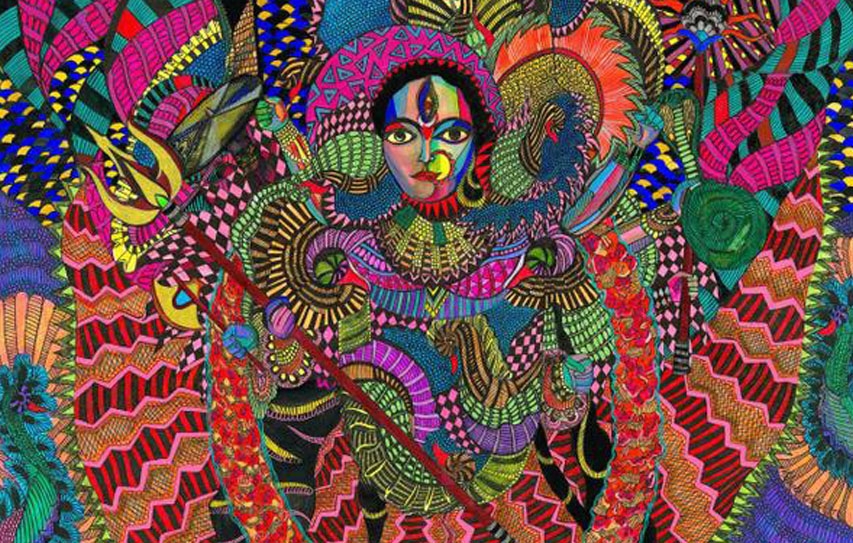 Durga Puja Special
by Rinki Roy Bhattacharya
October 24 2015, 6:30 pm
Estimated Reading Time: 3 mins, 35 secs
For many years now I have enjoyed Puja in Bombay, the city of our adoption like thousands of probasi Bengalis. The Bengali community was once close, everyone knew everyone. It was like an overgrown family gathering in an ambiance of nonstop fun. Kinship sentiments reached a peak during the festive season. Fired by an endearing spirit of well-being for one's own kind, each one tries to make a home away from home. For those five days I too become a Bengali bhadramohila – flaunting my Dhakai sarees that otherwise lie buried deep in the cupboard.

Families, friends, strangers sit in circles at the puja pandals until the early hours. Waiting for Bengali film or play to start or finish, solemnly munching luchi aloo dam. Lining the ground are stalls of Bengali publications, tangail sarees, sindoor, alta, Sakha. Bombay Local Bengali chefs provide Kolkata gourmet specials – moghlai parathas, prawn or vegetable chops, roshogollas. Everyone eats outdoors during puja, returning home to change from one new set of clothes into another.

When we migrated in the 1950s, there were only four or five pujas here, the oldest being in Kalbadevi started by the goldsmith settlers of Bengal skilled in the fashioning gold & diamond ornaments. The 74-year-old Shivaji Park Puja moved from Azad Maidan and has settled there. The Ramakrishna Mission celebrates Puja the world over, I remember attending the celebration in Paris and London.

Prominent Bengali film personalities have always enjoy an edge. They hold celebrations, cultural activities. Most notable is S. Mukherjee's family puja. The entire Mukherjee clan assemble to offer a lavish feast. DebuMukherji, Tanuja, Kajol, Mousumi, BappiLahiri their children join in. Biswajit has his own celebration in Juhu. So does Sekhar Sen. Jatra folk theatre, also reputed singers are flown all the way from West Bengal to regale the expatriate community. The potters making the Durgapratima or the dhaki (drum players) come from West Bengal as does the priest. With the Bengali community in Bombay galloping the number of pujas have risen. The ritual feast once a pleasant sit down meal is a long wait in queues, rewarded by a leaf bowl with a steamy dollop of khichdi. Unless one is lucky to find a foothold in the Mukherjee camp at Tulip star.

For Bengalis, Dassera is Bijoya Dashami. It is a symbolic occasion of good triumphing over evil. The day Ram defeated Ravana. Effigies of Ravana are burnt celebrating Dussera all over India. Bijoya marks the farewell hour for Goddess Durga from her earth abode. The Durga idol with children Ganesh, Saraswati, Laxmi and Kartik are lifted onto open trucks for that final journey towards immersion in the sea. The air is charged with emotions. Durga puja is believed to be a celebration of the Goddess's return to natal home with her children. It has its parallel in the Gauri puja a month prior to Durga puja in Karnataka and Maharahtra. Many films have cast the religious narrative to suggest to young girls the message of women's impermanence in their natal home. That underline their future transferability to another. Uncertainty looms high even as romance flutters in the young maiden's heart for love! Girls dream of love and romance in marriage. Young men want to marry for other reasons they candidly confess! Ostensibly to give their aging mothers domestic help. More than anything, engage a young wife for their own physical wants. Our films rarely project this truthful aspect of marriage – and therein lies a tale!

That the Durga Puja lasts only five days suggests the brief duration of a married daughter's visit to her natal home. Through traditional songs and dramatized ceremonies performed during both Durga and Gauri puja, the message to married daughters is clear – they cannot expect to visit their family frequently. This is repeated every season. These pujas are therefore, not without their specific social implications about the dependent status of Indian women that add a touch of poignancy to the Bijoya Dashami.

As another Durga Puja concludes, Bengali hearts experience that strange fluttering sensation. For women, the permanent expatriates of our society, the season holds forlorn hopes of returning to native lands, or natal homes. Hopes that for a majority prove to be improbable dreams.