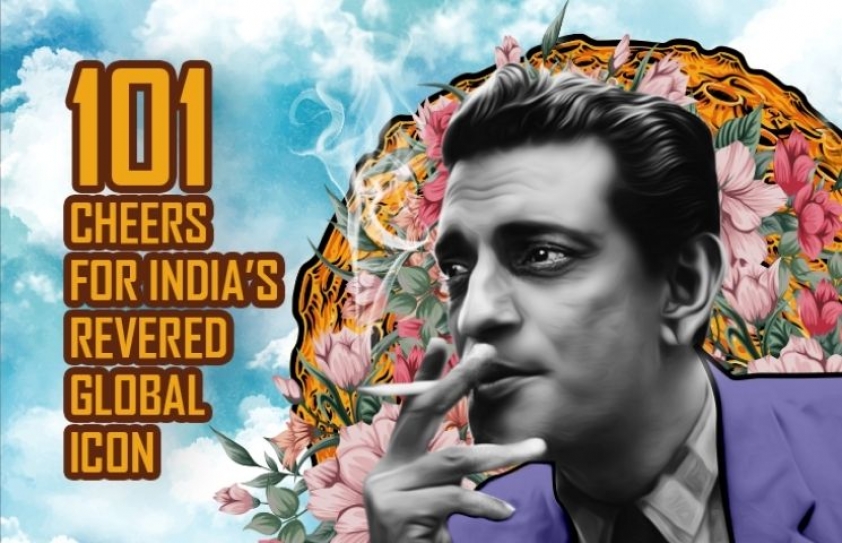 101 CHEERS FOR INDIA'S REVERED GLOBAL ICON
by Monojit Lahiri
May 12 2022, 12:00 am
Estimated Reading Time: 4 mins, 46 secs
Never in the annals of Indian film history has any single filmmaker, before or since, received such glowing tributes from the world's leading luminaries regarding his vision, craft and material. On his 101st birth anniversary, Monojit Lahiri focuses on this landmark aspect.
A few years ago, Hollywood dazzler Richard Gere was in India for a visit. During a brief stop-over in Mumbai, he was, predictably, grabbed by B-town's smart-arsed, know-all filmmaker forever playing anchor, interviewer and presenter at every major event. Once the inane pleasantries were over, the overheated host, hysterically anxious to score big, asked Gere whether he had met any of the Khans. Polite and polished, the charming star nodded. Encouraged, the interviewer asked whether he had seen any of their films. Confused smile. Undeterred, the interviewer carried on, 'if they were to go to Hollywood, would they make it big?' A smile and a light cough gave it away. On his persistence, Gere said that given the right role and project, he saw no reason why they wouldn't do well. Silence. Okay, but was he familiar with any single filmmaker from India, his name and work? In a flash came [Sanjay Leela Bhansali? Adi Chopra? Ashutosh Gowarikar? Zoya Akhtar?] the reply "Satyajit Ray!" Gere was not alone in his familiarity with India's tallest filmmaker's name and work. Several other internationally acclaimed luminaries join Gere's name. Listen to what this lot has to say…
Who better to start the applause and accolade section than acknowledged Big Mamma of Film Critics in America, the much loved, feared and hugely influential (late) Pauline Kael. Totally zonked by seeing many of Ray's gems, the pen whose reviews could generate footfalls or (decimate) a film's fate gushed, "No artist has done more than Satyajit Ray to make us re-evaluate the commonplace. And only one or two others of his generation could create masterpieces that continued to be so lucid and so inexhaustibly rich". Regarding Ghare Baire, she commented that when it comes to truthfulness about women's lives, Ray "shames American and European directors in equal measure".
Pictures of commentators on Ray - Please source
Next up is the great Martin Scorsese. "The few interactions I had with Ray are memories I treasure". Francis Ford Coppola follows. "Whenever someone speaks about Calcutta, I remember Ray's call complimenting me for my discovery of Al Pacino, whom he considered the Best Actor across the 70's. Brando too, he felt, was untouchable. All that a lot of us know about Indian cinema is through Ray's material. My favourite remains Debi - a true cinematic milestone."
The On the Waterfront and A Streetcar Named Desire director, who introduced both Marlon Brando and Warren Beatty, Elia Kazan joins the list. "If Ray was in Hollywood, he would've proved a tough challenge for most of us. A truly genuine, complete filmmaker, his Pather Panchali and Debi continue to haunt many of us". The great John Houston adds, "When I saw some footage of Pather Panchali, I was deeply moved and recognised it as the work of a great filmmaker".
Lindsay Anderson is equally effusive. You cannot make films like Pather Panchali in a studio or for big bucks. Satyajit has worked with humility and complete dedication. He has gone down on his knees in the dust and his picture has the quality of an intimate, unforgettable experience - undoubtedly a new masterpiece of poetic cinema".
Gushes the critic of the New Statesman, London, "Satyajit Ray, making his first film, goes straight into the rank of born filmmakers." Wrote Time magazine, "The harrowing beauty of a Ray film is a quality both evanescent and palpable as if the director had found a way to take the lens off his camera and allow life itself to touch the raw film. Each of his films appear to be versions of perfection".
Director Alexander Payne, after seeing Pather Panchali, was left speechless. "It was a total jaw-dropper!" Director Christopher Nolan, clearly a late bloomer, seeing the same film was blown away. "I think it's easily one of the best films ever made. An extraordinary piece of work!"
Picture/s of Ray – Please source
Hollywood's popular superstar Keanu Reeves insists that "my only real understanding of India was through the Ray films, which I passionately pursued, film festival after film festival". Richard Attenborough, on being invited to act in Shatranj ke Khilari, gushed, "I was honored that one of the world's greatest directors was eager to direct me". He then added, "Frankly, if Ray had asked me to read the Telephone Directory, I would happily do so to be a part of his unit!" Attenborough continued, "In each generation of filmmakers there does emerge one auteur who not only stands head and shoulders above his contemporaries, but who advances the medium in such a decisive manner that his work becomes an inspiration for all time. One such rare genius, and I use the word advisedly, is Satyajit Ray".
What better way and who better than Akira Kurasawa, the Japanese director par excellence, to end this galaxy of glowing tributes: "Not to have seen the cinema of Ray means existing in a world without seeing the sun or moon".
That was Ray. Made in India. For the world. When comes such another...?