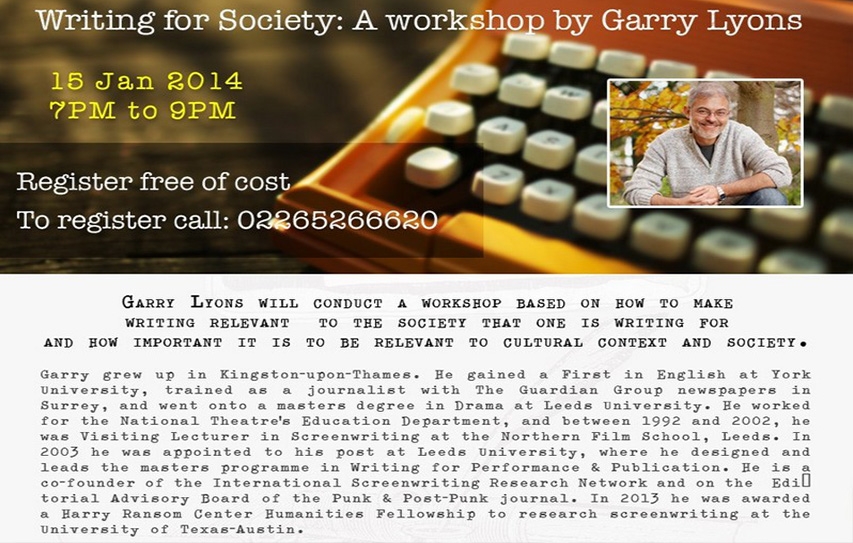 Garry Lyons – Writing For Society
by Vinta Nanda
January 14 2014, 2:04 pm
Estimated Reading Time: 5 mins, 1 sec
No one can see beyond the horizon of their own lives. We are threads in the great tapestry of time. Have faith. Every stitch has a reason – Anon
Interestingly, we at THE THIRD EYE got this opportunity to partner with THE WEDDING FILMER to bring GARRY LYONS to writers in Mumbai, this month and to hold a workshop on WRITING FOR SOCIETY, on the 15th January, 2014.
Garry grew up in Kingston-upon-Thames. He gained a First in English at York University, trained as a journalist with The Guardian Group newspapers in Surrey, and went onto a Masters degree in Drama at Leeds University. He worked for the National Theatre's Education Department, and between 1992 and 2002, he was visiting Lecturer in Screenwriting at the Northern Film School, Leeds. In 2003 he was appointed to his post at Leeds University, where he designed and leads the Masters programme in Writing for Performance & Publication. He is a co-founder of the International Screenwriting Research Network and on the Editorial Advisory Board of the Punk & Post-Punk journal. In 2013 he was awarded a Harry Ransom Centre Humanities Fellowship to research screenwriting at the University of Texas-Austin.
Garry's professional credits include: the drama trilogy DECISIONS, which he wrote and produced for Channel 4, winning a Royal Television Society Award, AMAZONIA with Rory Kinnear and Michele Dockery for BBC Radio 3, and the Prix Europa-nominated drama-documentary BRITAIN'S FIRST SUICIDE BOMBERS with Archie Panjabi for BBC 2. In 2009 he wrote a major musical adaptation of THE SECRET GARDEN. His work for children includes five seasons of THE WORST WITCH, the Bafta-nominated CITV comedy franchise and DOPPLEGANGERS, an animated cartoon series in development with Entertainment Motion Pictures, Los Angeles.
Unfortunately we have limited seats at THE WEDDING FILMER STUDIO, so we had to conduct registration to the free of cost workshop on a first come first serve basis, and before we had even made a formal announcement, we had a packed house therefore our heart bleeds to have to say no to, many writers who called in late.
We promise to bring him back, not one more time, but many more times in the coming months and aim to make him work with us to achieve perfection in entertainment writing that can result in social change.
This is the first of the twelve script writer briefings and workshops that THE THIRD EYE has scheduled for 2014. There will be one every month, where writers, established and aspiring will get to interact with accomplished authors and storytellers, experts from various fields of development and extraordinary people who have extraordinary stories of their own to tell.
The idea is to get thinkers to lead discussions on compelling issues that confront cultures, societies and ethnicities, and to find ways to weave them to the entertainment that captivates large audiences and stories that move them to take action.
At THE THIRD EYE we are committed to ensuring that real stories make way to the mainstream and engage with audiences beyond the entertainment that they consume. We have structured the process in a way that discussions follow narrations, and that audiences get to connect with expressionists and are able to offer their points of view to subjects that involve them.
Late last year, when we screened a documentary film called THE MANGO GIRLS at our office, Produced by a very driven Robert Carr, and directed by a committed Kunal Sharma, at the behest of the chief patron of THE THIRD EYE, Mahesh Bhatt, we never knew that we were about to float a movement. MANGO GIRLS is about an obscure village in the heart of Bihar, India, a village called Dharhara, where for over 200 years now, the inhabitants have followed the practice of planting 10 Mango Trees, at the birth of each girl child in the village. With a practice which has now become a culture, Dharhara is perhaps the only village in India which boasts of a perfect sex ratio and zero incidents of infanticide and foeticide. Subsequently, inquirers poured in and started asking the makers for solutions to a problem that spreads across the length and breadth of India. It was then that the makers along with THE THIRD EYE decided that there has to be a MANGO GIRLS solution in every part of India. WHAT IS YOUR MANGO TREE? – is now the header to the campaign.
We have started to map the country and audit its societies so that we can find and offer to the people in every part of India, their solution, which will then enable them to invest in their girl children and not find them to be a burden as they do at present.
Then when we came to partner with Sridhar Rangayan and Saagar Gupta of Solaris Pictures, for the Human Rights Film Festival, FLASHPOINT, in late November, 2013, we understood the power that a cause has to bring together the best minds from the whole universe to address issues surrounding it, with honesty and integrity. Again Mahesh Bhatt led a panel discussion at a press conference held at our office, with the best of minds like filmmaker Hansal Mehta, Author Shireen El Feki, Documentary Filmmaker Vaidehi Chitre and the Director of the Allaince Francaise de Mumbai.
Today, in partnership with the talented Zara Choudhury and Vishaal Panjabi of THE WEDDING FILMER, for the workshop with Garry Lyons, we can sense that the tribe within the world of entertainment is growing along with a consciousness that is bent on harnessing the power of the magic to achieve change by constructing a path that will lead every entertainer, performer, writer, director, producer, creative leader and creative activist to avail of the FREE-ON-DEMAND service that THE THIRD EYE has to offer; and that is to bring experts to the table to provide accurate and factual information when addressing any issue of health, well being, rights or legal in the works of entertainment across all media.