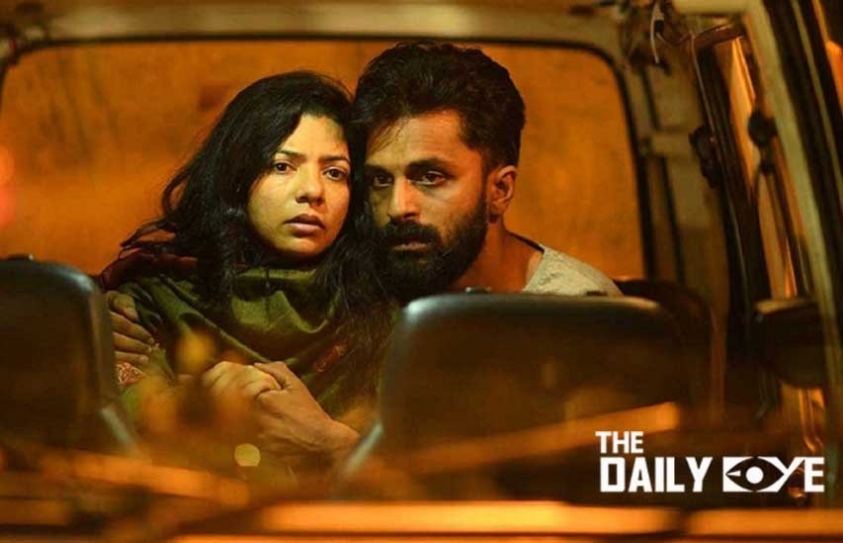 Why was the hard-hitting S. Durga ignored at the National Film Awards and other Questions?
by Khalid Mohamed
April 23 2018, 5:30 pm
Estimated Reading Time: 5 mins, 33 secs
Okay so way back in 1985, there was Durgaa, a Hindi film showcasing Hema Malini as the quintessential good wife who becomes an avenging angel. Reason: she is wronged by her monstrous husband (read Raj Babbar). In keeping with the norm that a woman can't seek justice on her own, she is aided out of harm's way by a saviour, enacted by Rajesh Khanna.
The star-fuelled Durgaa tanked and is barely remembered today. So, what does that revenge flick have to do with S Durga (titled Sexy Durga before the censors deleted the 'exy)? The point is that the Malayalam film shot on the forlorn Kerala roads, in the course of 22 nights with an improvised script, raised the hackles of the nation's cinema culture keepers. And there are no signs of a let-up.
Source : SDURGA
For starters although it was selected for the Panorama section, the indie picture wasn't screened at the Goa International Film Festival of India. Finally, the cause of the scandal was released belatedly this month at two PVR multiplexes in the far-flung suburbs of Mumbai.
No two ways about it, the compact 85-minuter directed by Sanal Kumar Sashidharan, serves as a timely commentary on the status of women today, on the unerasable belief in religious customs, and on the bestiality of men for whom a woman alone, endemically arouses their basest instincts.
Surprisingly, too, the National Film Awards jury this year chaired by the estimable Shekhar Kapur, didn't find the inventively crafted cautionary tale, worthy even of a special mention. Of course, that's their prerogative entirely. The Marathi film Nude directed by Ravi Jadhav, which had also whipped up a controversy at the Goa fest, was ignored as well.
Kapur went on record to state somewhat naively that he was bowled over by 'regional cinema', as if the other film production centres besides the Hindi-film producing factory, was in a state of abject dormancy before he was struck by a thunderbolt of wisdom following the jury screenings. Laughable this, but such short-sightedness could well form the content of another story altogether.
In addition, I could ask, were the juries at so many other international film festivals off their rockers? Check out the award roster and reaffirm that Sasidharan's film has been feted with honours at several fests including those in Rotterdam, Armenia, Mexico, Russia and Valencia.
Now speaking strictly for myself, S Durga, is a brave and hard-knuckled evidence of the fact that cinema neither has to spoon-feed the audience nor does it have to provide facile backstories to its characters, be it of the principal players as well as of those who appear in cameos. One of the most tense and starkly real scenes in the film details at length, the swag of a road police patrol force, which makes inane inquiries, jokes around chaunvisitically and glibly clears a vehicle in which killer weapons are being transported. Naakabandis, who needs them? Forgive the cops, maybe they really don't know what they're doing.
Source : s-durga-still
The aforecited vehicle is a lumbering van in which two goons (not exactly villains, but men conditioned to assert their masculinity) have given a ride to a hitch-hiking young couple Durga and Kabeer (Rajshri Dehspande-Kannan Nayyar). It's way past midnight but the highway and the flanking roads aren't exactly deserted. An elderly couple does take note of the goons and the beleaugured couple in the midst of an argument, but the senior citizens close their home's door and switch off the lights. Completely credible that. Which sane person would invite trouble home, and risk endangering their own lives?
It's left for you to guess why the young couple in question is hitching a ride to the railway station at an hour when danger lurks around every corner. Perhaps they could be eloping. But who knows? Their dilemma could be something else, no facile clues offered.
Next: The two grinning goons are joined by a couple of more bozos, heightening the couple's as well as the viewer's dread. Anything could happen despite their abductors' promise that they mean well.
Ostensibly, the girl on flight from her home is a north-Indian and is expectedly heckled for being an 'outsider'. She pleads with the goons, to let them go while her companion seeks to protect her – not heroically but with pragmatism by pilfering a chopper weapon from the van. You keep your fingers crossed that he won't have to use it, after all he'll be outnumbered.
In yet another as real as life sequence, the couple who manage to flee from the van, are up against another menace. Two spotless white lungi-clad men, astride a mobike, send a shudder up the spine. The horror of being beaten up, raped and left to die, is more than palpable in this road movie subtracted of any vestige of romance or the fantasy-coated.
Shifting gears into a zombie-like space, the couple is tormented by raucous hard music, compelled to wear fright wigs and masks. Whether the two can make it to the station for a train to Chennai or not, is not the script's destination. Rather it is to compare the plight of the girl whose name Durga, quite significantly signifies strength and triumph.
The film is bookended by elaborate documentary footage showing the religious rite of Garudan Thookkam (Eagle Hanging), which is performed in the temples of south Kerala dedicated to Goddess Kali. Young men, their faces pierced with metal shafts, hang from ropes and wires, as the procession moves towards the temples. The camera watches intently, without making any comment.
Yet, the thesis of S Durga comes out loud and clear. Over the centuries, goddesses have been the primeval force of nature. The message, if you'd like to call it that, is worship the woman, don't you dare degrade her. Practise what you preach.
Enhanced throughout by correctly subdued performances by Rajshri Deshpande and Kannan Nayyar, the casting of the ensemble is pitch-perfect.
I'm really at a loss to understand why there should have been any furore over S Durga (okay, so the word Sexy made the censors and miscellaneous powers-that-be flinch). Otherwise, here's a full-blooded paean to woman shakti which needs to be seen and heard, right here, right now.
The only other option is to re-watch Hema Malini in Durgaa and understand that our cinema has evolved considerably since then. Respect that, please.