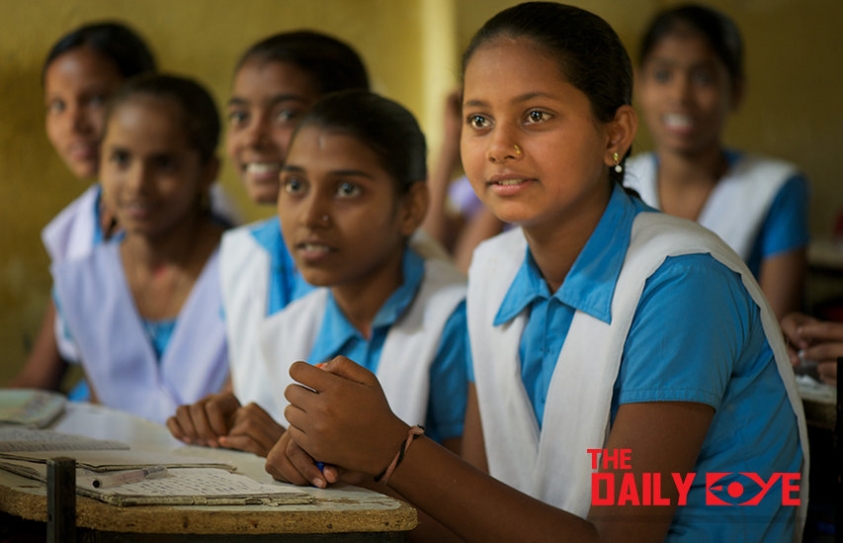 Educate Girls to curb India's ever-growing Population
by Yash Saboo
January 30 2018, 6:47 pm
Estimated Reading Time: 2 mins, 32 secs
The explosive growth in the Indian population could be curbed significantly if teenage girls in this developing country were given the opportunity of completing a secondary school education, says a leading expert in human numbers. This applies not only to India but the whole world.
Putting girls in developing countries through secondary school is one of the single most important factors that cause them to have fewer babies in later life. If a girl goes to school and stays there between the age of 12 to 18 she is less likely to have teenage pregnancy, less likely to have shorter interval between children and less likely to have more than two children during her lifetime, according to the latest national health data.
Let's see some statistics. According to the National Family Health Survey, 2015-16 report, a woman with 12 years or more of education has her first child at the median age of 24.7, which is 3.7 years more than the median age of first pregnancy of 21 for women between 25-49 years.
33.6 percent of India's population (one third) is born of adolescent pregnancies. This comes as shock to me as 33.6 is a huge number in this case. If a woman studies for 12 years or more, she has an average of 2.01 children, compared to 2.2 for all women and 3.82 for women with no education, based on the mean number of children born to women aged 45-49 – a period that marks the end of a woman's fertility.
If each woman has, on average, half a child more than the UN estimates, then by 2050 the world population could be as high as 10.8 billion. If each woman has half a child less, it could be as low as 7.8 billion, Professor Joel Cohen (Professor of Populations at the Rockefeller University in New York) said.
Source : Boarding school Dehradun
"Thus, a difference in fertility of a single child per woman between now and 2050 alters the 2050 estimate by three billion, a difference equal to the entire world population in 1960," he added, writing in the journal Nature.
"Secondary education has the potential to influence that outcome dramatically. Although there are other factors at work, in many developing countries, women who complete secondary school average at least one child fewer per lifetime than women who complete primary school only."
According to the latest Annual Survey of Education Report, in 2017, only one in five adolescents in India of age ranging from 14 to 18 years had completed eight years of schooling and by 18, some 32 percent of females are not enrolled in schools as compared with 28 percent of males.
One should also not forget that growing population is not the only problem. Childbearing at a very young age is associated with increased risk of complications during pregnancy and childbirth and higher rates of neonatal mortality. Children born to educated mothers have higher chances of survival; under five mortality – deaths per 1,000 live births of children under five – of children whose mothers had no schooling was 67.5 while it was less than half (26.5) for children of mothers who had more than 12 years of schooling.