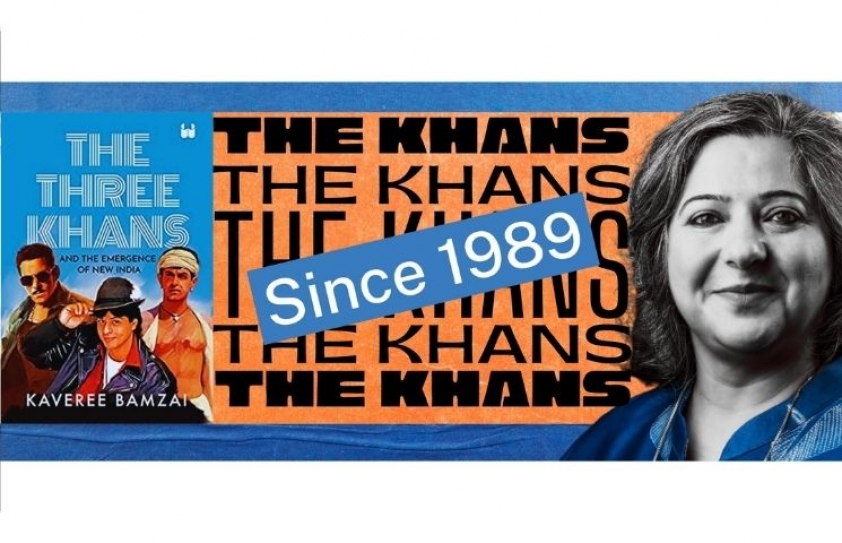 The Three Khans and the emergence of new India
by Monojit Lahiri
October 24 2021, 12:00 am
Estimated Reading Time: 4 mins, 18 secs
Kaveree Bamzai's book with fascinating long shots and close-ups is unique for several reasons, writes Monojit Lahiri. For one, she is both passionate and knowledgeable about movies and not doing any 'OMG' gasp-pant homage, he says.
The year was 1989. I was living and working out of South Delhi as an Ad professional and freelance journo, specializing in movies and lifestyle. I was, as always, hugely into the Bollywood scene and counted on Shashi, Amitabh and Shatru (among others) as the stars I was friendly and connected with - the Khans were not a remote blimp on my radar, not until my younger daughter one day excitedly mentioned how a TV serial Fauji and its storm center, a certain Sharukh Khan (playing Abhimanyu), was creating a sensation among her friends. I smiled and forgot the whole thing within seconds.
A few days later, one evening some of us, friends, found the restaurant we planned to visit closed. One of the guys suggested his flat with the promise of rewarding goodies! We landed up there and just as we were warming up, we were politely instructed to vacate the living room by my friend's kids, "Uncle Fauji ka time aagaya!"
Since the name of the serial was fresh in my mind, I requested my host and other friends to vamoose. I will join them soon in the next room later. They looked at me, aghast and left. Had I gone nuts, watching some vague serial with the kids? The journo in me was plain curious. Kuch to hoga; why not do a checkout? The serial commenced and at one point attracting big ooohs, aaahs and cho cute ya, dreamboat hai na? Sharukh Khan appeared and in a flash, I could understand why he got the kids going!
Young and totally camera-free, spontaneous, attractive in a naughty flirtatious way without being Greek-God handsome, SRK was totally relatable. He only had to step into the scene to own it. When I returned home that night, I told my daughter that I had watched an episode of Fauji, seen Sharukh Khan and thought he was real cool. She was astonished, and thrilled, and whipped out a phone number. "Call him", she commanded. It was my turn to be shocked. "What?" I enquired.
Wasn't I friendly with the Bollywood stars, interviewing them enthusiastically for ages? Do a repeat for SRK, she said. Her earnestness and passion got me and I promised to call the following day.
What followed was the beginning of a warm relationship with first, his wonderful late mother and later, the restless, manic-energetic, excitable, witty and hugely sweet guy himself. His first-ever interview in print - Sunday edition of HT, Delhi 1989 - got his mother so excited that a long thank-you accompanied by an invitation to tea at their Gautam Nagar flat followed.
Sharukh picked me up... but that's another long story. Very soon Salman's Maine Pyar Kiya and Aamir's QSQT hit the screen and like in a trillion homes, love and loyalties were split down the middle! The new age kids just fell for this trio (SRK had joined the party with Deewana) like a ton of hot bricks. The mighty Bachchan, who had ruled since 1973's Zanjeer, suddenly found himself unable to create a Toofan and no Jadugar could save him being blown away by the new tantalizing trio of Aamir-Salman-Sharukh.
Kaveree Bamzai's book with fascinating long shots and close-ups is unique for several reasons. For one, while she is both passionate and knowledgeable about movies, she is no fan-girl doing any 'OMG' gasp-pant homage to the Khans. Her brilliant multi-faceted portfolios [a member of CII Women Empowerment committee, member of the Jury for the Women Exemplar Awards of the CII etc., including the first and only woman editor of India Today, clearly indicates a bandwidth that speaks for itself.
Secondly, she places these three iconic heroes against the backdrop of changing India, which, while saluting the past, eagerly embraces the future - local roots, global perspective.
Thirdly, she also connects their popularity with sociologically-driven aspects along with popular culture, their dynamics - narrative & shifts that have formed, colored and shaped their awesome aura, at home & abroad - converting them to brands that continue (even after 25 years) to hit the AIDA button: Attention, Interest, Desire, Action.
Everything considered, The Three Khan's is a wonderfully researched and scripted book, full of both entertaining and enriching insights (accompanied by appropriate sound bytes by eminent people), about the 'what and how that powered their monster fame'.
No man is an island - these super stars included. Anyone interested in the journey into the heart and soul of Bollywood's tantalizing trio, way beyond the PR-manufactured blah & social media bakwas, look no further. You won't find a more engaging, absorbing, interesting and informative account of the Khan-istan kahani around!