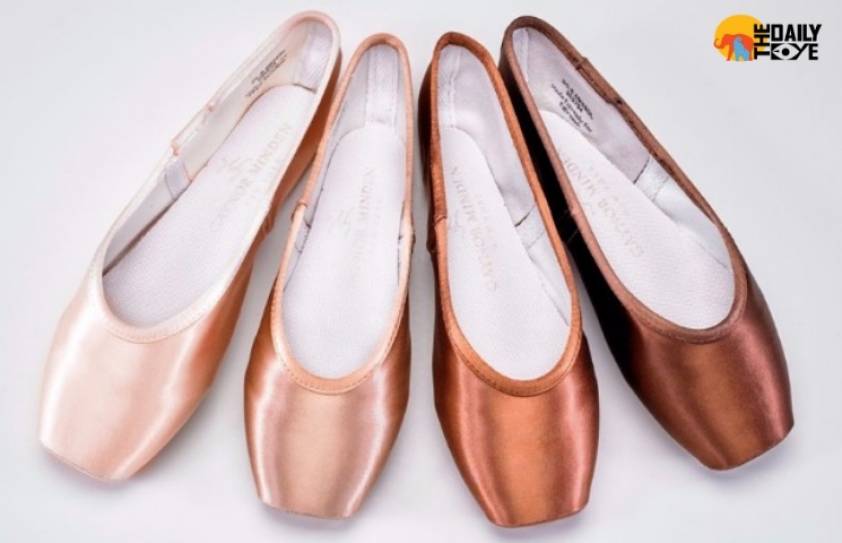 Now, pointe shoes for ballerinas of every colour
by Shruthi Venkatesh
April 12 2019, 7:55 pm
Estimated Reading Time: 3 mins, 59 secs
The Ballet Black is all set for their upcoming spring tour. This time, the company has collaborated with shoemaker Freed to create the UK's first pointe shoes in colours to match black and mixed-race skin tones of the dancers.
Ballet Black is a professional ballet company for international dancers of black and Asian descent. They aim to bring ballet to a more culturally diverse audience by celebrating black and Asian dancers in ballet. They perform and offer community driven classes for dancers and students, young and old. The ultimate goal of the company is to see a fundamental change in the number of black and Asian dancers in mainstream ballet companies, making that vision wonderfully unnecessary.
The new shoes have come in two versions, bronze and brown, and they're a huge leap forward for inclusion in the ballet world. The troupe director Cassa Pancho says, "I was a bit put out by that. All the effort that's gone into this and the first thing they say is, 'That took long enough!' But you forget how different the dance world is to the wider world."
Freed is one of the world's leading pointe shoe brands, hand-making 300,000 pairs a year. The Guardian reports that the ballet shoe was originally designed to look as if the dancer had bare feet, foot and leg in one seamless line, but the dancers don't come in with the issue - colour. And with the rising profile of black dancers - the likes of Misty Copeland, Michaela DePrince and Precious Adams - the ballet world is slowly coming to terms with reality.
Earlier, ballerinas pancaked their shoes to match their skin tone
Freed wasn't the only one to notice. Earlier, US Company Gaynor Minden launched a new colour range in 2017, but Freed has always been a favourite brand among professionals. "It caught hold of the public's imagination in a way I don't think Freed or Ballet Black had anticipated," Pancho says. "We've had media from France, America, Brazil, Japan, Greece. We've made so many TV and radio pieces about the shoes - and unfortunately, in every one, they want to see our dancer Cira Robinson pan caking some pink shoes. So she's actually done more pan caking since the brown shoes came out than she'd ever done before."
Pancaking is a technique that dancers do to make their shoes match their skin colour by covering them in makeup. For Robinson, it was just part of the ritual of painting her point shoes to match her skin. She did it first in 2001, when she was 15, at a summer program with Dance Theatre of Harlem. The company said her shoes needed to be brown, not the traditional pink, but she couldn't find any in stores, so she used spray paint. "It made them crunchy and just … ew," she said in a telephone interview. No, she is no longer obliged to do so.
Freed is now also manufacturing tights to match the new footwear shades. One dancer who has already ordered hers is 12-year-old Afrozina Abaraonye, a student at Ballet Black's dance school in London since the age of three. "Because I've been wearing pink since I was little, I've got used to it," she says. "But there was always that weird thing when I was standing next to my friends and the pink ballet tights and shoes always looked better on them."
Pancho echoes this point: "To walk in and see shoes in your own skin colour is a real change in the ballet world. So it might not seem like much that one little shop in London is doing this, but it's a really significant change."
When Benjamin Millepied resigned as director of the Paris Opera Ballet in 2016, he spoke of hearing a colleague say black dancers were a "distraction". The introduction of the new shoes has destroyed the issue of race. "This has really sparked something," says Pancho, "which is a testament to the fact that it is really important that we keep talking about race - even though it's uncomfortable."
"It's so easy to go down a path of being offended," she says. "Sometimes you have to push through that to talk about the actual issue, which in our case is the lack of black women in ballet."