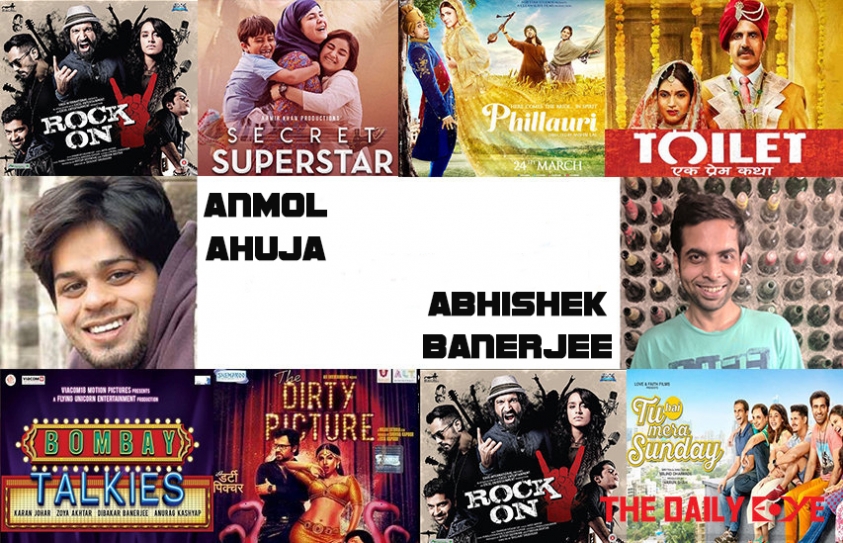 Abhishek Banerjee and Anmol Ahuja: No Stopping this Casting Duo
by Sukanya Sudarson
December 2 2017, 9:01 pm
Estimated Reading Time: 7 mins, 41 secs
"Casting is 65 percent of directing", said John Frankenheimer, the four-time consecutive Emmy Award winning American film and television director. Casting is a very important part of any film one does because one has to find artists who believe they can live and make others believe the character they are entitled to.
Abhishek Banerjee and Anmol Ahuja, are two Casting Directors who are here to stay and make a difference. They are the co-founders of Casting Bay and have worked in many films like Bombay Talkies, The Dirty Picture, Tu Hai Mera Sunday, OK Jaanu, Toilet –EkPrem Katha and the recent blockbuster Secret Superstar.Secret Superstar is a 2017 Indian musical drama film produced by Aamir Khan and Kiran Rao. The film is a coming-of-age story of a teenage Muslim girl who aspires to be a singer, her mother who is a victim of domestic violence and their struggle against a misogynistic and violent patriarch.
Abhishek and Anmol have been casting for various films since the past 7years and have done casting for films, Ad Films, Web-Series, short films and much more. Here is Sukanya Sudarson, Manager Programs at the Asian Centre for Entertainment Education in a free-wheeling conversation with the casting duo about their journey as Casting Directors in the Bollywood industry and their experience working on the film Secret Superstar.
Q: How did you get started as casting directors?
Abhishek Banerjee: Curiosity. Anmol and myself were two 'enthu' college kids who just wanted to be a part of films getting made in Delhi during our DU days. Our curiosity led us to the audition room of Dev D, where we met Gautam Kishanchandani, the Casting Director of Anurag sir's early films like Black Friday, No Smoking and Ghulal. I started giving cues and Anmol helped in resourcing actors and that's when for the first time we became a team. We assisted Gautam in few more projects before getting our first film Dirty Picture. It took us 8 long years to finally form Casting Bay.
Q: Where and how did 'Casting Bay' happen? What were your experiences in the process of establishing yourselves?
Anmol Ahuja: We have been casting for films for the past 8 years. In these years we had our highs and lows as casting directors, but no matter what we kept at it. Slowly and steadily we started building a team. The offers kept coming and we kept hiring team members and then one fine day TVF approached us to cast for all their content. This was the turning point. We never believed in the concept of working for a particular company but TVF was different;they were a young and a creative bunch of professionals creating some of the best content online.
Abhishek Banerjee: We saw a whole new world of casting. A world where we could explore as much as we want and give chance to a lot of new talented actors. We realised that the casting world is here to grow. We wanted to be a part of this growth, to help makers find the right actors and help actors find the right projects whether on films, TVCs or digital. Casting is unique, as the process of making any audio-visual content begins here. As two 'enthu' kids we just wanted to be a part of the great beginnings. Casting Bay is our beginning.
Q: Was there any one thing that drew you to the business?
Anmol Ahuja: Yes, the opportunity to find new talent was one of the biggest attractions. What better high can you get than introducing someone to their dream. Plus, we get to read scripts before anyone does and direct the scenes before the director. To be the "firsts" in the process is also a great high.
Q: Since staring your own company, how have you chosen which projects you want to take on?
Abhishek Banerjee:Not really, we usually like to work on quirky scripts but honestly, we want to be associated with all kind of genre. The idea is to change the casting mode for different scripts we get. From Phillauri to Tu Hai Mera Sunday to Secret Superstar to Ajji to Toilet: EkPremKatha, the process differs for each film. For digital we have a different strategy and for TVCs, we are still trying to build a strategy…lol..
Q: Persistence is definitely a key to success in this business, not only for actors. In your own words, what are the qualities of a good casting director?
Anmol Ahuja:First and foremost, a casting director needs a lot of patience. Patience to meet different actors, patience to wait for the right actor to fit the character, patience in the audition room to help an actor and patience to deal with the mood swings of a director with regards to a particular character. Once we are sure of someone's talent we need to be persistent in pushing them for a good role. We need to be persistent towards a director to cast the right actor. And finally, we need a lot of passion to execute whatever I said above. Without passion, casting can be dangerously tiring.
Q:Let's talk about the audition process. When you audition actors, what are some of the qualities you look for?
Abhishek Banerjee:The basic is simple - read the script, understand the characters, use your creativity and director's imagination to come up with actors. Now in the audition room we try to guide the actor towards the given character. Simply spoon feeding them won't work. We need to push them to their limits to get an extra ordinary performance. The audition room is like an actor's lab... we need to add different components in order to get the set result. There can be accidents, but isn't that the drama we are looking for!?
Basically, we are looking for presence of mind. Sometimes the audition room might not be idle to test a particular scene, but it's the skill to use the space and situation in the best of your capability that will define your audition performance.
Q: How often does an actor come in and absolutely wow you?
Anmol Ahuja:Quite often these days. Nowadays, we get to see some really talented actors who give a refreshing take towards a character. People are using their imagination now. We are trying to help them with whatever resources we have. The results will be seen in the forthcoming films.
Q: You hear about these really long casting searches to find the right actor. What's one of the most challenging casting experiences that you've had?
Abhishek Banerjee:Chintan in Secret Superstar was very difficult to cast. We couldn't find the innocence of a 14-year-old boy in a metro like Mumbai. Kids are smart here in Mumbai, they need to be… in a place like this. We decided to search in smaller cities and in Baroda we found Tirth. He was love at first sight. We knew he was our Chintan. See, this is one very important thing of casting, your gut plays an important part too…Sometimes we are sure of an actor just when we talk to them, it's like you are looking for a character, and there they are in front of you talking to you.
Q: What are some of the common misconceptions you think actors have about casting directors or auditions in general?
Anmol Ahuja:That we are judges and pass judgements!We are not inside the audition room to judge you as an actor, we know you are a professional actor. We just want to be sure if you can be our character or may be mould into one. It's a process of film making and not an external department.
Q: How was it working on Secret Super Star and your experience with Aamir Khan and Kiran Rao?
Abhishek Banerjee:It was dream come true. I mean what else can you ask for more than a conversation with these two highly creative and intelligent human beings sitting in one room. We truly learnt a lot from them especially, the dedication towards cinema in general. Advait(Secret Superstar Director) was very proactive and we used to have really long casting meetings. All that hard work gave us such amazing results.
Q: How difficult or easy was it casting the child artistes in the movie, especially Zaira and Tirth, who have done exceptionally well in the movie?
Anmol Ahuja:Zaira was easier as Aamir sir had already worked with her in Dangal, he believed that she can play Insiya, and Advait and we couldn't deny that fact after watching Zaira's audition. She was marvellous. Tirth, I have mentioned above.
Q: Any parting words of wisdom to aspiring actors out there?
Abhishek Banerjee:Don't stress, auditions can be fun, just come on your best days and feel free to play...and please learn the lines.