A Tribute to Kalpana Lajmi
by Jyothi Venkatesh
September 24 2018, 11:01 am
Estimated Reading Time: 6 mins, 47 secs
"A woman filmmaker is a hustler who is constantly trying to sell herself." – Kalpana Lajmi
(A maker with a vision of her own, Kalpana Lajmi passed away on Sunday at 4.30 am at the age of 61, after succumbing to her prolonged illness. As a mark of tribute to the late filmmaker, we reproduce this rare incisive interview with Kalpana Lajmi who did not hesitate to call a spade a spade, interviewed by Jyothi Venkatesh, which appeared 21 years ago for the first time in FANTASY Birthday Special 1997)
On Her Late Uncle Guru Dutt
I have liked Guru Uncle's technique but not his approach, which has been pessimistic and self-indulging. There has always been some strange shade of autobiography in his work. What I liked about his film is his brilliant handling of actors, fantastic cinema language, superb compositions, very good music and different kinds of stories. I always use to wonder why Guru Uncle should be such a narcissist that he should thrust himself as an actor when he was such a bad actor. He always suffered from a lack of self-confidence, because, though he was a genius as a person, he was always gloomy, very weak and hyper sensitive and it sapped his energy.
On The Casting Couch Syndrome
What is the bottom line of casting couch? Lust. Women do not lust. Men do. God created a man to lust and a woman to love. I have never ever felt that I have been 'aroused' by any actor of mine. Seriously I have never gone through a situation like that. I swore to God that I will never ever fall in love with an actor because actors are the most narcissistic breed in the world. When it is a willing consensus between a man and a woman to have an affair to achieve something, I would not call it casting couch. Today's girls are educated wannabes and they know what they are doing and no one can force them to do something which they do not want to do. May be a man gives an unspoken come hither look to a woman. How do we know? When I recently went out of my cabin to see an aspirant actress, took her photographs and finished talking to her in a couple of minutes she told me that male directors normally asked her to stay on. Even if it was an actor, I'd not have bothered to get attracted to him. It may not be literal but casting couch is there in every man's mind.
On Homosexuals and Lesbianism
God created man and woman to procreate and create. It is the law of nature. Hence I feel that if you deviate from the law of nature you are a deviant. It is very uncomfortable to see two people belonging to the same sex making love whether on the screen or off it. An eminent filmmaker told me about the situation in Punjabi households. In villages the women are so starved of male companionship that actually sisters in law and mothers in law undergo a relationship with each other. It is not lesbianism. It is sexual bonding between two women. When Aparna Sen and I went to Paris together, people there could not believe that we could be straight. They all thought that she and I were partners together especially since we were sharing the same room at night.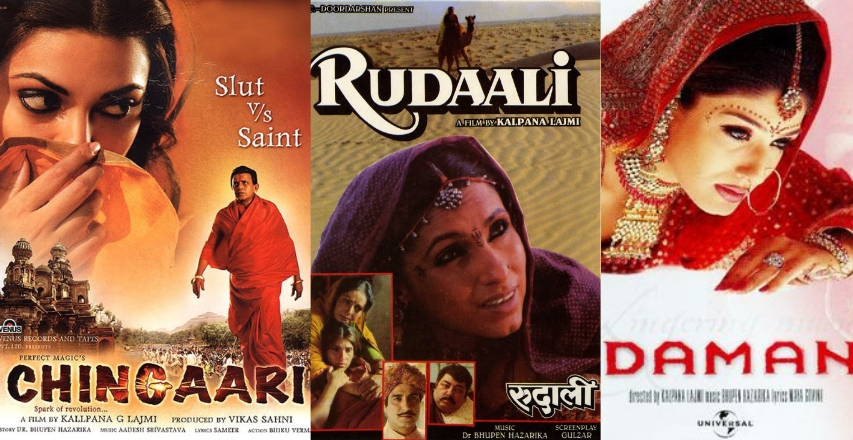 Works of Kalpana Lajmi
On Educating the Cine-goers
I am not ready to kid myself as a committed filmmaker. Just tell me how many people are going to remarry a widow just because I have made a Rudali? Will I bring a Sanchari from that desert in Rajasthan and give her a job in my house? A filmmaker is a communicator. If what he makes does not make sense to the audience, what is a filmmaker doing? I'd rather give the audience the truth rather than distort the reality, like the commercial filmmakers. The moment you are disturbing someone with your characters, you are placing a realistic question. A Veeru Dada or a Pinky played by a Shakti Kapoor or an Anupam Kher only makes the audience laugh at them. They do not make them pause and ponder. They never take the mantle of questioners. Darmiyaan will disturb the audience. Hence I do not know whether they will accept my film. I have not seen Amol Palekar's Daayra but I have seen Tamanna and felt that it did not touch one at all.
On Hypocrisy among Indians
We Indians are very notorious for our hypocrisy. It will take ages for us to come out of the closet of homosexuality and male prostitution. I think the moment you are comfortable about how you are going to approach a particular subject, things will ease out. Like I am comfortable talking to you about taboo subjects like sexuality and hence I am talking. If I were not, I would not talk about this because I will be worried about how you would interpret my thinking.
On Directors Who Have Tremendously Influenced Her
With due respect to Aparna Sen, she has not been a path-breaking or path-leading filmmaker. To me, seriously Satyajit Ray alone has been a path-breaking filmmaker because he broke a path as a filmmaker. Even Shyam was not a path-breaking filmmaker but P.C. Barua was one of his times. The only filmmaker after Ray who has been able to achieve a balance between the commerce and the art in the sense that he has been able to make aesthetic films is Mani Ratnam. You may agree with me or not but the only two filmmakers on the Indian Cinema map who have influenced my thinking greatly have been Mani Ratnam and Satyajit Ray. I stumbled upon Mani when I saw Nayakan on video long before the Bombay film industry discovered him with Roja along with A.R. Rahman. Shyam has made aesthetic films but none of his films have been stunningly path-breaking like those made by Ray or Mani. Adoor Gopalakrishnan is another genius filmmaker who is also truly a path-breaker though the fact remains that I do not always understand his kind of cinema.
On the Perils of Being a Woman Filmmaker
A woman filmmaker is a hustler who is constantly trying to sell herself. It is a very strenuous job. In general, women tend to be house - proud than a man and do much more work revolving around her home per se whether she is married or a spinster. It sort of becomes a tug of war if you happen to be a married woman because you have got to divide your time between your husband and your avocation. A man can withstand any sort of humiliation, but not a woman. She will just collapse.
On Being Subjected to Humiliation as a Female Maker
As a filmmaker, you are being subjected to a lot for humiliation at every stage. It is sad that women filmmakers do not get their place of pride. When I showed Ek Pal to my mentor Shyam , he told me it was a brilliant film and I was in the category of Aparna Sen. I retorted and asked him why he was not telling me that I was in the category of say Ketan Mehta or Gautam Ghouse. Most of the male filmmakers have this pre-ordained and pre-conceived notion that we are woman filmmakers and hence we should be in that slot. Why should you be sexist? When it is Shyam Benegal, Basu Bhattacharya or Gulzar, the males have always made films on women and are called quality filmmakers and it is as if the men themselves were behind the camera. Why should we be called women filmmakers? When an intellectual filmmaker like Shyam has categorized me as a woman filmmaker, why should I expect some Ram, Jatin or Mungerilal in the film industry to treat me as a filmmaker irrespective of my sex, as an individual identity?
Kalpana Lajmi