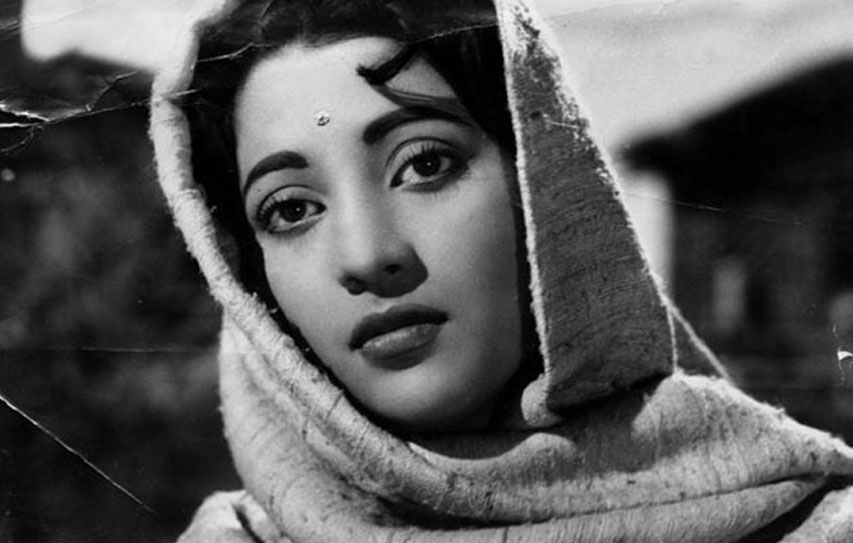 Suchitra Sen - Revisiting Icons
by Rinki Roy Bhattacharya
October 5 2015, 4:40 pm
Estimated Reading Time: 6 mins, 34 secs
Standing at the far end of the room she resembled a house wife in a simple cotton saree. A few gold bangles twinkled musically round her wrist. That plump figure was out of sync with size zero heroines of Hindi cinema. Her serene Madonna-like visage and rotund shape reminded me of painter Raphael's opulent women. No, the woman talking to my mother, did not resemble a dazzling film star. She could pass of as any ordinary woman, a relative, a neighbour.
Someone whispered: "Is that the famous Kolkata star Suchitra sen? So plain!"
My first glimpse of Bengal's celluloid Diva, known as "Mrs. Sen", was the night she came home for dinner. She was part of our family, I heard. Father in law, Adinath Sen's first wife was father's eldest sister, Roshenara. Suchitra married Dibanath, Adinath's son by second marriage. This fragile family tie justified Suchitra Sen calliing my father 'Bimalmamu'.
My famous father had discouraged Mrs Sen from acting:
"Why do you want to act in films? Women from our family have never stepped out!! "
Ironic, that Baba cast Rama – Suchitra – Sen over Meena Kumari or Nargis to play Parvati in DEVDAS (1955) opening doors into the big league of Bombay cinema.
The choice of a Bengali raised eyebrows! Being the producer /director of DEVDAS baba enjoyed an advantage. He also enjoyed a formidable reputation for casting. Remember Nutan as SUJATA, and Kalyani ( BANDINI)… the story how he discovered the obscure Meena Kumari for PARINEETA was well known.
And so an unknown Bengali star, Suchitra Sen, was paired opposite the redoubtable Dilip Kumar. Dilip Kumar was believed to be tailor made for Devdas. Dubbed tragedy king, he was perfect actor to play Devdas but was Suchitra Sen the perfect Paro? People speculated. Meanwhile DEVDAS went on floor, was released. Watching DEVDAS everyone was mesmerised. If Dilip Kumar was tailor made for Devdas, then Suchitra Sen was born to play his tragic beloved, Parvati. If Dilip Kumar dazzled – Suchitra glowed like a gentle pearl. A match for Dilip Kumar, her rendition of Paro remains an understated essay in poignant pathos. Portraying unfulfilled love for Devdas her nuanced performance is hard to match. Critics were silenced. She was quickly forgiven for her quaint accent by the powerful portrayal of an abandoned beloved.
Few films match the written word as closely as Bimal Roy's DEVDAS. Admiring Sarat Chandra Chatterjee's works, baba was loyal to the writer's spirit. In this saga of love and betrayal, Parvati is deceived twice, first by Devdas's cowardice, then by society. DEVDAS is primarily the love story of childhood sweethearts separated by Indian Society's mindless class/caste divide. And yet it is Parvati who defies society by her daring courage to love Devdas. Not only did she love him as an adolescent, as a married woman Paro audaciously loved Devdas. Many women long for their childhood sweethearts, secretly. But few women, particularly of that era, may be even today, would boldly state their love for a man other than the husband. That Parvati could do this, was unthinkable, radical, brilliantly modern. Her with Manorama reveals the intensity of Paro's feelings for Devdas and how deeply she had internalized their relationship. Paro's clarity about man-woman relationship is firmly rooted in a contemporary idea of gender equality.
Through the narrative, Parvati defies social norms set down for female gender. One night, she steals into Devdas's bedroom with a serious intention, proposing matrimony. There are several occasions when her consuming passion for the man is unconditionally stated. To my mind, Parvati's marriage was an act of rebellion or call it sati against female destiny. Being married to a kind, elderly zamindar, did not stop Paro from openly stating her intention to bring home the ailing Devdas. That was a fitting reply to our orthodox society that raises barriers against liberal choices.
Watching DEVDAS time and time again, it became apparent that Paro and Suchitra were kindred souls. Paro makes us aware how patriarchy silences women, punishes them, she also shows how to rebel. In enacting Paro Suchitra seamlessly bonded with her character as one persona.
Suchitra's consummate skill blossoms in the delicate moments. Imagine that moment when Devdas and Paro meet briefly as adults. A nervous Paro awaits her lover, at a loss for words. The room is lit by a little lamp. Her heart leaps about like the lamp flame. The soundtrack crackles with footsteps. A shrill conch shell marks the pure, twilight hour when day reunites with night. The lovers are half visible, their shadows leap and fall. Nothing is said in the embarrassed silence. I have goose bumps thinking of the scene. It is is one of the most eloquent cinematic moments where love and longing are expressed with a refined aesthetic sensibility.
Suchitra Sen has created a new template for actors with her subtlety, her restrain. Watching her acting graph in DEVDAS, can be a workshop for aspiring actors, how to emote without words, or sustain silence.
The Diva's finest hour however is reserved for the curtain call. The slow build up to the tragic finale moves ominously, like a Greek tragedy. Startled from sleep Paro is shown trapped by the billowing mosquito net. She imagines hearing Devdas call her. Next morning, the news of his death makes her rush like a torrential river for a last glimpse of the only man she loved. That master of understatement, Bimal Roy, allows a display of uninhibited emotional outburst in a rare example of when he does not restrain, or could not restrain a woman in love. It is inspired by the purity of Paro's love. She compels the director to open the floodgates of her emotion. The last scene is a cinematic triumph of dizzy emotional height. It has a cathartic impact on viewers. The breathless manner in which Suchitra/Paro runs towards the gate forces us to introspect.
Scene after scene, Suchitra's poignant presence threatens to steal the limelight from Dilip Kumar. That she succeeds in doing that with supreme confidence without unbalancing the equation is to her credit. The actress matches every mood, each little twist of Parvati's aching heart.
I am convinced Suchitra Sen was not merely born to play Parvati against a Titan. That she had internalised Paro's emotions. She was in fact a real life Paro. Her pride, dignity, self-effacement was parallel to that of a literary character named Paro. Gifted with an intuitive understanding, she had to play herself. Watching her luminous presence on the screen, blown by her spontaneity, we easily forget we are watching a make belief work. Parvati and Suchitra bond seamlessly into a single persona. The two, Parvati and Suchitra had made a secret pact to convey the cross women bear, the tragic price they pay. Suchitra Sen invests each scene with these rare qualities, turning it a living, experience.
I regret not seeing her Bengali films, or be blown by the Uttam-Suchitra fever. But for Indian viewers, the eternal Paro is Suchitra Sen. Her extraordinary performance upstaged other screen Paros, the gifted Jamuna Devi, the bewitching Aishwariya Rai who perish compared to Suchita's immortal Paro.
Suchitra Sen remains unhonoured by her own Government. The Govt. of India dragged its feet to give her the Phalke Award. Another act of betrayal she chose to gracefully ignore. Perhaps she knew where true honour lies. Her greatest reward is the adoration, the high regard countless admirers lavish. Suchitra Sen is deathless.
Disclaimer: The opinions expressed in this article are the author's own and do not reflect the views of the publisher.