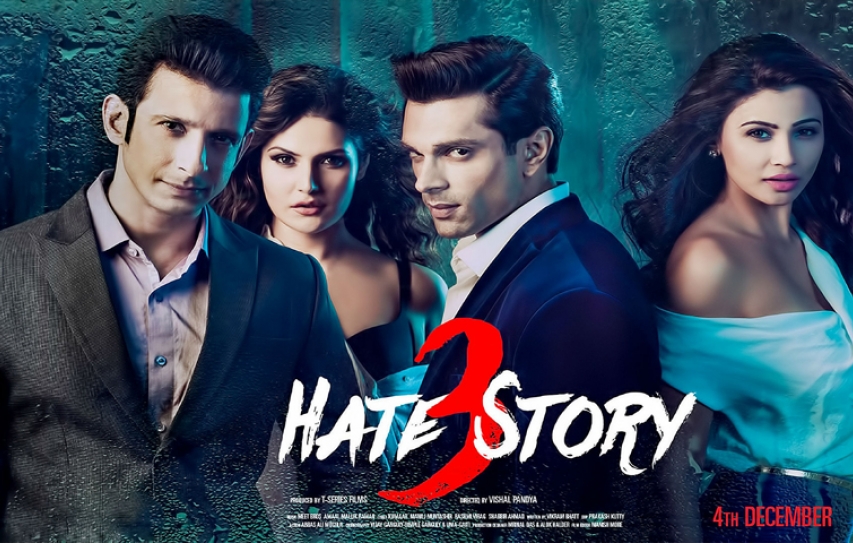 True Review Movie – Hindi - Hate Story 3
by Niharika Puri
December 5 2015, 5:55 pm
Estimated Reading Time: 2 mins, 24 secs
Critics rating: 1.5 Stars
Cast : Sharman Joshi, Karan Singh Grover, Zareen Khan, Daisy Shah
Direction: Vishal Pandya
Produced: Bhushan Kumar, Vikram Bhatt
Written: Vikram Bhatt, Madhuri Banerji
Genre: Thriller

Duration: 132 Mins
The saga of sex, lies and naked thighs finds an unnecessary sequel in the franchise. Brace yourselves… asininity is coming.
Aditya Diwan (Sharman Joshi) is a business tycoon running cola companies, telecommunications and other unspecified endeavours. He also has a hot wife to boot in Siya (Zarine Khan). Together they would have looked like a fairytale couple if it was not for the cringe-worthy interview in the beginning where Siya is asked point-blank if she was engaged to Aditya's dead brother. Out comes a sob story about his untimely death, a forced marriage to Aditya to save her name and a miscarriage before she found love with him. It is a twisted prelude to any marriage, so any piece of dialogue in a similar vein to open the film should indicate exactly how this is going to end.
Yet the hand-wringing, gleeful strangeness has only just begun. Aditya has a trustworthy business associate in Kaaya Sharma (Daisy Shah), who had joined the company two years ago as a secretary but presently brokers deals worth 500 crores. If you are wondering about the instant promotion (should the thinking audience be present for this film), Kaaya's proclivity towards luxurious baths and animal-print lingerie should answer that question for you.
In the continued spirit of parodied sensuality comes Saurav Singhania (Karan Singh Grover), a walking hunk of photoshopped seduction. He wants to help further Aditya's business only if he will let him spend a night with Siya. Aditya is obviously offended by the offer, which leads to Saurav driving the Diwans up a wall and then down in the sharemarket just because he can.
Characters seem to double cross each other, with one in particular, handing over an orange-coloured hard drive to Saurav containing Aditya's business secrets. Orange. The hard drive is orange in colour. As is the Audi Saurav gifts Aditya a few scenes prior.
The aesthetics in certain scenes like these are off the charts. So are the performances. Sharman Joshi needs a shout-out for being the only actor making a conscious effort to perform, despite being saddled with some dreadfully clichéd, soap operatic lines. Karan Singh Grover and the leading ladies are in onscreen competition for the sexiest pout, which explains a lot if they're bumping lips to merely mash the other one out of the match.
Hate Story 3 delivers on the sleaze if you have set your bar low. Really, really low. Because the makers certainly have. So go ahead for a chuckle-fest this weekend but don't forget to carry Morpheus' blue pill with you. It may be needed.