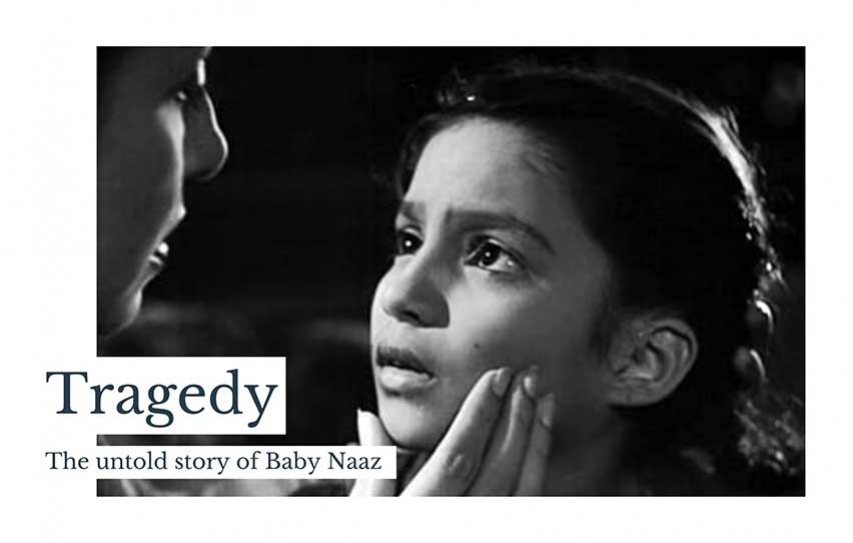 Tragedy: The Untold Story of Baby Naaz
by Khalid Mohamed
July 8 2020, 5:08 pm
Estimated Reading Time: 6 mins, 49 secs
Khalid Mohamed narrates the story of Baby Naaz, a super child actor of the vintage years, who passed away, felled by the loss of fame and adulation
In Bollywood lingo, they're known as 'sone ki chidiya' - the golden bird - a variation on the golden goose.
Baby Naaz, one of the most adored child actors of the 1950s era was one such.
Practically every child actor, whether here or in Hollywood, has complained vehemently of a lost childhood, of being coerced to slave at absurd hours before the camera, suffer sleep and food deprivation and worse.
Born Salma Baig In Mumbai, Baby Naaz as she continues to be called by those who remember scores of her gamine performance, she was compelled to act on stage at the age of four, then in over 100 films, and was finally left to fend for herself without, it is said, her bank savings and jewellery.
Her father, Mirza Dawood Baig, was a failed screenwriter. In their impoverished circumstances, quite clearly her mother saw their only daughter as the family's sole bread-earner. It's another story that Baby Naaz's mother eventually left her husband and child to marry a film cameraman. The step-father, the child would speak of, in horrifying words.
Around the age of 10, Naaz had attempted suicide twice, by jumping into a neighbourhood water well, and was rescued by the domestic help.
Such hard luck stories abound, it's nothing new you might say. That I'm afraid amounts to sheer heartlessness, which is why this throwback to a perky little girl who passed away at the age of 51, some 25 years ago.
Like Baby Tabassum, Daisy and Honey Irani, Naaz failed to achieve the transition to heroine status. Sure as an adult, she did feature in as many as 30 films, most famously remembered as the leading lady of Lambhe Haath opposite Mehmood, Char Darvesh with Feroz Khan and a sci-fi oddity titled Rocket Girl co-starring Sudesh.
She is recalled instantly as physically-challenged sister - pyari baheniya became her epithet - to Rajesh Khanna in Sachha Jhutha, and the saheli to Asha Parekh in the prologue of Kati Patang. Next, in her capacity as a dubbing artiste, she was identified in the 1970s as the 'voice' of Sridevi in the southern sensation's earlier batch of hits. Think Himmatwallah, Tohfa, Mawwali for a sampler.
It's a given broadly, that avaricious and needy parents are blamed for overexploiting a child actor to the point of sheer sadism. In the case of Baby Naaz, this level of greed reached quite another level. Spotted by Nargis, after the child had appeared in a couple of films, she was recommended for the part of a street orphan, who with her brother, played by Master Rattan, is reduced to surviving on the mean streets. The film was R.K. banner's still heart-wrenching Boot Polish (1954), handled in the Vittorio De Sica neo-realistic style. Screened at the Cannes international festival, it fetched both Baby Naaz and Master Rattan special commendations from the jury.
Incidentally, the way Baby Naaz performs to the Boot Polish songs Nanhe Munne Bache Teri Mutthi Mein Kya Hai and Raat Gayee Phir Din… are beyond outstanding.
Raj Kapoor wished to send her for a five-year course in a school in Switzerland but permission was denied by her mother. Without her, they couldn't live on love and fresh air, could they? Needless to lament, if Naaz had been allowed to educate herself, her life would have taken an entirely different turn.
At the height of her success as a child star, the demand was on to cast the waif-like girl, a pro at memorising dialogue and at ease in acting. Hrishikesh Mukherjee's Musafir, Bimal Roy's Devdas (in which she enacted the younger Paro), Guru Dutt's Kaagaz ke Phool, the Dilip Kumar classic Gunga Jumna (the young Paro), G. P. Sippy's Bhai Bahen, Kishore Sahu's Dil Apna Aur Preet Parai, Sunil Dutt's Mujhe Jeene Do and Narendra Suri's Laajwanti assured a flourishing career – besides exacerbating her parents' dependence on her earnings. Apparently, she had been coerced to sign several hundis against which her parents made stacks of money.
Indeed, to date when at auditions for films, TV series and ad shorts, parents show up hoping against hope to find a break for their children (even barely new-borns), it makes you wonder is this is sparked by mere desperation or the ambition to convert the kids into ATM machines? Can parents be that self-involved to the detriment of their kids's growing up years? Those are answers which perhaps only psycho-analysts can ascertain. The practice or tradition continues to blow in the Bollywood wind.
Naaz's one escape route was to marry hero-turned-character actor Subiraj, related to the R.K. clan. Their courtship had lasted as many as five years. While shooting for a forgotten family drama, Dekh Pyaar Tumhara, the actor applied sindoor in her maang on the studio sets itself. Differences of religion and their family's opposition, including threats to throw acid on Subjiraj's face, had necessitated that high-dramatic moment.
From all accounts, theirs was an idyllic marriage, leading to the birth of their two children Gauri and Girish, who were shielded from the vagaries of show business. Today, Naaz and Subiraj are also survived by their grandchildren Meghna and Saahil.
Unfortunately, Naaz was diagnosed with a terminal illness of the liver and was told by the doctors that she couldn't survive beyond six months. Subiraj was to recall, that Naaz in her state of depression, besides having lost that halo of stardom, would chew tobacco and khimam constantly. Hoping against hope, Naaz tried to lose weight and aspired to return to the studios; her second home.
Subiraj was 60 by then and had undergone a bypass surgery. "How I wish my wife hadn't passed away," he had stated, adding, "We could have kept one another company in our old age. I spend my evenings in the drawing room, nursing my drink and staring into emptiness." Subiraj passed away in 2009.
To marry Subiraj, Naaz had converted to Hinduism and was renamed Anuradha. Yet her original screen name, Naaz, stuck. Accustomed to fame and adulation, she couldn't quite fathom the reason why she hadn't made it as a heroine. Fortunately, the couple were offered the TV series Janki in which she portrayed Subiraj's sister-in-law. Television became a viable source of income but not enough for them to afford luxuries like a yearly holiday. At most they would pack off with the kids in a car, with a lunch-box and iced canned beers to either the nearby Lonavla or Pune.
At one point, Naaz was enraged when Rekha dubbed for the voice of Sridevi in Aakhri Raasta. It seems Sridevi wasn't pleased that Naaz was dubbing for other southern heroines as well. To that Naaz had shot back, "Give me a contract that I will be the only one to dub your voice till you quit working… and it's a deal."
It seems a month before she passed away, Naaz, bound to a wheelchair by now had visited her husband's relatives and guru in Delhi. Two days before her end, she lapsed into a coma and passed away peacefully. Of course, Subiraj felt alienated from the film industry. When they were down and out, no one rushed to their help, except for Sadhana and R.K. Nayyar occasionally. Not one celebrity attended the funeral in Mumbai.
And to think there was a time when Baby Naaz was the toast of the Cannes festival. And filmmakers back in Mumbai would pamper her with chocolates and ice-cream, which in retrospect must have left a bitter after-taste.