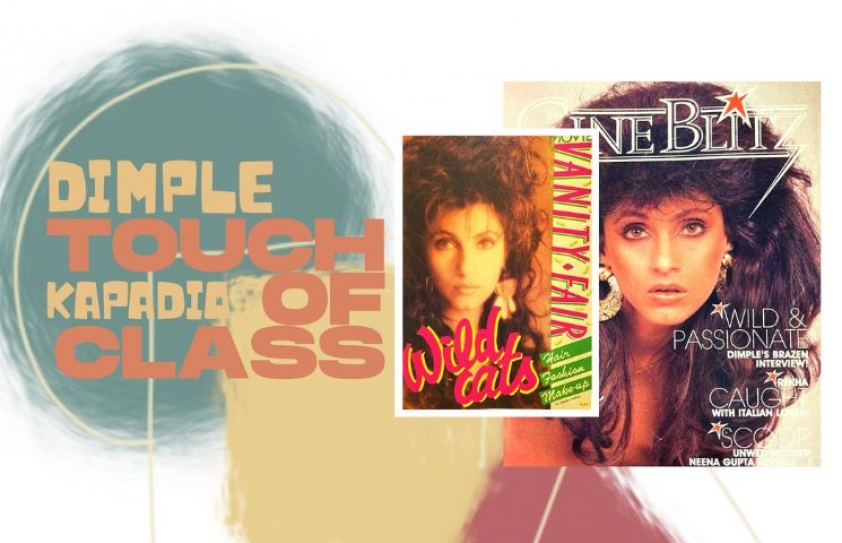 Touch of Class
by Dhruv Somani
June 5 2022, 12:00 am
Estimated Reading Time: 7 mins, 10 secs
As Dimple Kapadia's birthday approaches on June 8, film historian Dhruv Somani tracks how she has made strong fashion statements over the decades.
Her beautiful eyes and auburn mane have always drawn attention. During the late 1980s and '90s, upcoming actresses and teenagers would flock to the popular parlour of Bandra, Nalini & Yasmin Salon, which was known for styling her hair. Fan mails would ask her about her bouncy tresses and she would often share her hair secrets in magazines like Cine Blitz and Movie.
Dimple Kapadia had carried on her waltz with destiny. It was always two steps forward and two steps back. Either way, Dimple Kapadia steadily emerged as a powerhouse of acting talent. Moreover, she became a trendsetter. She was always the muse and a favourite of designers Abu Jani and Sandeep Khosla. Her sister, the late Simple Kapadia, would also design her film wardrobes. Rarely has Dimple been given her due credit for being a Bollywood fashionista.
Over time, she was identified with tour de force performances. As her 65th birthday approaches on June 8, let's look at Dimple Kapadia's track record as an actor of fortitude as well as an incomparable fashion touchstone.
Everyone knows that she created a sensation with her debut film, Raj Kapoor's Bobby (1973). And soon, she was on the brink of becoming a young mother. The markets were flooded with short polka dotted knotted blouses and skirts replicated from those Bobby skirts and tops. Even pins, headbands, shoes and slips were being marketed as Bobby accessories. In the midst of motherhood, she remained in the news because of her rocky marriage with superstar Rajesh Khanna.
A decade had elapsed. Every now and then there would be announcements of her making a comeback to films. It was after a 12-year hiatus that she returned to the sets with Ramesh Sippy's Saagar. Though Saagar was supposed to be her comeback film, it was delayed and she was paired with Jeetendra in Zakhmi Sher (1985). Zakhmi Sher was forgotten when Saagar (1985) released a few months later, showcasing her in a new avatar.
The naïve Bobby Braganza had matured as Mona D'Silva. She hooked the audiences when Rishi Kapoor serenaded her with the R.D. Burman song Chehra Hai Ya Chand Khila Hai/Zulf Ghaneri Shaam Hai Kya/Saagar Jaisi Ankhon wali/Ye To Bata Tera Naam Hai Kya. Her simple midi-skirts and checkered apron were eye-catching but it was her stringy red choli teamed with a plain red sari in the song Jaane Do Na, which were the show stoppers. Even though Saagar did not fare too well at the ticket counters, Dimple Kapadia had returned to stay, creating mass hysteria among the viewers.
A bunch of her films also released in 1984 and 1985, Aitbaar saw her as Neha Khanna dressed in paisley printed chiffon sarees and she was particularly striking in the song Kisi Nazar Ko Tera/Intazar Aaj Bhi Hai. In Lava, she was eye-popping in the song Koi Bhi Naam Do, wearing a sequined golden saree. The same year, she was teamed opposite Sunny Deol in Arjun, humming Bhuri Bhuri Aankhon Wala in a white poncho and a green tassel belt. This was just the beginning for her to set new fashion trends through her films.
Next, she sprang another surprise with Feroz Khan's Janbaaz (1986) as Reshma Rai. Feroz Khan knew how to make his heroines look ultra-glamorous (like Zeenat Aman in Qurbani). Dimple with her permed hair, animal printed sarongs, off shoulder dresses with matching boots and fancy Tees with high-waist jeans managed to woo the audiences creating a mass fan following. Meanwhile, her photo-shoots with various designers too appeared on the covers of all the leading magazines.
In 1987, she took on diametrically different roles. She played the spoilt and egoistic Shilpa in Rajkumar Kohli's multi starrer Insaniyat Ke Dushman in which she performed a koli number a la Bobby with Raj Babbar. Over to one of Vinod Khanna's comeback films, Insaaf, in which she essayed the dual role of Sonia (a cabaret dancer) and her sister Dr. Sarita. As Sonia, during the song sequence, Sulagti Hai Aankhen, she wore chikan kurtas with lungis and layered saris with off shoulder tops puffing a cigarette. The film did well and her glamorous look was again applauded.
The same year she enacted a sensitive role in Mahesh Bhatt's Kaash playing Pooja opposite Jackie Shroff. As Pooja she donned simple salwar kurtas and Dhakka sarees. The three-coloured sari worn in the song O Yaara, became popular in retail markets.
She also showed up as a revengeful dacoit in Mera Shikar, Mahavira and Gunahon Ka Faisla, all released in 1988. Black shirts with leather pants were her choices as Bijli in Mera Shikar, while in Gunahon Ka Faisla where she played a double role, as the dancer Shanno one saw her in mirrored salwar suits and mirrored cholis opposite Chunky Pandey, and as a dacoit she was seen opposite Shatrughan Sinha.
Dimple was often spotted wearing mirrored blouses and tops in films like Aakhri Adaalat (1988), Batwara, Pati Parmeshwar (1989), Dushman Devta (1991) and Angaar (1992). As Jinna in Batwara, her bindi and her kohl eyed Rajasthani look was appreciated, so was her look as Tara in Pati Parmeshwar donning a nose ring. Pyar Ke Naam Qurban (1989) saw her dancing in a one shoulder dress made out of a gunny bag with Mithun Chakraborty in the title song. Her multi-colour tribal dresses in Bees Saal Baad (1989) with matching headgear and belts were super bohemian statements. In Rajan Sippy's Shehzaade (1989) she opted for a black crop top with a layered skirt accessorized with safety pins all over.
Though she was making waves in commercial cinema, soon she entered a decidedly different zone of cinema with Govind Nihalani's Drishti and Gulzar's Lekin in 1990. Lekin was beautifully shot in the deserts of Jaisalmer with Dimple looking mesmerizing as Reva, a lost soul. Her layered robes in earthy tones contrasting to the desert sands heightened the film's visual quality. Veteran costume designer Bhanu Athaiya, won the Best Costume Designer Award for making her look truly ethereal. Shashi Kapoor's period adventure, Ajooba, paired her opposite Amitabh Bachchan for the first time. She looked appropriately regal with her costumes accessorized with antique silver jewellery. Here again she was seen in brocade flowy gowns and mirrored ghagras.
In Khoon Ka Karz (1989), she fetched up in the uniform of a taxi driver with a cap and a billa on her khaki shirt. Prahaar (1991) also saw her in a deglamorized avatar, which was loved by all. In a brief part in Sapne Saajan Ke (1992), opposite Jackie Shroff, her look with gelled hair, long chunky earrings and jersey off shoulder tops paired with asymmetrical cuts in dull tones were considered statement pieces.
The year 1993 saw her as Shanichari, a professional weeper in Kalpana Lajmi's Rudaali, shot in Rajasthan, where she donned earthy tones, dry like a desert. The film was a surprise hit at the ticket counters. Her clothes were designed by Simple Kapadia who won a National Award for her work.
The same year, she was seen in Priyadarshan's Gardish (1993). Although the film belonged to Jackie Shroff and Amrish Puri she appeared as Shanti in a brief role opposite Raj Babbar, looking stunning in the song Badal Jo Barse Toh. Her fascination for mirrors was once again evident in Krantiveer (1994), in which she donned a mirrored ghagra choli for the song Jhankaro and won the award for Best Supporting Actress Award.
As Tara Jaiswal in Dil Chahta Hai (2001), she looked like an authentic painter, in her simple ensembles, high ponytails and neckpieces. Subsequently, for Leela (2002) and Banaras (2006) she wore classic cotton drapes adored by her fans. In Pyar Mein Twist (2005) she rekindled the Bobby magic opposite Rishi Kapoor. It was a mature love story in which she looked ultra-glamorous as a mother of two grown-up children.
Of late, she has featured in Christopher Nolan's Tenet (2020). And in the OTT series Tandav (2021) - her cotton saris were in sync with the demands of the role. In the role of a Prime Minister in the series, A Thursday, her look and attire were again spot-on.
Be it a simple cotton sari or a high-end designer outfit, Dimple Kapadia continues to make a fashion statement with her different looks in every film and even when seen at public events.