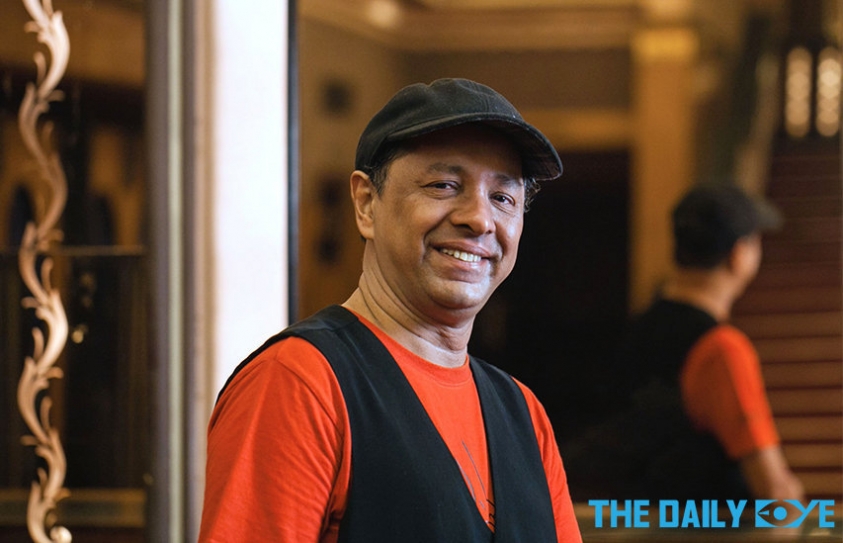 Sridhar Rangayan – Taking The LGBTQ Discourse From His Personal To The Political
by Vinta Nanda
August 28 2017, 6:43 pm
Estimated Reading Time: 10 mins, 1 sec
I've known him for years, but Sridhar has become a dear friend in the last few years, from the time that we launched the Asian Centre for Entertainment Education (ACEE) in 2012 and from when he came to us to co-sponsor the Human Rights Film Festival which he was organizing and planning to co-host with the Alliance Française, Mumbai. His commitment to the causes he supports and his diligence while executing the festivals he hosts is what caught my mind and impressed me the most. He's one of those guys who punched confidence in you whenever you meet him and gives you to believe that you can also achieve the impossible like he does every time that he decides to do something.
He's a perfectionist, he's a hard worker and he believes that he can achieve doing anything that he sets out for. Here below, in a freewheeling chat with my friend Sridhar, I make you see what he is all about, and I think he will also make you as a reader of this interview understand how important it is to remain honest to your core beliefs.
From writer, to director and producer, now for over eight years you have taken KASHISH from an idea to become South Asia's biggest LGBTQ Film Festival. Tell us about the journey?
KASHISH started off with a small idea of mainstreaming LGBTQ visibility through cinema, bringing the best of global LGBTQ films to Mumbai, not only for LGBTQ audiences, but also for a larger mainstream audience. Our dream was to hold a LGBTQ film festival in a mainstream theater, and screen these films on the big screen so everyone can watch it without any shame, guilt or anxiety.
From a small 125-seated screen in PVR Cinemas in Juhu, Mumbai in 2010 to a 235-seated screen at Cinemax Versova, Mumbai (2011-2013) to now a 1200 seated at Liberty Cinema, Mumbai (2014-2017), and the dream has soared high. Welcoming close to 2000 audience members, the festival has opened its door to a diverse audiences – gay, lesbian, transgender, queer, questioning and heterosexuals. More than 30% of audience members of KASHISH are non-LGBTQ, and attend the festival to watch good cinema and form a non-judgmental understanding of LGBTQ lives.
Where did you find the inspiration from to set us KASHISH? Tell us about your travels and visits to other festivals?
When we made our first queer film – Gulabi Aaina (The Pink Mirror) in 2002, and I traveled to its World Premiere at the Turin International Gay & Lesbian Film Festival, I was totally taken up by the entire experience. Not just about seeing our film on the big screen, but by a LGBTQ film festival as a space for the community to come together and celebrate. After that I was fortunate to travel to many festivals with Gulabi Aaina and my other films Yours Emotionally! and 68 Pages, and brought back the experiences to formulate a foundation for KASHISH. In 2009, when the Delhi High Court read down Section 377, effectively decriminalizing homosexuality, myself and some of our friends started working on the idea of setting up a LGBTQ film festival in a mainstream space. While there have been till then film festivals and screenings held within the confines of a college or cultural center, we felt we need to place such an event in a mainstream theater so that not just the community, but everyone can attend and watch LGBTQ films on the big screen. That's how KASHISH was born in 2010.
Since then every year we have been striving to make KASHISH a festival to reckon with in India and worldwide, as a platform to speak out loud and clear about LGBTQ rights and lives.
KASHISH also facilitates programming of Indian LGBTQ films at other festivals around the world with its KASHISH Global initiative, as well as screen films at colleges across India under its KASHISH Forward initiative, which is India's first traveling campus LGBTQ film festival.
What is the process that you follow to curate films for KASHISH, from all over the world?
We have an open submission process inviting filmmakers from around the world to submit LGBTQ films – shorts, documentaries and features. In the first year in 2010 we received about 300 submissions and this year in 2017 we received more than 1500 films! KASHISH 2017 programmed 147 films from 45 countries.
We have a preview team comprised of film professionals, media professionals and people from LGBTQ community who watch the films and select them. Saagar Gupta, director of programming, finalizes the line-up, and it is always fantastic given his keen eye and vast experience for curating programs.
Apart from submissions, we are in partnership with several film festivals around the world who recommend films to us. We are also in the constant look out for top-of-the-line films playing at festivals and talk to distributors. Many a times the stumbling block is not having the resource to pay for screening fees for big-ticket films. We lose some, but we gain a lot more.
KASHISH is now globally recognized and filmmakers even wait to premier their films at our festival. Every year we have about 8-10 world premieres and almost 20-25 Asian premiers. That speaks a lot for the importance the festival has gained.
Tell us about the latest film that you are making? Why did you decide to make a film on the subject that you have chosen and why you think that Anant Mahadevan and Mona Ambegaonkar fit to their roles so perfectly?
Evening Shadows is a film that's very close to my heart. The film was conceived about 7 years ago. But after knocking many doors, the film still didn't find any producers. So we decided to produce it ourselves under our banner Solaris Pictures and raise funds to make it happen – through self-funding, crowd funding and enlisting supportive donors. We are happy that so many people are coming forward to support the film.
Evening Shadows is a film about a mother-son bond that's put to test when the son tells the mother he is gay. He comes out of the closet, but pushes her into the closet. Living in a small town, within a traditional orthodox family, she now struggles to come to terms with it. She also fears what will happen when her husband and society comes to know of it.
The film is in its last stages of post production, but facing challenges as no mainstream avenue of funding is available for a film based on such issues. So we have launched a post-production crowd funding on #IndieGogo platform https://www.indiegogo.com/projects/evening-shadows-a-film-by-sridhar-rangayan-gay-lgbt and hope people from all over the world come forward to help the film.
Right from the time the film was written, it was always Mona Ambegaonkar in our mind to play Vasudha. Apart from the fact that she is a brilliant actor, and a fierce supporter of equal rights, she is also a dear friend and our association with her goes back more than 20 years – a TV series 'The Awakening' for Star Plus where Mona was the lead and I was the Associate Director (the series was directed by Kalpana Lajmi and Bhupen Hazarika). Mona has given the character of Vasudha immense emotional strength, but also a vulnerability that will make the audience identify with the mother's dilemmas.
Ananth Mahadevan was a fantastic addition to the cast, in the crucial role of Damodar, the strict patriarchal father who has his own rigid views about many things in life. Ananth brings with him his own understanding of the South Indian Brahminical milieu in which the film is situated. He says, "The character of Damodar is very similar to my father, and I have tried to imbue the character with some of those mannerisms."
These two fantastic actors, and two newcomers Devansh Doshi and Arpit Chaudhary make the film a very realistic experience and transmit the story very effectively.
What was your childhood like? Tell us about your growing up years and also about your family?
I am from a generation of gay men who have been scarred indelibly in mind.
I was born and brought up in a small town in South India and it was really complicated for me to understand the feelings I had towards men. More complicated was the fact that I never felt like a woman. I was a male who was attracted to males. This was in 70s and 80s when information about homosexuality was just not available and the topic was never discussed. So I did feel guilty, anxious and isolated. When I stayed at a hostel, there were initial explorations, but it was never spoken about, which made me more ashamed of myself. Only when I went to study in Mumbai and met few friends who were openly gay, I was able to reconcile in my mind that this was 'natural'.
Form then onwards my personal became political, and I began to work for the cause - more about for amplifying my own need for acceptance, than with any notion of being an activist.
From joining Bombay Dost as board member in 1990, to co-founding Humsafar Trust in 1994, to making LGBTQ films and founding KASHISH in 2010, it has been an incredible journey. The journey indeed has been marked by several bouts of depression and frustration - about a system and social mindset that refuses to change, but the peaks of joy and happiness - that came about when the work we did touched someone's life – has been very precious.
I came out to my family about 20 years ago and they all have been quite accepting, though with the obvious concern of a close family, that how will I live my life peacefully in a country that criminalizes my sexual orientation. That's a natural fear most families will have and we all hope the law is changed soon to allow same-sex loving persons to be able to live their life with dignity.
Would you like to tell us about your partner? Where and how you met Saagar and your relationship with him?
My life changing moment was when I met my partner Saagar. Of course love happens in a second, but it takes a lifetime to cement a relationship! It's been more than 22 years and we have been together because our love binds us together, despite the forces of law and society that tries to pull us apart. We are not just life partners, but also work partners, working together on most of the projects of Solaris Pictures. He is intelligent, meticulous, intuitive and extremely dedicated – which makes our projects achieve a certain finesse and quality. He has also given me the strength to be who I am, he is my backbone. We hope someday soon we are able to have our relationship acknowledged by the law.
What is your message to the present youth of India?
Life is certainly not easy for anyone, especially in this age of rapid progress and competitive environment. But if you are confident, passionate and most importantly dedicated to your work and your happiness, you can make it work. What is needed is focus and conviction.
What is your message to the present young filmmakers?
Filmmaking is a wonderful immersive process – from scripting to production to final realization of your work. But it is also hard work and a long-drawn process. So it is important to be confident and diligent. Filmmaking is a team effort, so bring in good resources from all around to enhance your project. Let your film be a shared dream, and then it will go places. Never be in a hurry to make your film, but always work hard to make your film the best. It is said that every film has its destiny, but you can write your film's destiny.