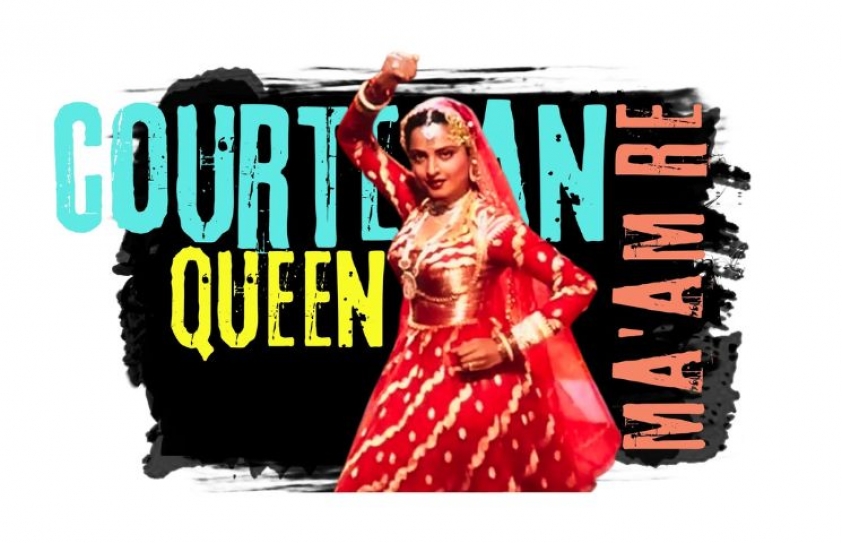 Courtesan Queen
by Dhruv Somani
October 9 2022, 12:00 am
Estimated Reading Time: 8 mins, 28 secs
As Rekha brings in her 68th birthday, film historian Dhruv Somani recollects her famous roles as the courtesan who danced her way into the audience's heart forever.
It was around the early 1960s that the courtesan gained popularity as the 'other woman'. And it was Rekha who went on to become the showstopper for generations to come.
There has always been a certain mystery, an aura about her, which always prompts the audience to know more. The vivacious Rekha, now called the diva, began her prominent role in Mohan Sehgal's Sawan Bhadon (1970), a village belle, opposite Navin Nischol. She was called names, ridiculed and mocked, yet she continued her journey as an actress with remarkable performances. Gradually there was a complete makeover. She specially excelled in portraying the courtesan, or a kotha nachnewali, which has almost become an extinct species today.
One will be surprised to know that in the late 1970s, every time a filmmaker wanted to cast an actor to essay a courtesan, she was the first choice. Indeed, she must have essayed the highest number of courtesans in Bollywood. As her 68th birthday falls on 10th October, here's looking back at some of Ma'am Re's prime courtesan movies.
Sazaa (1972)
A 1972 action thriller Sazaa starring Ashok Kumar, Kabir Bedi, Yogeeta Bali and Pran was one of the first films, which featured Rekha as a courtesan. Her song was credited as a special appearance while Yogeeta Bali played the main lead. Here she was seen dancing to the song 'Beechwale Saiyan Pe Pad Gayee Nazariya' with Pran. The duet's playback was rendered by Asha Bhosle and Mohammed Rafi. Besides her, Jeetendra also made a special appearance.
Dharma (1973)
Dharma was an action film starring Pran in a title role, with Navin Nischol, Rekha, Bindu, Ajit and Madan Puri as his co-stars. Rekha was once again seen making her moves in the song 'Main Teri Gunehgaar Hoon' with Pran and Navin Nischol. The song once again was rendered by Asha Bhosle and Mohammed Rafi. Dharma was a big hit. Rekha played her first double role. Dharma is also one of the rare films showcasing five top dancers in a cabaret: Sonia Sahni, Faryal, Helen, Jaishree T, and Bindu, who also had a substantial role in the film.
Pran Jaye Par Vachan Na Jaye (1974)
A major film for Rekha, she was seen in the company of Sunil Dutt, Bindu, Ranjeet, Jeevan, Madan Puri and Prem Nath. She played dancer Janiya, who performs the popular mujra 'Ek Tu Hai Piya Jispe Dil Aa Gaya' rendered by Asha Bhosle. Though she did not play a courtesan in the film she did play a dancer. The plot twists enabled the heroine to act as a courtesan.
Kasme Vaade (1978)
Produced and directed by Ramesh Behl, Kasme Vaade featured Amitabh Bachchan, Raakhee Gulzar, Randhir Kapoor and Neetu Singh in pivotal roles. Rekha was included in a guest appearance as a courtesan dancing with Amitabh Bachchan to the song 'Pyar Ke Rang Se Tu', sung by Asha Bhosle and Anand Kumar C. The song was a highlight as it was shot on an elaborate duplex set where Rekha looked simply stunning. This was also her second film opposite Amitabh Bachchan after Do Anjaane (1977), which had a particularly dark theme.
Muqaddar Ka Sikandar (1978)
This saga was produced and directed by Prakash Mehra starring Amitabh Bachchan, Vinod Khanna, Raakhee Gulzar, Amjad Khan, Ranjeet and Rekha. It was a story of an orphan, Sikandar, who is secretly in love with Kaamna – he addresses her as Memsaab. He visits a kotha of a popular courtesan Zohrabai and becomes a regular visitor there, and she hopelessly falls in love with him.
It was a twisted tale of heartbreak as Amjad Khan desires Rekha, Rekha has eyes only for Amitabh, Amitabh is smitten with Raakhee and Rakhee by Vinod Khanna. Rekha was signed as Zohra but as the shooting came closer, the director contemplated on replacing her with Reena Roy since Rekha was travelling overseas. As soon as Rekha got to know about this, she rushed back and reported on the sets. It was one of the most memorable roles she essayed. Her songs 'Salame Ishq Meri Jaan' and 'Wafa Jo na Ki Toh' remain iconic till date.
Suhaag (1979)
Suhaag was a biggie from Manmohan Desai starring Amitabh Bachchan, Shashi Kapoor, Rekha, Parveen Babi, Amjad Khan, Nirupa Roy and Ranjeet, and it was one of the biggest hits of the year. Rekha was cast as the courtesan Basanti. She is in love with Bachchan, who often visits her. She takes his help to make her younger sister, played by Parveen Babi, settle down with Inspector Kishan Kapoor, essayed by Shashi Kapoor. Director Prakash Mehra was heard accusing Desai for copying the character of Zohra from Muqaddar Ka Sikandar, as Suhaag was in the making since 1977. Rekha once again was unforgettable with the chartbusters 'Aaj Imtihaan Hai', 'Athra Baras Ki' and 'O Mata Sherowali'.
Jyoti Bane Jwala (1980)
This film was a controversial one since the script was similar to that of Jwalamukhi, which was directed by Prakash Mehra. Both these films were in a race to release first. Finally, Jyoti Bane Jwala, starring Jeetendra, Moushumi Chattetjee, Vinod Mehra, Sarika, Waheeda Rehman and Kadar Khan, released first and clicked at the ticket counters. It was Jeetendra's home production in which Rekha performed only one song 'Main Jogan Hoon Tu Jogi' as a courtesan.
Umrao Jaan (1981)
A period musical drama directed by Muzaffar Ali was poetic in vision. Rekha was Umrao Jaan Ada (a Lucknow courtesan) along with Farooq Sheikh, Naseeruddin Shah, Raj Babbar, Prema Narayan and Shaukat Azmi.
Rekha played Amiran who is kidnapped as a child from Faizabad and sold to Khanam Jaan, a madam of a brothel. Rekha was praised for her dialogue, her dances, her perfect makeup and look, and most importantly her performance. It seemed as if she was born to essay this role. She won the National Award for her performance over Jennifer Kendall, even though the film did not do very well. All the songs Dil Cheez Kya Hai, In Aankhon Ki Masti, Justuju Jiski Thi, Yeh Kya Jagah Hai Doston composed by Khayyam Saab and rendered by Asha Bhosle remain mainstays on the playlists.
Daasi (1981)
Daasi was directed by Raj Khosla. Rekha was Tara the courtesan, while the title role was essayed by Moushumi Chatterjee, along with Sanjeev Kumar and Rakesh Roshan. Tara cares about her blind music tutor Anand and gradually falls in love with him but he is already married to Mangala who plays his maid under disguise due to a misunderstanding. Tara tries to unite the couple. Daasi had some good music but failed at the box office.
Ghungroo Ki Awaaz (1981)
Directed by the Ramsay Brothers - Tulsi and Shyam Ramsay - Ghungroo Ki Awaaz was produced by Goldie (Vijay) Anand. He also acted in it. Rekha played Kaajal, a courtesan who is rescued by Thakur Ranjeet Singh who falls in love with her. Kaajal is killed by the aristocrat Thakur since he believes she is unfaithful. Kaajal's spirit begins to haunt the Thakur thereafter. The kings of horror cinema, the Ramsay Brothers had a tough time completing the shoot as Rekha was busy with Ram Balram where she was cast opposite Amitabh Bachchan. She refused to dub for the film therefore her voice was dubbed by Padma Khanna. Quite an unusual film, it merits a relook.
Deedar-E-Yaar (1982)
Directed by H.S. Rawail, this was Jeetendra's home production. A Muslim social starring Jeetendra, Rishi Kapoor, Tina Munim and Rekha who played the role of a courtesan Husna - she adores Nawab Akhtar Nawaz Khan for protecting her chastity. A love triangle emerges between Akhtar, Firdaus and Javad. Husna is the fourth angle. Deedar-E-Yaar was one of the biggest failures in the history of cinema and Jeetendra almost reached the stage of bankruptcy due to it.
Utsav (1984)
Directed by Girish Karnad and produced by Shashi Kapoor, in Utsav Rekha played a courtesan Vasantsena along with Shekhar Suman, Anooradha Patel, Amjad Khan, Anupam Kher, Annu Kapoor, Neena Gupta and Shashi Kapoor. It was based on a story from the second century and focuses on Vasantsena who dances at the King's Palaka's court and is on the run, taking refuge in the house of a poor Brahmin Charudatta's house, and she falls in love with him. The songs of the film remain popular 'Man Kyun Behka Re Behka' by both Lata Mangeshkar and Asha Bhosle, 'Neelam Pe' and 'Saanjh Dhale Gagan Tale'. The film nosedived at the ticket counters but remained in the news for its erotism and bold subject.
Jaal (1986)
Jaal was directed by Umesh Mehra starring Jeetendra, Rekha, Mithun Chakraborty, Mandakini, Moon Moon Sen, Tanuja, Vinod Mehra, Ila Arun and Amrit Pal. Rekha was the courtesan Meena Bai, the childhood love of Thakur Shashi Pratap who is eventually killed by his elder brother Bhanupratap Singh for going against his wishes and marrying Meena Bai.
Meena Bai too is assumed dead according to them, but she returns back with a vengeance under the disguise of Amrita for her revenge along with Shankar Verma who is also on a hunt for his father's killers. Rekha was paired opposite Jeetendra who had a rather short role, but the film belonged to her and was well appreciated at the ticket counters. Her song 'Main Hoon Dulhan Ek Raat Ki' was a racy mujra, which was appreciated along with the other songs.
There are other films too where she was seen as a dancer/courtesan as in Karamayogi (1979), Khoon Aur Pani (1981), Maati Maange Khoon (1984), Amiri Garibi (1990), Qila (1998) and Yatra (2007). To date, whenever she performs her courtesan numbers at award shows or on TV reality shows, she's an instant rage. Time and age seem to have stopped for the Queen of Bollywood Courtesans.