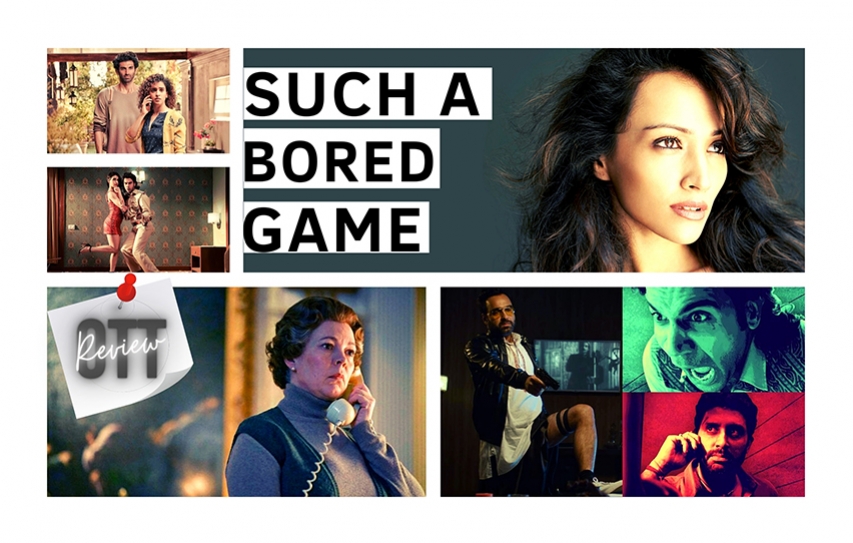 Such a Bored Game
by Khalid Mohamed
November 20 2020, 12:10 am
Estimated Reading Time: 6 mins, 28 secs
Khalid Mohamed throws a dice at Anurag Basu's Ludo… and checks out Pepper Chicken and The Crown 4
Now too many crooks spoil the broth, goes the old adage sort of. Indeed, in this Ludo so, so, so many characters go hammer and tongues that they might as well have called this Netflick, Judo. Or better still Snakes-'n'-Ladders. Indeed,I'm so upset with myself: the remnants of my brain couldn't figure out what's going on in this helter-skelter hoopla of a Boredgame directed-co-written-co-photographed-co-acted-and-co-narrated by Anurag Basu.
That's a lot of Co-Co Channels there. Yet stylistically, in terms of visuals, it ain't. Faint. Who in this age and day, uses those antiquated, multiple split-screens, gimmicky shots like a face reflected in the mirrors of a motorbike, top shots at night of a barely-lit apartment building, or a repeated image of a digitally enhanced ravine cracks, which peeps leap over as if it's a combat training regimen? If that's meant to be symbolic of a great leap backward, wah wah. Symbols and metaphors are ultra-cool if you can decipher them. Ahem, for the life of me I couldn't.
And in the name of dearest Ingmar Bergman's Seventh Seal, there's Anurag Basu sitting like a Messenger of Death before a Ludo board, wearing a chin-wagging Rasputin-like beard. Weird. Beardo and his inscrutable game partner are to decide the fates - death or redemption presumably - of the aforecited peeps who've been up to more frantic antics than you could possibly count on all your toes and fingers. In the event, I surrendered myself to the guesstimate that the plot here must have been written either on a pin-head or on-the-spur-of-the-moment during the shoot. Hoot!
Constantly, you're reminded, "Ludo is life and life is Ludo", a claim which is highly debatable. No? Ho, still if you're willing to go with the manic flow, Basu's brain-scrambler is something or the other about retrieving a sex video tape, a wagonful of wealth and a l'il oversmart girl (Inayat Verma) who's as delighted to be kidnapped as she would be on a free, expenses-paid trip to Disneyland. Truly, to call this malarkey 'trippy' would be a compliment though. More to the point, it's an invitation to a beyond-comprehension exercise on huh-guys-what's-going-yawn-and-yawn here? Zzzzz.
Pritam's jingle-jangle music score pops up at random. Ditto familiar faces. Count among them Gangsta Satu (enacted by who else but Pankaj Tripathi for the umpteenth time?), Morose Mister Bittu with chequered shirts and past (Abhishek Bachchan did this in Yuva, but never mind), a stage ventriloquist (Aditya Roy flaunting his bare bod and once, even showing off his teeth as if he was a Dentist's Delight).
And aaah yes, there's a gyrating, vibrating gadabout (Rajkummar Rao) called Aaloo - not to be confused with Potato - who wears a wild, wild wig and imitates the disco-dhinchak moves of apna Mithun Chakraborty. Evidently, all the desperate souls are leading wacko lives and persist in bumping into one another as chaotically as the treasure-hunt seekers of Stanley Kramer's vintage classic It's a Mad, Mad, Mad, Mad, Mad World. Quite Sad Sad etc actually.
Factually speaking, the outnumbered women on the scene, are in dire distress. One (Sanya Malhotra), on the eve of her marriage, must find that sex video in which she partycipated. The other (her Dangal didi Fatima Sana Shaikh) must erase any signs of an adulterous affair. Hush shush.
Plus there's a bindaas Malayali nurse (Pearle Manney), who sneaks a smoke in a hospital room with her impatient patient, the Gangsta, incidentally with a gun strapped on his thigh. By this juncture of the taxing 150-minuter, I could do with a ciggy smoke too. But don't, since there's been that warning that smoking is injurious to wealth. Come to think of it, the pre-credits could have included more statutory warnings. Like Basu's interpretation of Ludo is injurious to stress.
To be fair, I seriously endeavoured to make head or tale of this anthology pic. Was Anurag Basu striving to be arty-tarty, mash up ingredients from the Coen Brothers, or was he intending to serve up a Bitter Noir Barfii? His previous work, notably Gangster, Woh Lamhe and Life in a Metro (wondrously lensed by the late cinematographer Bobby Singh), weren't exactly original. Yet they were engrossing and coherent. This time around, he's self-indulgent and tricksy to a fault. Trivia info: Amitabh Bachchan's listed as a guest narrator, but the magic voice, if it was retained, is lost in the din.
Of the cast, only the child actor Inayat Verma is believable, stealing the scenes right away from under the noses of the adults. And yup, Pankaj Tripathi has his outrageously funny moments, but that's it. But a sincere request for Tripathiji: avoid typecasting, NO more of the gangster routine, please.
To wrap then, Ludo makes for thoroughly dicey viewing. Stream at your own peril.
At its very least, this psycho-thriller is compactly constructed and packs in a surprising scorpion-like sting at the end. Travel along, then, with the amiable radio jockey (Dipannita Sharma Atwal) of Guwahati, who must catch a taxi back home in the deep of the night.
On the lonesome road, the cabby (Boloram Das) strikes up a conversation about reading the literary works of Manto and Muktibodh and the passenger's mildly interested but not quite. She prefers lighter reads. So far, so smooth. The jabberwocky cabby abducts her, terrifying us out of our wits, incarcerating her in a cobwebby house. She must get out of there alive - which seems as impossible as turning a deaf ear to his menacing conversation. For once you're transported to the edge of your seat.
The low-key direction by Ratan Sil Sharma and the moody cinematography by Papu Dekha keep you engaged in the mind games played by the two central protagonists. Boloram Das knocks out a competent performance as the wolf in sheep's clothing.
The economically-narrated story, above all, belongs to Dipannita Sharma Atwal, whom Bollywood has criminally neglected so lately, except for an occasional feisty appearance in the Yashraj banner's War. She is consistently nuanced and confident in this whodunwhat, which is quite a few notches above the commonplace. Try it out.
Right, I'm a devotee of the megathon series revolving around the British Royal family. Season 4 is as high grade as the earlier editions. With gorgeous production values, sturdy direction, sumptuous costumes and perfect-o acting, the series has been one of its kind. In fact, it's such a relief that the Brit Royals haven't thrown a flaming fit ever about the revelations in this series of its deep and dark secrets since the era of World War II.
The fourth part shifts its focus on the travails of Lady Diana while fitting into the rarefied ethics and values of the royals. Dramatic licences apart, you're a story of a woman whose life was doomed to be like a candle in the wind. Thus far, I've managed to see five episodes, and hope to binge out on the rest through the next couple of days. Ergo, please consider this an unfinished review, milords and ladies.