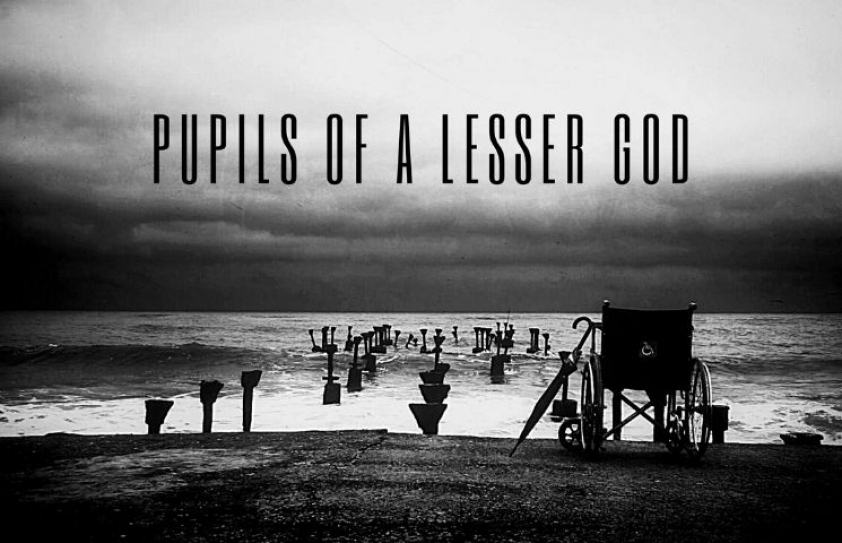 Pupils of a lesser God
by Vinta Nanda
May 12 2020, 9:59 am
Estimated Reading Time: 10 mins, 40 secs
Zuhaib, a student of mass communication at Jamia Millia Islamia University says that because of the lockdown all his classes are now online. His teachers were screen sharing power-point presentations and sending assignments in image formats by clicking pictures of notes and moving ahead, taking the academic session forward with his peers. As a person with vision disability, Zuhaib wasn't able to participate in the online classroom; his teachers were not describing what they were trying to explain, making it difficult for him to understand concepts. Since all his assignments were in image format he wasn't able to do them. Even after notifying his teachers and classmates about the barriers he was facing, there has been no intervention.
Another student with multiple disabilities says that, as he cannot type because of his disability, he wouldn't be able to perform well in his exams and is bound to fail.
To a student who is deaf, online education is completely inaccessible as there is no sign language interpretation during the course of the online session. Moreover what about those students who don't have Internet connections in their homes?
When making decisions that are going to force people to adapt to behaviours yet unimagined, the management of a small organisation or for that matter patriarchs of a large family will always at first take into consideration how a life altering pronouncement will impact those most defenceless. Having observed through devastating images of migrant workers making their way back to their villages from metropolises around India, what the condition of over 120 million poor people is because they had not been taken to account when a nation of 1.3 billion was placed in lockdown with a four hour notice, I was concerned for another community, which was at risk and I wanted to know how those dealing with disabilities are coping in these aberant times? So I spoke to Shameer Rishad, who I'd met about a month prior to the lockdown when he had dropped by at my office to have lunch with me and tell me about the work he was doing in Indian universities with students who are dealing with disabilities.
It was important for me to know the numbers of disabled people struggling to deal with the pandemic so Shameer told me that the World Health Organisation's (WHO) World report on disability states that about 15% of the world's population lives with some form of disability. Experts in India also believe that the percentage of persons with disability ranges from 10% to 15%, which amounts to 150 to 200 million people. However, according to 2011 Census data of the Government, this number drastically drops to 2.21% of the total population of India which amounts to about 3 million. He told me that, according to the 2011 Census data (which is clearly outdated) 1.2 million citizens with disability are below the age of thirty and that the percentage of people with disabilities is highest in the age group 10-19 years followed by age group 20-29 years for both the male and female demographics.
Subsequently Shameer said that, according to the Census data, 61% of the disabled children aged 5-19 years are enrolled in school but when looking at the All India Survey on Higher Education (2015-2016) conducted by Ministry of Human Human Resource Development, only a mere 74,435 students are enrolled in Universities across India.
What are the problems that these students are facing in this time of COVID-19, I asked Shameer and he said, "These students face multiple barriers to reach where they are and they do so on a daily basis in the university classroom. However, due to the lockdown, their struggle for education has only become harder. I personally feel that a lot can change by a flick of a pen. If the Department of Education in the Ministry of Human Resource Development adopts the recommendations made by Javed Abidi Foundation (JAF) - a youth advocacy group established in 2019 as a tribute to Late Javed Abidi, who was a disability rights activist and worked hard for the rights of people with disabilities throughout his life - and issues an appropriate advisory, not only will it clear confusion, relieve stress and anxiety but also provide an equal opportunity for students with disabilities to demand their rights".
As a matter of fact, JAF reached out to students with disabilities soon after the lockdown on March 24, 2020 to see how they were managing. Between March 24th and April 3rd, the foundation had a chance to talk to many students directly and then it called for an online consultation with some of them with different disabilities and experts on April 3rd to discuss the challenges they were facing. Resulting from this meeting and several small group consultations, JAF came up with a list of challenges faced by students and suggested interventions that were submitted to the Prime Minister's Office (PMO), with copies to relevant officials including the Ministry of Social Justice and Empowerment (MSJE) on April 21, 2020. It was an exhaustive document but there was no response to it. After waiting for a few days, on April 25, 2020, JAF wrote another fresh letter to MSJE, regarding the inaccessibility of online classes. To this the foundation received a response on April 29, 2020 as per which MSJE had directed the Ministry of Human Resource Development (MHRD) to issue an advisory to all States, Union Territories, and Academic Institutions to provide equal opportunity to students with disabilities. This was a welcome move as it is an urgent matter causing a lot of distress to disabled students across the country. However, it's the 12th of May and JAF hasn't heard from MHRD as yet and each day counts.
JAF even held formal consultations with students and experts between April 30th and May 3rd and formulated recommendations for the MHRD, Department of Higher Education in a bid to expedite the matter. These recommendations were then sent to the department on May 5th.
Shameer tells me, "While we work primarily with university students, I would like to bring to your notice that this issue is equally important for students with disabilities at senior school level (Classes 8-12). And with so many entrance exams getting postponed, there is also a need for relevant guidelines in that regard". He goes on to inform me that people with disabilities are the most vulnerable among marginalized communities and there is a very small segment of this population, which is able to fight against odds to reach university level. Together we need to ensure that their issues are addressed and they are not allowed to fall through the cracks caused by haphazard planning and systemic delays.
I hope the government of India is listening and acts immediately otherwise it is pushing one more weak section of our population towards a crisis, which will impact their future negatively and it will be unforgivable.
For those of you who don't know, Javed Abidi, on whose name JAF has been established by Shameer, is the reason why many people with disabilities in India have a sense of pride, an ownership over their own lives; the reason why they can work on changing their destinies by fighting for what is rightfully theirs. He was the person who saw the invisible constituency and he believed that the invisible could be made visible. He played a pivotal role in empowering persons with disabilities, legally and economically. He was the single man who charted a course for people bringing together all the different disabilities and catalysing India's first cross-disability movement.
Javed Abidi lobbied hard for the 'Passage of the Persons with Disabilities Act of 1995' and launched the Disability News and Information Service (DNIS) that remains a reference point for all disability related news. It was he who filed a Public Interest Litigation (PIL) in the Supreme Court of India in 1997 regarding the non-implementation of the Disability Act, which resulted in the Supreme Court instructing the Union of India to adopt several measures including appointment of State Disability Commissioners. Yet another campaign led by Javed Abidi pushed for the implementation of the Disability Act. In the year 1999, Javed Abidi lobbied with Confederation of Indian Industry (CII), Federation of Indian Chambers of Commerce and Industry (FICCI) and others to include disability on their agenda and played an active role in the passage of the National Trust for Welfare of Persons with Autism, Cerebral Palsy, Mental Retardation and Multiple Disabilities Act. Besides having filed several PIL's for non-implementation of the Disability Act, to make airlines accessible, to make historical monuments and other public places accessible and to make the election process disabled friendly, he brought the issue of Access into the public realm during Prof. Stephen Hawking's visit to India in 2001. This led to the Archaeological Survey of India announcing a policy to make historical monuments including the World Heritage Sites disabled friendly. He participated in the drafting of the bill and later lobbied hard for the passage of the Rights of Persons with Disabilities (RPwD) Act of 2016. Javed Abidi was also instrumental in pushing for change in UGC's Guidelines for Persons with Disabilities Scheme in Universities and Colleges, which led to setting up of Disability Units on campuses.
When I asked Shameer Rishad what prompted him to establish the foundation in the name of his uncle Javed Abidi, he said to me, "I had a special bond with my uncle, which is why I started the Javed Abidi Foundation. Ever since I was a boy he was my hero and someone I really looked up to. Never did I think that I would start a Foundation in his name or get into the disability space. When I was in school I would always tell my mother that I'll earn money and 'fund' my uncles and her initiatives, because I grew up watching them carry their noble intentions to bring change, from pillar to post to get funds so that they could implement their vision. Both of them would laugh, give each other a look and tell me, we'll see. It was because of my uncle that we shifted to Delhi. Looking back I feel that living with him was one of the best decisions I ever made. We spent a lot of time together and talked about everything, from work to college life, shows, movies and politics. At one point in time I even used to drive him to the office. When he passed, I didn't know what to do but I knew that I had got my calling. While I was grieving I found out that a random stranger was trying to register a trust in my Uncle's name and going around looking for funds. I couldn't believe it. I have been asked why I call it the Javed Abidi Foundation. I could have named it something else. I thought about it hard then. I had to preserve my Uncle's name and legacy. He was a legend who worked madly, tirelessly on the policy making level. He always talked to me about the RPwD Act of 2016, it was his baby. He told me that it would take at least ten to fifteen years to get it properly implemented and I knew that my calling was to work on Javed Abidi's unfinished agenda. I feel that I'm one or two years late in starting my efforts. It is my love for him that's driving me to do this and also the immense need for such work that is present in the construct of society that we are a part of. Let me say it again, it is my personal goal, not a professional goal".
The determination that's in his twenty two year old eyes, speaks of his will to succeed in what he has set out to do. Almost on cue, the next thing I ask him is to tell me what JAF's aim is? Shameer tells me that the aim of JAF is to embody the spirit of Javed Abidi. It was who he was as a person, his integrity, tenacity, ethics and sheer willpower that I want to hone in myself and other like-minded youth. The goal we have set in mind is to identify young people with disabilities who are as crazy as my uncle was when it comes to furthering the cause of disability. They can achieve this by working on the effective implementation of the RPwD Act of 2016 and doing evidence based advocacy, as the law has the power to change the lives of millions.