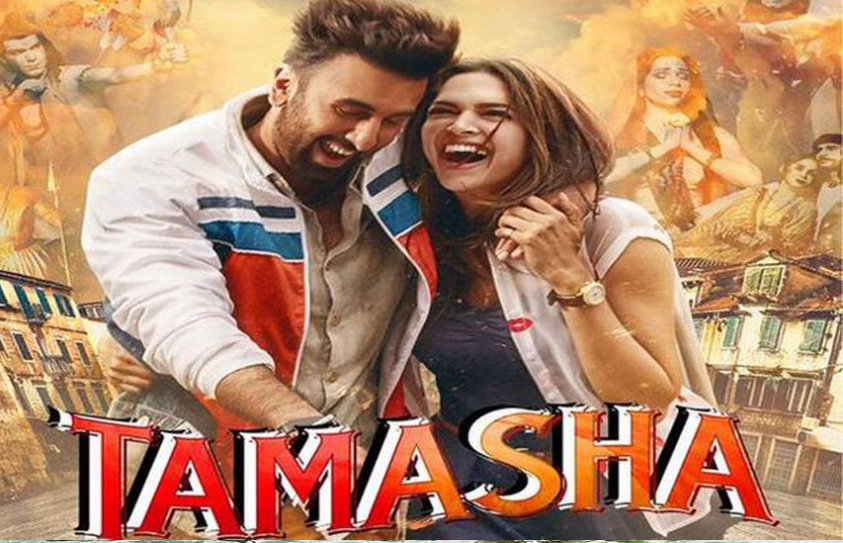 True Review Movie – Hindi- Tamasha
by Niharika Puri
November 30 2015, 9:26 am
Estimated Reading Time: 3 mins, 10 secs
Critics rating: 2.5 Stars
Cast : Ranbir Kapoor, Deepika Padukon.
Direction: Imtiaz Ali.
Produced: Sajid Nadiadwala.
Written: Imtiaz Ali.
Genre: Drama Film.
Duration: 139 Mins
Life is a relentless treadmill. After getting bogged down by the rat race to nowhere, the hero (Ranbir Kapoor) dons a silvery C3PO-ish robot outfit while getting convinced by a clown that there is more to life. "Kabhi kabhi mere dil mein khyaal aata hai," he pontificates. "Itna zor se aata hai ke pant mein nikal jaata hai," goes the clown. Strange non-sequiturs follow. Luckily, it all seems to be part of an esoteric theatre production, one the onscreen audience is completely taken in by, but the introduction is a shaky start.
The boy's life has been storytelling. From a young age (in Simla, in a flashback, as a subtitle helpfully indicates), he has visited a wizened old storyteller (Piyush Mishra), enthralled by the yarns he spins. Anything he conjures with his words, the boy visualises in grainy visuals, a persistent, whimsical touch. The characters have different costumes but the backdrop of Simla, which is apt since the little un would not yet know any other world. But that is (or ought to be) the thing about telling stories – it teleports you to a different world.
When the boy points out that he is recounting the story of the Trojan War instead of the Ramayan, the grandsire haughtily proclaims that: "Kahaani kahaani hoti hai aur wohi kahaani chalti hai har jagah." This notion that all stories are the same resonates in the film, especially when boy meets girl (Deepika Padukone) in Corsica. They have a wonderful time with oodles of old Hindi movies and Dev Anand references thrown in for good measure. She's just lucky he isn't an axe murderer.
They part ways on the resilient condition of anonymity. Their last time together is drawn parallel with Soni-Mahiwal's separation, indicating that their Corsica tryst is a similar template. Perhaps it would have been as romantic had the romance been left unfinished.
But the heroine is seeking closure and does finally find him. Only, this is four years later and a lot can change in that time. When they finally exchange names, it is like an introduction to their very personalities. The hero is Ved Prakash Sahni, a name that fits with his now meticulous, tightly-wound nature. The heroine is Tara Maheshwari, apt for the sparkle that reaches her eye. He is more measured, she is still spontaneous. This clash is doomed to fail. "Kya ho gaya hai tumko?" Tara asks him, and possibly us. What happened to all of us, where did the inner child go?
In Ved's case, the child was probably shot dead and buried six feet under. When he does attempt to resurrect his groove, he seems almost reminiscent of Edward Norton's character in Fight Club and Karthik from Karthik Calling Karthik. "He's a psycho!" gasped an audience member from behind me. Understandable. Tara's response to his behaviour should have been a hit to his groin and a frantic sprint in the opposite direction. But because this is an Imtiaz Ali romance, all characters remain in a constant state of confusion unless an external force (like, the plot, which remembers to kick in) acts upon them. It is all bizarre, frenetic energy, sluggish pace and then self-indulgence before the curtains fall.
Tamasha is non-linear, a bit hatke for the mainstream audience with characters that are too absurd to be identifiable. It has its moments of chuckles and clarity but this feel-good romp will be best appreciated for those whose creative outpourings have no outlet.