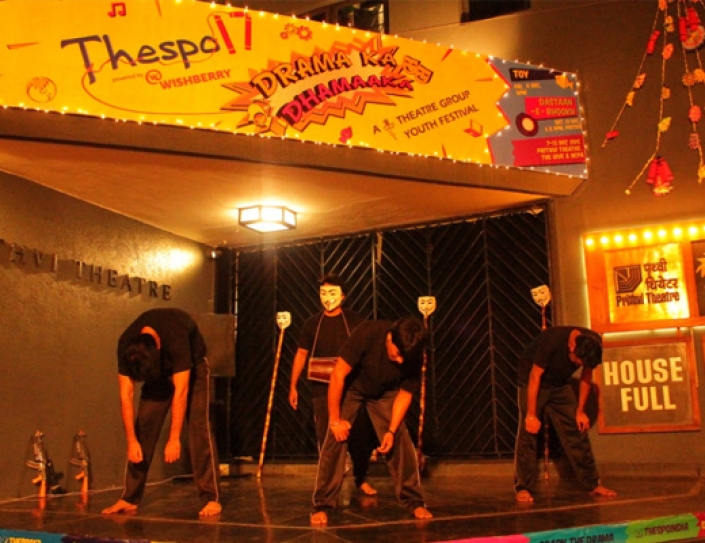 Exhilarating Thespo 17 Concludes
by The Daily Eye Team
December 14 2015, 3:46 pm
Estimated Reading Time: 2 mins, 36 secs
India's Premiere Youth Theatre Festival
leaves the audience spell-bound and wanting more!
Mumbai, December 13, 2015: Thespo 17, India's largest Youth Theatre festival concluded today amid a sea of emotions felt by participants and spectators alike. The mega theatrical event held every year for a week saw a huge audience who had gathered to witness a series of electrifying performances and exciting workshops by artists from different walks of life. 'Stimulated Voices', a devised dramatization of poetry and prose performed tonight brought a nice close to the festival. Mr. Glenn Hayden who directed the play created an air of exuberance amongst the crowd with his flawless direction. Most awaited highlight of the festival, the grand finale 'Thespo 17 Awards Night' was held in the evening celebrating and honoring the Future Icons of Theatre.
Dr. Shreeram Lagoo who is one of the legends to revolutionize the Marathi Theatre with his impeccable performances, was felicitated with the 'Thespo 17 Lifetime Achievement Award'. Co-Founder of Progressive Drama Association, he also started his own theatre group 'Roopvedh' to fuel his passion for meaningful theatre. Contributing 46 years of his life to Theatre and Films, Dr. Lagoo has greatly shaped the theatre that we witness today. He is the recipient of several awards including National Awards and also bagged five nominations in the Maharashtra State Film Awards for his acting in the Marathi film, Nagrik (2015). He is one of the living legends of Marathi Theatre today and continues to work even at the age of 87 years.
Thespo 17, which commenced on December 07 2015 & concluded on December 13, 2015, celebrated the weeklong fest at three famous venues across the city, namely Prithvi Theatre, The Hive and the Godrej Theatre, NCPA, with 6 plays, 4 platform performances, 6 fringe performances including international acts and collaborations, 11 workshops and 4 live music acts!
Started in 1999 with an aim to recognize, promote and showcase the best performing artists available across the globe, Thespo has now evolved into a Youth Theatre Movement and has continued to inspire hundreds of artists over the years. Varied workshops and training sessions by industry stalwarts, stagecraft opportunities, interaction with experienced artists, future prospects for new-comers and interface with youngsters sharing similar passion has been a part of this youth theatre movement. It is an animated platform which inspires and upholds individuals having aspirations to experience diverse aspects of Theatre. Numerous plays and films have featured writers, directors, actors, designers and stage managers who have been a significant part of Thespo.
Thespo 17 enlightened participants with different facets of Dramaturgy and their interaction with a diverse crowd helped them share their experiences and realize their hopes and dreams. Excited, nostalgic, content and curious, everyone at Thespo 17 discussed their future and made feral plans for Thespo 18. The air was liberating and an eagerness to learn and celebrate this wonderful Art of Acting could be felt amongst the crowd.
A perfect place to feel the vibe of the young Indians, Thespo 17 created a wonderful platform for budding artists from across the globe that happily showcased their talent to the gracious audience. Encouraged and geared up, these performers promised spectacular shows at Thespo 18.