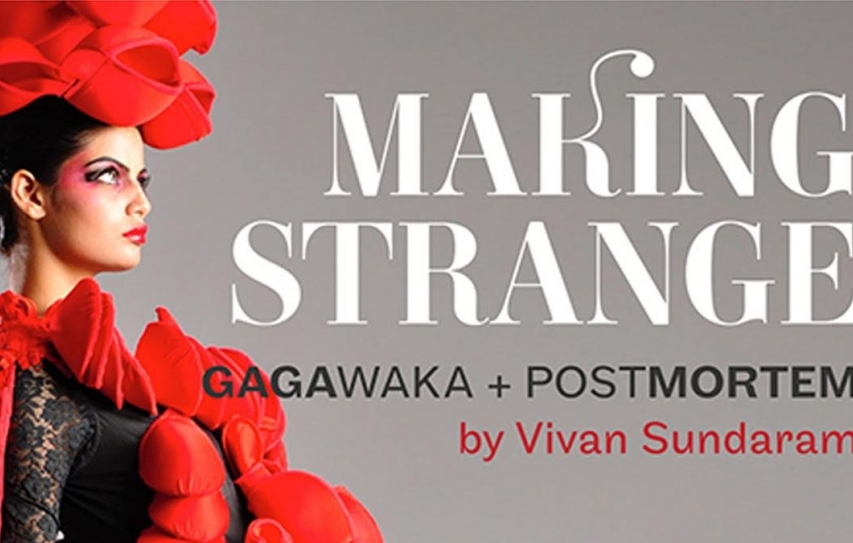 Making Strange: A Whole New Dimension & Works By Vivaan Sundaram
by Shubhangi Jena
July 5 2017, 3:25 pm
Estimated Reading Time: 2 mins, 38 secs
Shedding light on the works of the venerated artist Vivaan Sundaram, a new documentary by filmmaker Pankaj Butalia 'Making Strange' is a hodgepodge of the artist's ideas & inspiration that goes into the making of his bold and what can be colloquially stated as 'bizarre' creations. The documentary, which was published online, presents a brief dive into the artist's creative process, a tour of his atelier and the arrangements of the mannequins in his shows.
The documentary, Making Strange: Gagawaka+Postmortem is a coalescence of Sundaram's two exhibitions: Gagawaka:Making Strange which was launched at the Lalit Kala Akademi and Postmortem launched thereafter at Vadehara Art Gallery into one film. The exhibition of Gagawaka: Making Strange witnessed 27 mannequins draped in Sundaram's sculptural garments created using (as the artist himself likes to call it as) "found objects". The second show, Postmortem was an insight and portrayal of human forms. One can find incomplete or rather deliberately dismantled human figures which embolden the expression of the underlying message. The beauty of his art is that they do the talking for themselves and give out a deafening scream.
A five-minute film, which acts as a teaser to the documentary, is a sneak peek into the process of the documentary. "The energy that I saw in Vivan's work in Gagawaka and then immediately after, in Postmortem, I felt was something I could connect with," Butalia beams.
Sources reveal, at the time this documentary was filmed Vivaan Sundaram was quite occupied with projects lined up to be finalized. Butalia adds," "I tried to see whether I could find a way to give an idea of his process. Vivan was at the time reworking Memorial – this was in 2014, and I thought I would spend a lot of time on that one project because that is what he would do. But that was not it. He finished Memorial and immediately started work on the Ramkinkar Baij project. "The Memorial is a sculpturesque presentation pertaining to the Mumbai riots in 1993, that proved fatal for 900 lives.
ABOUT MAKING STRANGE:
The documentary couldn't conceal how it has been covered and wrapped at full tilt. Overall this 53- minute documentary spans through the interests, passion and zest of the artist that is reflected clearly through his works. The main highlight in his work is the re-usability of disposable mundane as well as uncommon disposable trash. How artistically Vivaan transforms these into a piece of art though outré for some is striking! He uses medical bandages, soles of shoes and empty soda cans which makes for unconventional resources.
Although 'Making Strange' is filmed hell-for-leather, filmmaker Pankaj Batulia does not miss the minute details and encompasses the gist in entirety.
The documentary comes across as a juxtaposition of Gagawork and Postmortem. Though the videography is impeccable and visually appealing, an off-screen narrator would have proved delightful for a newer audience.
In what Sundaram calls his work as 'breathing poetry into space', his idiosyncratic outlook breathes life into art like no other artist.