Alliances for Solidarity: India celebrates IDAHOT Day
by Yash Saboo
June 1 2018, 4:25 pm
Estimated Reading Time: 3 mins, 3 secs
Despite some amount of progress noted in many countries, lesbian, gay, bisexual, transgender and intersex people (LGBTI) still face high levels of criticism, violence and inequalities in public and in private, including in family settings and in the workplace, mainly because of their sexual orientation and gender identity. In more than 70 countries, homosexual relations are considered to be offenses or crimes, punishable by prison sentences, or even the death penalty.
Thus, on the occasion of International Day Against Homophobia, Biphobia and Transphobia (IDAHOT Day), 34 diplomatic missions in the Capital reaffirmed their countries' strong commitment to promoting the universality of human rights and to ensuring that everyone, regardless of gender identity or sexual orientation, enjoys these rights without discrimination. With this year's theme being 'alliances for solidarity', the IDAHOT Day is a day to raise awareness of the human rights of lesbian, gay, bisexuals, transgender and intersex people.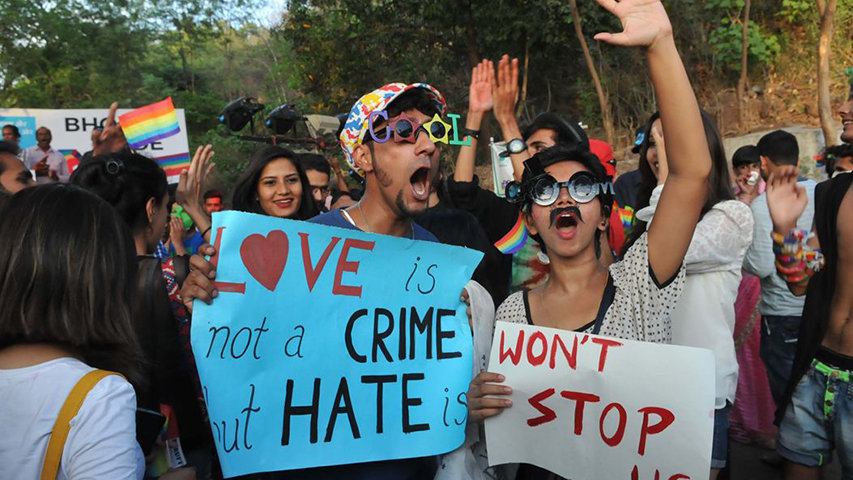 Source : Global Times
The signatories to the joint pledge were the missions of Australia, Austria, Belgium, Brazil, Britain, Canada, Costa Rica, Croatia, Czech Republic, Denmark, European Union, Finland, France, Germany, Greece, Iceland, Ireland, Italy, Japan, Latvia, Lithuania, Luxembourg, Malta, Mexico, New Zealand, Netherlands, Norway, Portugal, Serbia, Slovenia, Spain, Sweden, Switzerland and the United States.
Every year, these countries and their civil societies host diverse events and work together to support and celebrate the diversity of their citizens, to reduce discrimination and misinformation about the LGBTI community, to build on individual and collective achievements, and to highlight what needs to be done to ensure human dignity and equality for all human beings.
Like previous years, India celebrated the IDAHOT this year too. The Humsafar Trust (HST) with support from Save the Children had collaborated with 6 regional partners to implement IDAHOT activities in various cities including Mumbai, Delhi, Trivandrum and Lucknow. Indian celebrities too stood in solidarity against homophobia, transphobia, biphobia and all forms of hate facing the LGBTQ community across the globe and spoke out.
Embassies lighted up in New Delhi (for 'Sweekar – Towards LGBTQ Acceptance') in the iconic LGBTI rainbow flag and the flag was hoisted on the embassies' flagpole in the events organized by foreign missions for IDAHOT day. LGBTI film screenings and lectures were held, as well social media campaigns were started with the hashtags #MyCountry4Equality and #IDAHOT2018.
In Mumbai, Working with Pride, an LGBT group focused on promoting diversity and inclusion within companies organized a Meetup.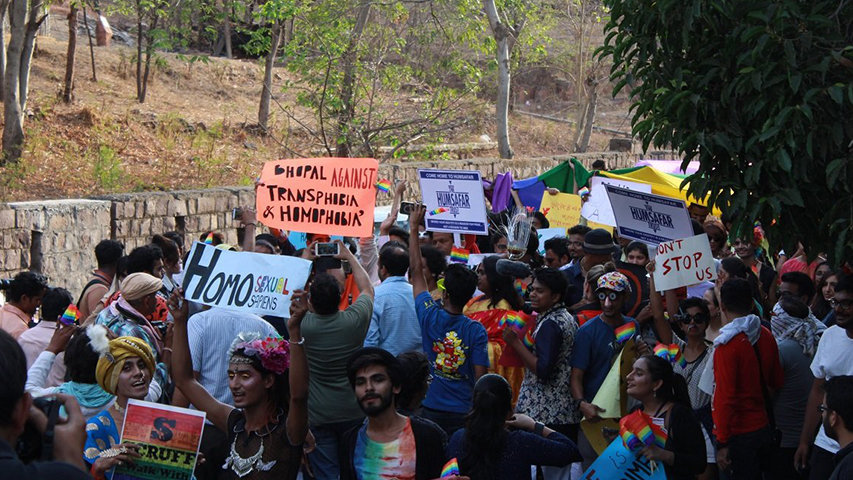 Source : International Day Against Homophobia
In Thiruvananthapuram, the IDAHOT event was organized by LGBTQ group Queerythm, in collaboration with The Humsafar Trust and supported by Project MSA. On the first day (May 12, 2018) of the event, Kerala State Cooperation and Tourism minister Kadakampally Surendran inaugurated a two-day event to celebrate International Day against Homophobia, Transphobia, and Biphobia in Thiruvananthapuram. The two-day celebrations on May 12-13, 2018 included Q-talk, Q-debate, Queer Movie screening, Cultural Competitions and a cultural event named NEEV with LGBTQ community.
In Kolhapur, on May 19, Abhimaan- LGBTQ Support group had organized an IDAHOT (Rising with Pride – Empowering the LGBTQ) event addressing the issues of homophobia, transphobia, the stigma around HIV AIDS and family acceptance in support of Project MSA and The Humsafar Trust. The event was organized at the Hotel Citrus in Kolhapur where 25 participants from the community and allies of the community participated.
There is an urgent need to raise awareness about this important issue and these diverse celebrations are helping do so and are also fostering a sense of community and belonging to advance human rights for all throughout the world. Global stability will only be enhanced when all persons are protected on the basis of equality and with dignity.