Education is World's Vaccine against Terrorism
by Yash Saboo
May 11 2018, 7:50 pm
Estimated Reading Time: 2 mins, 52 secs
Terrorist attacks and their aftermath have had a powerful impact on families, especially children. In Douma, Syrian civilians continue to live in fear after chemical weapons were dropped on their village in early April, killing at least 42 people. Elsewhere in the eastern Ghouta region, nearly 1,900 children have been killed between February 2014 and January 2015. Barrel bombs have been dropped on schools and hospitals, according to Human Rights Watch, and Syrian boys and girls who are supposed to be doing their homework and studying for tests are struggling to survive.
In February, extremists from Boko Haram stormed into a school in Dapchi, Nigeria and captured approximately a hundred young girls. The same group captured hundreds of other girls in a raid on the village of Chibok in 2014. Fortunately, most of the Dapchi captives have now been released, but at least a hundred Nigerian girls remain prisoners of Boko Haram.
Financial Tribune
We need education amongst citizens to curb this evil. You would not be reading this for the first time that education provides hope for a better future and while it is a basic need for us, it is a luxury for those belonging to the most disadvantaged and marginalized communities. What must be going through the minds of young Nigerian girls as they pack their book bags to go to school? Is it possible to get an education in these conditions?
The world leaders and international communities are failing these children. The Charter of the United Nations states that it is the responsibility of the UN Security Council to "ensure international peace and stability." But there is no peace and stability for these students, and the Security Council appears helpless to intervene on their behalf. A quarter of all school-aged children live in countries devastated by conflict, millions are displaced refugees, and millions more are growing up in communities plagued by poverty. As a result, more than 263 million children and young people are now out of school, 63 million of them of primary school age.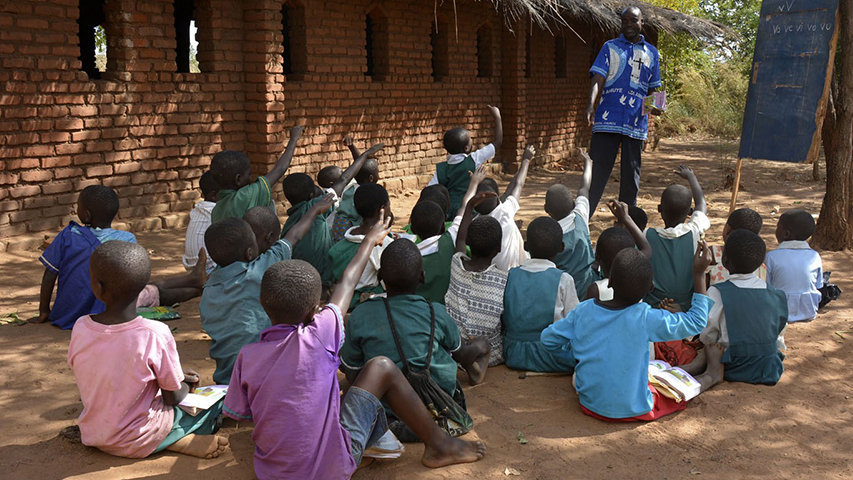 Medium
Think about the future of these innocent souls, who don't have anything to do with these wars being played by their own people. Without an education, they will face a future of thwarted ambitions and broken dreams. They will not be able to secure a good job for themselves and the resultant would lead to violent natures caused by frustration. As scary as it may sound, they might turn out to be terrorists themselves.
Within the context of its program to support the Lebanese vulnerable communities and the Syrian refugees in Lebanon, the United Nations Children's Fund (UNICEF) is supporting the Lebanese public education system through funds from global donors, prioritizing the enrollment of Lebanese and non-Lebanese school-aged children in formal public education.
A series of schools have been established for providing free education to the underprivileged in India too. This initiative focuses on children of the slum dwellers and those coming from below poverty line families. In addition to providing instruction, school uniforms, textbooks and stationery, free hot meals are served to around 1,200 students.
But is this enough? We need to do all we can to ensure that young men and women in the most disadvantaged and marginalized communities are not denied the opportunity to get an education. If we want to live in a peaceful world, free of the terrorist threat, we need to do more to inoculate our children against extremism.