Filmmaker's house raided for making hard-hitting Documentaries
by Yash Saboo
July 20 2018, 6:05 pm
Estimated Reading Time: 3 mins, 0 secs
Not many days after the release of filmmaker Divya Bharathi's upcoming documentary, Orutharum Varela's trailer – which garnered over 40,000 views in few days – she has alleged that she is receiving threats and unwarranted visits from police officials at her residence and her workplace in Madurai in Tamilnadu.
At 5:45 am on 3rd July — at least, 20 from the police force landed at the doorstep of Divya's home. She was not at home when the three police vehicles arrived. She was visiting a friend near Trichy.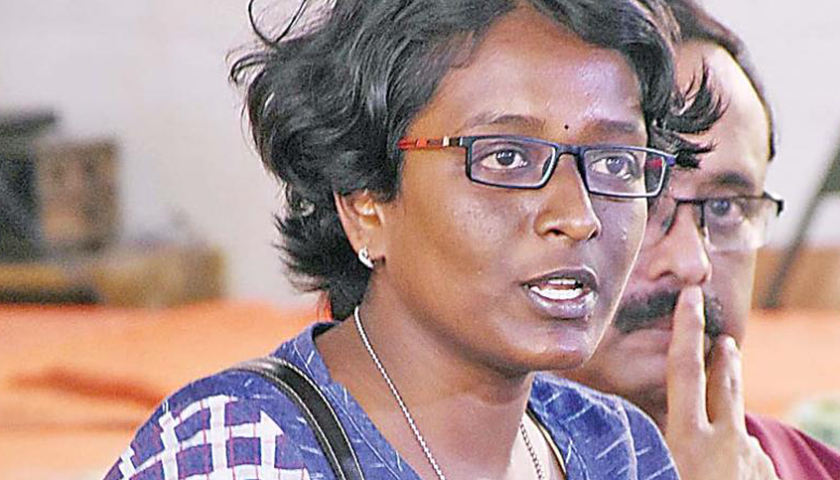 "My father and my partner were at home. The team had no search warrant or no summons for me. The police team did not reply to my family's questions or that of an advocate who is our neighbour, as to what they were looking for. They searched every nook and corner of the house, even getting inside the water tank on the terrace," says Divya Bharathi.
This isn't the first time the filmmaker, lawyer and activist Divya Bharathi has come under police radar. Speaking to TNM over the phone, her husband Gopal said that officials entered her house demanding her father to know about Divya's whereabouts.
According to The News Minute, the group stopped her vehicle outside Madurai District Court, insisting that she come with them. "We kept asking who they were and if they had summons, which they didn't. They even took our keys. When we asked for the officer to show us his id card, we found that he's from Salem. When Madurai police officers have not approached, what is the need for an official from Salem to investigate?" asks Gopal. Divya is currently with friends inside Madurai bar council under the supervision of bar council secretary.
It is unclear why the police want to question Divya Bharathi, but over the past few days, activists who have questioned the government's plan to build an expressway from Salem to Chennai and the expansion of the Salem airport have been arrested.
Divya Bharathi wrote on her Facebook page on June 3 afternoon that she was being intimidated.
"Today in the morning when I was not at home, more than 15 police and intelligence agents rounded up my house as if they were holding a huge culprit. Four of them jumped the compound wall and entered from the backside; four entered from my neighbour's house and five through the front door and checked the entire house. All 13 Lady Police officers were not in their uniforms. No details were given to advocate Rajendran who came to my house upon hearing the news. Saying they wanted to inquire regarding my documentary, they scrounged every corner in the house," she wrote.
Adhavan Deetchanya, General Secretary, Tamil Nadu Murpokku Ezhuthalar Kalaingargal Sangam said that the actions could indicate government's paranoia. "Divya Bharathi has been vocal on the happenings in Thoothukudi and her documentary is about Ockhi, another controversial event. The officials from Salem could indicate that perhaps the Government is jumping the gun and being cautious." He also added that Divya is awaiting her anticipatory bail and that her whereabouts are currently being safeguarded.
This isn't the first time such an incident happened to her. She faced similar harassment from the authorities who had arrested her in 2017 when her film 'Kakkoos' (toilet), a hard-hitting documentary on the life of manual scavengers and the caste system, had released on YouTube.
According to her, there are still a few weeks before her documentary releases on YouTube. But that path isn't plain sailing. She will have to first get past the hurdles that come forth.