Lenses, Women & Trauma
by Vandana Kumar
June 15 2022, 12:00 am
Estimated Reading Time: 11 mins, 11 secs
Cinema from Israel has been getting a lot more recognition globally – in terms of prestigious awards and academic courses revolving around it, writes Vandana Kumar.
'Or' (My Treasure) is a 2004 intense drama film starring Dana Ivgy in the title role. 'Or' is a teenager who tries to take on the responsibility of her mother in most ways that a mother would, for a child that age.
This drama is about 'Or' trying to keep her prostitute mother 'Ruthie' (Ronit Elkabetz) away from the dark abyss of prostitution. Ronit Elkabetz is also one of the country's most renowned directors and screenwriters.
The French-Israeli production premiered on May 14, 2004, at the Cannes film festival. It impressively won the debutant director, Keren Yedaya, the "Caméra d'Or" at Cannes - the "Camera d'Or" translates as the 'Golden Camera' award, and it is a prize category that was created in 1978 and specifically for the best first feature film.
The film is replete with still long shots that underscore the harrowing daily life of the teenaged 'Or' and her prostitute mother, Ruthie. It starts with the 16-year-old picking up her mother from the hospital in a completely no nonsense and no fuss manner and before the audience can process this, she locks her mother inside their apartment. Routine is harsh and Or almost immediately leaves for work at a restaurant managed by her young boyfriend's family. So while her legitimate job is juggling between nights in a neighborhood restaurant and managing her high school student life, her 24/7-unspoken job is her mother, Ruthie.
The camera hardly moves from the characters. It follows 'Or' whether she is washing dishes, sweeping and mopping at home and at the workplace. It loves both the daughter and the mother. It follows the daughter getting home from a hard day's work. A daughter obsessed with the mother and her medication. One slip and she knows her mother might go downhill - not just health wise but also get seduced to the life of a streetwalker. These shots establish the tenderness in the relationship between mother and daughter - both on the lookout for each other silently.
The protectiveness is never verbalized. 'Or' tries to keep her mother away from the streets. She has already had an agonizing 20 years of street walk prostitution.
On her return from hospital Ruthie is at rock bottom, messed up, vulnerable and devoid of survival skills. 'Or' witnesses her mother's disappointment when a date does not turn up. It is almost like a role reversal as one rarely sees single mothers confiding their romantic issues and sexual desires in their daughters.
Ruthie's prostitution is compulsive as much as it is about survival. This makes her self-destructive. There is a mind-numbing scene, which haunts me. It is when Ruthie comes home with blood between her legs. 'Or' cleans her up. It's never spoken about but the implication, of course, is the disrespect and unwanted sexual excess from a client.
'Or' (My treasure) uses the body parts to show hurt, literal and much beyond. Blood trickling down Ruthie's legs is a stark representation of male aggression and violation. In contrast is the scene of young 'Or' in the bathtub. Nubile and fresh, the body is preparing her for all that she too will be subjected to. The film starts with one body hurt and ends with the other hurt in a similar space.
There is a great deal of cleansing in the film. 'Or' vigorously washes dishes. In a particular scene after a fight with her mother, she is scrubbing the apartment. Then there is the scene of gently bathing her mother after a particularly rough night outside.
Ruthie, at the other end, lives in a mess of an apartment. She can barely make it to work. She has scant interest in cleaning the home of her new employer either. 'Or' keeps on doing the cleaning and Ruthie keeps messing up. The attempts to sanitize can't change things around for Ruthie, no matter how much 'Or' tries. The scenes in the shower reveal the poverty these women are accustomed to. They plug the drain with their soiled laundry and then go on to wash their clothes with the suds from the shampoo they freshly rinse out of their hair.
'Or' is exploring first love and shedding her innocence - her story of self-discovery runs along with her seemingly inexhaustible energy to straighten her mother. She gets involved with the cook Ido (Meshar Cohen) of the restaurant where she works and ends up sleeping with him. His mother, Rachel (Katia Zinbris), knows that her son harbors feelings for 'Or' and guesses they have been intimate. Ruthie feels they are good together but Ido's mother seems to think otherwise. She says it in almost so many words to 'Or'. "You are always welcome to our place etc." The subtext is obvious.
'Or' understands that she is perceived to be sexually of her mother's lineage. It hits her hard and she withdraws. Her school councelor senses something amiss and wants to help her but 'Or' is by now transforming into somebody else.
The inherent softness despite all of Or's hardships and her efforts to get her mother on the straight path is now almost gone. Ruthie couldn't take to the daily routine of a cleaning lady. It is as if after two decades of a night job, the body can't take this sanitizing job in broad daylight. Her body revolts almost as in reflex action. The fact that 'Or' couldn't get her mother to do a regular job shows that things can't be forced upon others.
It is not without a good deal of observation of such people that authors and filmmakers have woven novels and films around the general perception that you can't turn back from a life of crime or prostitution. The daughter's repeated attempts, however, to get her mother sorted puts a strain on their relationship. In softer moments before the relationship goes spiraling downward the two share the intimacy of showering together. There is a tender moment of sleeping under one blanket. This as near equals that Ruthie was on a self-destructive mode until 'Or' crumbled because she bore the brunt of it on her shoulders.
When Ruthie defaults in paying rent for their shabby apartment she offers the landlord sexual favors. This is the way her world has worked so far. She was numbed years ago and the exploitation had become so unimportant that she puts no thought to it any longer. She is also struggling with withdrawals. The life that the audience finds so painfully exploitative is the only one she has ever known for over half her life.
The cycle of such a job is brief and young bodies are eternally in demand in the market. It is disturbing when the landlord refuses to have sex with Ruthie and is eyeing her daughter. At some point she will surrender, is his crude assessment from the way he eyes 'Or'.
'Or' rings the landlord's doorbell and he asks for rent. She brazenly walks into his place and coldly strips. He can't control his excitement and climaxes just holding her in his arms. There is a close-up of 'Or'. She has this look: vulnerability gone, seemingly detached as she mechanically lets him finish 'his job'. In the next scene there's a new 'Or' – she is loud. Cigarette in hand, bonding with girlfriends she laughs and tells them how easy it was, "And I take off my T-Shirt. I don't have to lift a finger; he just jerks off".
Across not just Israel or West Asia but across most of Asia, there has been a growing 'draining out' of the rural environment and the urban is fast becoming the normative mode of existence. In cinema too, the city is dominant in representation of prostitutes. Most of this film is set indoors. The film has an overwhelming sense of claustrophobia. The scenes move within an apartment that is so cluttered that it barely gives the space for a mother and daughter to breathe. There is a grim Kitchen sink realism and the only way the characters progress is to a road where there is no return, moving straight into endless gloom and irreparable damage to the soul. The politics and the psychology of a mother and daughter relationship plays up.
An interesting observation of the neighborhood is how remarkably accepting the friends and neighbors are of Ruthie's profession. It is a profession like any other and has been normalized as no one bats an eyelid at the mother-daughter duo. There are no objections if the professional doesn't get mixed with the personal. A corresponding disapproval happens immediately and only when the rule is broken, when Ido and 'Or' get serious about their relationship.
The climax opens only one door for 'Or' as she joins an escort service. There is a scene when the mother and daughter are both readying for their respective nights out. 'Or' has tears streaming down her cheeks seeing her mother dress up. Ruthie says, "Pretty dress" when she looks at 'Or' and notices her new shoes. 'Or' runs after her mother to stop her from going out. It is as if to say, 'I am doing it now and can take care of you'.
The city is Tel Aviv. Though a lot has been written about the fact that the director was interested in the women, their conflicts and struggles, somehow nothing that seems like Tel Aviv comes through. What comes through is the bonding between these two women and the exploitative men and nothing specifically to do with the character of the city. It is generally about their marginalized lives. So, the politics of the film is universal in that sense.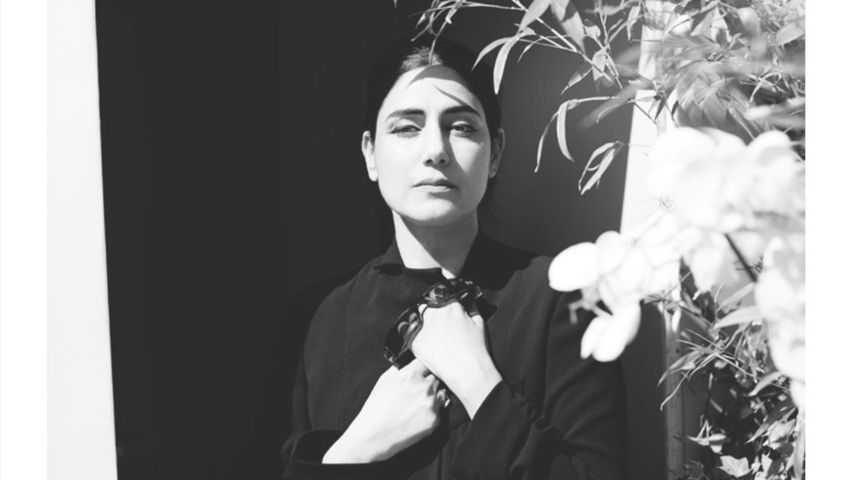 The director Keren Yedaya's debut made a mark internationally and she has said that this was an extremely important first for her as a feminist and activist, and as a member of several women's rights movements. At the end of the day, it remains more a poignant and gut-wrenching story of a mother-daughter relationship. Those looking for a larger context, political, economic, prostitution, oppression or simply a broader social framework in which the director places the two troubled protagonists and their sexual histories, might find something amiss.
'My Treasure' is a film mentioned constantly whenever shifts in representation of women in the cinema of Israel are discussed. The earliest cinema from their country, as was the case for most of world cinema, had women play a secondary role. They had little to say and do in terms of showing us their stories. Narratives were seldom autobiographical or even remotely the voices of women. The women in their cinema were typically objects of male gaze in a patriarchal construct. Wherever the Zionist ideology of equality of men and women was represented, it was certainly not so in their cinema.
The shift in representation of women in cinema of Israel was spearheaded by a lot of women filmmakers. They brought in complex human relationships to the core of the narrative and moved beyond gender stereotypes and in doing that they liberated the characters and stories.
Rotem Yosef in 'Recycled Wounds: Trauma, Gender, and Ethnicity', in Keren Yedaya's 'Or' (My Treasure) talks of the trauma that is brought out in the few days shown in the film. She dwells on the relationship between trauma, gender, and ethnicity in this Israeli film. The ethnic, class, and gender oppression of the 'Mizrahi' (Jew from a central or West Asian country) female subject stirs a disturbing experience that is shown through the film's narrative and its cinematic tools. In fact, the nature of the trauma is so every day that it is internalized, and it never transforms into a post-traumatic memory. So, the trauma gets repeated. Finally, it is transferred from the mother to the daughter.
'Or' might not have a broader context in which it is placed, but it still remains a very strong indictment of present-day street prostitution. It is not your film with an overt message. It doesn't need to be. The intense drama manages to bring out the dehumanizing slavery in the form that it exists today in the neoliberal state. The film has a non-preachy take on the subject and the narrative is deeply empathetic. The realism doesn't offer you any escape and you go back home, carrying the dread and sense of doom that permeates the air. It is one of the films where nobody comes out unscathed, not even the audience.