World's biggest Polluter is now a World Leader in Renewable Energy
by Shruthi Venkatesh
December 3 2018, 3:37 pm
Estimated Reading Time: 3 mins, 17 secs
A recent report by the energy researcher BloombergNEF reveals that India ranks 2nd after Chile in the 2018 Climatescope. The organization studied about 103 countries around the world with clean energy policies, power sector structures, emissions and installed capacities by increased investments and clean energy instalments. The record of Bloomberg states, 'India is the close second. The Indian market is home to the largest and most competitive auctions in the world, which contracted over 10.5GW from wind and solar in 2017 alone. The country aims to reach 175GW of clean energy capacity by March 2022, with 100GW coming from solar alone. The country's solar market almost doubled in size in 2017, making it a record year with annual PV installations touching 8GW.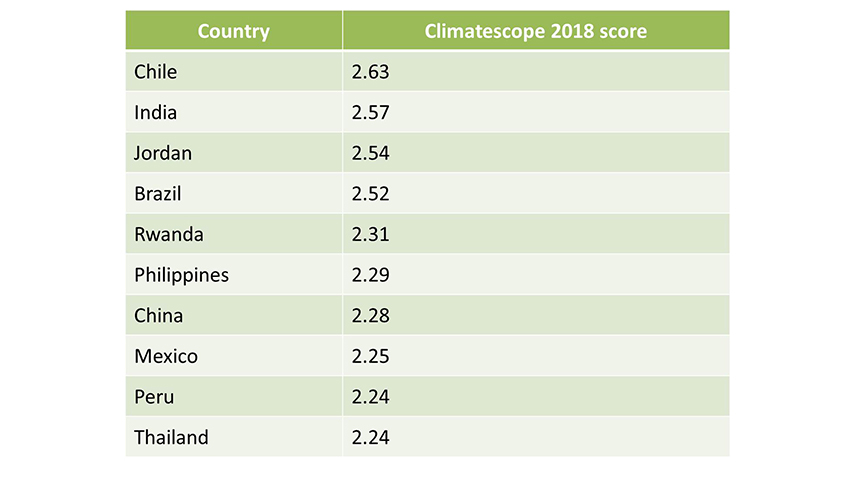 Climatescope 2018 score
The Government of India has set an ambitious goal to look forward to a clean generation in a couple of years. The tangible progress made by India, which is also the third largest emitter of greenhouse gases, is astonishing, and worth celebrating. Experts now say that India is on its path to become a world leader in renewable energy.
The Indian government said it would be a 'morally criminal act' for the world to not do its part on climate change. The government has set the target to 100GW solar capacity by 2022 which goes five times higher than its previous target. The extremely ambitious goal will bring the nation of 1.3 billion people closer uniting to the commitment and providing 24-hour electricity to all Indians by 2019.
The solar power projects held in India as reported by Industry Leaders in 2017 shows a clear data on the recent signs that the country is starting to make tremendous progress. The Kurnool Ultra Mega Solar Park, in Kurnool, Andhra Pradesh, has an installed capacity of 1000MW. It is spread over 5,811 acres of land and packs 4 million solar panels. The solar park was built at the cost of one million USD, with Greenko, SoftBank Energy, Azure Power and Adani Group as joint developers. It will produce 2,600 million units of power per annum.
The world's second largest solar power plant is also in India. The plant, in Kamuthi, Tamil Nadu, is spread over 2,500 acres and consists of 2.5 million solar panels. The Kamuthi Solar Power Project can produce 648MW of power and is enough to power 750,000 homes.
Believe it or not - India has the world's first solar powered airport. Located in the Southern state of Kerala, also known as 'God's Own Country,' is the world's first airport to function completely on solar energy. Spread across a field of 46,000 solar panels tapping into the sunshine, the 12MW solar plant is expected to produce 18 million units of power. Cochin International Airport Limited (CIAL) is the fourth largest airport in the country in terms of passenger traffic and requires 48,000 units of electricity per day. It will be able to prevent 3, 00,000 tons of carbon emission from coal-fired power plants over a period of 25 years. The solar plant cost 10 million dollars to construct and the solar panels are expected to last roughly 25 years. Cochin airport also plans to sell the surplus electricity to the local electricity utility. Apart from saving money, the airport will significantly reduce global warming by producing greener and cleaner energy. The Indian government has been encouraging local airports to consider how they can incorporate green energy into their operations.
Yet, the problem arises when poor policies have sparked uncertainty over the duties on imported solar panels, causing a sharp decline in new solar capacity additions in 2018. Of the 175GW target for 2022, 100 GW of renewable energy was slated to come from solar power, but analysts have warned that the way things are going, this goal is looking extremely doubtful. Still, India from the 5th position held last year climbs up to be the world's second and that is something to be appreciated.