Amol Palekar - In a flashback that is very present!
by Aparajita Krishna
October 22 2020, 12:00 am
Estimated Reading Time: 19 mins, 54 secs
I am often visited by Amol Palekar flashbacks, writes Aparajita Krishna
As time passes by actor Amol Palekar's theatre and film resume gets even more present and relevant. He is 76 years young now (Birth: 1944) and will continue to be one of the finest reference points for our film industry. The grand bridge that the artistic and the middle of the road cinema of the 1970s, 1980s built had Amol's definite footprint. His work and talk deserve books. I am herein addressing a little synopsis of a grand career and also sharing some invaluable talk I had with him in the past. It is as topical as his Acts are. The young cine-goer of today has to just check on the net the gallery of Amol Palekar's film posters to ascertain the awesomeness of a repertoire that carries the best in all genres. Actually just visit his Facebook page, which on the 22nd April 2020, carried a zabardast updated Golmaal cartoon of the famous twosome Amol Palekar-Utpal Dutt characters. Boss Bhavani Shankar chastises Ramprasad, "Kal tum mujhe Lockdown mein ghoomte nazar aaye? Ye kaisa Golmaal?" Ramprasad gently placates him "Itna uteejit matt hohiye sir, sehat ke liye haanikarak hota hai. Wo main nahi tha. Wo mera judwa bhai Lakshmanprasad-Dashrathprasad Sharma tha."
It was the theatre actor Amol Palekar who in the years of 1960s and 1970s set the stage for his own individualistic repertoire. Under Satyadev Dubey's masterly direction, through his participation in a range of experimental Marathi and Hindi plays, Amol Palekar stamped his place on the stage of Marathi-Hindi acts and came center-stage. He also went on to make a definite mark as a director on Marathi-Hindi stage. Shantata! Court Chalu Aahe, Hayavadana, Adhe Adhure and Aur Ek Garbo are among the many plays listed for posterity and those that carry some of his finest stage portrayals. It is said that his popularity in Hindi cinema overshadowed his contribution to modern Indian theatre.
Back in the mid-1980s when I touched base in Bombay, his abode in Juhu was one of my stay-over homes. I was privileged to have a most wonderful creative connect with Amol Palekar and Chitra Palekar's television and film work. 'Kachi Dhoop' (1987), was beautifully adapted as a serial from the novel 'Little Women' by Louisa May Alcott. It marks the acting debut of Bhagyashree Patwardhan and of Ashutosh Gowariker. Then there were Naqab (1987 or 1988) and Mriganayani (1991). The 1990 film Thodasa Roomani Ho Jayen (produced by good old Doordarshan), was adapted/inspired from the English play The Rainmaker, written by N Richard Nash in 1950s and is to me also reminiscent of Vijay Tendulkar's wonderful breezy play Panchi Aise Aate Hain. The film perhaps does not have an instant recall value simply because it came in the times when this kind of artistic cinema was handicapped by a lack of thrust in release avenues. Thodasa Roomani Ho Jayen would have been a landmark film in today's multiplex, satellite television and digital times. It is one of the most creatively daring experiments in Hindi cinema. The film stars Nana Patekar (at his creative best) as a charming confident-trickster Barishkar (Rainman), who arrives into a family promising to bring rain in the parched town. His arrival sets off a series of events that enables the plain looking elder daughter of the family, lacking in marriage suitors, to see herself in a new light. Anita Kanwar's is an exquisitely nuanced performance. This film is a benchmark Hindi film also because it was written in verse form – a musical. Amol Palekar was the producer-director with concept-screenplay-dialogues writer Chitra Palekar. Hindi dialogues-lyrics were by Kamlesh Pande, who had earlier collaborated with Amol in his television productions, music was by Bhaskar Chandavarkar and it was shot in Panchmarhi in Madhya Pradesh. Amol Palekar had told me in admiration, "Nana Patekar came and fought for that role in Thodasa Roomani Ho Jayen."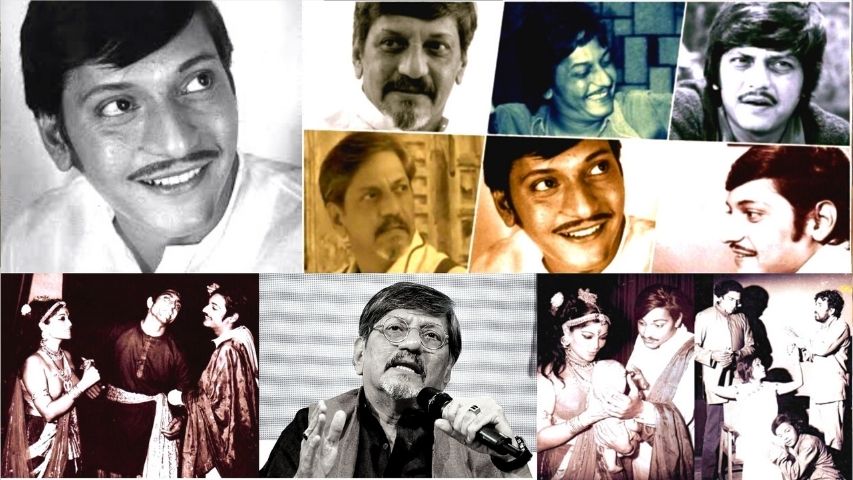 More of the flashback would recall Amol Palekar's admirable start and past. This artist-alumni of the J. J. School of Arts Mumbai and erstwhile bank employee had in his hey days as a screen-actor given a fitting challenge to the stardom of Rajesh Khanna and Amitabh Bachchan. He walked his own cinema as a solo hero and was the poster boy of 'middle-of-the-road' gems. His double-hero Golmaal (1979), will continue to figure in the 'best of' list of Hindi films. It was Amol Palekar who was the quintessential Hrishikesh Mukherjee-Basu Chatterjee-led Cinema Company's hero. Amol's acts would also uniquely combine the hero's herogiri and the anti-hero's anti-herogiri. His acting caliber added to the cause of Marathi and Hindi art house cinema with path breaking screen roles. Bajiraocha Beta (1969) is listed as his Marathi film debut. It is Shantata! Court Chalu Aahe (1971), the Marathi film directed by Satyadev Dubey, based on Vijay Tenduklar's remarkable play and screenplay that saw Amol Palekar and Amrish Puri assert their formidable screen start. It was cinematographer Govind Nihalani's first film as a full-fledged cinematographer who along with Satyadev Dubey co-produced the film. Watch a clip on the net and the young, trouser-shirt-goggles wearing Amol Palekar with his pencil-moustache beckons you and how! For every endearing middle class hero-character in Rajnigandha (Hindi film debut, 1974), Choti Si Baat (1976), Chitchor (1976) and Baton Baton Main (1979), there are the delicately nuanced, grey shaded and different shaded roles in Bhumika (1977), Apne Paraye (1980), Tarang (1984), Gharonda (1977), Agar (1977), Solva Sawan (1979) and Vidhu Vinod Chopra's Khamosh (1986).
It was Amol Palekar who, in a way, set the cine-stage for Naseeruddin Shah and Om Puri. He has co-starred with a most impressive and wide ranging line-up of female cine-actors: Vidya Sinha, Zarina Wahab, Smita Patil, Sridevi, Shabana Azmi, Rekha and Sharmila Tagore among others. An added feather-note in Amol Palekar's filmography is that in any Geet-Mala list of the top-line Indian film actors' songs, his would certainly figure in.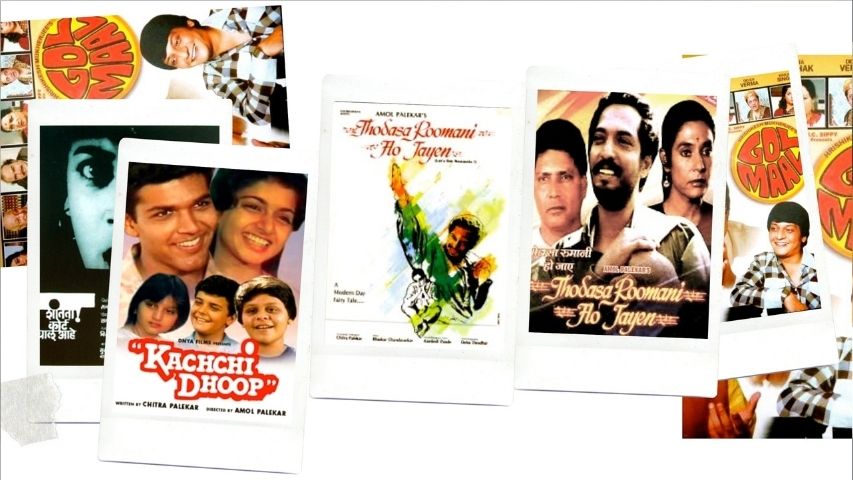 Amol Palekar's directorial debut was the Marathi film Aakriet (1981) in which he also acted. He went on to successfully re-invent himself as a film director in Hindi and Marathi films. Diverse stories played in director Amol Palekar's films like Ankahee (1985), Thodasaa Roomani Ho Jayen (1990), Bangarwadi (1995), Kairee (1999), Dhyaas Parva (2000 or 2001), Dumkata (2007). Many of the subjects he chose for direction were inquiries into human behavior, sexuality: Daayraa (1996) about a transvestite, Anahat (2003) explored gender dynamics and female sexuality - it is said to be inspired by the noted Hindi play Surya Ki Antim Kiran Se Surya Ki Pehli Kiran Tak by Surendra Verma and Thaang/Quest (2006), the Marathi-English bilingual exploring homosexuality in the backdrop of man-woman relationship. For film aficionados it is to be noted that Thang/Quest also featured Esther Victoria Abraham/Pramila at the age of 90. In the 1930s, 1940s she pioneered Indian modelling, fashion and set the acts of the silent Hindi cinema and the newly talking Talkies. Pramila was one of the earliest model-actress-producer of Hindi cinema. She was also crowned as free India's first beauty pageant winner, Miss India 1947, at the age of 31.
Amol Palekar, the actor of very successful Marathi films, also acted with success in Bengali films, a language he is very fluent in. Mother (1979) co-starred Sharmila Tagore. Then there were Kalankini (1981), Abasheshe (1985) and Chena Achena (1983) to name some. M S Sathyu's Kannada film Kanneshwara Rama (1977) and Balu Mahendra's Malayalam film Olangal (1982), were some of his noted regional language films.
Hindi film Paheli (2005) directed by Amol Palekar starred Shah Rukh Khan, Rani Mukherjee, Amitabh Bachchan and Juhi Chawla in the lead and was India's official entry for the Academy Awards for Foreign language films. It told a quizzical and existential riddle-tale.
I had met Amol Palekar on a day in January 2007 for a talk on an assignment in the making. I am sharing a part of our talk which is finely informative, communicative and timeless.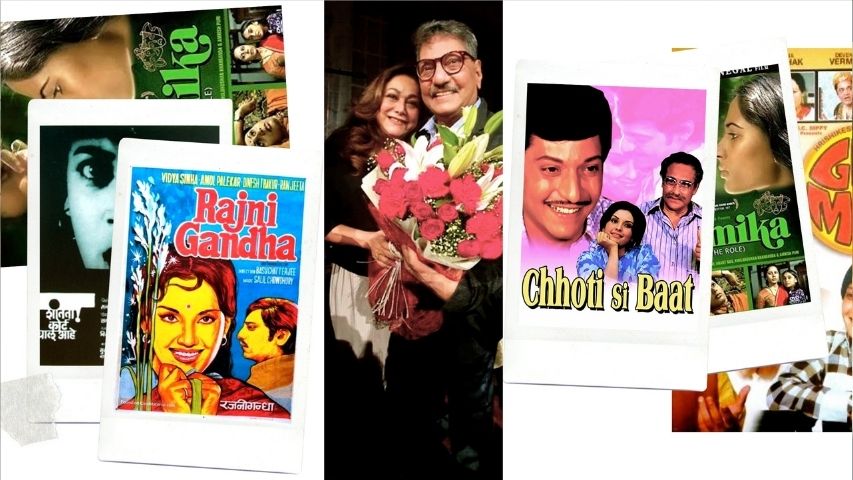 Amol you in a way set the stage for theatre actors like Naseeruddin Shan and Om Puri venturing into films. You had already got success with the middle of the road cinema. Your film success is also distinctly different from theirs.
Yes.
You all came in with a movement of films.
With Naseer I did 3 films and in all the 3 films we had excellent roles and beautiful working. In fact I keep pulling Naseer's leg every time saying that you are one of the finest actors in our country no doubt, but every time I have acted with you I have scored over you. Be it in Bhumika, Khamosh or Jalal Agha's film Nirvana.
You stood your ground in Hindi films quite admirably on your terms. A great actor like Balraj Sahni ultimately got reduced to marginal roles in mainstream Hindi cinema.
I would disagree with this because Balraj Sahni to me is and was a source of inspiration. He came with Do Bigha Zameen, Seema and Kathputli where he was the leading man and roles were written for him.
So, all the more reason to ponder why he got reduced to the Do Raaste genre of films.
Yes, yes that's different. He went into playing character roles and then he was not what he could have been. Again came Garam Hawa. So I think somebody like Balraj Sahni had paved the way for me and of course I must say I had a very hard time on both fronts. Theatre people started shunning me because I became a successful film star. It was considered that I have given up theatre. Which was not the fact at all. My most creative phase of theatre happened after my stardom. But there is a perception that 'Oh! You went into films and forgot theatre'. Which is factually wrong. But let it be. I was shunned by theatre people and looked upon as a weird species by the film people because they wouldn't understand my love for theatre. Right in the beginning of my career when I said that after 6 o'clock I won't shoot they said 'Why?' I said 'I have my rehearsals.' They said 'Oh! Come on, rehearsals? How is it important?' I said 'It is to me. I was given to understand that I will shoot 9am-6pm and then go and rehearse.' People found it very difficult to digest that theatre is an equal priority for me. Therefore I had to face the brunt. By the time Naseer and Om came that kind of thing had blunted.
Quite unintentionally you laid some kind of a ground for them to travel through.
Yes. Also it must be said that by the time they came, it had also become kind of acceptable that actors from theatre are not necessarily theatrical. That was a mis-concept. In fact I used to make it a point to say that film actors ham more than theatre actors. I know exactly how much to project. I also used to give another example which we must take, that of Sanjeev Kumar. Sanjeev Kumar had come with a complete theatre background and he was the one who was so popular and one of the finest examples of underacting.
Balraj Sahani, Motilal, Sanjeev Kumar, you…
Exactly. The film fraternity had slowly started coming to terms with theatre actors. That they are not going to be theatrical. They don't have to come from the Sohrab Modi mould. They can be as, or, more natural. I am really happy that one could make a significant dent in their mindset.
Your success was very important because if that success had not come your way a lot would have been futile.
Today when we look back we must also say that the whole atmosphere was changing. Even cinema was changing. Today we can say that yes that was the renaissance period - be in theatre, cinema, literature, everything. In the early 1970s and 1980s. With the kind of change, the perception was also changing and with parallel cinema becoming popular and audiences loving that, it did become rather easy for all of us.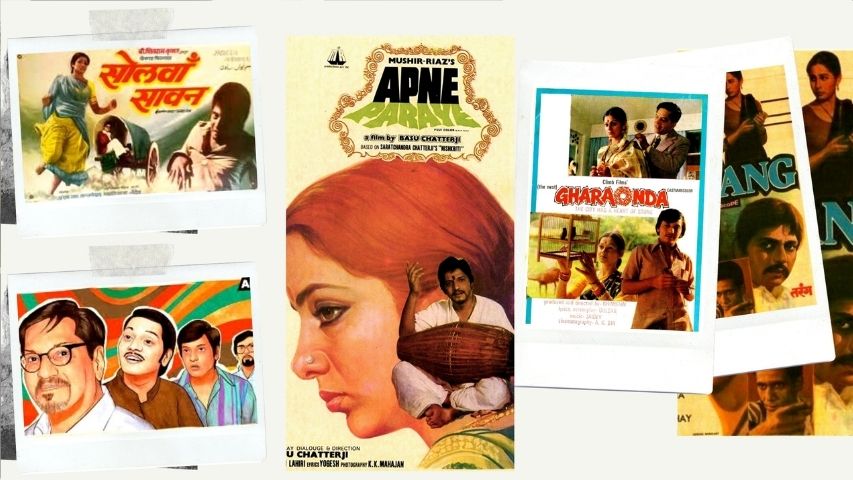 Amol's actor-articulation expertly informed, "For an actor more so in theatre than in cinema it is very important to have a presence. You may not be doing anything but you are still in the frame (in theatre). In cinema the director choses the frame and if you are not required in the frame you don't have to do anything. An actor's task is that way easier. But in theatre you are all the time in the frame and have to keep the balance not to intrude, not to be obtrusive, not to hog the limelight because it is not your scene and yet you can't be dead because you are there and you have to be alive. Being alive and having your presence felt is something which I think makes a great difference."
SMM Ausaja, an author and cinema archivist, whose personal collection of film Golmaal's poster signed by Amol Palekar is carried in this piece said in his tribute-assessment, "Amol was the common man for Hindi cinema. He was what R K Laxman's common man was to the print media. He created a niche for himself by accepting roles, which suited him and his personality in this 'stereotype' if I may call it. It was a safe territory to excel in considering that the more commercial 'Angry Young Man' and 'Lover Boy' slots were very competitive in the 1970s and 1980s."
Amol and I analysed the reason and nature of his screen persona's bonding with the audience. Amol examined it precisely and accurately. "I have always felt that why people liked my acting was that I was so vulnerable. I was ready to fall flat on my face. This is how I am."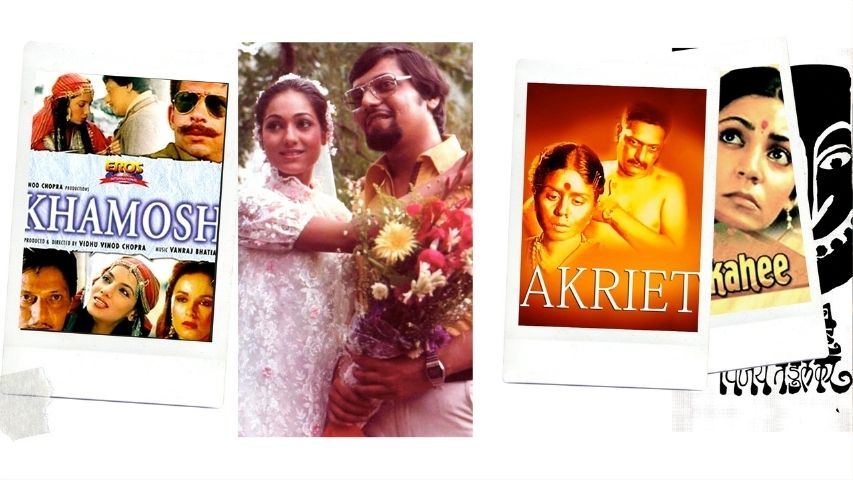 It is not supposed to impress.
It is not supposed to impress and at the same time I think what is at the core and necessary for it is that I am not doing it either to gain sympathy, nor, am I doing it for buffoonery. I am not doing it so that people should laugh. I am doing it because this is the only thing that can happen to me. Okay, I am a stupid, idiotic person, so I will go and make a fool of myself without knowing that I am making a fool of myself. Now this kind of sincere, genuine quality is something, which is very difficult.
The Indian media has a penchant for mainstream Hindi Film Stars who are also brand ambassadors etc. There is on the other hand an overlook of the most substantial work and artistic stardom of niche Indian actors of international repute.
But that is to be expected. I am not surprised because our media is getting caught by the Bhasmasur it has created itself. Look at the media today - television, print, electronic media - it has to break news everyday. Damn it, if you can't have a breaking news every day? It doesn't happen. So you create news that you think is breaking-news. That kind of hype you create. Then everybody is talking about exclusive coverage; therefore you are competing with each other and creating hype, which is not exclusive but you think it is exclusive. So you want to tom-tom and build it up so that you yourself are convinced that it is exclusive.
Unfortunately the print media feels so neglected because by the time you come to tomorrow morning's newspaper, the electronic channels have bombarded and exhausted you so much that they have to publish something new and different so that I read the paper. That is their compulsion.
Among all this the easiest and simplest way is to have Bollywood glamour and the glitter. The page 3 culture is another offshoot culture of all this. You are all the time talking about the glamour and glitter. Who is sleeping with whom? Who is wearing what? What is the in thing? Etc. If you understand this scenario then it is not surprising.
Again unfortunately what has happened is that when you talk of Indian cinema you are talking constantly, or, only of Bollywood Hindi masala cinema. My simple lament is that yes, this is Indian cinema no doubt about that, but there is much more beyond that. There is regional cinema. At one time Indian cinema was (globally) recognized by Satyajit Ray. So, as a kind of revenge Bollywood has come in saying that no Satyajit Ray is not Indian cinema, Bollywood is Indian cinema. The other day there was this seminar. A filmmaker like Balu Mahendra said, 'I thought the seminar was supposed to be about what is wrong with Indian cinema, but I find that everybody is only talking about Bollywood Hindi cinema. That is not Indian cinema. I come from a region from where I make Indian films and I do believe I make a significant contribution. But nothing is being talked about here.'
You have Mani Ratnam, Adoor Gopalakrishnan, Aravindan. A whole lot of them. You can't with just one stroke of the brush say that is not Indian cinema. You dare not say that. They should get their perspective correct. Rajnikant is still the highest paid actor! So why are we only talking about Amitabh Bachchan and Shah Rukh Khan and Aamir Khan? You are also not getting the right kind of award, acclaim abroad.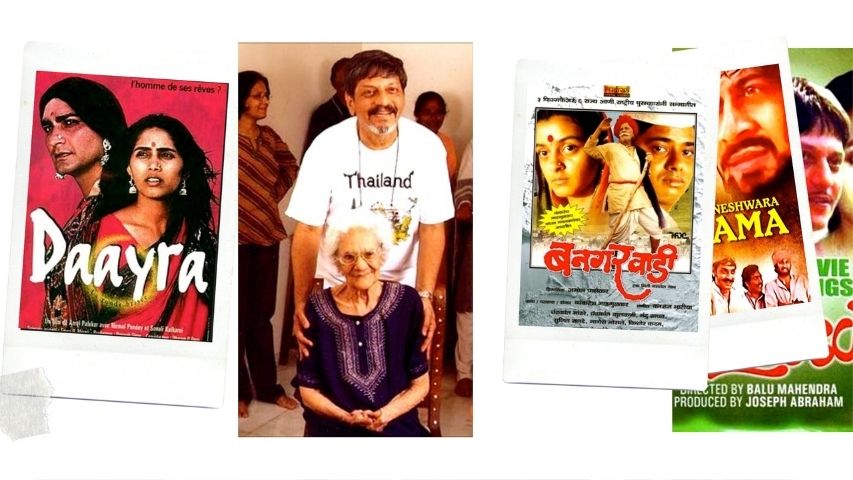 You, Naseeruddin Shah largely resisted what the mainstream Hindi film industry could have reduced you to or stereotyped.
With a face and personality like me or Om or, Naseer I don't think we even in the wildest of our dreams thought of replacing (a star). I can talk of myself. When I came, Rajesh Khanna was very much around. Dharmendra was around. Jeetendra was also around. Amitabh Bachchan was around. With these four different faces of stardom I did not even in my wildest of wild dreams think of changing any of those faces. I said 'I am Amol Palekar and I have my own identity which I think people will like because I am not any of them.' Similarly when Naseer and Om came they came with their own identities.
And created their own space.
Yes. They demanded their own space – 'You never knew that this could be there. I am here and I am giving you this!'
And there was this space.
There is always space for something, which is original, different and not a carbon copy. So there is always going to be space. If I had to think of being a Rajesh Khanna, it would've been different. You must know what are your strengths and weaknesses and the scenario. In acting this is the broad framework and I am supposed to stand only in a crowd scene. I am not the hero. And I must not change that framework, is the basic discipline. And then how do you still make your mark is the simple answer.
I will give you an off-hand example of somebody like Dada Kondke (famous Marathi actor) who became a phenomenon. I remember seeing him in a theatre performance for the first time - before Dada Kondke became Dada Kondke! He was performing in a play called 'Vichha Mazi Puri Kara' and I was least bothered about anybody else on the stage. I kept looking only at this man even when he was not doing anything and standing in a corner near the cyclorama. I wanted to know what this man is doing. My eyes would turn to him all the time. Now this is the kind of magic and space, you demand without breaking the rules and the framework. Breaking the framework a lot of our actors do, and I term them cannibals. 'Main usko khaa gaya!'
As an actor are you open to new film scripts?
Certainly, certainly! I have gone beyond proposals. Maanlo I say I have loved your script and I say let's do it, but it may not happen. That's a different ball game altogether.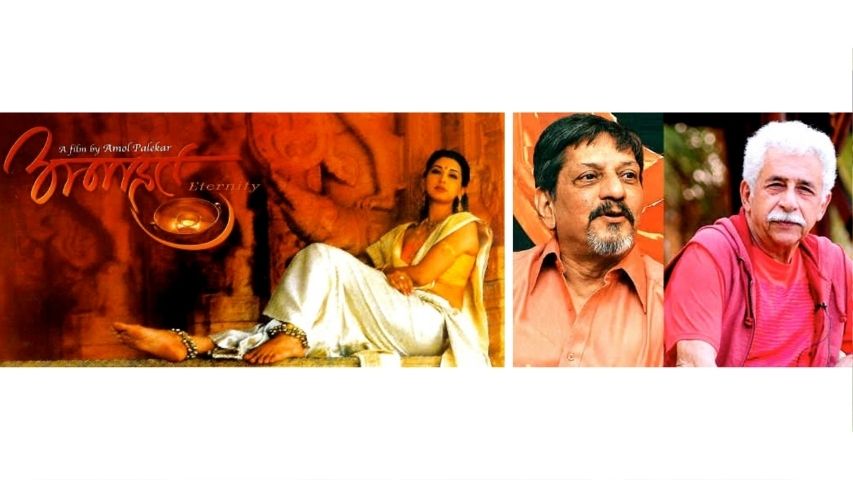 The balance sheet of Actor Amol Palekar's work has been very selective and prized. He balanced his actor role-appraisals by his choice. He is one of the rare Hindi film actors who chose his pause button to act or not to act as per his calling and not at the industry's call. In 2009 he was seen in Marathi film Samaantar with Sharmila Tagore. In 2011 came his directed Marathi film Dhoosar.
Amol Palekar's actor roles and directorial works have been feted by an array of popular and state awards. He received the Filmfare Award for Best Actor for Golmaal, Filmfare Marathi Award for Best Actor for Akriet and many state awards for other films. His regional language films have won the National Film Awards.
Around 2014 at age 70 Amol Palekar the painter went back to re-connect with his painting. He had seven one-man exhibitions and participated in many group shows. On his 75th birthday in 2019, the actor returned to the stage after 25 years in the play 'Kusur' (The Mistake). He directed the Hindi thriller-play in which he also played the lead. It is an adaptation by Sandhya Gokhale of the Danish thriller film Den Skyldige. His connect with theatre had started in 1967. A news report in 2018 had announced Amol Palekar re-uniting on-screen with Naseeruddin Shah for a film by Mahesh Manjrekar.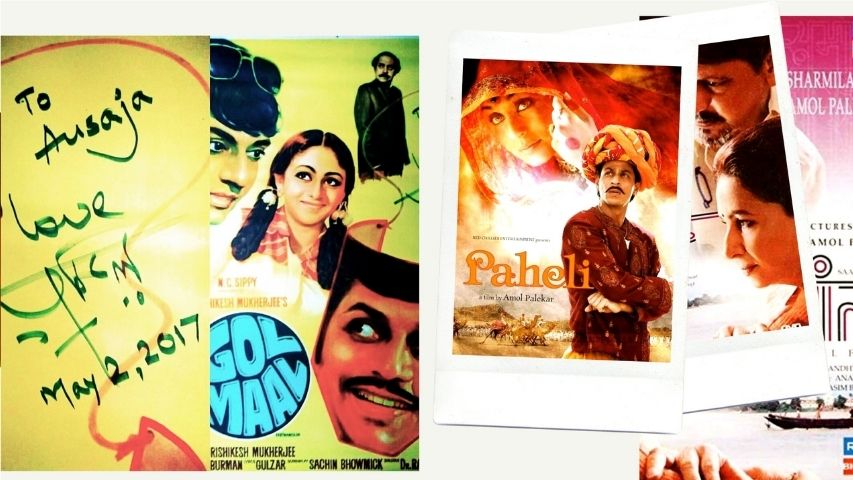 Citizen Amol Palekar has in the past and present lent his words and solidarity to social issues, be it the growing intolerance in Indian society in the light of Supreme Court judgement on Section 377 of the IPC or on the murder of doctor-activist-rationalist Narendra Dabholkar. Back in the 1970s theatre-man Amol had directed and staged the play Juloos (written by Badal Sircar) at several public places as an act of dissent against the Emergency.
In his tribute to Basu Chatterjee at the latter's passing away, the protagonist of this director's many tales was quoted saying in The Wire dated 7th June 2020, what best articulates Amol Palekar's summary and assessment of his own role as an actor. "I can go on and on talking about how deeply indebted I am to Basuda. It's a paradox in my life that when I was so intrigued by the complex characters sketched by Shakespeare and Dostoevsky, I got to play very simple characters devoid of multiple layers or coded subtext. I wished to play Raskolnikov, but got to play Sanjay, Arun, Tony, Vinod, et. al. But no regrets. It was while performing those characters that I learnt 'subtle portraiture' is the most challenging and nuanced art."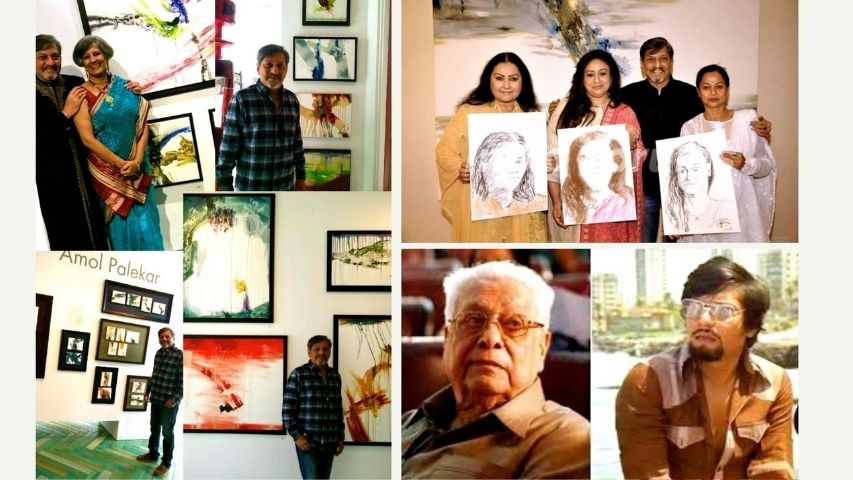 Before the onset of the corona times it was a rejuvenation time for Indian cinema that had started to again speak in many languages and ideas and characters. Amol Palekar, the actor, can always be counted upon to come center-stage and in front of the arch lights do 'Golmaal' with a line-up of roles. I don't know if he would like to stream his talent on the digital streaming platforms. But it will be a Badi Si Baat if he does.