Born to act: Ahlam Khan Karachiwala
by Aparajita Krishna
May 13 2021, 12:00 am
Estimated Reading Time: 17 mins, 56 secs
Aparajita Krishna takes a walk through the life of actor Ahlam Khan Karachiwala, born to Indian cinema's most loved Amjad Khan and his stunningly beautiful wife Shehla Khan.
Daughter of the late actor Amjad Khan, who lives on in his roles, and the beauteous Shehla Khan, Ahlam graduated with a Masters in English Literature from Mumbai University in 2000. During her school days in Bombay's Avabai Framji Petit High School she got initiated into the theatre world and acted in a variety of plays. Recalling her first stage appearance she informs, "I must have been in the 1st or 2nd standard. It was a play about Unity. I was playing a lawyer and I had put on a fake moustache. I took a bow and the false contraption fell off. It didn't bother me at all. Everyone was rather amazed by my nonchalance."
That 'nonchalance' was the confidence of the future actor taking root. As a college student her passion for theatre took a flight. Over the years she played many characters in her roles and bagged the Best Actress Award at the Mahindra Awards for Excellence in Theatre (META) for her outstanding performance in Purva Naresh and Vijay Naresh's Aaj Rang Hai.
The insiders would be familiar, but to the outsiders it may be news that Ahlam has been carrying forward her father's reputed theatre legacy. The indomitable star-actor had honed his acting muscles and skills in plays. Here I got talking with Ahlam about her theatre, family lineage, growing-up, Amjad Khan Saheb's incredible work, her husband, Zafar Karachiwala's impressive work as an actor and her world-view. She was most erudite and meticulous with her inputs and with a treasure-trove of photographs she shared. A journalist's delight!
She summarized "Can't say it was a breeze delving into the recesses of my childhood and dad's life. But phew! It was cathartic and reassuring and difficult all at the same time. Hope I'm able to give you a glimpse, in whatever little manner, into what life was or is from within my shoes :) Thank you. Pyaar. Abhaar".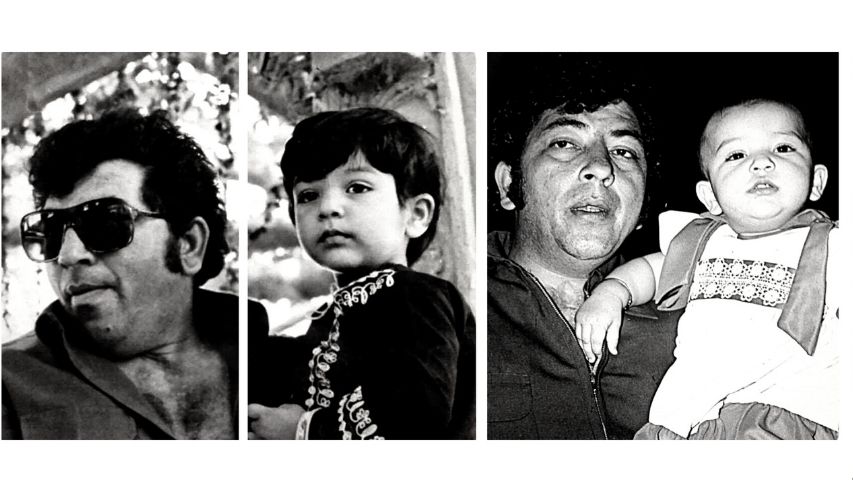 The pandemic and the lockdown brought about a tectonic, seismic change in human living. You say you have not done much creatively since the lockdown. How do you see the immediate future of theatre? Will it be on-line, or, eventually live theatre will bounce back? As well as films?
Theatre for me is more of a visceral activity. It's meant to have a live audience and that's what the actor feeds off. This is in the conventional, obvious sense. But given the current milieu, adapting has been the only way forward. During the lockdown in 2020, many companies attempted to bring theatre to people's homes in an effort to keep theatre alive. Zafar and I worked with a few online productions, which focused more on kids - since we felt we were able to connect with that particular target audience - having a 7 year old in the house and seeing how there wasn't much being done for that demography.
That said, I do believe that theatre will bounce back. Theatre is tenacious and so are people. The pandemic will run its course and eventually move on. The one upside is that theatre has come to the OTT platform, which is a great thing. Once a production has shut down, it is still accessible via a click of the mouse. Some big budget movies are now premiering on OTT, which is also a great thing.
Now let me go back to the very beginning. Your family lineage is so impressive and artistic. You are born to Shehla Khan and Amjad Khan. You have two brothers, Seemaab Khan, Shadaab Khan. Your paternal grandfather was the much-respected actor Jayant. Your maternal grandfather was the eminent screen-writer, poet Akhtar ul Iman who wrote films such as Kanoon, Dharamputra, Gumrah, Waqt, Mera Saya, Hamraaz, Iteffaq, Daag! Your father ought to rank as one of the most remarkable Indian film actors of our times who in a comparatively short film career performed such diversity of roles - Gabbar Singh in Sholay to Wajid Ali Shah in Shatranj Ke Khilari to Akbar in Meera to Vatsayana in Utsav to excellent humorous characters in films like Qurbani, Love Story, Chameli Ki Shaadi. Amazing versatility! We lost him at a very young age of 51 in 1992. How old were you then? Do share some memories of your father, childhood, growing up.
Dad passed on in July of 1992. In October he would have turned 49. I was 15 then, in the 10th grade. I remember being extremely guilty because I flunked my prelims. I remember connecting with Dad over movies, even at that age. There used to be a gentleman named Mr. Talreja who would come home every fortnight with a briefcase full of cassettes. And we would choose what to watch together over the next few days.
He was a family-centric man and if he hadn't seen us for a few days because of his schedule, he would wake us up in the middle of the night, just to spend time with us. And he would try very hard to keep us from school the next day. He loved having his kids around. We have great memories, accompanying him for his shoots during our summer holidays.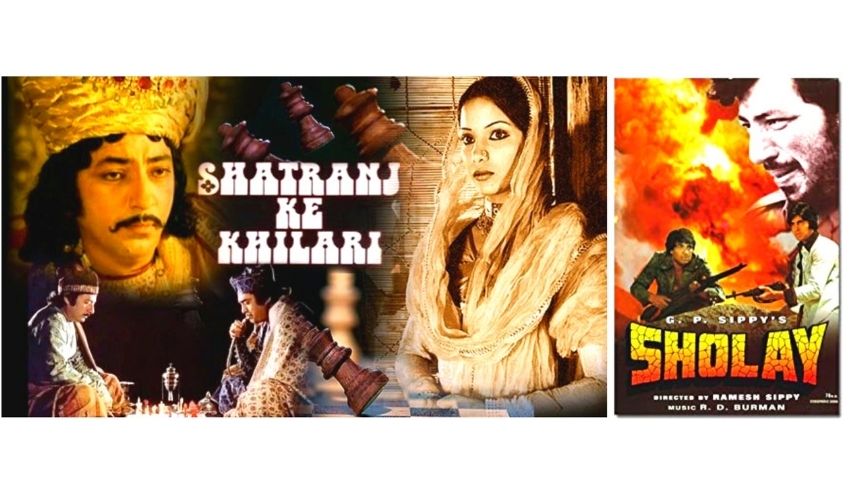 Your father attended R D National College, Bombay where he had held the post of general secretary in the student body. He was a postgraduate in philosophy. And he was a theatre actor. Surely a serious calling for acting prompted him to hone his craft and become an actor. You must have later heard within the family about his theatre work. Do share some information with us. You have taken the legacy further.
As far as college goes yes, Dad started out with National and won many accolades in the drama department. A principal or director challenged him that he would not be able to achieve any success without the backing of the college. So to prove them wrong, he joined Bhavans for a year and that year Bhavans ended up winning best play and best director. After this, Dad went on to direct plays for various colleges independently.
One learns that Amjad Saheb started off in films very young with a role in Ab Dilli Door Nahin (1957). He assisted K Asif in the film Love And God (late 1960s) and had a brief appearance in the film. He also appeared in the film Hindustan Ki Kasam (1973) in a small role. So obviously he had always wanted to be an actor of his make, right?
The first acting role was Ab Dilli Door Nahin. The next was Maya with Dev Saheb and Mala Sinha. Next Love and God by K Asif in which he also assisted.
Theatre was always his first love and he was happy to act on stage and to direct. He hadn't really planned on acting in movies. He was apprenticing under a journalist named SS Pillai in the hope of becoming a journalist. His "theatrics" led him to the film talent hunt where he was selected as the best actor. Mr Chetan Anand and Mr Balraj Sahni judged him. The former gave him a break in Hindustan Ki Kasam. Before this while he was doing a play called 'To this night, a dawn', Mr Ramesh Sippy who watched him, approached him for a role in Sholay.
He had signed Charas by Ramanand Sagar, another by K Amarnath and Hindustan Ki Kasam, before Sholay and Mr Sippy requested that Sholay be his first release. The others were kind enough to postpone their release dates.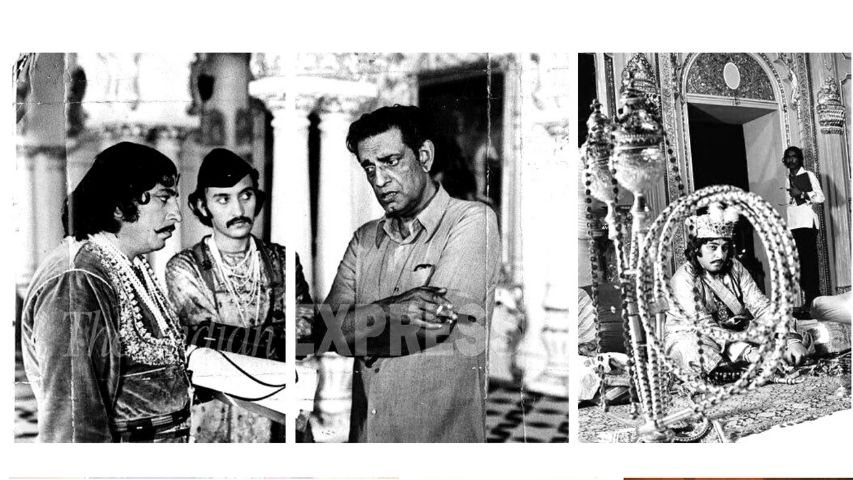 Ahh! And so the break in Sholay (1975) as Gabbar Singh came as his 70mm introduction to the world. It is said that he had in preparation for the role read the book Abhishapth Chambal on Chambal dacoits written by Taroon Kumar Bhaduri. How do you as a later day audience evaluate your father's performance in Sholay?
Dad's success in Sholay came with a fair amount of blood, sweat and tears. He was thrown in the midst of all these established popular actors and he was a newbie. Insecurities ran high for him and much was at stake. People had already written him off, claiming that his voice was too weak and that maybe he wouldn't be a strong enough villain. Son Shadaab was just born and his responsibilities were very high.
Keeping all this in mind I cannot be entirely objective about his performance in Sholay but all things considered, it was a very confident performance and there is a reason that it has become legendary. Maybe his theatre background had something to do with this, but his research and character work was thorough. He changed the character's look from dhoti-kurta to a military uniform because he had researched about an actual Chambal dacoit who wore military clothes in order to fit in.
Which are the films/roles that you would handpick from Amjad Saheb's repertoire?
Shatranj ke Khilari, Sholay, Qurbaani, Plot No 5, Laawaaris, Mukaddar ka Sikander, Dada (I think he won a Filmfare award for this).
Did your parents have a love marriage? Shehla is beautiful!
Shehla means "the one with the beautiful eyes". Yes it was a love marriage. They lived in the same building and met each other when Mom was all of 15. Of course there was no question of dating (in today's sense) back then, but Dad told her he wanted to marry her. My grandfather wanted a good and proper education for his kids, so he sent Mom off to Aligarh for college. When she returned, they got married.
How old were you when you lost your father?
I was 15. And of course it was tough. I grew up overnight.
During your Mithibai College days you participated in inter-collegiate theatre festivals.
Yes, for a very brief period in Junior College.
In 2000 you graduated with a Masters in English Literature from Mumbai University. Were you academically inclined? Literature may have sown the seed for dramatics too.
It's strange. I always wanted to complete my education. My graduation for sure! After which I hadn't really thought if I'd do journalism, or mass media or get in post-graduation. But somehow the Masters just happened. In school I was never shy participating in plays or talent contests. When I was in junior college, the drama team was very established, but in senior college the drama department had to shut down. I only met Ramu Ramanathan during my MA. Till then I didn't really think of theatre as a profession.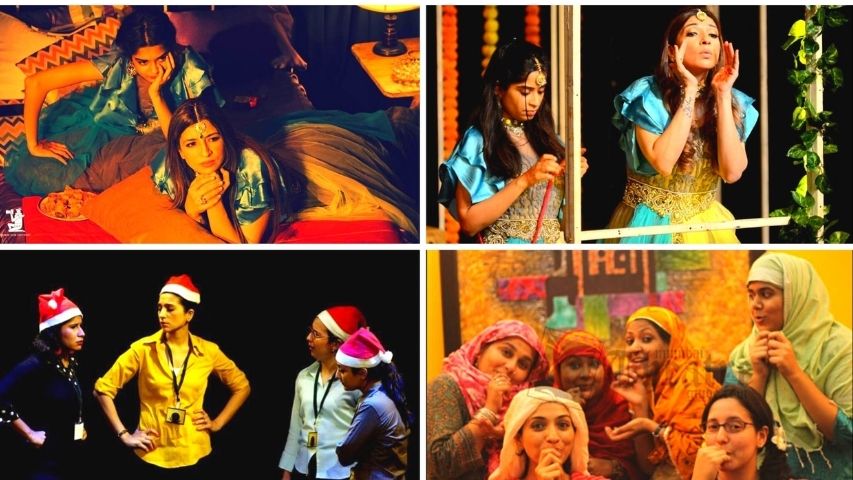 Ramu Ramanathan came to the English Department for a play reading. You were in the group of students and partook in Vaikom Muhammad Basheer's play - Me Grandad 'Ad An Elephant. Thereafter you went on to do several stage shows. Do share memories.
Me Grandad 'Ad An Elephant was an amazing experience. I'd done theatre in college and then I'd stopped. During our MA when Ramu came to the university and offered to direct, I wasn't sure of being a part of the play. But there was a point to be made. Every year the English department puts up a play and from what we'd seen and heard, all the plays they did were boring. So when it was our turn, we wanted to make a point and present something that was not only literary, but also interesting. So began the earnest search for a good script. One hurdle we had to face was that there weren't enough boys in the department. Ramu didn't care about that. He said men, as a rule, are unimportant and if need be, we'd use puppets instead of male characters. Anyway we read a lot of stuff and finally we decided on Me Grandad 'Ad An Elephant, by Vaikom Muhammad Basheer.
I played the role of Kunjupattumma. We didn't have any money to produce the play so we decided to charge for the tickets, only to cover the cost of production. It was ₹10 per ticket. We 'borrowed' most of the set from our homes, without informing anyone at home, of course. We didn't have time to learn lines so we decided to do a staged reading. We publicized the play like crazy. It was a full house. And on the day of the show, we had people begging to enter the hall - they said they'd even stand - just to watch the play. It was a success.
Ramu and all of us were happy with the way that went, so we decided to take the play forward. We began to perform in alternative places: Horniman Circle Garden, the Nehru Planetarium, Tamil Sangam, a few schools. It was one of the best experiences ever.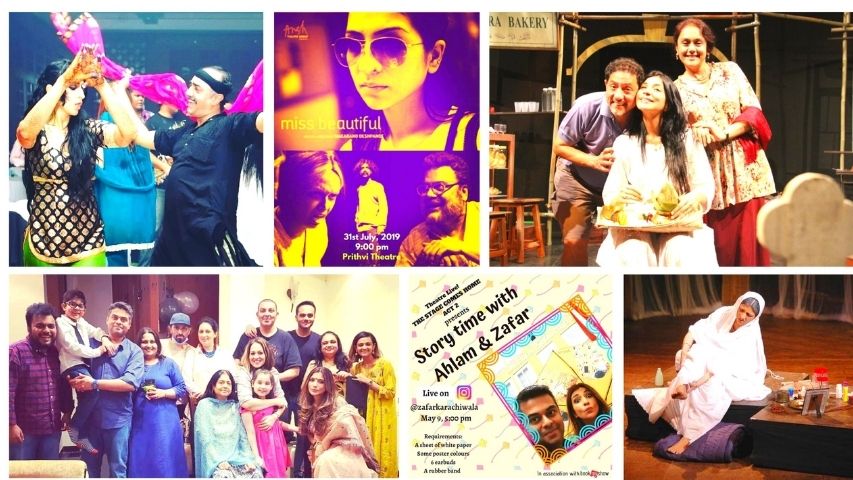 Ahlam went on and co-founded the Not Quite There Theatre banner along with fellow students in the year 2002. She started to work with different directors and produced plays including Off Season under the Not Quite There banner. She acted in English, Gujarati, and Hindi plays and also performed for Supper Theatre. While listing her chosen plays she says, "For all intents and purposes, if there was one person that I could say I mentored under, it would be Ramu. With him I did Me Grandad 'Ad An Elephant, Shakespeare and She, Time to tell a tale (Grips style for kids), Diary of a Word in which Zafar and I acted. Ramu wrote it for us as a wedding gift.
If there is anybody in theatre I owe a lot to, it's Makarand Deshpande. I did with him Miss Beautiful, Poha Gone Wrong, Maa in Transit. Digvijay Sawant and I started out as peers with Grandad ad an Elephant, Time to Tell a Tale. Akarsh Khurana is one of my favorites. We did Rafta Rafta, Super 8, Faith Healer (one of my favorites), Santas Call Girls, Dekh Behen. With Manoj Shah I did Gujarati productions - Amar Phil, Mareez. With Purva Naresh I did Aaj Rang Hai, OK Tata Bye Bye and with Zafar Karachiwala - Pereira's Bakery at 76 Chapel Road".
Deepa Punjani writes in Mumbai Theatre Guide.com - 'From playing a shy virginal maiden in Vaikom Mohammed Basheer's Me Grandad 'Ad An Elephant, to the bold, multi-layered and challenging portrayal of a woman seeking her own in Ramu Ramanathan's Shakespeare And She, Ahlam Khan has travelled a considerable distance in her actor's journey. She has also acted in her own productions and with different directors like Makarand Deshpande, Aakash Khurana.' Do share the relevance of your directors in also shaping you as an actor.
Ramu, for his emphasis on script, research and thorough character work, Makarand for letting you be organic and discovering the character and letting you speak your truth through the character, Akarsh for telling you to always have fun, because if you're not having fun, nor will the audience, Purva - when I met her for the first read of Aaj Rang Hai, it was actually for the character she ended up playing! The so to speak 'love track' of the play, but I was so enraptured by the character of this octogenarian woman (Bua), that I asked her to give me a shot at it! I drew references and memories from the older women I'd come across while I visited the north with my mum who did her college there and even now has loads of friends and some family there!
Then Manoj Bhai for taking a huge chance on me - seeing how Gujarati is not my 1st 2nd or 3rd language, he first cast me for a small role, but I told him that if I was going to learn a new language and put in so much effort, I'd like a shot at something meatier. And he was gracious and obliged. Zafar - I was amazed at how calm, organized and sorted Zafar was as a director. We had a big cast, a mad set, and he was able to manage everyone and their egos beautifully.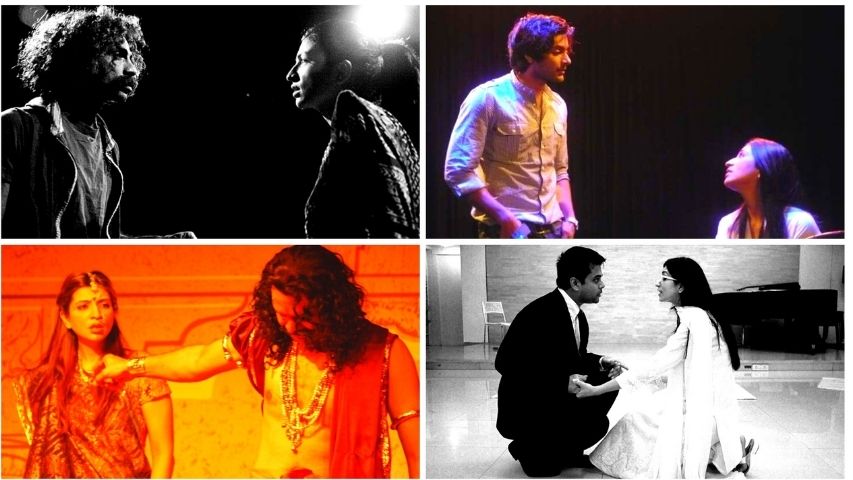 Ahlam went on to bag in the year 2011 the Best Actress Award at the Mahindra Awards for Excellence in Theatre (META) for her outstanding performance in Purva Naresh and Vijay Naresh's Aaj Rang Hai.
By your own admission theatre was never a stepping-stone for you to films: "The film industry has never held any fascination or allure or for me. Maybe that is because I have seen it up close. I chose theatre and it was a conscious decision. Theatre is not a stepping-stone for me." Some films just happened. In 2013 you made your film debut with Miss Sundari, a screen adaptation of the stage play, Miss Beautiful, written, produced and directed by Makarand Deshpande. You also acted in Bijoy Nambiar's short film Reflections starring Mohanlal. Are there any other films? From up-close and personal is the film industry a difficult place, as in not the best of creative environments?
I cannot berate the film industry because my father has earned his living from it - his father before him as well as my maternal grandfather. My younger brother has assisted and the older one has written, acted and directed. However it hasn't had any allure for me.
Every industry comes with its share of the good and the bad. Maybe I was just very put off, seeing how fast our "filmi" friends disappeared on us once my father passed on. I realized how transient things were. I only did Miss Sundari because it was an adaptation of our play. And Bijoy is a close friend who I did a short film for.
If we talk of the times just before the pandemic, when theatre and plays were regularly staged, what would you assess as Mumbai theatre scenario's greatest strength and weakness?
Can't really segregate Mumbai's theatre-wallas from the rest of the country. All theatre-wallas are a wonderfully tight knit community. The pandemic has proved that people have each other's backs. Whether it's in helping people with mental health issues, or helping technicians who cannot earn a proper living. And this is across the board in every state. There is a dearth of performance spaces, and the spaces that are so called experimental, are too expensive for the average theatre-wallah.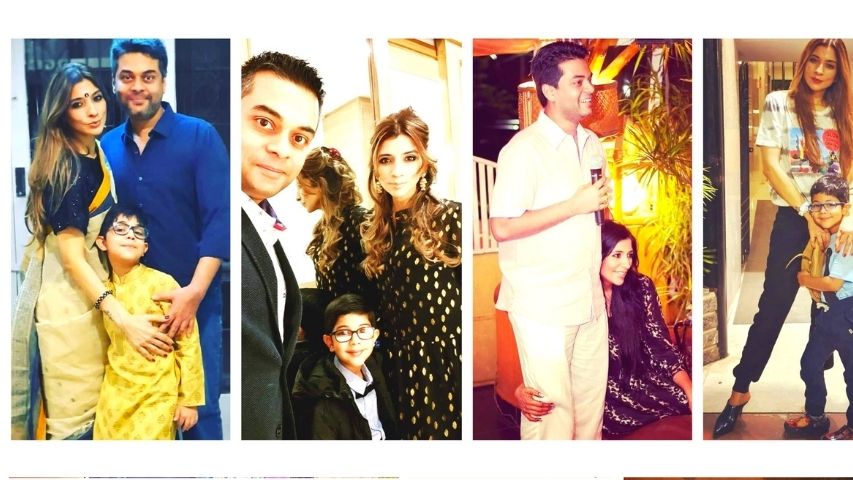 Who are the actors, directors you admire in Indian theatre, and internationally?
Too many to name!
You have a great partnership going in your marriage. It includes love for acting. Zafar Karachiwala is a very fine stage, television and film actor. How do you assess him as an actor and director? How is the work-coordination when working? You'll have been married since 2011. Was it a love marriage or negotiated one?
Zafar called me to read a play, and I didn't get the part. However, according to him, I got the part of my life! What can I say; it's been a crazy, fun, mad ride since 2011. I of course rate him very highly as a performer and a director. As I mentioned, he's very organized and likes to plan ahead. In terms of collaborating, I wish we had done more work together as a team. But I do believe post the pandemic; there will be more opportunities to work together.
Motherhood must be sitting so well on you. Do share what you want to.
Mihaail is 7 and a half. Motherhood has just been the most life changing experience. But here's the best part. You can't really plan to learn from it or for it to teach you. It's almost magical yet organic. In trying to be a better parent and connect with your child, you end up understanding yourself so much more. And that I think has led me to understand people and then characters better when I approach them for a play! And yes, Mihaail is a trooper! He teaches us so much every day! Quite the performer too! Loves an audience! Waits for school annual days so he can regale his friends and teachers!
As an Indian citizen how do you assess our social-political-cultural space in the present? Do many things worry you?
Being worried is putting it very mildly. I honestly feel like we are living in a banana republic. The less said about the current socio-political scenario in our country, the better. The rights and free speech of our artists, academics, intelligentsia, women and minorities are being steadily revoked. Students incarcerated. Thugs are running the country. It is horrible to imagine that our children are going to inherit this. And this can work one of the two ways for them. Either they get brainwashed and inculcated into the fold, which would be catastrophic, or, they fight it like their lives depend on it, which it would, and come out victorious in the end. Either way it will be a tough, long battle ahead.