DO THE RIGHT THING
by Khalid Mohamed
May 6 2022, 12:00 am
Estimated Reading Time: 12 mins, 55 secs
Khalid Mohamed in conversation with Anil Kapoor on his evolution as an actor, who's at the peak of his career today.
In a way, we started our individual careers around the same time: he as an aspiring actor and I as an trainee journalist. So right back since the last century, I've been tracking the highs and lows in the life of Anil Kapoor.
Today, he is ubiquitous: seen in films, web series, some significant international projects under discussion and endorsements galore. Not that he has lacked confidence before, but today he's far more relaxed, at ease in conversations be it with his fans, filmmakers and the pop-up battery of journos like me. Meeting up with him at his tastefully-appointed house in a tree-lined lane of Juhu-Vile Parle enclave, has always been a crash course in refreshing myself. No doublespeak, no barbed-wired answers, no hems or haws. A bonus has been his booming, often self-deprecating laughter.
Right, without much more blah, then, here's cutting straight to an interview with the ultra-busy Anil Kapoor:
Do you ever get fed up with it all?
Absolutely not. That's an insane question. I'm loving every minute of what's happening to me as an actor right now.
How come you didn't ever feature in films directed by Shekhar Kapur, Yash Chopra, N.Chandra and Vidhu Vinod Chopra again? You've done some of your best work with them.
All of them have offered me roles but none matched my past work with them. And I couldn't have possibly been in Shekhar Kapur's Bandit Queen? (Laughs) Could I?
What steps have you taken to evolve as an actor?
Every step I've taken is for the longevity of my career, not for instant gratification. I started off totally desperate to woo Shyam Benegal who was making Mandi then. I'd be a regular at the offices of Tahir and Nasir Hussain too. I left some show reels at B.R. Chopra's preview theatre, but before I got a toe-hold in the industry, the answer would always be "No".
Did you ever feel down during your lean phases?
I would feel down every day for an hour or two, then I'd kick myself and feel a tremendous high. By contrast, you'll never catch me depressed or whining nowadays.
No affairs in all these years?
I'd be lying if I said that I wasn't attracted to any of my heroines and that the word "affair" never crossed my mind. But it isn't worth the risk when you're married to Sunita, who's far more exciting, physically and intellectually.
In hindsight, weren't you hesitant to give the go-ahead to your daughter Sonam to join films?
The motto of my house has been to do whatever makes you happy. It would have been unfair for an actor to tell his daughter to not become one. But hello, why're you asking me this? My daughter, Rhea, is also a very sensible producer and my son Harshvardan's an actor. So there's never been a "No" from my side.
Can you distinguish between Anil Kapoor the actor and the Anil Kapoor of everyday reality?
The actor Anil Kapoor is consistently striving to improve his craft, technique, stay emotionally wet, grasp the graph of his character, strengthen his voice, diction, vocabulary and physicality. One has to maintain the body, treat it with care as one would keep a 65-year-old car in shape. I am devoted to this car, it still has to run on highways and rocky roads smoothly. From my birth till today, I service this car regularly, it can't ever get dilapidated, it must stay brand-new as if it had just come in from a showroom.
Could you elaborate on 'everday reality'?
By everyday reality, I guess you mean Anil Kapoor as a person, an individual. Frankly, I could have been a better husband, father and friend. Acting has always consumed an excessive amount of my time. Gratifyingly, the balance between the actor and the person has been changing. My glass, my workload would be full to the brim, but I have slowly but steadily emptied the glass and refilled it with some semblance of logic.
If I can achieve a 50-50 percent balance between the actor and the real me, I'd be over the moon. And I'm sure I'm not alone in this. Most actors have to achieve this balance. If I were to devote 100 percent of myself to my family, I'd become cranky, disgusting, boring. They would probably throw me out of the house for becoming overbearing.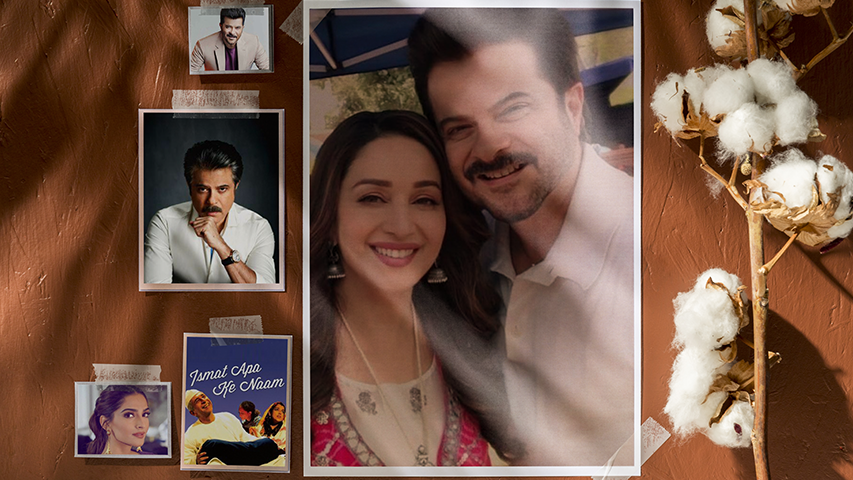 The pandemic must have confined you at home for inordinately lengthy periods of time.
The pandemic has affected us all in various harrowing ways, the anxiety levels, the question mark hanging over tomorrow. Mercifully, I've kept myself cool and calm, largely, because of the family support-system and the fact that professionally this time has been surprisingly good, even the best for me.
An actor craves throughout his life for job opportunities. Touchwood, I find myself in a situation now where I can make choices and yet remain wanted and saleable in the market. Lately, I must have politely declined offers from the biggest of production banners, simply because I didn't connect with the roles scripted for me.
Incredibly, I've never been offered that kind of money before. During the first 25 years of my career, I was paid peanuts if I may say so. That had to be corrected. After all I have an extended family for whom it is a must to ensure security and the freedom to make their own options. None of them is dependent on me financially, of course, but they must know I'm always there for them. This doesn't mean patriarchy. Without any gender issues it's merely an ingrained instinct in all parents who want to do the right thing.
You've never sounded like such a family man before.
In the course of the pandemic, I have come to know Sunita and my children way more closely, especially Harshvardhan, who has his own independent mind-set and career strategy.
Sonam has charted her own life, marriage and career beautifully. I like to think of her as a daddy's girl. When she told us she was going to become a mother, I was emotionally overwhelmed. Honestly, that doesn't mean I have a 'favourite'. In fact, Rhea is the closest one to me, a friend. We have our fights, sulk and then become closer than ever before. I feel I've been the toughest on Rhea, because she can take it.
Yet you have remained extremely obsessed about acting, your vocation, haven't you?
Like it or not, I'm made in a certain way. I'm obsessed with myself as an actor, true, but I've emerged from that one-way street to become equally, if not more obsessed, about my family. For a father, there's nothing more fulfilling to know that his children are masters of their own destiny, which they have achieved without a shred of backing from me.
Initially, I would be apprehensive, fret - are they making mistakes? I needn't have, after all we all make mistakes. I have made so many in the past, but then I look back on them, in retrospect, as a mandatory learning experience.
You mean there are no self-doubts within you. No raw edges?
Without raw edges, there is the danger of becoming complacent, or not to grow. That's why I continue with my voice exercises and breathing exercises at home, to the surprise of everyone who jokes, "Are you preparing for Steven Spielberg or Christopher Nolan?"
Far from it, it's been necessary. For instance, to achieve a Gujarati dialect for Total Dhamaal, I took the help of a coach. That's how it has always been, like being coached by theatre experts Ranjit Kapoor for the Haryanvi lehza for Woh 7 Din and by Anil Chaudhary for an Agra accent in Karma, in which I was the raffish guy opposite Dilip Kumar saab as the jailor. By the way, I had learnt the sitar for Tu Payal Main Geet, my first film ever. I was the child artist playing the younger version of Shashi Kapoor. To get it right, I would change three different buses to reach my sitar tuition classes.
My talaffuz is still not in the league of Dilip Kumar or my diction as perfect as Naseeruddin Shah's. Still, within my capabilities, I have been learning, right from Meri Jung, when Javed Akhtar told me not to play the lawyer typically. Javed saab also emphasised that I should create a different persona as a street-savvy Bambaiya without thinking of Raaj Kumar in Ujala or Amitabh Bachchan in Amar Akbar Anthony. Keeping his advice in mind, instead of using my inborn U.P. dialect for Mashaal, I would pick up elements from the delinquents I knew from my growing up years in Chembur, Koliwada and Dharavi. And then as you know, with Yudh, that exclamation, "Ekdum Jhakaas" stuck with me.
Of late, I think Gully Boy got the slumside dialect right. Otherwise, dialects have become the put-on flavour of the season. An actor has to go for the real, which has been my constant endeavour, right to this date while playing a Rajasthani cop for the Netflix film Thaar. The pitch and inflections of the dialogue have to be sourced from the soil. Perhaps that's why I have stayed grounded, listening more to people quietly than talking to them. It's a process, which has to come naturally. This I've inherited from my dad who would insist on courteous behaviour, like leaving every visitor to our home's gate to their car or taxi.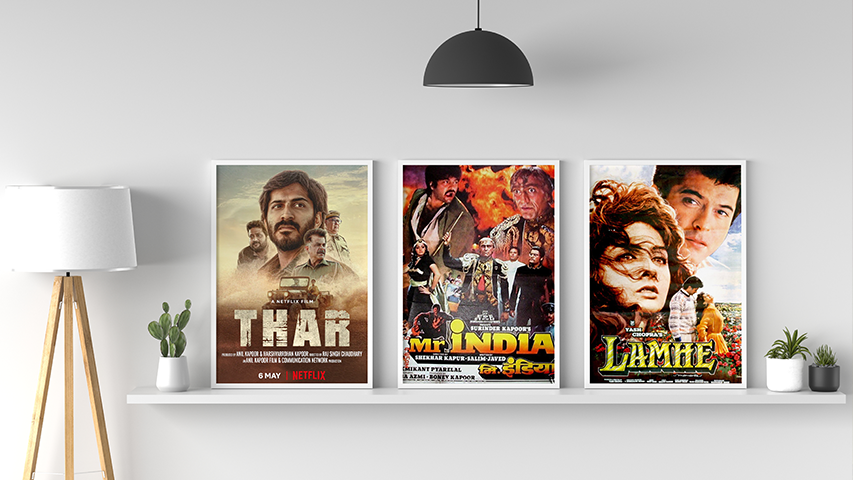 Okay how do you, let's say, chill in such a demanding profession?
I'm not hyper, I can chill, withdraw from myself, instead of being active 24x7. My best way of chilling is by sleeping every day for seven to eight hours. Or take a nap in the afternoons. It's when I face the camera, that my thoughts have to be all there.
Simple! I'm not a poet's son, I wasn't born into a family of creative minds, who were familiar with the aesthetics of theatre and the other arts. I used to hang around with the Maharahstrian, Christian and Muslim boys of Matunga and then of Chembur where we had graduated from living in one to two rooms. Our family was hardly typically Punjabi, so there has been no one overriding influence.
Dad started out as an assistant to K.Asif on Mughal-e-Azam when I wasn't even born. He would be paid Rs 200 a month. As I grew up, if a one rupee coin was given to me, it was like a king's treasure.
Does your lifestyle today seem unreal to you?
All the time. Right from the moment when I first stood next to Dilip Kumar and Amitabh Bachchan for a shot in Shakti, I felt I was dreaming. And that dream has only become better and better.
Do you dream often when you're asleep? And are there any recurring dreams?
I go through what is called REM Sleep, quite peacefully, I see portions of the final cut of my new film, its editing, and the way I have acted.
There are recurring dreams. From what I can remember they're mostly about people who have hurt me. There were moments when I found myself crying at their behaviour. In such circumstances, the solution is to be positive, never be spiteful, return kindness in return of humiliation.
That's why I get up in the mornings, all geared up to face a new day. No one can hurt me anymore thankfully. They know I have learnt how to return a slap with an embrace.
Your father, Surinder Kapoor, was a film producer. Did you ever feel like a star child to a minor degree at least.
On the contrary, I've always felt like an outsider. I'd long to work in a film by Raj Kapoor, Shyam Benegal, Aparna Sen and those lovely entertainers of Nasir Hussain, but without making any headway. Raj Kapoor was planning Param Vir Chakra - he needed the full cooperation from all the departments of our defence forces and support from the then Defence Minister Jagjivan Ram. I was told that he was considering me for a role. But he went on to make other films.
Now you are rated as a star actor, right? Is this what you were aspiring for?
I suppose this was in my subconscious, yes. Mashaal had set the ball rolling.
Some of your earlier roles were written with Amitabh Bachchan in mind. You stepped in when he dropped out for whatever reasons.
I'm aware that Mr India and Meri Jung were written for him. When I stepped into Mr India, Javed Akhtar and Shekhar Kapur made the part Chaplinesque, part Raj Kapoor. I'd already played the angry young boy in Mashaal in any case.
I'd say I was being cast in different molds. For Woh 7 Din, (director) Bapu made me see a few Laurel and Hardy films, and introduced me to the genius of Buster Keaton and the Marx Brothers. Bapu would storyboard every frame of the film beforehand, but would allow space for improvisations and suggestions. I was already familiar with his style, since I had watched him at work on Hum Paanch. It was home production, our first production being handled by Boney and me. We could not longer watch our father climbing stairs, and getting exhausted. For a while he had worked as Shammi Kapoor's secretary too. His production Shehzada had the superstar Rajesh Khanna when his down phase had started with the flops of Mere Jeevan Saathi and Joru ka Ghulam.
Before Shehzada, dad's productions Phool Khile Hain Gulshan Gulshan, Jabse Tumhe Dekha Hai, Tarzan Comes to India and Ek Shriman Ek Shrimati had all flopped, as if in a Domino effect. Ponga Pandit was the only one, which performed averagely. Dad used to be in the dumps in the evening, he'd be drinking his whisky and brooding. And he had his first heart attack. Perhaps that's why I never have more than one or one-and-a-half drinks in an evening, I've never been drunk ever.
Does your lifestyle today, then seem like a fantasy come true?
All the time. Right from the moment when I first stood next to Dilip Kumar and Amitabh Bachchan for a shot in Shakti, I felt I was dreaming. And that dream has only become better and better.