Extraordinary
by Khalid Mohamed
May 3 2020, 5:23 pm
Estimated Reading Time: 11 mins, 15 secs
Harking back to one of the last freewheeling interviews given in New York by the famed actor, Peter O'Toole, in which he discusses Indian cricket, Bollywood, his career-making Lawrence of Arabia and his pet peeves and pleasures, with Khalid Mohamed
It was early fall in New York. At a boutiqueish hotel opposite Central Park the actors of the period epic (2004), Troy, topped by Brad Pitt, were going through a ceaseless series of interviews with journos invited from all over the globe – a junket as it's better known.
I'd done my shtick with Brad Pitt, who was courtesy personified, and was awaiting my turn with Peter O'Toole, whom the world had gone gaga over after his superlative eponymous performance in Lawrence of Arabia (1962). Many of us journos were in awe of him, would he speak to us or not. He would, he would, touchoak.
News was that he was feeling under the weather what with the unseasonal thunderstorms converting the climate into a baffling cross between the tropical heaty and the icelandic chilly. Guess it was just one of those stay-indoors New York days. And that afternoon comes back to me today, while checking out of my files of interviews which have ranged from the okayish to the good and, in my book, the memorable.
So here's rekindling the chatfiesta with the extraordinary actor, which the old-timers will concede right away though the millennials might have to return to his classics on the OTT platforms , YouTube and more. Incidentally, the wait for Peter Seamus O'Toole wasn't interminable though. Heels clicked as soon as he strode through a carpeted corridor where visiting Asian journalists were either chewing the air or chomping sour cream bagels, the staple snack of New Yorkers.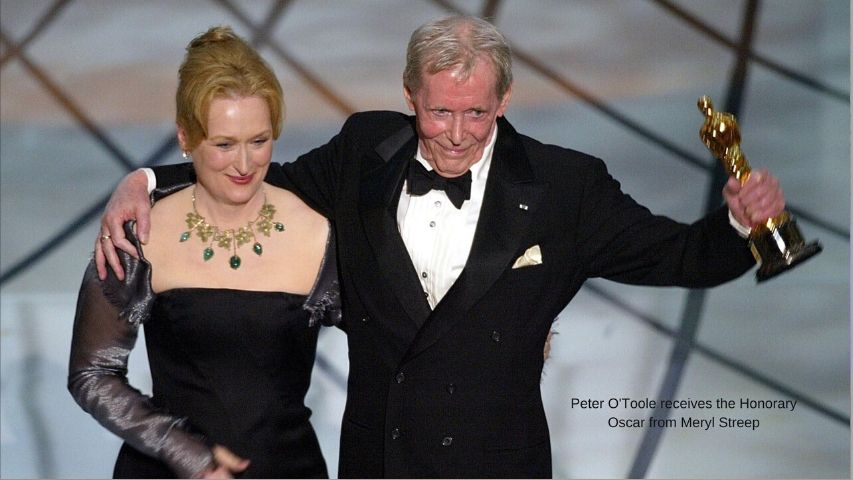 Auspiciously the fever of the thespian, who was 71, had abated. For the Troy press round, the 6' 3" Irish actor was dandily kitted in a navy dark suit, beige waistcoat and grey socks (departing from his usual custom of donning bright green socks, a childhood quirk). The pallid, sunken cheeks seemed to have a soupcon of rouge on them, the hair was pure silver. In close-up the eyes were milky blue and melancholic mirroring the turmoil of the doomed King Priam he essayed in the multi-million dollar epic Troy.
Peter O'Toole picked his way through the Chinese, Malaysian, Japanese and Indian (aapka sincerely) laptop brigade, taking a surgeon's care to shake everyone's hand reassuringly, topped by a sing-song, "So how do youuuu do.ooo?"
Surprisingly, the Gauloise cigarette in a holder and a glass of Scotch which have been associated with his off-screen persona were missing this afternoon. He was stone cold sober, convivial and eager to get on with the show. While waiting for my time slot, I scanned the O'Toole fact files which skipped through his tough childhood as the son of a racetrack bookie. While in his teens, he had quit school to subsist as an underfed student on a barge which sank one night after too many wannabe actors had come to party.
The Irish boy, who moved from Dublin to Leeds in England, went on to portray as many as 73 stage roles including Hamlet at the Bristol Old Vic. A piffling part of a trout-fishing Englishman in a B-grade comedy The Day They Robbed the Bank of England, and eureka, caught David Lean's eye who cast him as Lawrence of Arabia, a role that had been nixed for reasons still unfathomable by Albert Finney and Marlon Brando.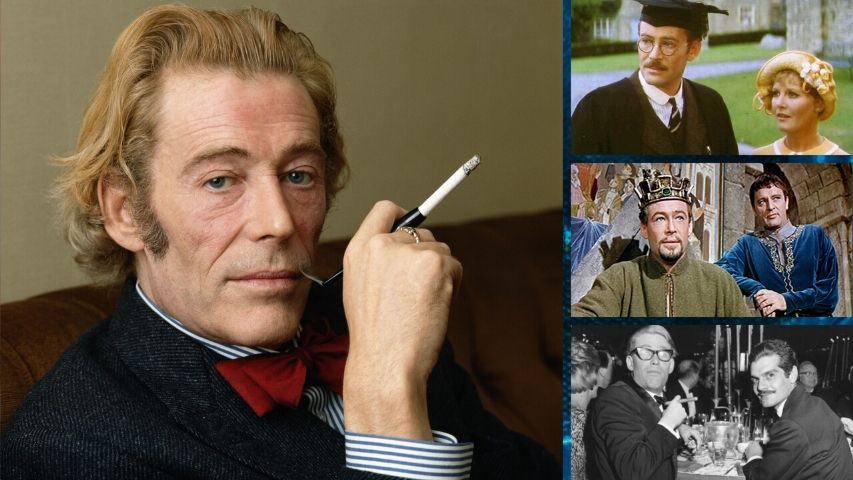 In a way, a star was Caesarian born. Subsequently O'Toole garnered seven Best Actor Oscar nominations (a record shared by Richard Burton) for Lawrence of Arabia, Becket, The Lion in Winter, Goodbye Mr Chips, The Ruling Class, The Stunt Man and My Favourite Year.
He didn't own the statuette till he was assigned the honorary Lifetime Award towards the end-years of his career, an announcement which he had controversially greeted with the squelcher that some day he still hoped to "win the lovely bugger outright."
Married and divorced twice, he had two daughters and a son, lived in England and at that very moment wondered if I'd like to share a cuppa tea and croissant with him. It was an offer I couldn't refuse naturally, although I was up to my gills with tea. Before I could start quizzing, he said brightly, "Aah, since you're an Indian you must know cricket. Do you know I love cricket? When I'm not acting, I coach cricket aspirants."
Indeed. So do you have an opinion on Indian cricket?
Indeed, I do. In fact, I played cricket in India with the Maharaja of Jodhpur (Gaj Singh) some 20 years ago. I was there with some film company or the other. And I was invited to play a silly Sunday match. (Laughs) Don't get me wrong though, I'm a very serious cricketer with my own team – the Lamas Eleven. At Jodhpur, I invited anyone who was willing to join my side and we ended up beating the maharaja's team. Recently, I did try to watch as much as I could of the India versus Pakistan match on telly. I was hooked, it was terrific. Two nations had dropped their differences on the border to play a civilised sport. Instead of flaunting their thermal reactors they were displaying their skill with the willow. And I was absolutely amazed by Rahul Dravid, he's my unquestionable favourite.
Really? Say that again please.
Aha, I know what you're getting at. Everyone praises Sachin Tendulkar. He may be a genius in his own right but in my book, Rahul Dravid is the artist. Dravid's defence tactics, his strokes, his cuts, his grace are truly amazing. I'd like to meet the chap sometime and take my hat off to him. If I ever come to India again, I will certainly seek an appointment with him to find out how he plays the way he does. Perhaps he can give me some tips.
Would you say acting is like cricket?
Certainly. You hit a sixer or a boundary during a performance when you're absolutely inspired. And at times, you're clean bowled. That's because you're not convinced with what you're doing and miss the connection.
Are you clued into Bombay-made films at all?
I'm afraid not. I.S. Johar who was a very dear friend of mine once told me that in Bombay, they often take an American film, spice it up and the result is a ready-to-go curry. Maybe that was Johar's way of putting it but seriously, no offence meant. I'm not conversant with Bombay films simply because I haven't seen any.
I.S. Johar and you met while filming Lawrence of Arabia. How do you look back on the David Lean spectacular which has been rated by a popular American magazine as the No.1 movie epic of all time?
Clearly, I was David Lean's talisman, I worked out for him. But I became so obsessed with Lawrence that it was bad. An artist should be able to jump into shit and come out smelling of violets but I spent two and a half years on that picture thinking about nothing but Lawrence, Lawrence and Lawrence. It killed my acting later. In one scene, I saw a close-up of my face when I was 27 years old. Just eight seconds later, there was a close-up of me when I was 29. Eight seconds and two years of my life had vanished… poof… just like that. Yet undeniably, Lawrence made me whatever I am today. There I was a rank newcomer faced with so many important actors of the time: Anthony Quinn, Jose Ferrer, Claude Rains. I was like a young bull going headlong at the seasoned matadors. Today, it's the other way around. While doing the scene of confrontation with Brad (Pitt) for Troy, he was the bull while I was the matador trying to keep pace. That scene took us two days and an evening. With every passing moment Brad grew and grew. An actor can be only as good as his colleague will allow him to be. I hope I didn't let him down because he certainly didn't let me down. Brad was heroic and soldierly, while I was the tragic relief.
Did you know that the peerless Indian actor – Dilip Kumar – was offered the part that eventually went to Omar Sharif in Lawrence of Arabia?
My apologies, I'm not aware of that. What I do know is that several actors were considered including Alain Delon, Horst Buchholz and Maurice Ronet. Then one fine day, Omar Sharif showed up. And David said, "This is the man I want."
How do you know when you want a role. Like that of the tragic king in Troy or the English tutor in Bernardo Bertolucci's The Last Emperor?
Troy because of its well-constructed script and the profoundly quiet scene with Brad. That scene was an unexpected conundrum. As for The Last Emperor, Bernardo was an unalloyed joy. Since his mother is Irish, we had several eccentricities in common.
It's quite a conundrum that David Lean didn't cast you ever again though you would have been perfect in A Passage to India.
(Shrugs) He didn't consider me for A Passage to India at all. The one thing that tormented him was that he couldn't write his own screenplays like Orson Welles did. David's elder brother in the overseas BBC service published a novel. He was one-up on David so to speak. If you ask me, David longed to write his own material, he did the adaptation of A Passage to India but… well… it didn't succeed the way he would have liked it to. Did you see it?
Yes.
I didn't.
You didn't miss much. Now, what would you say about Hollywood's chronic dependence on special effects today?
Well, I see that positively. Technology has made life so much easier. We're no longer crucified by the tonnage of equipment we had to haul around earlier. For Lawrence of Arabia, a railway train had to be carted from Germany all across Europe and then blown up in Spain, a chore that took weeks and weeks. Today that same feat could be performed in a matter of days on a computer.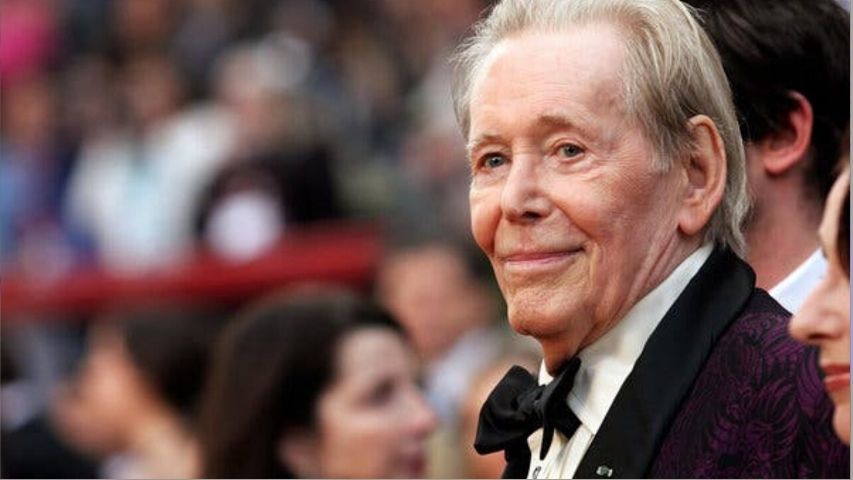 Are there any directors you would have liked to work with?
Without doubt, Akira Kurosawa. He was a great influence on me when I was a young man.
Why were you miffed on being awarded an honorary Oscar last year?
On the contrary, I was deee-lighted! I think the Oscar is the greatest honour for an actor. But yes, there was some mix-up. When the announcement was made, I was on my way to Ireland and some garbled reactions were reported. I didn't actually say that I would rather wait till I was 80 years old to win it outright. That would have been much too rude. I was there to receive the trophy at the Oscar ceremony. If I'd been miffed I would have sat at home sulking.
In Troy, you portray an exceedingly god-fearing monarch. Are you religious in real life?
I used to be religious, I was a church altar boy between the ages of 10 and 15. I'm an atheist now. Bit by bit, as life tosses you around in not so nice ways, you do tend to lose faith.
What were those 'not so nice ways'?
Oh the usual. Being terrorised by nuns when I was a schoolkid, they'd rap me on the knuckles because I was left-handed. They wanted me to write with my right hand. Then the agonies, the disappointments, the quarrels, the misunderstandings on growing up and becoming an old man. A long time ago, I'd sent a leather jacket to the cleaners. It came back with a pin attached to it. The note said, "It distresses us to return work which is not perfect." I intend to have that line inscribed on my tombstone.
Haven't you been quite cagey about your bar-room brawls, skirmishes with the paparazzi and the loves of your life in your two-part autobiography (Loitering With Intent)?
(Laughs) Cagey did you say? Then you'll just have to wait for the third part of the autobiography which I've been scribbling for the last four or five years.
Are you a romantic person?
Meaning?
Let's say like Paris of Troy would you go to the extent of stealing Helen, another man's wife?
(Arches a silver eyebrow) Yes, I'm verrrry romantic. I adore women. I'd steal another man's woman… not for an entire lifetime… but only for a night or maybe even two.