Rajeshwari: Queen of her roles
by Aparajita Krishna
December 22 2020, 12:00 am
Estimated Reading Time: 28 mins, 30 secs
Aparajita Krishna zooms in on Rajeshwari Sachdev of a delicate, petite frame, who has a very commanding acting presence and rules the little kingdom of her very impressive characters.
As a professional actor she has played on stage, in films and on television, girl and women characters of admirable stature and nuances for almost 30 years. She has played tall characters in history and politics like Capt. Lakshmi Sahgal in auteur director Shyam Benegal's biopic Netaji Subhash Chandra Bose-the forgotten hero, she has played Rajkumari Amrit Kaur again under Shyam Benegal's direction in tele-series Samvidhaan and she has played Yashodhara in the film Little Buddha. Her talent adds to her stature as she takes on very important characters in her acts.
We interacted for this question-answer led profile over days and across WhatsApp, voice-mails and emails, for the actor was shooting and, 'Mother ko bete ko sulana hai abhi. Subah school hai uska.' Son Devagya Badola is 10 years old. Husband Varun Badola, a very fine actor, was most recently seen in television serial Mere Dad Ki Dulhan in which he addressed his role of the Dad with admirable shades, nuances and emotions.
My earliest memory of Rajeshwari takes me back to the mid-1980s at Mumbai Indian People's Theatre Association (IPTA) functions. She was like a child of IPTA because her father and mother were active there. Her father, Mr Inderjeet Singh Sachdev is a Sikh and mother Meenakshi is an Iyer Tamil Brahmin from Pallakad in Kerala. "Dad ki poori family Sikh hai. Dad cut his hair because he was acting on stage. I remember him with his turban." She has a brother. Little Rajeshwari went to the Little Angels High School in Bombay and to Guru Nanak Khalsa College. She did her Masters in English Literature from Mumbai University.
After a considerable gap I suddenly saw her bloom into a very fine young actor. Today as a 46 year old she has a work profile that is selective and admirable. She has a fine, mellifluous voice as an actor and singer, as also an orientation in dancing. Transcribing her voice-mail replies was a task at hand, because at my age my shoulders and hands are physiotherapy dependent. But it also gave me the chance to re-connect with her lovely voice, hear her talk rather than just read her in words.
To her close associates she is known as Raj. Raj apni acting se raj karti hain kirdaaron mein. She has acted under noted and feted directors like M S Sathyu, Ramesh Talwar, Sachin Pilgaonkar, Shyam Benegal, Basu Chatterjee, Bernado Bertolucci and Lillete Dubey among others and co-acted with veterans like Dilip Kumar, Shabana Azmi, Naseeruddin Shah, Om Puri, Surekha Sikri and admirable contemporaries like Rajit Kapur, Milind Soman, Varun Badola among others.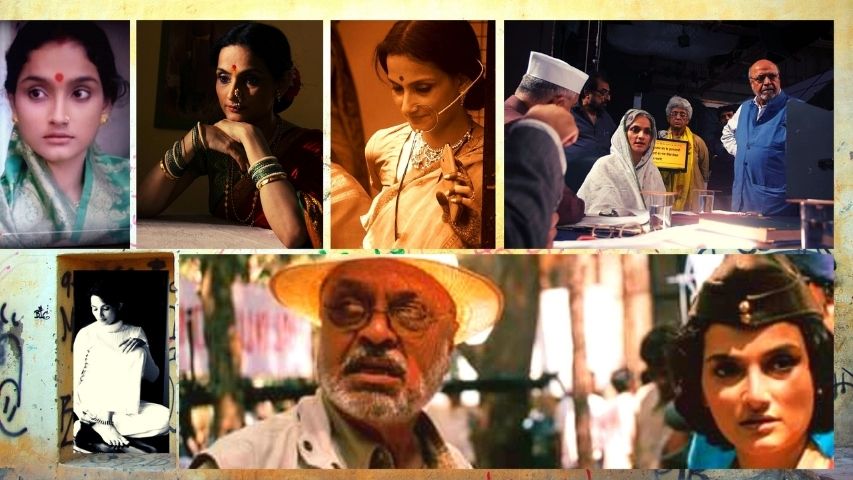 In her Ted Talk she summarized her attitude to work and life by knitting in experiences that were her lessons in life. I am herein giving a gist of it. "Every opportunity takes you closer to your destination. This is about the time when I was 15 and I decided I would be an actor. I was working in plays. I used to live in Sion and rehearsals would happen 15 kms away at Juhu. The humble BEST bus, 225, would take me directly from Sion to right outside my rehearsal venue. It was one bus every one hour. So if you missed one you had it. Now I am waiting for this bus. After 35 minutes or so I see a 255 approaching the bus stop. A whole lot of others see it. Suddenly what was a disciplined queue turns into chaos because everybody has to get onto the bus. The bus conductor goes 'tung-tung-tung-tung' (ringing bell) and goes off without stopping. This used to happen often. You are angry, frustrated because you have to wait an hour to get the next one. Next day at the same bus stop at Sion, while waiting for 255 I see another bus that says Bandra. I get in. At least I will go 4 kms ahead in the journey. I get down at Bandra and get into the Santacruz bus. At Santacruz I get very lucky because every other bus goes to Juhu. I quickly get my bus and that day after changing so many buses I reach my rehearsals absolutely on time. That is exactly what my career has been. I was so determined to succeed that I decided I would take the first bus that comes my way and takes me forward in my journey to my destination. I started with stage. I did films. I did television. I sang 3 albums as a singer. I danced my heart out on a reality show. I hosted a show on TV too. I did it all to showcase my talent, to stay visible, to earn while I learnt something new. Lucky are those people who have this one talent and are super-successful in that one thing. Brilliant. But there are a whole lot like me who can do 5 things that we know of and do 3 more things that we may not know but others can see. In trying to be nothing but the best, you end up not taking that small flight that you are meant to take. I am so glad that I did what I did. Today I am still around and working. I can proudly say that I am an actor who has some body of work in all these mediums. I still try not to miss the first bus that comes my way and takes me towards an exciting journey ahead."
I get talking with this multi-talented, awarded and rewarded artiste.
Do recall your earliest memories of theatre. Name some plays you partook in your childhood and very young years.
I have some wonderful memories of theatre with IPTA Baal Manch. I remember Sulbha Aunty (Sulbha Arya) taking care of us in crowd scenes in the play Safed Kundali lest we land up under someone's feet on stage. Those were fun times and I particularly remember the travels we used to do in trains. A whole compartment would be booked and we children would cover ourselves from head to toe with white sheets and enact ghosts to scare the rest of the group. We would stay at youth hostels. It was fun. The plays that I did with IPTA Baal Manch were Idgah, in which I was a dancer in a mela, Naya Gokul in which I was bird and Bakri in which I was Gandhiji ki Bakri. Then I acted in Shatranj Ke Mohre, Moteram Ka Satyagraha and Aakhri Shama. As for dancing I started to learn Bharat Natyam from Raja Rajeshwari Bharat Natya Kala Mandir from the age of 5 and continued with it for a good 14 years.
You bloomed into a very fine young actor. How did you assimilate your own way of learning the craft of acting?
I guess it helped to have my father as an actor at home because all the training started very early in some way or the other. Then I did school plays and participated in recitation competitions. My father taught me how to stand straight, how to speak on stage. So I would like to credit all of that to him. Back then the learning process was not so conscious, but watching so many people perform in front of you makes something or the other stay with you. Being a dancer also helped a lot. The silences were easy to handle for me. I think over the years working with the right people, having great co-actors to work with made it all come together.
My parents were strict about my studies and ensured that I do my graduation. So I completed my graduation and also post-graduation. I did my Masters in English Literature from Guru Nanak Khalsa College, Mumbai University.
You made your film debut in 1991 with Marathi film Aayatya Gharat Gharoba - it was directed by Sachin Pilgaonkar. Did you then feel that you were to the camera born?
Yes, it was my first film that got released. I got the state government award for the Best Actress. I felt Wah! I must continue with this. My actual name is Raj Kaur Sachdev. When I did this Marathi film they thought my name should be changed for Marathi audience. I thought, 'Well, what's in a name!' I did not even expect to go beyond that film but then I stayed and the name Rajeshwari stayed. Rajeshwari is another name for Parvati, Queen - one who rules. In Raj Kaur, Kaur means Princess. Then I got films like Suraj Ka Satvan Ghoda and Triyacharitra. So it further encouraged me.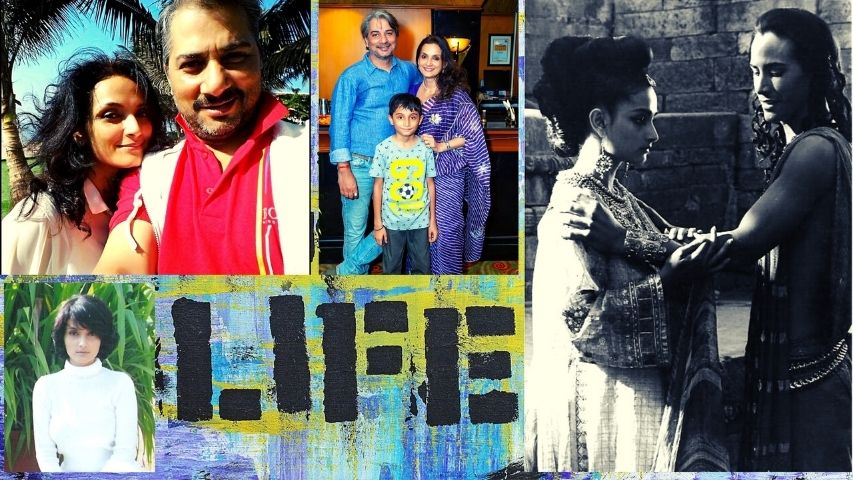 Suraj Ka Satvan Ghoda (1992-1993), the Hindi film directed by Shyam Benegal, based on Dharamvir Bharati's novel and adapted, as film script by Shama Zaidi is a very multi-layered, complex film. You played Jamuna, the character who protagonist Manek Mulla (played by Rajit Kapur) met first. Your role is one of the three stories interwoven and Pallavi Joshi and Neena Gupta play the other two prominent women in the male protagonist's life. The film was mostly in flashback.
How would you summarize your role and the experience?
See the character of Jamuna is, as Manek Mulla articulates in the film, akin to what most girls in our land are like. "Zyaadatar desh mein jo ladkiyan hoti hain woh Jamuna jaisi hi hoti hain. Jinke liye survival bahut important ho jaati hai." They cannot stop in life to cry at their situation. They have to pick themselves up, move on and go with the flow. I got the role when I had just finished Ayatya Gharat Gharoba. One day Mr Benegal just called and said, 'you know I have seen you as a child. I don't know what you look like now. Would you come and meet me?' He asked me with such affection that at that very moment he made me feel very special. I had met him as a child because my father was in Discovery of India/Bharat Ek Khoj. Now after years Shama Zaidi had recommended my name for this film. I got to hear my part. Of course I immediately gave my consent because I was so excited. Then I got the script.
At that time people would exclaim to me, 'Shyam Benegal! He has worked with Shabana Azmi, Smita Patil.' I would say, 'Bhaiya do not scare me. I am not in that league. I will just do what I know and do my job.' My father sat me down and asked me to read the script once-twice-thrice. He asked me to think of all the questions that come to my mind and to write them down. He then took me to Shama Aunty's place and told me to clarify all my questions and to understand everything from her. I prepared the role according to my understanding and assimilated it, and then reached the sets. Mr Benegal makes life so simple. It starts from the space where he shows tremendous confidence in his actors. An actor's job becomes so much easier. You are not trying to prove anything. Here is a man who trusts you and guides you through it. I am so thankful for this experience of my life in my very second film.
In 1993 came Little Buddha. You played Yashodhara. Bernardo Bertolucci directed the film. It was an international co-production of Italy, France and UK. The film starred Chris Isaak, Bridget Fonda and Keanu Reeves as Prince Siddhartha (Buddha before his enlightenment). Do recall your role and the experience of working in the film.
The call for Little Buddha came right after I had finished shooting for Suraj Ka Satvan Ghoda. Dubeyji who was then working with Omji (Om Puri) informed me that the casting director of the film is coming and I should meet him. We met. He said that Mr. Bertolucci will be in town and for casting, he will be meeting many actors, but I will do the part in all probability – (laughs) - so right after Sachin Pilgaonkar, then Shyam Benegal and then Bernardo Bertolucci. Things were falling in place. I was very happy. It was an international project with a large canvas. One was working with a very different kind of system and unit. I was very excited and was very happy to be in that film.
In 1994 came Mammo directed by Shyam Benegal. Khalid Mohamed, Shama Zaidi and Javed Siddiqui wrote this very sensitive film. Riyaz is the central character played by Rajit Kapur and the young version by Amit Phalke. You played young Riyaaz's mother. What was the takeaway?
In Mammo I had a special appearance. Like Mr. Benegal put it, it is a thump print. Mujhe toh bahut mazaa aaya - I had to take on the look of a heroine from the old era with a period hairstyle, saree look; sing a few lines in a typical way. It was just a work of half a day. I really enjoyed it.
Triyacharitra, directed by Basu Chatterjee, released in 1994. You played Bimli, a very young poor village girl working in a brick-kiln, engaged-to-be-married when just 13, exploited in a patriarchal society, she asserts her own personality but is punished for it by the village panchayat. The film starred Naseer as your exploitative father-in-law and Om Puri as a truck-driver suitor. You held your own so well in the film - any special recall?
Triyacharitra I got straight after Suraj Ka Satvan Ghoda. Basu Chatterjee had come to watch a play I had done, Jamila Bai Kalali, with Illa Arun and K K Raina. He had then said that I would be doing his film. What could be greater than the fact that my fourth film was to be with Naseer Saheb and Om Puri. So I was very excited. The shooting of the film was great. We went for the outdoor shoot to Allahabad. For the first time in life I saw a brick-kiln/eiint ki bhati and also carried bricks on my head. The last scene of the film was a learning experience for me. I had to really work myself up. In the first shot the camera was behind me and I had gone and involved myself totally in the scene. I was completely consumed by the scene, hyper. And then when the scene got over I realised that, 'no this is not the way'. One has to be in control and one should be aware as to how much should one invest in a scene, else you will end up taking every character, every scene with you to your home. It is important to learn how to control emotions. I realised that in such scenes one ought to take care. It is a delicate tight rope. You have to invest emotions but with care and in a limit.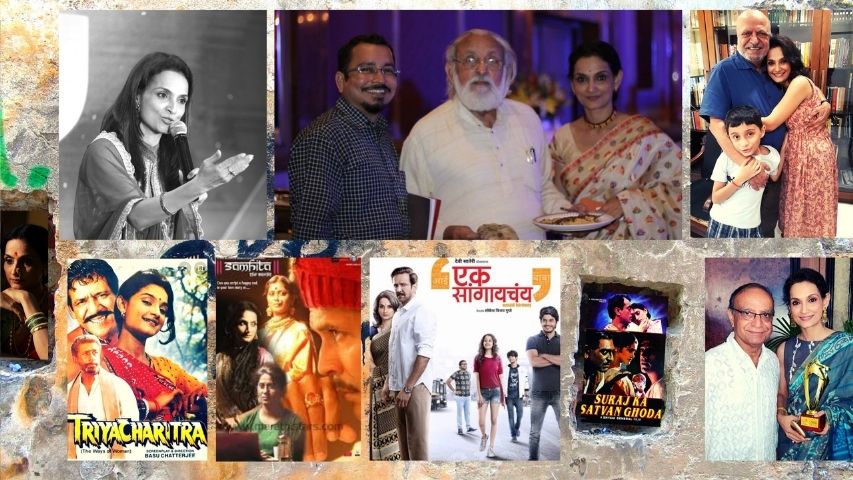 Sardari Begum (1996), written by Khalid Mohamed and Shama Zaidi, directed by Shyam Benegal, would be very special to you. As the character Sakina you got the National Award as best Supporting Actress. The film wove beautifully the complex and finely nuanced mother-daughter relationship played by Surekha Sikri, a famous thumri singer, and you, her daughter, who she mentors and is ambitious that she takes the legacy further. It had lovely music. Do share working moments and the take-away.
With Sardari Begum initially Mr. Benegal wanted me to play another part. Then few days down later he said I should do another character. Then just one week before the shoot he said 'Achcha tum beti ka role karo' – laughs - I was a bit disappointed. I knew that the daughter's role had scenes coming up in the end. But I was not going to say no.
Then when I read the script for the third time I did so from the daughter's point of view. I realized that it is an interesting role. She does not speak much throughout the film but her presence and what she goes through it all pays off at the end. The role had substance. But even then I did not imagine that it would get me the national film award for best supporting actress.
For the songs that I had to enact singing, I worked on that a lot. For me it was very rewarding that Vanraj Bhatia who had given music remarked 'Arre you have learnt singing?' I said 'No'. He said, 'It looks as if you are a singer.' I was very happy. Here again my father had taken me to Kuldeep Singh's (music director) house and Kuldeep uncle taught me how to hold the tanpura, where to look at for sam, how to take a note. He had taught me all that. Yes this film will always be special.
Margarita, the television serial of 1997 on Zee TV, still lingers in memory. It starred you in the lead with Milind Soman and others. It was a very fine work on television - in fact, one of its own kinds. Tell us about it.
Margarita came at a time when doing television was considered risk-taking. So actors would be vary of saying yes to television offers. I too was one such. Would it be a mistake? But I also knew that in life if something appeals to your heart and ears then one must do it. Parvati Balagopalan (director) told me it is based on a book. It was so interesting and Parvati was so passionate. I decided to do it and am so glad I did. I am so proud of Margarita. I thought we would only do thirteen episodes not more. Then it came to twenty-six episodes. I said, 'Stretching it to 26 episodes!' Today people watch it on the YouTube and enjoy it. I loved being a part of it. I got the Screen Award for Best Actress. It was my first award for television work. It was beautifully shot. There were such fantastic technicians, creative people on the show. There was Resul Pookutty. The team was very good. It had Nadiraji, Kalpana Iyer. Nadiraji was so sweet. I miss her. Bade achche achche kisse sunati theen set pe. It was a great experience.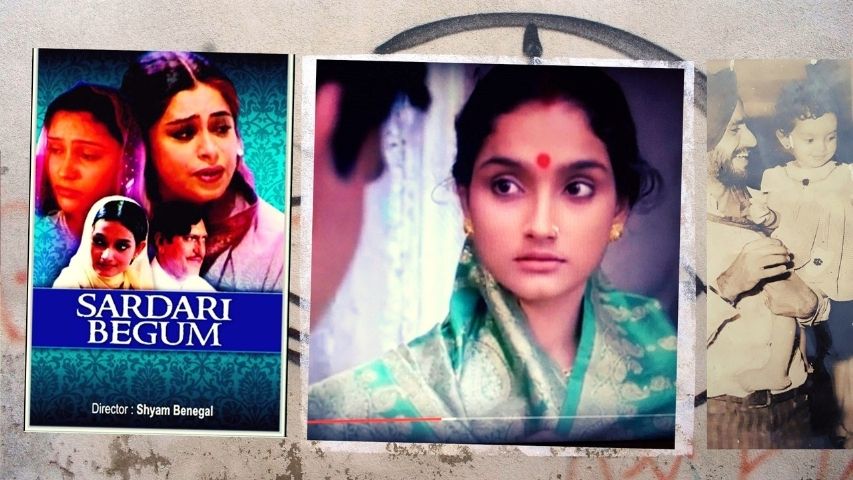 Rajeshwari's film and television work continued at its pace. In 1997 released the film Tunnu Ki Tina. And then she again re-united with Shyam Benegal for a film.
Shyam Benegal's film Hari-Bhari (2000) saw a very fine ensemble cast of women actors in particular. The film on fertility revolves around five rural women of different age groups looking for their own choices - emancipation in choices of fertility.
Shama Zaidi-Priya Chandrashekhar wrote it. It co-starred you with Shabana Azmi, Rajit Kapur, Surekha Sikri, Nandita Das, Seema Bhargava and others. Like most of Shyam Benegal's films, it had a very relevant social subject as its foundation. You played Salma, daughter to Shabana Azmi's character of Ghazala. Do share your experience.
Hari Bhari had so many women characters that when I asked Mr. Benegal what am I doing in the film he said, 'There is no role for you because there is no character of your age in the script.' I said, 'Arre how can it be that you make a film without me? I will do the role of that 14 year old girl.'. He looked at me and started laughing. He said 'When you did Suraj Ka Satvan Ghoda you were so young. Now you are 26. You possibly can't do this part.' I said 'Nahi nahi nahi I am going do it.'
And I must say he showed so much trust and faith (laughs). He said 'Ok it's yours.' Not once did he ask for a look test or trial. Nothing. He said 'Now it is your responsibility.' I went to Ramoji Rao film studios. One day before the shooting at dinner time, cinematographer Rajan Kothari remarked, 'Raj how are you going to be doing this?' I super confidently replied, 'Let's meet tomorrow.' In heart of hearts I was petrified. If it were to go wrong I'd have had it.
In the morning when I reported for the shooting I had worked on my look, on my face. Mr Benegal had told me that he did not want the filmy two-plait girlish look but that I had to look the part. When I went onto the set I was with one choti/plait and did whatever I had to do. He started laughing and said 'You look 13'. That was so important for me. Then in the performance one acted young.
I recall that when the film was screened at the NCPA, Satyadev Dubeyji had asked me from the audience, 'I have one question for Rajeshwari. How old are you?' I felt so good. I had passed the test. Wo film bahut maze ki thi. Alka Trivedi was fantastic. All actors, Nandita, Shabanaji, Seema Pahwa. All of them. We had a ball shooting this film. The best part about Hari Bhari was that it could have easily sounded like a prachaar-waali propaganda film, a social cause driven preachy film, that gives too much of information. But the screenplay, the characters make it rise from being just a film about fertility and information. It was I think, made by the Ministry of Health. The film is a great watch. I remember seeing it in the theatre with the audience. Most probably it was at Bandra's Gaiety Galaxy hall. It ran there for many weeks. The audience were loving the film. It was a very entertaining film.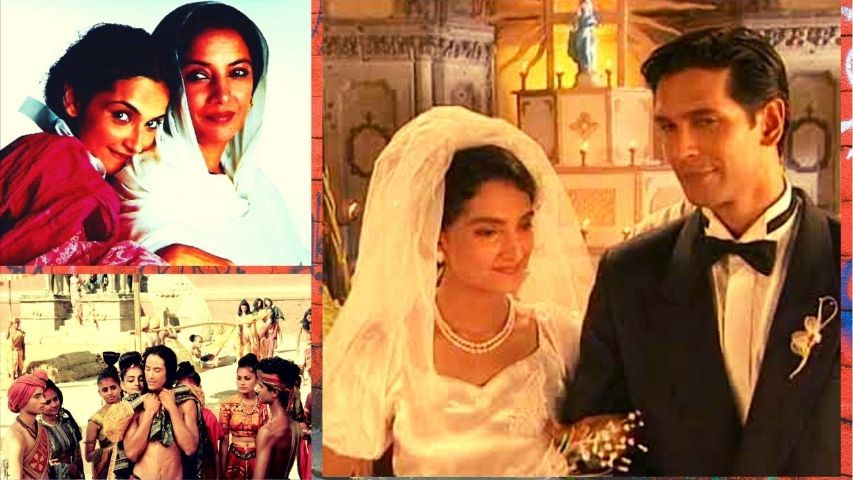 In film Samar (Conflict) that released in the year 2000, Shyam Benegal again cast her in a major role. Ashok Mishra wrote the film. It was based on the book Unheard Voices: Stories of Forgotten Lives, by Harsh Mander. Rajeshwari kept getting a very steady flow of roles from Shyam Benegal.
On the personal front Rajeshwari met her match. "Varun Badola and I met while I was hosting Antakshri. We met briefly on the sets because he had come as a participant in one of the special episodes. Then we lost touch. Over a period of 5 years we met on and off. Every time we met we always got along and picked up from where we had left. It was the end of the year 2003, when we did a film together, Phir Se. It went into January of 2004. The film won the RAPA award for the best film. Uss film ke baad things happened in such a way that we decided to get married. Humein laga somewhere we click, we get along and I guess one of those things that just happen.
Everybody was very okay about us getting together. It just felt right. We had similar backgrounds. We had many things we could talk about. We both understood the kind of professionals we were and what it meant to both of us. I knew he was good at what he did. That was very important because jo bhi kare insaan poori immandaari se kare. That I could see. And hum log achche dost toh theh hi. That is how we got married." The couple also matched steps in the TV reality show Nach Baliye.
Netaji Subhash Chandra Bose-the forgotten hero was a biopic. It was shown in 2005. You played Capt. Lakshmi Sahgal. Shyam Benegal gave you a fitting role. Tell us about its working.
I played Capt Lakshmi Sahgal. And I was very lucky to meet her. But I think I met her after the filming was over. Luckily she was here in Mumbai visiting her grandchildren. She was visiting Shaad (Ali) and Shaili (Sathyu) mentioned she was here. So I got to have dinner with her. She came home. I have pictures with her. My father will have them. That was a wonderful evening we spent together. When I got to do that part I knew that it was not a very big role in the film but yes I was getting to play her. I went for rifle training. I cut my long hair too because I read she had cut her very long hair to join the army.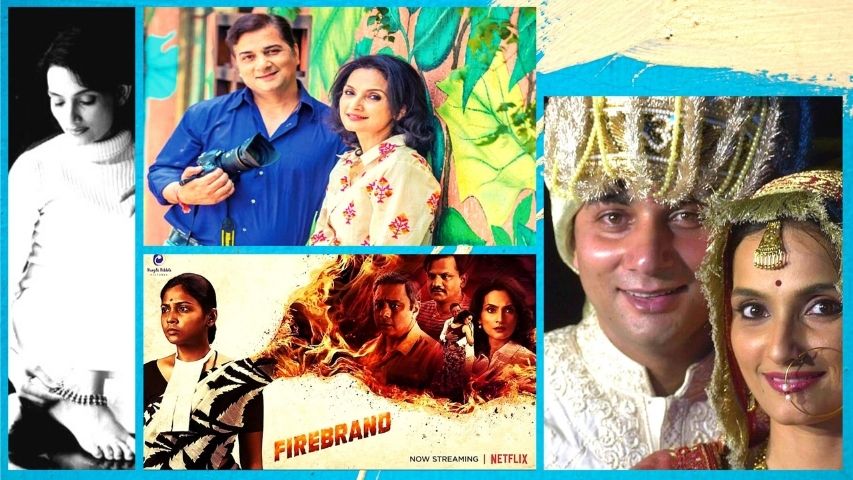 In Welcome to Sajjanpur (2008), directed by Shyam Benegal yet again, Rajeshwari played a very delicate part of the widowed daughter-in-law of a retired army soldier. It has become a cult film. Mahadev's (Shreyas Talpade) story wove the different strands beautifully.
Samvidhaan (The Making of the Constitution of India), a ten-part mini-series on the making of the Constitution of India was directed by Shyam Benegal and premiered on Rajya Sabha TV on 2nd March 2014. You played Rajkumari Amrit Kaur. Share the experience.
I am so proud that I was part of the project. We may read up a lot on our constitution, on BR Ambedkar, on people involved in its making, but to actually re-live that process of how the legislations came about, how the laws were framed, what all thought went into the making of our constitution is something else.
I think it should be shown in schools and colleges. Students will learn to respect our constitution. It was not written in the air. There was so much thought and consideration to so many aspects of life. And I think they did a good job. I am so glad Mr Benegal made this and it is only Mr Benegal, who could have done it. I completely enjoyed doing this series.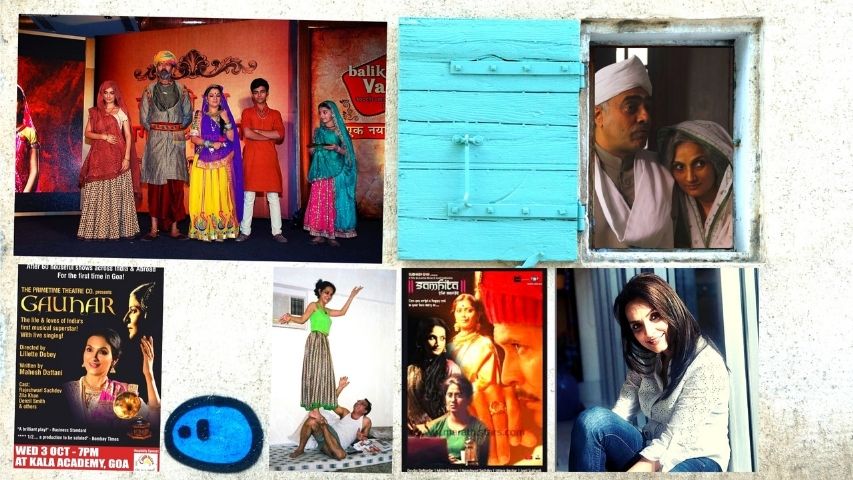 Her work on television has seen her participate in chosen works. Be it Balika Vadhu (2015-2016), or, Peshwa Bajirao (2017). Rajeshwari is adept at acting in varied languages. "I have done Seven Days In Slow Motion (2009), an English film, Samhita (2013), a Marathi film by Sumitra Bhave and Sunil Sukthankar, Aarambh, the Marathi film got me the Meta Award and the Screen Award for the best actress, Ek Sangaychay (Marathi film) was released in 2018 - it revolved around the issue of teenage suicides. Kay Kay Menon was my co-star and Firebrand (2019), the Marathi film that released on Netflix in February 2019, is directed by Aruna Raje and produced by Priyanka Chopra/Madhu Chopra. It was a fantastic role to play."
She has sung songs and cut albums. She says, 'Because I am a Punjabi we break into a song and dance about everything.' She also co-hosted 26 episodes of the cult Zee television music program Antakshri.
As for cutting albums as a singer, a summary of her Ted Talk says, " I get a call from this music company saying we want you to cut an album. I said 'No, this is not in my scheme of things. I had not planned for this. I am an actor, a classical dancer, but I can't wake up one morning and say, hey I am a singer. No'. A few months later another music company approached me to sing. I said (to myself) 'Hey stop. Is there something, which I can do that I do not know of but the others can see? So maybe I should not say no. I have a good voice; I understand music – sur-taal ki samajh hai - now what is there that I cannot? I am not trained. Fine. We will learn. Easier said than done. Because now you have to go back to school, become a student. You are a newcomer again in a new territory. That is scary. Like my father always said to me, 'For all that you know and for all that you do not know, a 100 rehearsals is the key'. Those days, fortunately, I was working with the thespian Mr. Dilip Kumar in the film Qila, and I was very worried about my singing. He looked at me and said, 'Koi nahi. Koshish karo. Koshish se bahut kuch haasil ho jaata hai'. Toh koshish humne ki. I came up with my first album, Hulle Hullare - for Magnasound. It worked. Then I got the opportunity to do the second one, Mukhda Piya Ka, again for Magnasound. Then the third one came - Umang. That too worked. That is when I realized that talent is an over-rated term. What actually works is application. Like this golfer had once said, 'The harder I practice the luckier I get.' Somewhere in the course of my career I realized that we are our own biggest detractors. We start measuring our success by other people's yardsticks. So for a whole lot of them if you are not the next Sridevi you haven't arrived. Problem starts, when you start believing in the same. In life you just have to go with the flow. You can't expect miracles because nothing comes out of the hat. Miracle is you having your eyes and ears open to recognize the opportunity when it comes to you. Opportunity is that challenge! So you have to accept all challenges. When the first time I said no to singing it was my own fear of failing. I had too much at stake. I knew I was no Lata Mangeshkar. Of course you can't be Lata Mangeshkar. It is not possible."
Her spirit and talent drove her to do an audio series for Audible Suno, a platform. 'Spot Dada' is a 10-episode fictional series starring Swanand Kirkire, Rajeshwari Sachdev, Neena Kulkarni, Harsh Chhaya and Rituraj K Singh. Reviews carry high praise of Rajeshwari for enacting through her voice. 'From a giggly young debutante to a mature, wily veteran, she changes her voice to suit her character to a T!
In the present of 2020 Rajeshwari is acting in the television serial Shaadi Mubarak. "There are a couple of films for OTT platforms but no point talking about them till we start shoot and that's in Feb 2021." Her acts on stage continue.
She updates, "Varun and me partake in the play Shabdleela, which is directed by Mr. K K Raina. Ila Arun has written the script. It is based on Dharamveer Bharati's Ek Sahiyatik Prem Patra.
It has been a very interesting experience for both Varun and me. Illa Aunty has, in the whole play, basically explored the mind of a writer. A writer writes in isolation but his life is always reflected in his works. So we have approached Dr Dharamveer Bharati's books, his life through the letters he used to write to Pushpaji. In fact Pushpa Bharati and Dharamveer Bharati used to write four letters a day to each other during those times. After the passing away of Dharamveer Bharatiji, Pushpaji published a book in which the journey of a writer has been explored. Varun plays Dharamveer Bharati in the play. I read the poems of Radha from Kanupriya, Pushpa Bharati's letters also. Illaji is the narrator and Pushpa Bharati. Basically the presentation keeps connecting strands. It is a very interesting piece. Next year we will stage it again."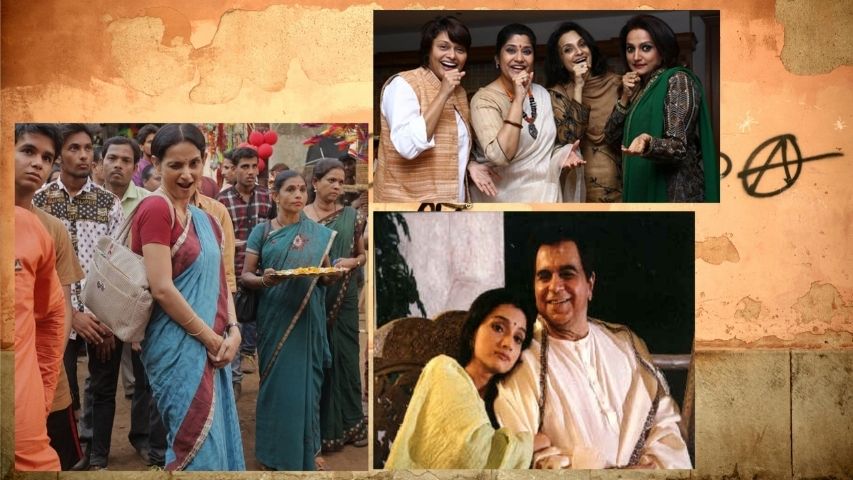 In the play Gauhar, you play the title role. It is inspired by the biography My Name Is Gauhar Jaan, by Vikram Sampath. It has Zila Khan as Badi Malika Jaan, Denzil Smith as Gaisburg. It got a lot of publicity. Do tell us about the subject and the working. Because of COVID the live shows may have got interrupted, but one learns that it is to make a comeback in February 2021.
Gauhar came to me at the time I was already shooting for Balika Vadhu. It was during the thick of the filming. Lillete Dubey said she wanted to open it for the Prithvi festival, which meant there was really no time, just one month, a few days maybe. I was petrified because I am not a classical singer. Lillete said we will try. I said 'Ok, I promise to start the riyaaz. By the time we have 20 shows I will become an accomplished singer. Till then will manage the little, little bandishein by memorising them.'
I would like to believe that I have improved over the years as a singer. At that time as an actor I did not want to give up a part like this. I put in a lot of work. The first show happened. As it happens in theatre, with successive shows things change. I also kept on improving. I quite enjoyed doing the play. The role is terrific. Gauhar Jaan was a woman who lived life on her own terms more than 100 years ago. Mujhe lagta hai wo zindagi saatvein sur par hi jee rahi thee; be it as an artiste or a woman in love or whether she hated someone. Everything she did, was with passion. I realised that one needed some kind of energy to play her part. Everything happens on a different scale. Mahesh Dattani had written the script. What was really helpful in understanding the layers of her character was this book that Vikram Sampat wrote on her life. It is such a detailed one. Pothi hai apne aap mein. It is unputdownable. I followed that to understand the nuances of her character. Now that the COVID has struck the shows are not happening, but we hope to go back into the theatres somewhere round February 2021. It will be good to be back with Gauhar. Iska matlab ye bhi hai ki riyaaz phir se shuru kar do. It's a good reminder that December is here already.
Rajeshwari's future as a performer ought to never get dated.