Salim Arif: His Work of Many Parts
by Aparajita Krishna
September 19 2020, 7:20 am
Estimated Reading Time: 45 mins, 22 secs
It is a daunting task to undertake summarising Salim Arif's multifaceted talent and work resume in a few pages, writes Aparajita Krishna.
This article has been an exploration for me and hopefully would be for you too dear readers. I am thankful to this space for granting one the luxury of writing elaborately on a subject that deserves the expanse.
That Salim Arif is a well-known name in the field of Indian Theatre, Television and Film is stating the very obvious. A child prodigy of sorts he was a very promising young painter in Lucknow and won painting competitions in schools and in inter-collegiate festivals. That is how it began. Subsequently this talent and many hidden ones travelled through training and participations to equip him as a very individualistic and respected creative practitioner. His work profile reads: a noted costume designer of feted television serials and films, a period detail consultant, director, head of dept cultural studies at Mumbai-based Whistling Woods International (Asia's leading Film School), writer and theatre critic, director of cultural affairs for two International film festivals and visiting faculty member at prestigious institutes.
My talk with him focuses on theatre, the creatively symbiotic relationship with Gulzar Saab, his own work in television and films, India's multi-language and dialect theatre, Urdu's status, art and theatre in the coronavirus times and the political that is social and cultural. Salim Arif's most informed talk deserves your full-house and captive attention. The generosity of the teacher in him would have propelled him to spend his time and expertise in addressing this semi-marathon Q&A conversation.
Our talk starts in the now.
Will the experience of these COVID-19 times circumstantially motivate a new theatre and film narrative via the streaming platforms, digital sharing, virtual world, conference theatre, Facebook link?
We have already started to inherit a new world order that is finding ways to deal with this severe loss of personal interactive contact that was the earlier norm of a collectively shared experience. Films in India should benefit greatly. The marketing will change and so will the monopoly of big corporations on screens and timing of a show, which till now was in the hands of studio bosses. Digital technology has taken film labs out of the equation and now in these times cinema halls are also not in use. Your phones, laptops and TV are the new screening norms. Watching a film now is at the convenience of a viewer with no more bothering of booking a ticket, reaching on time, parking issues etc. The screens are small and though technically the output is no match to a multiplex experience, still the segregation of a creamy layer in the multiplex to the man in the slums on phone-screen has vanished.
Theatre as a unique live and shared experience will remain and would be enjoyed the most in a live auditorium form. As for stage plays, we can learn from sports. I think sports was the first activity to engage with cameras and television screens creatively and evolved a language that makes a game of soccer, tennis and cricket a TV experience to be enjoyed away from the actual place of action. Countless cameras and innovations in telecasts have made sports on TV far more engaging than in a live setting.
The economy of sports changed with the enormous reach over the years. Theatre can do that, but it will need careful study and planning to shoot a play and get an enhanced essence of that live experience. At the moment, I am not too enthused by the streaming of plays on OTT as they are not designed for that medium. They are poor recordings that are neither here nor there. We have to give theatre a window on these platforms, but with highest possible production values and as a well thought out shooting plan.
When matches can happen without spectators for TV why not theatre?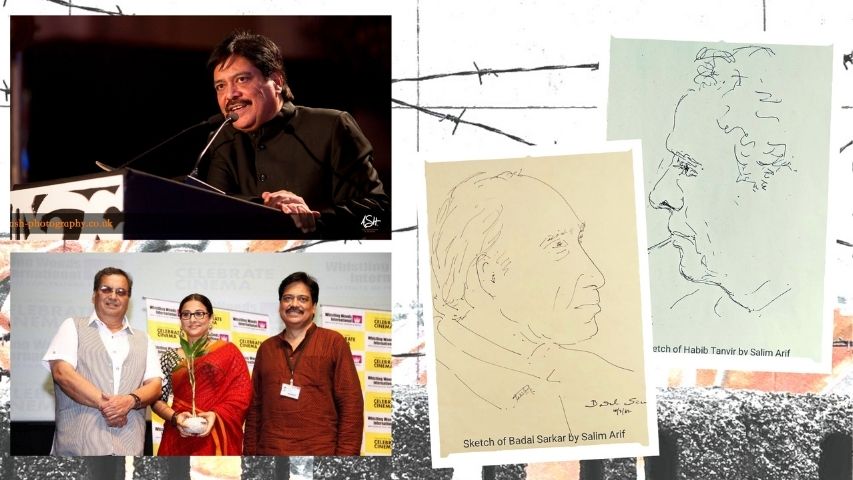 Now to revert back to the beginnings. A summary of Salim Arif's familial background informs that his family hailing from the Indian state of Uttar Pradesh, comes from an aristocratic lineage. Arts were more of a hobby than something that needed to be a full time occupation. His grandfather was a patron of music, poetry and would be a part of the mehfils and baithaks in pre-independence days. His father trained to be a civil engineer and worked in a government department. His eldest brother is also an engineer while the younger brother is a doctor.
So he tells you, "You can imagine the pressure I have gone through in my teens to be a civil servant as my family aspired. But I was more interested in making film posters and portraits. I was brought up next to a cinema hall in Lucknow. The lane had a hoarding and banner painter. Zakir Saab would paint those larger than life cut-outs and cinema hall banners of filmstars that fascinated me. I would spend time watching the process and try to repeat the graph based enlargement method at home. I was also into cricket and played at the university level. Later in college I was asked by a friend to design the poster for the play King Oedipus. That got me in touch with Theatre. Mr Bansi Kaul was doing Ala Afsar in Lucknow. It was a very good production using nautanki style of presentation. Then the plays of Habib Tanvir and NSD repertory company came to Lucknow. It had actors like Pankaj Kapoor, Rajesh Vivek, Raghuveer Yadav, Anang Desai, Surekha Sikri, Manohar Singh, Uttara Baokar and others on stage. It completely changed my vision of theatre and I realized that this is what I should be doing. Mr Krishna Narain Kacker, Mr Raj Bisaria, Kunwar Narain ji, Mr Ranveer Singh Bisht and Mr Surya Mohan Kulshreshtha encouraged me to pursue Art as a career. I then joined the Bhartendu Natya Akademi. Here Mr Raj Bisaria, Mr Hemedra Bhatia and Mr Anupam Kher taught me the nuances of Theatre. Then I got selected in NSD with a scholarship and that changed my life."
You joined the National School of Drama (NSD) at Delhi in 1981 with a primary interest in stagecraft and direction. Acting was a part of that training. As a veteran theatre practitioner, how would you at this stage summarise your learning at the NSD?
The school then was in a flux. Karanthji (B V Karanth) had joined Bharat Bhavan and we had BM Shah Saab as the Director. The syllabus was a combined one and the school functioned on meagre resources. We had few regular teachers and guest directors.
The visiting faculty brought in additional inputs. But the good thing was that classes were regular and our productions were all planned in advance. We could also get exposed to various national and international plays and performers on a regular basis and interact with artists who were celebrity names for us. Where would you find an Agyeya, Raghuveer Sahay, Nirmal Verma, Sarveshwar Dayal Saxena, Vivan Sundaram, Manjit Bawa, Leela Samson, Madhavi Mudgal and several other eminent artists come and do workshops and lecture demonstrations with students? The surrounding auditoriums like Sri Ram Centre, Kamani, FICCI and the art galleries like Lalit Kala Akademi, Triveni Kala Sangam and Art Heritage made it all the more exciting. You could see the top painters, sculptures at these places, watch plays at Sri Ram Centre and gate-crash into Kamani post dinner around 9 pm to listen to the finale of a Kumar Gandharva, Bhimsen Joshi or Vilayat Khan concert.
Film screenings at Max Mueller Bhavan, Russian Cultural Centre, American Centre and Pragati Maidan were the other outings one loved. But our own curriculum was packed and it was during gaps and on non-rehearsal days that one could find time to do this or take a stroll at 2 am for tea to a place near Rivoli or to CP inner circle and the ITO Press Lane for paratha- chai. No wonder all of us cherish the time we spent at the NSD. It gave us the confidence to be on the national stage and empowered us to work anywhere in any conditions. Our faculty with people like Bajju Bhai (RG Bajaj), Robin Da (Robin Das), HV Sharma ji, GN Dasgupta ji, Tarsem Lal ji, Rita Kothari ji, Nibha Joshi ji, Sudhir Kulkarni ji, Kirti Jain ji and Anuradha Kapoor mentored each of us quite well.
It is probably the only training school that gave exposure to students in all forms of performing, visual and literary arts. NSD provided theatre training with a multi-disciplinary broad-based vision, with each student shaping almost like a pyramid peaking to a pinnacle in his or her respective area of specialisation; yet capable of having the ability to work in other areas with distinction. You find besides stage a lot of NSD graduates excelling in films and other mediums in various capacities.
Another place that inspired us was the NSD Repertory Company. The technical-visual finesse was still intact then with a strong imprint of Mr Alkazi. The quality of productions and of performances was quite extraordinary. Plays like Mukhyamantri, Begum Ka Takiya and Chopra Kamaal Naukar Jamaal, became super hits. NSD Repertory was the show window which lured us in.
Back then there was a breed of actors who were amazing on stage, nurtured mainly in the NSD Repertory. Actors like Pankaj Kapoor, K.K. Raina, Vasant Josalkar, Surekha Sikri, Uttara Baokar, Raghuveer Yadav, Annu Kapoor, Vijay Kashyap and Rajesh Vivek - apart from Manohar Singh, who was a star in his own right of the Hindi theatre of North India, with Tughlaq as his most watched performance.
Even outside the repertory there were Barry John, Sushma Seth, Kulbhushan Kharbanda, Banvari Taneja, S.M. Zaheer, V.M. Badola and others. Their references for characterizations were of higher degree and they managed to surprise you with each new character they portrayed. I remember Alkazi Saab coming back to direct Tughlaq, for the Festival of India in England in 1982. It became a refresher course for his ex-students. We would see most of them being chided or scolded for allowing bad habits of acting to creep into their performances. I still remember his imposing voice shouting, "Manohar, your speech stinks", during one of the rehearsals.
When I started, non-realistic theatre was in vogue, with folk based productions. Karanthji was the new messiah, Brecht was the most adapted playwright, Badal Sarkar with his version of poor theatre and Devendra Raj Ankur with his Kahani Ka Rangmanch were noted.
You were awarded the NSD fellowship to work on the subject of interaction between the traditional and contemporary Indian theatre with reference to the works of Habib Tanvir, B V Karanth, Ratan Thiyam and K N Panikker. Do educate us by defining in a few lines the distinctive merit in each of their individual works.
I was offered a fellowship to work in the Repertory Company, but I choose to work with these directors in their regions and teams.
Habib Tanvir was an eclectic personality and found great satisfaction in working in very meagre and frugal resources as he believed in the strength of his team of Chhatisgarhi Actors. I stayed with Habib Saab's team for about two years. I learnt fluency of narrative from him. I understood Sanskrit Theatre nuances from his productions. Habib Saab had a way of creating an organic narrative assimilating various elements of our folk and classical traditions. Besides, he brought a Modern World View to them. It was reinvention of Natyashastra staging technique of bare stage as the universe of creation. Most of my own plays like Kharaashein, Hum Safar or Lakeerein, all have this flow of narrative that binds the action on-stage. Inspite of being collages of poetry and stories, they do get an organic fusion and have a beginning middle and end. I have imbibed this from him in my work.
Habib Saab would write scenes in the night and would test them in rehearsal the next day. He would also improvise scenes with his actors. It was fascinating to see Poonam feed her child and leave her in the care of a senior member, do her entry on cue and go back to the child. The kitchen would be on in respective corners and actors would find time to tend to their cooking and rehearse simultaneously. It was a great learning to see actors who had no baggage of method or focus, perform in theatre as part of their daily lives. I have deliberately kept away from imitating Habib Saab, with a play done in his style with folk actors, but I may set up a folk repertory in the near future in UP.
KN Panniker's Sopanam in Trivandrum was another experience. His actors were all part-timers who were in regular non-theatre jobs in the day. But he trained them in Kalari, Kutiyattam, Mohiniattam and used those elements in the Sanskrit classics and his other folk tale based plays. I did light design for his shows like Karanabharam, Shakuntalam etc. and stayed in Kerala for a few months with his team. Arvindan, the acclaimed Kerala film-maker was his close friend and designed costume for his plays.
Ratan Thiyam's company was a mix of the two. He had a young team, full time with him, who trained as per his methodology. Ratan Da was a stickler for discipline and a master at creating visuals on stage. He still remains a director we all look up to. In Manipuri and Indian theatre he is what Kurosawa was to Japanese Films. Imphal also made me live under curfew with insurgency in Manipur. I saw Assam rifle soldiers with machine guns on duty at all important squares and the city would shut by 6 pm every day. But we were away from the city in a camp and the work went on in curfew time.
BV Karanth was a very restless and always on the move theatre-man. He was amazing with his sensibility of music and sound and used them to brilliant effect in his plays. He would find unique ways to use musical intonations and stylisation and gave an older play a fresh perspective. He remains a major inspiration for our generation and is an iconic theatre legend.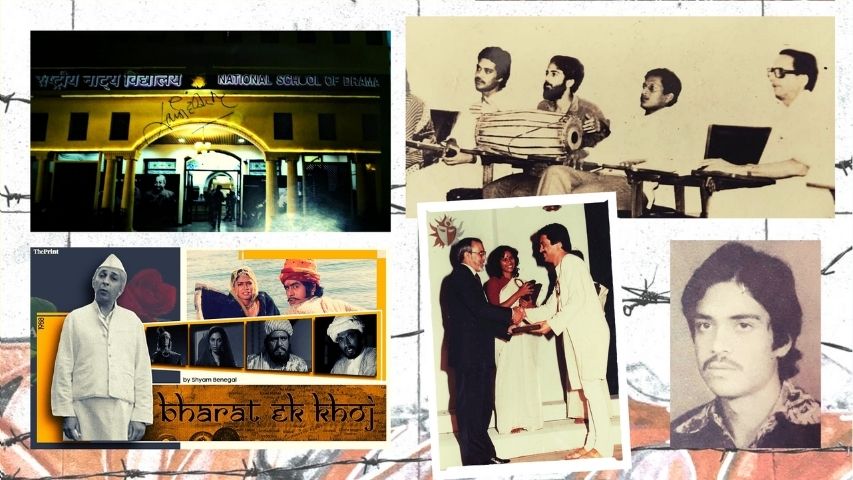 Coming to the present should not India have had many more NSDs?
We should have six to seven NSD institutions, like the seven zonal centres. NSD at Delhi should be the Apex body with all other institutions streamlined into a common syllabus and teaching methodology with the NSD at New Delhi being the place for specialisation.
More than Drama training programmes we need professional companies in all languages to absorb these trained workers to practice their craft and create a strong theatre movement all over India.
Your work in the city of Bombay/Mumbai started with your association as a costume designer of such acclaimed TV serials like Bharat Ek Khoj (1988), Mirza Ghalib (1988), Chanakya (1991), Kirdaar (1993) and Chandrakanta (1994-96). Back in time I myself had the honour of donning the costumes for Bharat Ek Khoj. Let us talk of your work in television.
When I came to Mumbai, it was to meet a few friends and see the scenario here as I was disillusioned with the NSD and with the Delhi work culture. Habib Tanvir Saab wanted me to be with him in his company, but It could not work out as I got jaundice in Bastar and had to come back. Anyway, I wanted to become a set designer or art director in films but Nitish Roy, who is a brilliant production designer/art director, refused to take me as an assistant and asked me if I would instead independently design costumes for a big project.
I thought about the possibility and found it creatively challenging to create characters through costumes and styling on actors. He took me to meet Mr Shyam Benegal for costume design and research for Bharat Ek Khoj. Shyam Babu knew about my NSD training. He gave me a 3 second look and the job was given to me in 5 minutes. I found it very engaging and a once in a life time opportunity. I consider designing as part of characterisation and a designer as an associate of the director. My background in painting and the experience with theatre designs helped. Shyam Babu sent me and Nitish Da to Delhi for a week to sit with scholars and get clarity on all issues related to period details and visual representations.
Now my fellowship project and exposure to traditional and tribal arts from Bastar, Manipur and Kerala proved to be an asset. Bharat Ek Khoj took 3 years of my life 24x7, but it was a great learning ground. Imagine to execute 100 to 150 costumes a week with a team of 20 to 40 people! We had a metal worker, a pagdi-maker, a cobbler, one to repair jewellery besides two cutters and several tailors full time. At times it was like the kitchen of a restaurant where freshly made costumes and accessories would be served just before the scene. Some of my everlasting relationships were made during the project and I have several memories that I still cherish.
It was a privilege to have Guru Dutt's Cinematographer VK Murthy Saab in the team and it gives me goose bumps to read the titles of Bharat Ek Khoj and the good fortune to be part of that team. We had very good research and references in place so designing was not so difficult. It was also a time and man management exercise. Bharat Ek Khoj gave me the unique position of a period costume designer then. No one had done a historical journey of India in visuals and Bharat Ek Khoj remains a constant reference for designers till date.
This execution and production plan experience came very handy when I was involved with the production of the serial Chanakya.
Mirza Ghalib shooting began earlier than Bharat Ek Khoj. Meeting Gulzar Saab was a revelation. There was an instant rapport with him. Mirza Ghalib was shot on video format but like a film. Like Bharat Ek Khoj, Mirza Ghalib was also a great team of actors and technicians. There was Manmohan Singh, one of the finest cinematographers and human beings I ever met, then Narinder Singh, a master of film sound design. With Jagjit Singh, the legendary Ghazal Singer and composer, a personal relationship got consolidated. We worked together again a couple of years later in Jalal Agha directed Kahakashan.
I was fortunate to work with some other outstanding cinematographers like Govind Nihalani ji, Manmohan Singh ji, Piyush Shah, Jehangir Chaudhary Bhai, Rajan Kothari Bhai and Sunil Sharma ji in my initial projects.
Chandrakanta as a design project was very different. I wanted to give it a Rajasthani miniature look but changed it to a free flowing eclectic Comic Book kind of mashup when I read the scripts. I got wings after being captive to period compulsions. I did a free-wheeling series of sketches for those characters and enjoyed it as a wild diversion. The serial was very popular and Krur Singh or Yakku still remains a favourite creation for viewers where I used the thorny elements of a porcupine in costume and gave his wig and eyebrows a crooked twist.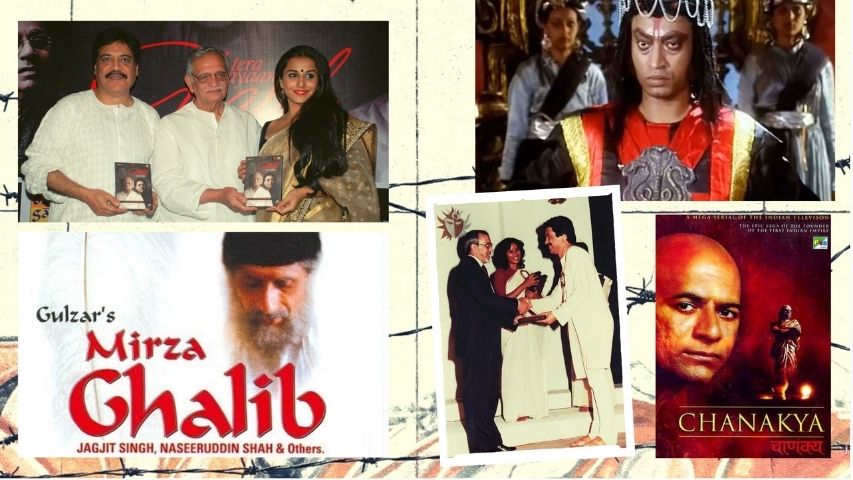 Your significant work as a costume designer also featured in films: Sangeet Sivan's Yodha (1992), Ketan Mehta's Sardar Patel (1993), Gulzar Saheb's Maachis (1996) and Hu-Tu-Tu (1999), Govind Nihalani's Thakshak (1999) and Anil Sharma's Ab Tumhare Hawale Watan Saathiyo (2004). You have been a consultant for period details in Anil Sharma's Gadar (2001) and Mani Ratnam's Guru (2007). Any special input you would want to give?
Pankaj Kapoor introduced me to Sangeet Sivan to design his Malayalam film Yodha with Mohanlal and Madhu in the lead. It was set in Nepal and was shot by Santosh Sivan. I saw the working of a small Malayali film unit. It was completely different from Mumbai and they used every minute productively.
I also got to work with late Samir Chanda. He, Santosh Sivan and I became very good friends. Sardar Patel started very soon after Bharat Ek Khoj finished. I was roped in, I guess, mostly because it was to be a small budget film compared to Gandhi where Bhanu Athaiyya ji had received an Oscar for her costume work. Ideally she would have been the obvious choice but the responsibility came to me. It was a film within a film format and I thought of giving the costumes of the main characters a very stagey look. The film eventually turned out well and is now a cult film on the DVD circuit.
After Mirza Ghalib I wanted to go away from Mumbai and continue with my theatre workshops and plays but Gulzar Saab held me back. He offered me to be his associate from 1992 onwards, besides giving me the freedom to do projects outside. It got me out of a full time costume design work, which was becoming a bit of a drag. It also gave me the freedom to be selective. For Macchis and Hu Tu Tu I was the costume designer besides being the associate director. Gulzar Saab completely trusted me with looks of his characters for all his projects after Mirza Ghalib from 1988 right till the Premchand series in 2004.
Govind Nihalani ji had made a commitment with me to do a project for him as a costume designer during Bharat Ek Khoj. The opportunity came in Takshak. I had done the entire planning of costumes for Gadar for Anil Sharma with colour schemes of each scene on paper. In fact I also took Anil ji and his team to show locations in Lucknow (the city I grew up in). I enjoyed doing details of the look with Amrish Puri Saab who was actually very particular about his appearance. He effortlessly slipped into characters of Shyam Bengal's Bharat Ek Khoj, Govind Nihalani's Takshak and Anil Sharma's Gadar without any fuss. The costumes of Sardar Patel were used for minor characters and crowds in Gadar and that added to the authentic feel. Ab Tumhare Hawale Watan Saathiyo, another project with Anil Sharma, had a big canvas.
As for the film Guru, Samir Chanda who was the production designer for the film, called me one day to inform that Mani Sir would like to meet me about his new period project. I met him and Mani Sir gave me the full script with a request to ensure that everything that goes in front of camera is correct as per the period. So I worked on the project with his team for about two months. Mani Ratnam is a very non-filmy person and I enjoyed watching him shoot scenes with ace cameraman Rajiv Menon. Guru turned out pretty well.
Salim Arif also has to his credit being the chief assistant director for three episodes of the TV serial Kirdaar (1993). He was the associate director for the film Pehla Pehla Pyaar (1994). He has acted in the film Maachis and in the Mukhbir episode of serial Kirdaar. He went on to be the chief assistant director for the film Hu Tu Tu, directed by Gulzar, and was associated with film Fiza (2000), directed by Khalid Mohamed. These were significant.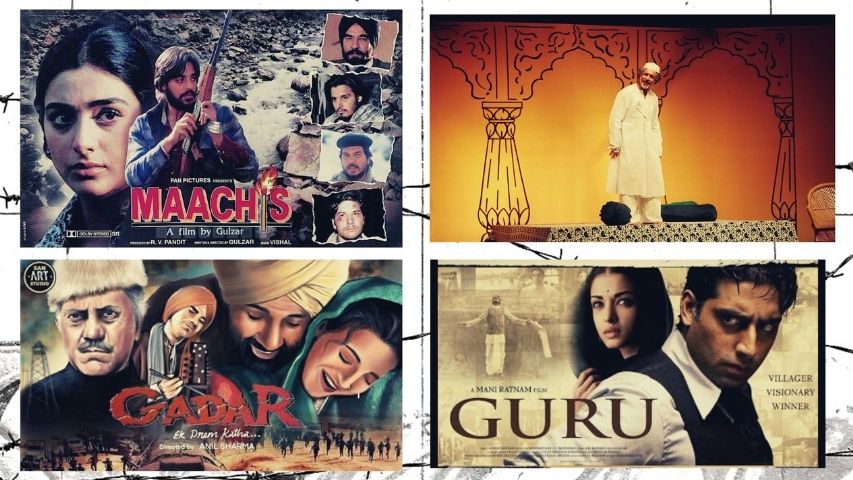 He reminisces, "They were all projects where I was a key team man. Pehla Pehla Pyar was cinematographer Manmohan Singhji's directorial project, where he took me as his associate. He was the cinematographer for Ghalib, Lekin, Kirdaar and a regular member with us in Gulzar Saab's Team. The film had Rishi Kapoor and Tabu in the lead. The film did not do well but I developed a very warm relationship with Chintu ji (Rishi Kapoor), which remained till his last days. We spent some great time in Switzerland together where we had gone to film songs. That was my closest association with a commercial project till then. Kirdaar was around the same time as this film. I did the casting and costumes of most of those episodes. Mr Kailash Advani was the associate of Gulzar Saab. He was to do a TV show as an independent director when the film Maachis was made. So he left and I got promoted as an associate director to Gulzar Saab. That arrangement continued. We had a very good producer in RV Pandit, who gave us a free hand. Maachis remains very close to my heart as a cherished experience of my work in films. I personally consider Maachis to be my best work as a costume designer too because costumes are so much part of those characters that you hardly notice them as designed pieces. However, the costumes for each scene were carefully planned. I wanted a random unplanned casual feel and that came about and to me that has been a very satisfying aspect."
You have had a very close work relationship with Gulzar Saab. He comes across as a teacher to a wonderful line-up of youngsters he has worked with, or in some way mentored. Do summarise the process of work assimilation. How did he affect your own growth?
Mirza Ghalib, the television serial, as a costume designer was my first professional assignment with Gulzar Saab. I have been a creative part of all Gulzar Saab projects after Mirza Ghalib.
Back then I was new to Mumbai, with just a few friends. I could feel a certain fondness and affection from him during our first project and he has looked after my welfare in Bombay till now. I was his youngest team member and he considered it almost his duty to take care of me. Something I saw him do with others too. For instance, he would invite me to spend a Sunday evening at his place, which always had some special VHS recording of a tennis or cricket match, a classic film or some other interesting show to see.
I had a liking for his unusual imagery and use of words that made him an unorthodox writer in the Urdu literary field and film songs. I became privy to most of his work as the first bouncing board. He is a hard task master for himself and he works 8 to 10 hours every day. My involvement with his scripts, characters and shootings created a trust that fortunately remains till date. I directed a few TV shows and telefilms, but theatre is where I belonged. I came back full time to it in 2002 and kind of pulled Gulzar Saab into my team. I stayed on in Mumbai because of him. He has been a guardian and more than a father figure. He has a very rare ability to get across to the younger generation and he is at complete ease with them. That is the reason he has constantly kept pace with changing times and is responsible for changing trends in film lyrics most of the times.
He has a meditative streak and has used his solitude very positively. I have shared his silence, which very few people would have. Coming from Bimal Roy school of cinema, his sensibilities were honed in the realistic depiction on screen, although he is quite different in style. Flashback is a form he uses extensively but it is not like a bracket that frames a story only from one characters' point of view. It is more often like an investigation or exploration of situations and characters that puts the story together. Besides, he has the ability to give dignity to his characters and redeem them. I absolutely marvel at his dialogue. I have imbibed a lot from him in several aspects over the years.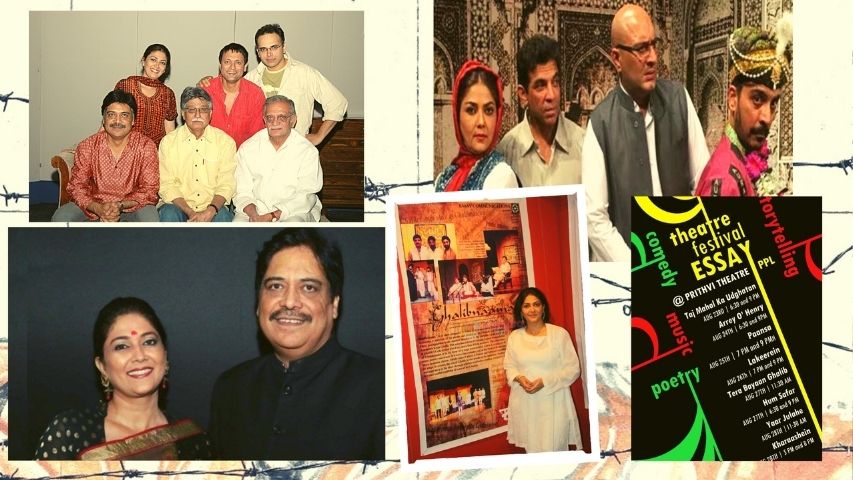 Salim Arif's work in theatre continued. In theatre set-designing he went on to create a marked identity. He recalls, "I had designed sets and costume for Ram Gopal Bajaj Sir's Mrigtrishna, which he did at NSD in the year 2000. It was a huge revolving set on the stage of Abhimanch, with three different locales and gave the play a very fluent narrative. Naseeruddin Shah saw that show. He quite liked the set and the design and told me to keep time for his play Ismat Apa Ke Naam, later the next year. I did several designs for Ismat Apa Ke Naam, but finally settled for a platform with a backdrop of a haveli (which I had sketched) and props that I brought from Lucknow. Eventually it has worked well and Ismat Apa Ke Naam is still running to packed houses."
Salim Arif also lent his expertise to the play Shyam Rang that was directed by his student Nikhilesh Sharma from the NSD. He is proud of his experience as a costume designer for the play Madhyam Vyayog, directed by Anjala Maharishi at the NSD.
It is Salim Arif's innovative work as a director-writer in theatre that defines his present too. He has explored new contents for staging by working on original play texts and has also broken away from the traditional play construct to create theatre on stage out of readings, stories, soliloquies and poems. Actor Lubna Salim, his talented creative partner and wife has been a glowing presence and force on stage and as producer of plays.
Do recount the journey of your theatre productions in Mumbai.
Tajmahal Ka Tender, a satirical play written by Ajay Shukla, was the first play I directed on Mumbai Stage in 2002 and remains a big hit till today. From 2002 on, I got out of TV shows to start my own theatre group or platform called Essay Communications.
Gulzar Saab became one of our founder members with Javed Siddiqi Saab, Lubna and me being the other three. Ghalibnaama in 2002, was the first production of our theatre platform. It set a trend of shows based on literary personalities and their works on stage. It brought the importance of spoken words back on stage in a big way.
Kharaashein, Lakeerein and Atthanniyaan are essentially collations done by me. Since I could not find time to write original plays, but had the benefit of outstanding writers like Gulzar Saab and Javed Siddiqi Saab with me, I could create exciting new content with their writings. They have closely collaborated with me. Actors like Harsh Chhaya, Atul Kulkarni, Yashpal, Kiran Karmarkar, Amit Behl, Lubna Salim and others have also been a part of this new content creation process.
Aapki Soniya, the sequel to the cult production Tumhari Amrita, again written by Javed Siddiqui Saab, followed in 2004 with Farooque Shaikh and Sonali Bendre in the lead. How did it conceptualise?
Farooque Bhai was after Javed Saab to write a sequel to Tumhari Amrita - where it ends with death of Amrita. He used to say that Zulfiqar (his character) is alive. It had to be different but in the same form and self-contained. So it became hate mail after a love story.
It had Ms Sonali Bendre perform the role of Soniya, a girl in quest of her roots, against Farooque Bhai. These two characters interact with each other only through their letters, leading to an exchange of hate mail. It had an exquisite, delicate exchange between a girl who feels that she suffered because of her mother Amrita's lover and one who was not her biological father. What ensues is an evolution of a relationship. It brought a closure to their lives. It premiered in Dubai and was an instant sensation. We had several shows in India and abroad to keep us busy.
Salim Arif's stage creations also include Kaifi Saab (written by Javed Siddiqi), Peele Patton Ka Ban (written by Javed Siddiqui), Dil Chahta Hai (written by CP Deshpande), Shyam Rang (written by Javed Siddiqui), Agar aur Magar (based on Bertolt Brecht's He who says Yes, and He who says No), Bayaane Ghalib (about Mirza Ghalib), Rakt Kalyan (written by Girish Karnad) and Parwaaze Bayaan Aur. Kachche Lamhe came a couple of years later and went on till 2011.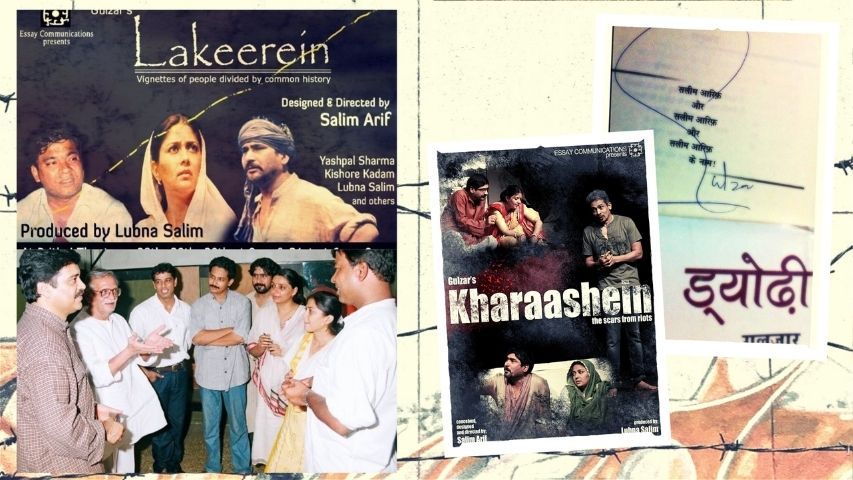 Tell us about Kachche Lamhe (Vulnerable Moments).
I wanted to do the story of Libaas (film) on stage and Gulzar Saab suggested that I get it written by Javed Siddiqi Saab as he wanted to see how a playwright like him would script the story as a play. It has rarely happened that two celebrated writers have come together on a common stage. Kachche Lamhe was written by Javed Siddiqi on Gulzar Saab's well known short story titled Seema. Kachche Lamhe like Aapki Soniya became a huge hit with several shows in India and abroad.
Salim Arif's theatre presentations staged diverse narratives and featured very fine ensemble of actors. It presented original writings and dramatizations of established literary works undertaken by Javed Siddiqui and Gulzar. A count in a brochure would read: Lekin… Phir Bhi… - The Honour in Killings…, Mulla Re Mulla, Sunte Ho , Gulon Mein Rang Bharo, Arre O'Henry, Manto Mantra, Akhri Salute, Googli Jhanak Jhayein, Tajmahal Ka Uudghatan and Chaakkar Chalaye Ghanchakkar.
Humsafar, was staged in 2010 is written by Javed Siddiqui. It has had many encore shows and majorly defines the theatre group's catalogue. The play revolves around a divorced couple meeting each other over a period of 10 to 12 years through seven situations or unplanned meetings. This couple is played by Harsh Chhaya and Lubna Salim.
Salim Arif recalls, "The end of the play became a huge debate within our team. Why should the lady accept a man back in her life after he has moved on and when so much has changed? We wanted to know how a relationship that has ruptured can be redeemed. The play is as much about love, as it is about urban alienation, family and relationships. I requested Gulzar Saab to record his poems in his voice, which I used in different scenes. Gulzar Saab's rendition creatively embellished the play. It remains our flagship play and did a tour of USA in Feb-March 2020."
Paansa, is an abridged adaptation by Gulzar of a long poem Yudhishtar and Draupadi, by Pavan K Varma. This dramatized Hindustani version from the epic Mahabharata, brings a new perspective to the Mahabharata's most neglected relationship - the uneasy one between Yudhishtar and the alluring Draupadi. Pavan K Varma also gives a new and challenging interpretation to the encounter between the Pandavas and the Yaksha of the Poisoned Pool. The play featuring Lubna Salim, Amit Behl and Bakul Thakkar was staged in 2017.
The director explains, "I also look at the Mahabharat in terms of the ownership of land as a major conflict. So, I set it in a tribal setting--the elements of the North East and other areas. I also used a Greek Chorus like two characters who narrate and voice the subtext at several points. It assimilates quite well my experience of working with Ratan Thiyam, Habib Tanvir Saab, KN Pannikker and Karanth ji and my own visual journey."
Throwing further creative light on his theatrical work-association with Gulzar, Salim Arif recalls what the senior had said in an interview; "I am learning theatre from Salim. He was my assistant in films and now I am his assistant in Theatre and member of his team."
For their collaboration, Gulzar also wrote Gopi Gyne Bagha Byne, Nuclear Sher and Pinnochio as stage play scripts for children. "After Mirza Ghalib, I have been an integral part of his films and TV works and he has been very much a part of all my plays. It has been his longest creative association", says an admiring Salim Arif.
Why has Hindustani theatre in particular not seen a continuous flow of original written plays structured as plays? The late 1960s and the 1970s were vibrant times. Even now Mohan Rakesh, Vijay Tendulkar, Badal Sircar, Girish Karnad, Govind Deshpande, Mahesh Elkunchwar continue to be visited. Is there a paucity of good original plays?
We have to ask what do we give our playwrights before we ask why there are no new plays. Writing a play is probably the most difficult discipline of writing. But in most of the cases in India, he is the most neglected and deprived of the entire lot of people who come together because of his content. I don't want to name them, but I know of a very important and famous writer who was told that his play that was performed in India and abroad for several years, did not make any money and the group was not in a position to pay him any royalty. You have the money to tip theatre staff, iron man, even Janki Kutir guards, but do not have the money to pay due royalty to the writer. And then you want them to write plays for you.
Our experience with Kharaashein has been pretty bad. We published Kharaashein in a book form and people perform it without taking permission or even informing us. One gentleman Abhinay Banker from Ahmedabad, had the guts to include Amrita Pritam writings with stories and poems of Gulzar Saab and called it Abhinay Banker's Kharaashein. When confronted, he said he gave his name because he had done his own version of Kharaashein and added more content.
Directors think they are bigger than playwrights and some want the plays to be known by them. For instance if I write Salim Arif 's Sakharam Binder or Salim Arif's Hamlet, I will look like an idiot who is claiming the credit due to Vijay Tendulkar or Shakespeare, but directors do it now. It reflects an arrogance and insecurity that seem to have come from films into theatre. Even in our films the five great masters like V. Shantaram, Mehboob Khan, Raj Kapoor, Bimal Roy and Guru Dutt never publicised their films in that manner and gave due credit to writers. Throughout the world a play is known by its writer, its only in India that a director has the audacity to publicise the play as his own. Even when I make changes, it is always discussed with the writers, but I never take the credit for writing. I respect my friends from Mumbai Theatre who write new plays and perform them too. As a policy I always publicise the play with the writer's name.
There is no incentive for Hindi playwrights like in Marathi or Gujarati Theatre to write a new play. A Marathi play that does well will do 1500 shows in three years, about 25-30 shows a month, and everyone gets money for those shows. A Gujarati play will also give good money to writers as royalty. But in Hindi, people do it either out of personal reasons of choice or some compulsion. Kahani Ka Rangmanch and Qissagoi and other alternate forms are also an off shoot of this lack of new content in play form.
In Hindi theatre people are mostly adapting stories into plays or practising the new form of Qissagoi (storytelling).
Qissagoi aur Daastangoi is a form that was a fresh intervention and experiment presented with flair by Mehmood Farooqi and Danish Hussain together. Literature Festivals mushrooming in practically every city have made this portable, easy-to-stage without much fuss presentation, that can be fitted in any time slot performances of 30 minutes to 1 hour, into a small scale cottage industry that is flourishing in Aram Nagar kind of small spaces now. Some contents work well in this form but when you find that Manto, Sri Lal Shukla and Majaaz have all been tried in this form as mugged up stories, then there are serious issues of theatre that need more careful understanding and treatment. It also reflects on the paucity of spaces. It is a taste changer for theatre goers, like it was in case of Dosa Diner or in Fusion Food. However, it is no alternative to a well- made play.
Despite the challenges we do find theatre being seeded and nurtured by individuals and groups. Many actors and directors balance their film work and theatre. Mumbai is a case in point. Actors like Amrish Puri, Naseeruddin Shah, Shabana Azmi, Paresh Rawal, Ratna Pathak Shah, Anupam Kher, Paresh Rawal and late Farooq Shiekh among others did sustain their theatre. Naseer most markedly so.
That they kept an ongoing relationship with theatre in Mumbai is quite admirable. They found time to do plays is a very praiseworthy and inspiring aspect for other actors who followed after settling as Film and TV actors. Their film stardom brought in new audiences to theatre in Mumbai and other cities. Of late we have several actors coming back to theatre in Mumbai and joining the movement, which is a welcome trend. That is how theatre gets rejuvenated. With Film Labs having no role now and the digital era fully operational with OTT platforms becoming your main release window, things will change. Mumbai may not remain as a centre for Hindi content creation in near future. Actors may not have to migrate to Mumbai as Lucknow, Bhopal and other cities in Hindi states are busy shooting projects throughout the year. And that should be better for all concerned.
Mughal-e-Azam as theatre was an opulent production. Alyque Padamsee has in the past done grand productions. We are still far away from a Broadway. How do you assess?
I am glad that Feroz Khan could do a Mughal-e-Azam and bring the element of spectacle, lavish production values, innovative lighting and staging to a very enthusiastic audience response and with great success. The sheer joy of watching a theatrical performance of that scale, which our Parsi Company plays had or some of Prithvi Raj Kapoorji's plays had, is an essential part of a vibrant theatre scene. Alyque Padmsee could do that with support from sponsors and at spaces he could control for a longer spell of shows. But not for people like us, who work with limited resources.
Broadway seems to be an obsession with us as reference. But look at the variety that Broadway or Westend stage each year. We need world class infrastructure and personnel before we think on those lines. I am ready with a script to a do a musical play on the street life of Mumbai, which has songs and script by Gulzar Saab and maybe someday I will have the resource of money and a proper auditorium for a long spell to do that.
Indian theatre is a vast multilingual space. Is there a sense of an All India Theatre? India has a vast audience profile to cater to.
It is wrong to look at one language or region as representing Indian Theatre. We are more like Europe in that sense and should be proud of our linguistic heritage. Our theatre is a bouquet of various languages and regions. We should celebrate that. We should not look for one language one country formula as it creates unnecessary points of friction. I am glad that our new education policy of 2020 has a three language exposure as a compulsory part of school syllabuses and that should help.
Apart from North India, theatre is doing well in most regions like Karnataka, Assam, Manipur, Andhra Pradesh, Jammu and Kashmir and several other pockets. Then there are folk performances in various regions. Performing Arts need support from several quarters to survive and flourish at a professional level. Sadly theatre is not on the radar of our rulers and administrators anymore. Even Parliament members, from a theatre back-ground, in recent times have not raised questions on these issues. The efforts of 1960s led to a strong theatre movement in 1970s. Not only NSD, but several theatre groups run by enthusiastic individuals flourished. That chain got broken with local directors taking over in 1980s.
The grant system of official agencies that made it free to see a play, also lowered the standards. With no investment of choice, which one makes while buying a ticket, theatre-going became an activity that had no serious commitment from the audience. Repertory companies in Haryana, Lucknow, Bhopal and other cities all got shut on some pretext or the other and have not been revived. Theatre going is a habit that needs to be nurtured and takes time and compassion. Dilli Haat in New Delhi and Prithvi Theatre in Mumbai are two spaces that come readily to mind as community centres.
While the regional language theatre in India has been partly state funded or self-sustaining in a more professional way Hindi-Urdu language theatre needs huge support. Do you agree?
Yes it needs huge support from our society that still looks at theatre workers as bhaand and miraasi. We need to create a favourable atmosphere for arts to flourish. A middle-class man feels he is cultured by sending his daughter for classical dance classes at the school level but if she wants to pursue it as a full time career, there are social issues. We have to shed our hypocrisies towards arts as a profession. And if you look at the percentage spent on theatre in states from the annual budgets, you will realise the low priority on which we exist in society.
Has Urdu as an Indian language of creative expression for many reasons got more challenged, if not near marginalised?
Urdu is now back with a much larger audience than ever. We did Ghalibnaama in 2002. Till then all established groups in Mumbai shied away from writing that a play was in Urdu so as to not alienate audiences. We did Ghalibnaama and that created a buzz for Urdu content on stage. There were shows on Faiz, Khusro and other poets on the model of Ghalibnaama. Kharaashein was also Urdu content. I also did tributes to Faiz, Amrit Lal Nagar and Amrita Pritam. We got Gulzar Saab to recite his poetry for the first time as a solo session that became a trend with others too. Urdu got a revival of sorts in Mumbai on stage and then people in Delhi did shows of Urdu writers. Apart from me, Anis Azmi bhai and Saeed Alam did Urdu plays in Delhi. Mr Sanjiv Saraf who had the vision and resources to create Rekhta, the biggest festival and Website of Urdu, started a serious movement a few years later. In the last few years it has done what several schemes and policies of our governments could not do.
It needs one visionary with resources for encouraging like-minded people to come together and move forward. It was Shashi Kapoor who came forward to invest his personal money and he gifted Mumbai with an institution that is a reference for other new centres in the world now. I ran an Urdu Mehfil at Prithvi Theatre for more than five years on the second Tuesday of each month. It was a great success and gave Urdu a home in the suburbs of Mumbai.
As a theatre academic how do you assess dialect theatre in India?
Dialects are the living languages of our country and in Hindi heartland they are several in numbers. Chhatisgarhi, Bhojpuri, Magahi, Rajasthani, Braj and Awadhi have strong theatrical form as they have been part of social life in rural areas where dialects are in use. Dialect driven theatre is always a more rooted theatre and in a way more vital. Dialects are the tributaries, which flow into what we call a Hindustani Khadi Boli tradition from where Urdu and Hindi evolved into print as two languages.
Children's theatre and films in India as a sustained genre is most lacking in thrust. You have been associated with children's theatre and have specifically collaborated with Gulzar Saab. Pinocchio was a work. Do inform.
Children theatre is very close to my heart. With Gulzar Saab I get enormous support. He is ever willing to write songs and scenes for them. I did Gopi and Baga, written by Gulzar Saab, which was a tremendous experience. Imagine a committed space where we can have regular kids programmes! It is a social need. We think that a child is small in size, so the budgets of works for children films and plays should be small. But it is not his shirt and pant cloth. It is just the opposite.
I have done about five to six productions for children, which incidentally are more costly to produce than plays for adults - as a kid would want to see everything and not believe or imagine what you will say. The curious mind needs visual stimulation all the time. My most interesting and heart-warming experience was working with the ARUSHI special students in Bhopal and producing a play with a team that had all kinds of special ability children.
Hindi cinema has recently been experimenting with new narratives. It has again gone moffasil in content. Actors too, who had come from the moffasil to Mumbai, are being cast in lead roles. What brought about this shift from say the NRI cinema?
I call it the Dhonification of our films. Like in cricket you have our heroes and stars coming from smaller towns and not from Mumbai, Delhi and Bangalore. Our films in and around the year 2000, had Anurag Kashyap from Benares, Tigmanshu Dhulia from Allahabad, Vishal Bhardwaj from Meerut and several others from other small towns creating a dent. NRI cinema of 1990s was a passing phase. It was the second generation of film family film makers who were public school, DVD products that became leaders of mainstream cinema in that phase. Actors, Directors and Producers came from affluent backgrounds, they spoke Hindi only when they spoke their dialogue in front of camera, which they earlier read in Roman English, so the pronunciations suffered and wrong formations and usage dug deep in. Success to such endeavours gave it a license and spoken correct language was not a desired component of our cinema anymore.
It was common to find stars say that if I concentrate on pronunciation, my expression goes or my problem is that I think in English. The films were a strange combination of having characters in fashion clothing of the West, while speaking to uphold values of Ramayan and Mahabharat times. Going back to traditions was in the air and films cashed on to the fears of the NRIs who saw their children becoming like Americans or Britishers in their chosen countries.
Hum Apke Hain Kaun started that trend, Dilwale Dulhaniya Le Jayenge, Pardes and Kabhi Khushi Gham took it to another level. The Film Family filmmakers, who had no first-hand exposure to life outside Mumbai, New York and London, went blank once the NRI phase wore off and Switzerland became irritating as a location for songs. No wonder they tried to do remakes of old hits and failed and in turn became producers for new directors. The language once again changed with emergence of these small town film makers.
Tell us about your association with the Mumbai-based Whistling Woods International (Asia's leading Film School).
It is due to Subhash Ghai Saheb's vision and his resources that an institute of World Class could be set up in India that is now teaching several subjects besides regular film making subjects. I have been with WWI since 2007 and was Head of Production Design Department. Then I took over Acting and later shifted to Cultural Studies. I have done plays with our students, besides classes on voice, speech and diction in acting. Production Design has also been a regular subject. I am very fond of that school and it is always a pleasure to interact with youngsters who are creatively inclined.
Salim Arif has also been involved with the preparation of CBSE course of Theatre and Media Studies. He has been the director of Cultural Affairs in two International film festivals: Ladakh International Film festival and Navi Mumbai International Film Festival. He says he is keen to start a Student Film Festival for under 30 film makers as that is where our future film makers will come from.
And to end the talk on a political-social concern. From here in 2020 where does the Indian Political Left turn or go?
I am not a Leftist, nor do I want to be one, though most of my plays have a progressive leaning.
I have no ideology to brand myself with except humanity and compassion. My sympathies remain with the underdog and have-nots, and I don't need to be a Leftist for that. I like to address the suffering and loss of human dignity and speak about people who are caught in situations - not of their making, through my work on stage and writings. And, I want to enjoy my theatre - I want to share that joy with my audience. Each work of art has to have a take away that reinforces your faith in human beings and life in general.
I am a product of post emergency era of late 1970s. I have seen the criminalisation of politics from close quarters and that has kept me away from the political arena so far. And, having seen the leaders of leftist cultural organisations and their selfish and hypocrite ways from close quarters, I have no faith left in any of them or their platforms. They need to introspect to be of any relevance in near future. I may sound too harsh but that's how I feel.
And so citizen Salim Arif focusses his energy to instead teach the present and future of his students and let his theatre do the talking.