Scent of Music: AR Rahman
by Khalid Mohamed
June 3 2020, 6:54 pm
Estimated Reading Time: 8 mins, 13 secs
Khalid Mohamed rewinds to one of his chatty conversations with the Mozart of Madras.
When it comes to film music, I can't think beyond A.R. Rahman. He may have extended himself into the global zone (the track Ahimsa with U2 is a stellar example). He may have cut down drastically on his Bollywood assignments. He's nurturing young musicians in the making. He's known to donate and raise money for charitable causes. Three years ago he made his debut as film director – with a virtual reality film Le Musk ideated by his wife Saira Banu who is fond of perfumes. At the age of 53, he's acknowledged as a genius, God's own man, who will follow his heart and mind during those late-night music sessions he's famous for. Beyond midnight, he's been at his creative best.
I've seen him tucking into a double chocolate ice cream cone at Mahabalipuram beach, I've seen him eyes closed, imagining melodies on the turn-table of his mind, I've seen him with his son Ameen who smiles and laughs with the same delight as his dad does. I've seen him at his laptop keeping in touch with his fans scattered all over the world. I've seen him refusing to touch his lunch unless you've agreed to share it with him.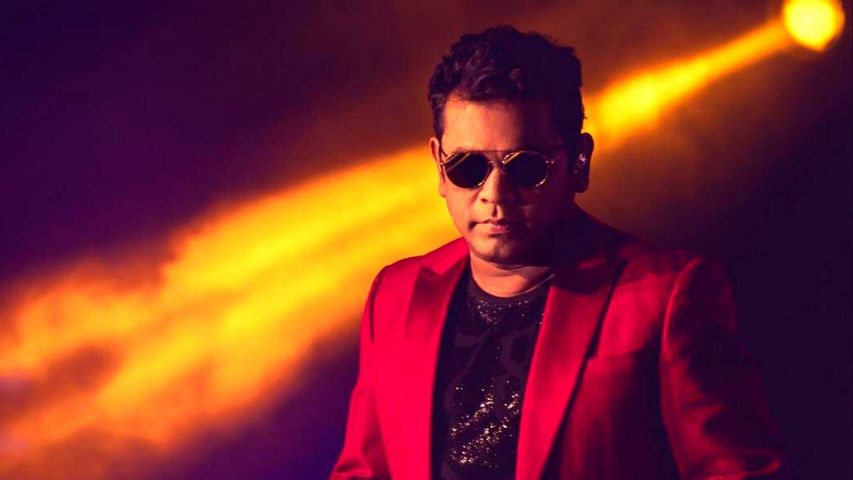 I'm privileged to know A.R. Rahman. He has retained his innocence and vulnerability even in a business where a rhino-thick skin is mandatory to survive. Yet, he's reached and preserved his position of India's most famous and proficient music composer. He's won two Oscars for Slumdog Millionaire (Best Score and Best Original Song Jai Ho). He's been called the Mozart of Asia, but for me he's Rahman, the man of music who's topped the scene for 28 years now ever since his score for Mani Ratnam's Roja.
And he calls me Chacha (must be because of my salt and pepper mophead) and I call him beta (because he's that brilliant son every man dreams of).
Somehow, we haven't been in touch for years. To quell my I'm-missing-you pangs, I've often called him for a conversation on a clear cell-phone line. And although years have elapsed I'm redrawing one of the quick chats from the files. Because it's one of those days when the uncontained coronavirus pandemic, cyclones and all-pervasive despair preside.
Excerpts:
Hello, hello, salaam valaikum, beta.
Valaikum salaam, Chacha... long time, no hear… ha.. where are you?
In Mumbai only, can I do an interview with you?
(Pause)
Interview, interview… you heard me?
Now? Okay let me go to the 'helipad'.
(A minute later he's on the 'helipad' or the terrace of his home-cum -studio in Chennai's Nungambakkam neighbourhood)
Can you hear me?
Yeah, perfect. What kind of music's playing in your head right now?
Right now, it's the piano theme for a film's theme music. I've been working round the clock..
Tell me something I don't know.
Mmm, so it's only work music… but wait… yeah I've also been listening to James Blunt's song You're Beautiful. Someone recommended it to me in London, and got sort of hooked on it.
Tell me, there was an IT raid at your place recently. What happened?
All's okay, it's part of the game… fame whatever. Many film people were raided in Chennai. They found nothing but music equipment at my place, which was of no use to them. They did question me about the equipment, everything was in order, I've nothing to hide.
Otherwise, how's the year been for you?
It flew by. I was working on The Lord of the Rings score, I was on concert tours in Australia and Singapore. And there were other film scores for Hindi films. Sometimes, I think I should just quit and devote myself to spiritual learning…. not likely though… not with the workload.
Which songs of yours are most in demand at the concerts?
Strangely enough, this time it was Humma humma. Usually, it's Chhaiyan Chhaiyan. The audience also demanded songs from the Tamil film Aah and Mangal Mangal. I also played the Fight Poverty anthem done for the UN, I think the concerts went down well.
You rocking child.
Yeah, really… if you say so, maybe.
What maybe! What do you feel about the Mumbai film industry's attitude towards you?
Why? Why? What do they think of me? As far as I know, I've gone through phases. Besides Swades, there was the phase of period films like Bose and The Rising.
Aren't you disappointed when some of your songs are sidelined because the films don't catch on?
That's true but I'm used to this. Music really has no age, songs often have a recall value and grow. The music company has to believe in the product and promote it properly. Also the trouble taken into the sound mixing has to be respected in the transfers on CDs.
Would you agree that some of your scores have been sabotaged by the Mumbai-based music companies who have acquired its rights?
Yeah, maybe, it's possible. Sabotage is a strong word but it can't be ruled out. I'm not into negativity though. It's better to have a clear mind than a black mind. If I were to hold grudges in my heart, I wouldn't be able to make music anymore, I wouldn't be able to play on my keyboard. So, see chacha, it's important to remain pure.
How pure are you?
Hahahaha. Don't ask me that… all I can say is try to remain as pure as possible. I can't be naughty or conniving. My music has to express divinity, purity, love.
Which is the most naughty song you're ever done?
You tell me. Maybe Aaee Re Aaee Re from Rangeela.
I wouldn't agree on that, I think it has to be Shakalaka Baby. By the way, hasn't the score for The Lord of the Rings stage musical taken you away from assignments here?
Initially, I was very skeptical. Should I go or not? I wouldn't call it a "musical" really, the story moves in and out with the music pieces. After the score for an oriental film, I was returning to an international mode of expression, keeping my Indian roots in mind. It gave me the freedom to go far beyond what I've already done, using chants, choirs and several forms of musical idioms.
Can you think of a world without music?
Right now, I can't. I love to go into a space which doesn't distract me. When you're doing your prayers, you nearly go dead, or at least try to, it's another kind of sphere altogether. Please don't ask me more about this, it's something private, something within, and it's very difficult to explain in an interview.
Okay, chill. What do you think of the music being made in the Bombay films nowadays?
There's been a lot of technological development, and the coming of amazing new talent. Of late, I liked Himesh Reshammiya's song Aashiq Banaya Apne and the Raahat Fateh Ali song used in a Mahesh Bhatt movie.
What about the title track of Dhoom?
Dhoom, dhoom, dhoom. Yeah, it was quite a massy number.
Almost every music composer seems to have your influence?
Really? If that's true, that's quite frightening. Often I can't stand myself, so how can others?
Almost every second filmmaker in Mumbai claims you're doing his music score nowadays?
That's great. At least they're saying that, even if I don't have any clue about this. There's an entire generation of new directors in Bombay actually, it would be good to work with them. After those heavy-duty scores for the period movies, I'd like to be more accessible to a wider audience, I'd love to return to the young groove.
How old are you now beta?
Just 17… hahahaha… I can dream, can't I?
Which is the last dream that you can remember?
The dream in which I was watching snow fall in Chennai. I was on a snow covered street with a big hoarding of The Lion King. Weird!
You don't like any filmmaker to come to your music studio with a hint of alcohol on their breath. How's that taken?
Hahahaha. You're going to get me into trouble, chacha. Yeah, one or two filmmakers have come a bit tipsy to the studio. That does become awkward, but I'm learning to be more tolerant. I just go absolutely silent when something like that happens, the filmmaker catches on, and it doesn't happen again.
Cheers! That's smart.
I hope you don't drink wine anymore.
Errrrr. Must go and rush this interview to the press.
Hahahaha, caught you! Remember it's important to be pure and clear in the mind.