Simran Puri's Kangan
by Vinta Nanda
November 1 2019, 5:34 pm
Estimated Reading Time: 10 mins, 56 secs
Women are equals now by law but back then it was different…
The story unfolds amidst the splendour of the Raj era in the princely State of Patiala, and culminates in the turn of the 21st century when modernity dawns and unshackles a rigid past of stringent customary social practices. Some rigid vestiges from the past survived in Hindu laws that were codified after India became independent.
The new millennium in the year 2005 ensured equality for women in all its facets, when the amended Hindu Succession Act recognised daughters as equal to sons in their right to inherit ancestral property, that had eluded women since centuries.
KANGAN is the saga of a treasured heirloom and its momentous journey across a century and a half. It is the story of a pair of gold bangles, singularly epitomized as 'Kangan' in traditional parlance, that witness the trials and tribulations of many women along its tortuous path. The same jewel survived different centuries along with a diverse cast of characters it encounters in varying contexts. A sordid past is unravelled as the ornament adorns brides who must bear the mantle of its legacy. The antiquated pair expansively traverses a period of time spanning five generations, surviving the turn of two centuries that culminate in the new millennium.
The valued Kangan is a witness to changing times against an evolving historical and legal backdrop. Immortalised by the context of its origin, the jewel bears dark secrets that both haunt and inspire its intermittent adorners. The penultimate custodian views the bequest with awe and anguish, and strives to cleanse the pair of its past that is tainted with a horrific ritual sanctioned by custom. Kangan, the blemished heirloom, is finally unfettered of its dark past by advancing times where tradition blends into modernity.
The story of Kangan is a trajectory of its chequered past steeped in tragedy, rigid adherence to custom and patriarchal norms. Evolving laws mark its final destination by undoing the damage of a bygone epoch that defined the lives and values of its inhabitors. Unshackled, a new era dawns after independence, ensuring equality for all till posterity.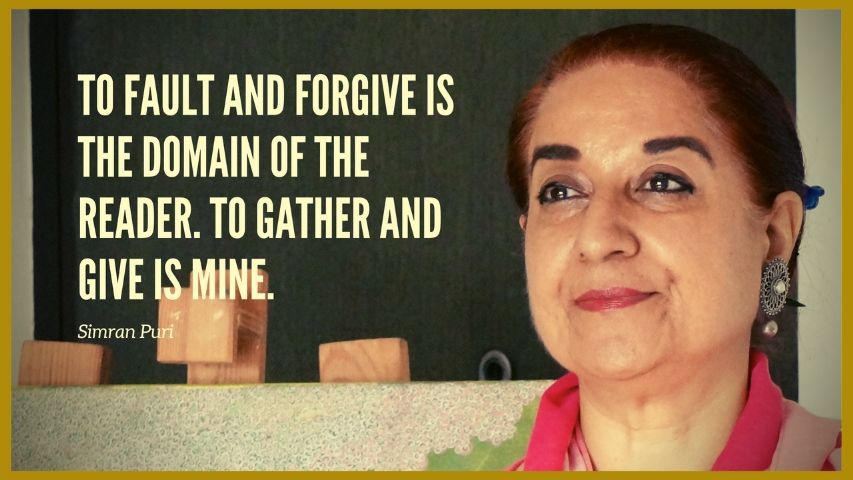 Q: From a busy lawyer to an author, what led you to write a book of this magnitude?
A: It was a glimpse into customary practices that stirred a disturbing realization of the norms that existed for centuries in the past. A rigid patriarchal system let the grass grow under its feet. It perpetuated ancient practices that ran roughshod over lives of women who adhered in the name of honour and social sanction. Dark practices continued, many unspoken, in the larger interest of family survival and succession. Rights evolved into laws, but it took 55 years since the Constitution guaranteed us equality, to amend the Hindu Succession Act and allow daughters to have equal rights to ancestral property. The book was a result of this confluence of a historical and legal perspective which deserved to be shared with a wide spectrum of readers. The fictional narrative twines the two, and creates a story with a cast of characters that reflect their times. Facts and trivia are woven into a saga that would both interest and inform the reader till the end.
Q: So it is a story in a manner of sharing information?
A: I would say it is a journey in retrospect. To pause and look over our shoulders at a span of a hundred and fifty years. To study the lives and practices of five generations that preceded us. And to remember the eras of those for whom I shall coin a new word here. "Foremothers". This is the story of our ancestors and forefathers, through the silent trials and tribulations of our foremothers. To understand their perspectives, that call upon us to know the history of their times that defined human relations in an evolving society. And to know the miles they trudged before redundant customs made way for gradually modernizing laws, but not before they tread upon many lives that cried for parity and justice.
Q: How were you able to put history and law in the narrative?
A: I felt like a three-headed creature! One devoted to history, one to law, and the third to literature. Partial to history, I always felt the subject cast a long shadow upon my understanding of law. Why was the law framed? What was the position before the law was passed? What further progression awaits the law before reform can become a reality? I have touched upon many aspects of Hindu personal laws in the narrative, that touch upon marriage, legitimacy of children, adoption, inheritance etc. Through the cast of characters, these elements come alive and showcase the manner in which all these aspects were woven into society, and how they evolved with the march of a nation into modernity. Of how a male was pivotal to society in Punjab, on whom hinged lineage and inheritance. Females were a mere supporting cast!
Q: Did you have to study the subject deeply for an in-depth portrayal?
A: It was a study, coupled with personal observations, information - both gleaned and gathered - from sources that shared the same. Some with candour, others with discretion. There were dark practices that simmered under hushed whispers that passing time almost drowned. Some ageing elders shared the norms, whether rare or widely prevalent, but existent nevertheless. The shared angst of many impelled the writing and if I had let that pass, the sagas of many would have receded into oblivion. I feel to tell, first listen. With a head and heart, gather the pain and penance of many whose contours of existence were defined by society or by necessity. To fault or forgive is the domain of the reader. To gather and to give is mine.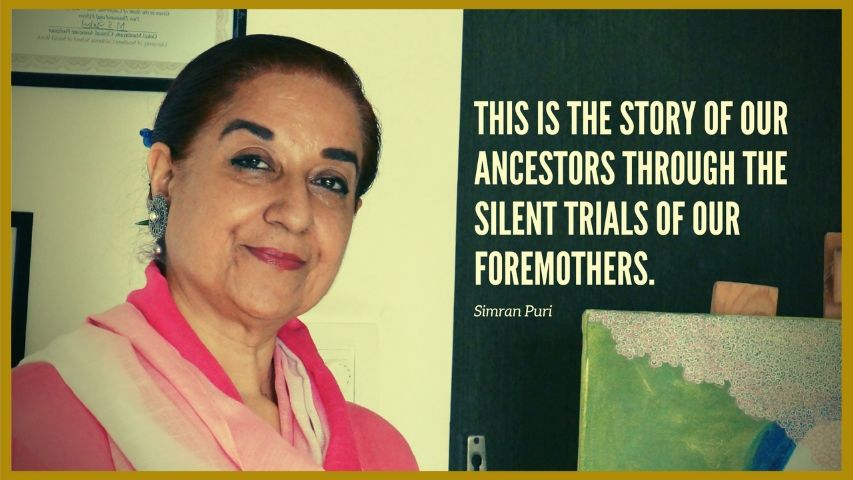 Q: How is it that your book in English has a vernacular title, 'Kangan'?
A: Because Kangan is Kangan! Like Samurai or Ninja, it is a sacred space that does not lend itself to translation. Kangan represents a traditional heirloom that is passed from generation to generation. The pair is made of purest gold and bears a mantle of sanctity that it represents in a continuum of lineage. The adorner of the ornament as well as the bequeather must earn their stature before they are entitled to own or adorn the valued legacy of a family. Once again, an heirloom descends within the same family with a same surname. That is the continuity it signifies for times immemorial. So much history and emotion are attached to the jewel that it ceases to represent mere vanity, and becomes a symbol of rich heritage and lineage of a family.
Q: And how was your journey as an author?
A: It was long and arduous, just like the one of the Kangan! It brewed over two decades, interspersed with personal and professional commitments. But the dedication never waned. The manuscript kept pace with my understanding of human relations and the evolving laws that marked the terrain of my narrative. And survived the onslaught of external editorial demands which I resisted with a firm plea - "It's my story. Let me tell it my way!" I leave it to the reader to adjudge the manner and narration of my work, presented to them from my pen dipped in ink, coloured with my sweat, tears and immeasurable perseverance. The book has been my labour of love and undying hope in reaching out to many who would share my endeavour. I hope with the same sensitivity that impelled the writing.
Are there more works in the offing?
Yes, shortly my short stories would be next. An amalgam of varied humans that inhabit our times with emotions that simmer in the given times. With more sagas in forthcoming imprint that shines the light on segments of culture that are calling to be told. I shall continue to heed and create.
SIMRAN WRITES:
The driveway was still empty, she saw. Bees droned portentously at the window. Then hovered afar to the blossoms, seeking nectar. Fragrant flowers felt nauseating now. Ascending footsteps audibly neared, and stopped by her door. The persistent knocks became louder. She did not respond. She could not respond. They were here! She knew it was the Sardarni accompanied by Iqbal, tearing the door down. Wondering if she had inflicted something upon herself in resistance out of misplaced piety. A white chadar awaited her. In the ordained ceremony of a second marriage in a Karewa ritual, claiming her forever. Impacted by fierce knocking, the latch was beginning to give away. Soon, the chadar would be thrown upon her. Reducing her to the ignominy of becoming Iqbal's wife. A third one in failed succession. Adding another pawn to his chequered board. In telling pain, she agonized over the future. Crapulent, facetious Lal Baghias, the illicit surplus progeny of the late Maharaja, would raucously raise 'Patiala Pegs' to Iqbal's new innings. With her.
The story of Kangan unfolds in the terrain of Punjab, and begins at a time when the Riwaz-e-aam, a compendium of customary local practices, was being drawn up in British India after the mutiny of 1857. Village elders, all male, recorded their rights before revenue officials of the Victorian regime recording the local norms in the then carved Punjab province. The said record of rights attained legal sanctity that was upheld by the Privy Council later.
In those patriarchal times, Kehar Singh ensures his family's survival in the village Mehmansingh, by recourse to an archaic ritual. The trauma impels his kin to leave behind a tainted past, and begin afresh in a new milieu. The family takes root in the princely State of Patiala in late 19th century, arriving with the pair of Kangans kept concealed in memory of their last owner - a young bride - who never survived an archaic rite she was bidden to fulfill as her familial duty.
A grim past connects with the next generation now settled in Patiala, ready to welcome the wife of their handsome son Dilawar Singh, a cavalry officer in the Maharaja's State forces. A veiled bride, the protagonist Mehtab Kaur, arrives in Patiala from the royal State of Jind. Her bridal gift, the heirloom 'Kangan' becomes her constant companion. Mehtab Kaur discovers that the preceding owner of the heirloom, the child bride Bibi Mohran, met with a tragic end. She begins to discern social norms that have extracted a colossal price from the women in her new family. Would she survive the rigours of the impending and telling times herself?
In chilling mystery and agonising tragedy, Mehtab Kaur subsequently suffers her trials and tribulations that unfold when World War II breaks out. Her husband leaves for Burma with the Maharaja's forces that support the British war effort, and goes missing in action. Her life entwines with her husband's family in a web of intrigue as she discovers that beneath a veneer of splendour lies a grim world of warped relationships. In deeply entrenched perceptions of the times, societal scorn for lunacy, female infertility, singlehood, and dependence, all reduce women to a redundancy that haunts the characters around her. In an era when marriage was not monogamous, she discovers how the profligate Iqbal, her husband's older brother, suits his ends for property and progeny, trampling upon the lives that fail him. The lineal male descent that determines property rights to the exclusion of women as absolute owners, is the hardest obstacle the protagonist has to surmount. Amid a gamut of human frailties cross the twin tracks of a dark past and uncertain present, allowing her glimpses of human relations entrapped in sordid contexts. The elders, all rigid adherents to conventional norms, determine women's destinies that a rigid culture had moulded into customary practices.
Mehtab Kaur survives betrayal, intrigue and angst, until she turns matters around decisively at a juncture. Witnessing the plight of women around, she resolves to rise above the mire and leave a mark. The Kangan, an heirloom that begins its journey as an ornament of vanity, inspires and impels her act for a laudable objective. It eventually comes to symbolize a triumph that overcomes all odds as it connects dots down the ages. The resolute protagonist witnesses a courtroom drama after the enactment of the Hindu Succession Act, when it confers rights upon women that enlarge her limited estate in property into an absolute one.
The Kangan survive testing times with varying characters in different eras that shape its journey, and ultimate destiny. Discarding the old for the new is the edifying fulcrum of the message in the book. The language and narrative rekindle past nostalgia, where history and law twine into a fictional story that captures the bygone times, before they fade from memory. Between the memorable and the forgettable unfold facts and trivia, that should leave the reader stirred and shaken.