The Power - Jaideep Ahlawat
by Khalid Mohamed
May 21 2020, 4:55 pm
Estimated Reading Time: 8 mins, 48 secs
Khalid Mohamed in conversation with Jaideep Ahlawat, the actor who's the talk of the town with his outstanding performance in the web series Paatal Lok.
His screen presence has always been more than walloping. He just has to stride into the frame, and right off, you ask, "Who's this man?" Over six feet tall, broad shouldered, craggy faced and eyes that hide secrets, that's Jaideep Ahlawat.
The 39-year-old actor who was born in Rohtak, Haryana, to schoolteacher parents, had aspired to join the Indian army. When he couldn't get it, he switched gears towards acting. Initially, he was on the Delhi stage, then completed a course in film acting at the Film and Television Institute of India, Pune, and crossed his fingers for the best. A graduate in political science and geography from the Jai H.M. College, he must have given nearly a hundred auditions before copping brief but eye-catching roles in a count of about 15 films.
Ahlawat couldn't be ignored for his bravura performances in Gangs of Wasseypur and Raazi. To a degree, he passed through the test of playing an urbane adulterous love in a segment of Lust Stories opposite Manisha Koirala. And now unarguably, he's here to stay. As the jejune police officer Hathiram Chaudhary, the central protagonist of Paatal Lok - the web series produced by Anushka Sharma which opened on Amazon Prime Video in mid-May. He's outstanding.
Hathiram Chaudhary is an unusual suspect, a cop who is an amalgamation of the metal-strong and the jelly-jittery. Putting on a resilient, I-can-do-the-job-sir facade, he's possessed by an inferiority complex. Can the police officer, from a backwoods chowky, earn his spurs on being assigned a super-high-profile case in New Delhi, involving a murder attempt on a TV channel's Machiavellian journalist?
Okay, so some reports have claimed that Paatal Lok is a take on true events blended with elements from controversial journalist Tarun Tejpal's book The Story of My Assassins. Either way it's a superior-quality series which is marvellously held together by a script (jointly credited to Sudip Sharma with Hardik Mehta, Gunjit Chopra and Sagar Haveli), topped by the high-quality acting chops of Jaideep Ahlawat.
Now our actor of steel-'n'-substance I've been trying to interview for the longest time ever. Either he would be out of town, WhatsApping, "As soon as I get back" or I wouldn't be in the city when he was, you get the drift. Nabbing him finally on a crackling 'phone call, after bingeing on Paatal Lok, we were in conversation. Not the ideal way to conduct a Q and A, if you ask me. If it wasn't for the lockdown, I'd have travelled miles for a face-to-face. Here, then, are excerpts from our ear-to-ear:
Has your struggle to become an actor been any different from the hundreds of aspirants who come to B-town with stars in their eyes?
I believe there are countless dreamers like me, none of us go through an exclusive kind of struggle, it's the same story, hope against hope, and then maybe you'll be granted an entry permit. Vaise toh mujhe fauj mein bharti hona tha (I wanted to join the armed forces), I was very serious about that resolve. Lekin nahin hua (But it didn't work out). My parents are retired school teachers, and I have a sister and brother. Kuchh to rozgari ke liye karna hi tha (Had to do something for a living). Next, my interest veered towards theatre, I acted in plays like Swadesh Deepak's Court Martial and Dr Shankar Sesh's Poster.
Still, I felt I was getting stagnant. The Pune Film Institute proved to be a life-altering experience. Some of us were exposed for the first time to screenings of world cinema there. The Godfather 1, Shawshank Redemption and There Will Be Blood influenced me deeply.
Has your college education been of any help to you as an actor?
Broadly, yes. It has made me aware of the causes and effects of our social and political conditions. But specifically, no. For instance, I have never met a police officer like Hathiram Chaudhary till today. The script was so detailed and lifelike that I didn't have to draw upon my own life's experiences.
Of course, over the years I have seen and noticed the behavioural patterns of the Haryana police. That's why I spoke with a distinct Haryanvi accent for the scenes with my wife and son at home. For the scenes with my Delhi police colleagues, I would drop the accent and speak the straight and cutting remarks in Hindi, which they do in Delhi city. Essentially, I didn't mimic any policeman I've ever met, that kind of study wasn't necessary at all since the script was crystal clear.
How did you invest complexity into Hathiram Chaudhary – someone who has as many weaknesses…nervousness… as well as the firmness to solve an intricate case of crime?
This mix of strength and weaknesses is among all of us. We may put up a solid front but at the same time, know that we are all vulnerable. One wrong step, and all your strengths amount to zero. The characters of cops are rarely written like that. See, I had flunked at the college exams thrice but I still kept it. There must have been some flaws within me which I eventually corrected. Hathiram was, in a way, like that. He wouldn't give up.
Have you ever met a foxy TV journalist like the Sanjay Mehra of Paatal Lok?
Not really, personally never. As viewers of TV news, though, we can gauge their mind-set. I didn't have many scenes with the character of the journalist so I wasn't required to study a prominent journalist upfront. The only workshop I had to do were for the scenes between my son and my wife (Gul Panag).
Are you married? Do you have children?
I'm married, ours was a love marriage. We don't have children. I don't like to speak much about her because she's a very private person. The most difficult scene for me to perform was when I saw my son with a gun and slapped him. The kind of anger, which a father would go through at such a moment has to be performed naturally, it can't go over-the-top. If it wasn't for the workshop, I could have messed up.
What's your opinion of the film industry?
It's like any other profession. At the outset, there are moments of loneliness, sorrow, depression. You get over this phase by telling yourself, "Take it easy. They didn't call you here, you've come out of your own free will." The one thing which would disturb me, however, are auditions taken in open air, in front of so many people who're watching every move an aspirant makes… as if he was in a fish market. Apart from that, I didn't mind going through the grind of auditions.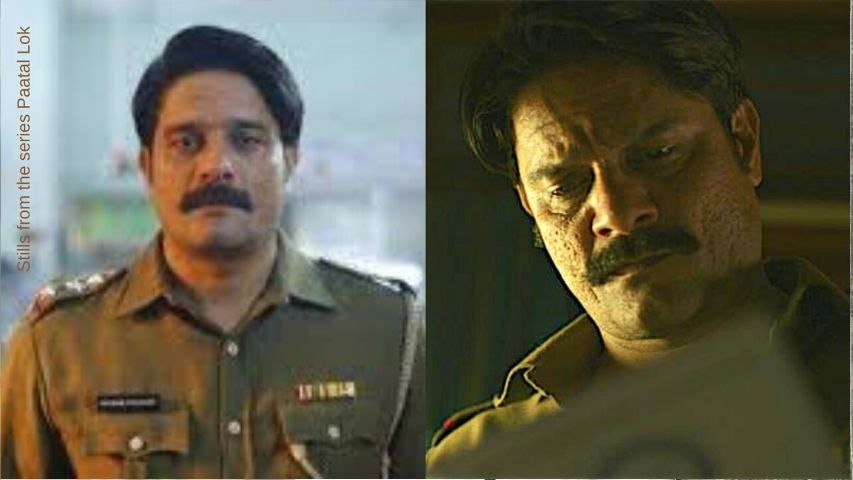 After playing a villain in the Akshay Kumar starrer, Khatta Meetha, it was Gangs of Wasseypur which brought you into the forefront. Did more acting offers flow immediately?
Gangs of Wasseypur se faayda toh bahut hua. Yet it took some time for me to establish myself. To an extent, I'm still in that process. The episode in Lust Stories was quite a different role, (director) Dibakar Bannerjee was tremendous fun to work with, he's a disciplinarian plus he has a sense of humour. Many projects are underway now but because of the lockdown they're on hold presently.
My wife and I live in a rented house in Goregaon (west). Right now, I spend time reading poetry, like I'm into Raahat Indori's Chand Paagal Hai Andhere Mein Nikal Pada, right now. And there are always the books of Dharamvir Bharati in my collection which I read repeatedly.
How did you land a role in Meghna Gulzar's Raazi?
It was thanks to the casting director, Jogi, who called me over to meet Meghnaji and I was firmed. It was quite a challenging part, playing a man who's 10-15 years older than me. The character's role was of a RAW agent, who holds many secrets, which suited me since I'm quite an introvert in real life. To prepare for the role, I read up on RAW agents as much as I could. I don't go into deep method studied acting, I attempt to understand my character, grasp him, behave like he would, depend on spontaneity and of course, the director's approval after every take.
Have you ever been asked to use cosmetics or tone down your facial look?
No never. At most, I'm told that Om Puri didn't, so neither should I. It goes without saying I've been a great admirer of Om Puri.
And which other actors?
Oh, there are so many. Top of the mind, I'd say Sanjeev Kumar, Naseeruddin Shah, Manoj Bajpayee, Robert de Niro and Al Pacino.
After playing the lead in Paatal Lok, will you open to supporting parts?
Koshish toh yehi rehgi ke lead role mile. But every actor, major or minor, has to keep the window open. If there's a role of substance, negative or positive, I'll go for it. After being around in the film industry for so many years, I've learnt never to let go of an opportunity which I would regret later.
Are you recognised on the streets now? When did you sign your first autograph?
Ha, that was immediately after Khatta Meetha. But now no one wants autographs, they only want selfies.
Finally, what does acting mean to you?
It would be easy for me to say I act, therefore I am… it's something close to that. Acting is my life, without it I wouldn't be able to exist.