When R.D. Burman met the Jazzman
by The Daily Eye News Desk
March 16 2021, 12:00 am
Estimated Reading Time: 5 mins, 10 secs
Edited excerpts from the book Louis Banks: A Symphony of Love by Ashis Ghatak
As a young man Louiz Banks would imbibe the earthiness of his mother's Nepali folk tunes and jazz lessons from his father. The practice of sitting in front of an upright piano in the hall, with his father taking up the trumpet, and then reversing the role with his son became a regular affair…
He was a great believer that divine intervention shaped his life and the formation of the band Louiz Banks Brotherhood…
One day during a break in the performance at Calcutta's Blue Fox Club, Louiz had just retired to a separate corner and had asked for a cup of coffee when a waiter came to him and whispered something in his ear. Louiz looked up at the crowd and found a bespectacled young man smiling at him and smoking a cigarette. Louiz quietly made his way through the tables and chairs and took a seat opposite to the visitor.
"You play quite well. I have been listening to you for quite some time," said the visitor and greeted Louiz with a smile, introducing himself, "My name is R.D. Burman. I am a music director in Hindi films. Do you want to come to Bombay and work with me?"
'Oh, my God! I know nothing about Hindi films and Hindi film music,' exclaimed Louiz.
"You don't need to know anything. The hero of the film I am working on is playing the role of a pianist. When I heard you, I thought I might ask you to play a few piano pieces, which I can use in the film. Please come over to Bombay and play for me," R.D. Burman responded.
Louiz was hesitant as he had no clue about how music in movies was made. Moreover, he was content with what he was doing at the nightclub. But there was a restlessness to explore new horizons. He agreed on the condition that he would return to Calcutta once the assignment was done. From a little stretch of Park Street, he was about to venture into the unknown.
He was amazed by the magnitude of R.D. Burman's recording studio at Film Centre in Bombay. He was to play piano solos for Shashi Kapoor on screen.
Louiz composed a long piano solo for the song 'Suhani Chandni Raatein' and R.D. Burman used it in the intro of the song. The number went on to become one of the most popular Mukesh songs of all time.
Apart from the melancholic Suhani Chandni Raatein and the lullaby Lalla Lalla Lori, no other piano pieces in any other song had proven to be so popular at the time. attention. The seven-day Bombay experience gave Louiz a new creative spectrum. So far, he had been acquainted with the amateurish music recording system of Calcutta. He had recorded an album more out of fun and camaraderie with fellow musicians. Now, he had seen the fusion of occidental and oriental music arrangements.
"I got the opportunity to play the piano the way I like to play it," Luiz says. "It wasn't jazz per se, but I improvised a lot and co-composed many of the tunes with Panchamda. He gave me a free hand to play in the songs' introductions and interludes. The frills and arpeggios with almost 100 musicians and 50 violinists."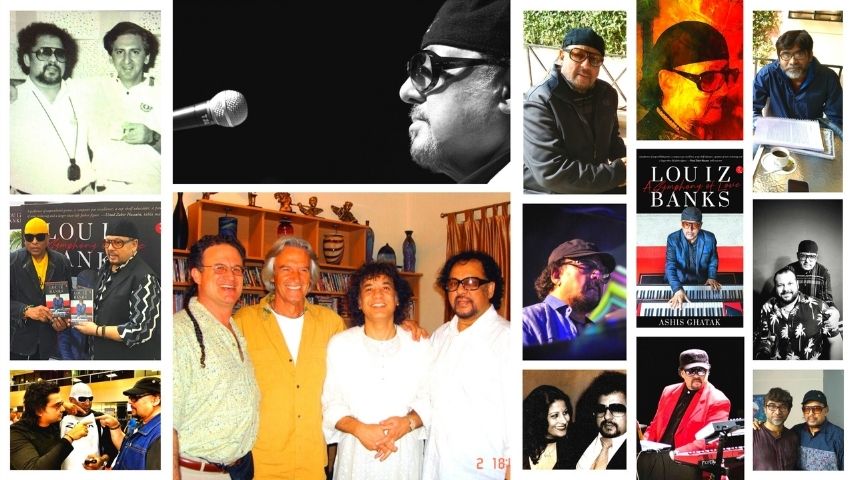 At the end of the recording, R.D. Burman suggested, "You stay here in Bombay. There will be work and money galore." But Louis didn't want to leave his passion for jazz which could only be fulfilled at Calcutta's Blue Fox.
"Alright. Go back then but remember my doors are always open to you. Join me whenever you feel like," R.D. Burman assured Louiz.
With time, Louiz Banks moved with his wife and children to an apartment in Pretoria Street, a flat provided by Blue Fox officials. The colour of money never mattered to him and he had even refused an offer to travel to London.
About the book:
This is the story of a Nepali boy from Darjeeling who became the godfather of Indian jazz.
Pushkar Bahadur Budapriti was not only the best trumpet player in Darjeeling of the 1950s, but he was also an unsparing father every time his son Dambar played a wrong note.
When Pushkar became George Banks to gel with the names of his English band-mates, he rechristened Dambar Bahadur Budapriti as Louiz Banks. George was the best music teacher Louiz could ever hope for, and the most endearing lesson the young Louiz learnt was a three-step process to become a successful musician: imitation, integration and innovation.
The musical journey of Louiz Banks, the Indian counterpart to the modern-day Jazz legends like Herbie Hancock and Chick Correa, spans over five decades and is steeped in surprising twists and turns. Starting his career as a pianist with a band in Kolkata, he first went to Mumbai at the invitation of the musical genius R.D. Burman. Inspired by the opportunities the city presented, Louiz soon made Mumbai home and became the number one music director for advertisements.
Packed with anecdotes shared by the musician himself and those narrated by other musical stalwarts associated with him, the book gives a fascinating insight into life of a dynamic musician who has extended the boundaries of his craft.
The book also goes back into the nation's colonial past to search for the roots of Indian jazz and offers a fascinating glimpse into the socio-political and cultural scenario of the time. This is a delightful biography of a brilliant musician.
About the author:
ASHIS GHATAK teaches English at a government-aided school in Kolkata. A film and music enthusiast, a photographer and an avid traveller, he has to his credit many academic books and as well as travelogues in various travel magazines.
(Courtesy: Rupa Publications)