Lost in Space: A Strong Foothold in Infinity
by Shubhangi Jena
April 20 2018, 4:18 pm
Estimated Reading Time: 2 mins, 35 secs
Whether it's through memes or scoops - Elon Musk's car in space or his vision of a Mars colony until 2050 are somewhat of a stamp of definite optimism that has already gone ringing through space and if the universe is not a wish granting factory but slightly generous enough at times to grant human endeavours with the gift of actualisation, as it has been doing so for man since ages, this gargantuan dream is not laughable nor nearly impossible. Our tryst with space journeys is ever growing and for the starry eyed ones like us, sci-fi is the ultimate sojourn or fictional escapade from the heat of reality.
Lost in Space allows us to reimagine the 1960's series – this time in a high definition setup. That being obvious, because the internet allows you to literally excavate the 20th century version of the show and by the looks of it, is a TV show tantamount of a doodle traceable to the crayon age that dabbled in not-up-to-snuff foil and cardboard sculptures of bots. The version 2.0, being so in contrast and quite afresh than its parent version however keeps the same habit of 'casually flirting with the idea of floating in space' astir. Fast forward the 2018 version to 30 years and there you land with a thump in an alien world.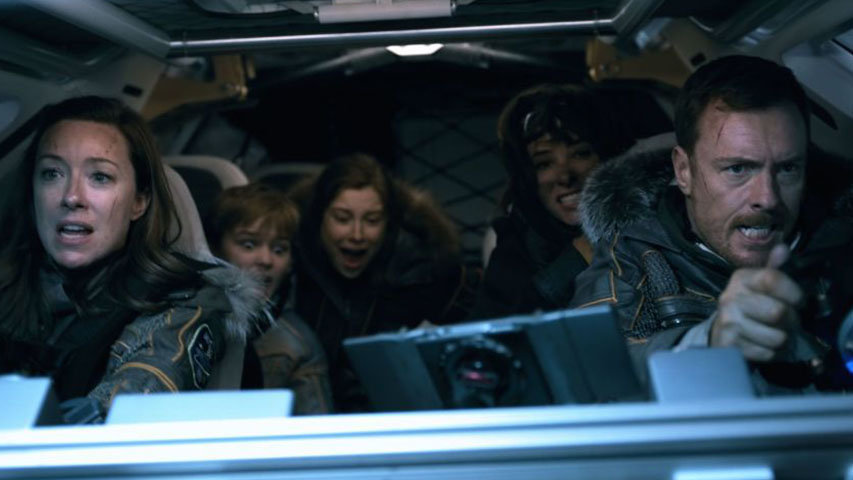 Source : Digital Spy
A modern family, The Robinsons, unlike normal families didn't decide to set out on a journey, rather they chose to set a family mission afoot - to establish a colony someplace else. Amidst the undaunting raison d'etre that The Robinson's behold, the first stage of their mission goes astray post a tumultuous crash. The crash sets an impending corollary in motion- the family is marooned on a strange, unmapped land, far away from where they had initially intended to be, with a geography characteristic of extreme weather.
The quest from thereon- is a treat to watch and not spill here. The show is interspersed with occasional flashbacks that patch the space-time continuum for us. Though few aspects of the show give a cornball appearance to the sequence of events, there's still a wacky tack to it that spells to be unmissable. This series is a perfect chill pill for those who have their nose to the grindstone to earn a flight with Virgin Galactic or straightaway blast off to Mars. What if Mars or any other exoplanet for that matter throws up dire circumstances and the Robinsons (like the Simpsons have had the notoriety) just predicted it for you?! This show in that case will be gold for whatever generation pops its head after Gen Z.
Source : Metro
On a last note, after putting up a great spinoff, Netflix is all set for a sequel for this space series and of course, why not, after grabbing oodles of sentiments from its devoted sci-fi nerd's coterie. Who knows, someday we might be watching the umpteenth show in pyjamas with a cereal bowl in hand at home ...on Mars.