Mahakumbh: Game Changer of 2015
by Piroj Wadia
December 17 2014, 4:28 pm
Estimated Reading Time: 3 mins, 29 secs
The end of 2014 has marked a few closures of shows and the beginning of new shows which will go into 2015 with an established viewership. As mythological shows have a bearing, two shows premiered on December 15 -- Mahakumbh-- Ek Rahasya, Ek Kahani and Yam Hain Hum.
The Da Vinci Code arguably remains a signpost to the mythological thriller genre as a book and a film. It spewed a host of clones, and also sequels, but all were poor copies of the original. Closer to home, Ashwin Sanghi?s books are not just thrillers, to date they have been based on historical, theological and mythological themes. He initiated a retelling Indian history or mythology in a contemporary context. Probably spurred the Da Vinci Code and Sanghvi?s success with mythos thrillers, producer-director Arvind Babbal brought to Indian television content which hasn?t been seen on the small screen with Mahakumbh-- Ek Rahasya, Ek Kahani, a supernatural, mythological-thriller. The channel choice Life OK, isn?t surprising, the show couldn?t have found a better platform.
Since its launch on December 18, 2011, Life OK has presented some cutting edge shows and introduced TV viewers to the concepts of seasons and finite shows. Committed to giving fresh content, from Day One, it risked dedicating the 8 pm prime time slot to a mythological show Devon Ke Dev... Something unthinkable, as generally such content was relegated to Sunday mornings. The gamble paid off as it garnered a loyal viewership. After the closure of Devon Ke Dev last week, the channel has retained its mythological flavour with Mahakumbh.
The story begins quite unusually for an Indian show in the European countryside -- complete with a castle and a sinister secret society. An officiating ?priest? receives an ancient manuscript with symbols, which a captive Indian scholar interprets. There is a Special One the Secret Society is looking for. The action cuts to the Mahakumbh Mela where throngs of pilgrims don?t spare a glance at a man holding a little boy aloft his shoulders. The boy, from his vantage point spies some men hiding guns in their waistbands. A bomb explosion separates the father and son. The little boy is taken home by an elderly man. The boy?s back bears an indelible mark, a most incredible birthmark of a design of symbols, which sets him apart. He holds a key and is being searched by the secret society.
Just two episodes old, as I write this, the first set of sequences grab your attention and you notice the finesse in the production values, cinematography, direction and crisp editing. The narrative too is singularly marked by a set of well-paced sequences, which hold the viewer?s interest. The introduction cuts to the bone immediately that the boy Rudra is a much wanted child. The atmosphere of the Mahakumbh mela is recreated down to its fervour and throngs.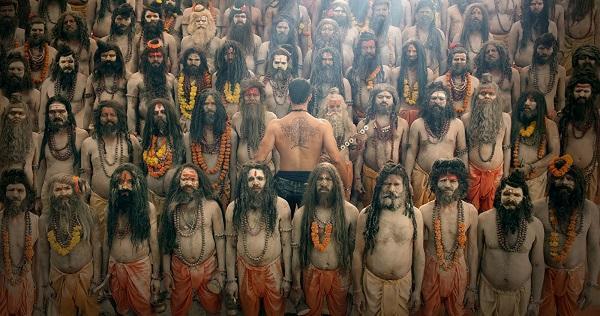 Gautam Rode, the stellar attraction is yet to make his appearance. The stage however is being set by the younger Rudra, who has already showcased his physical strength and prowess, as also his tender sensitivity. The actor playing the teenaged Rudra is expressive and a joy to watch. Seema Biswas, as Rudra?s foster mother, is a welcome addition and a wonderful change from the bunch of small screen mothers. The makers have cast wisely. Forthcoming episodes are awaited. Mahakumbh is purported to be the most expensive serial to be made; it is also believed that the show is marked for 60 episodes for the season.
SAB TV has replaced Chandrakant Chiplunkar?s misadventures with Yam Hain Hum, is a satirical fantasy featuring Yamraj and his accomplice Chitragupt. The opening episode has an old man who had desecrated the environment, a grotesque looking nautanki actor who had been playing Yamraj, etc. in Yamraj?s court. Yamraj realizes that human beings don?t think well of him, as he is known to take away human life. Hence, he and Chitragupta come to earth to change people?s perceptions. Manav Gohil plays Yamraj with Atul Parchure as Chitragupt. Last we saw Yamraj and Chitragupt, they were behind bars.
The game changer of 2015 is likely to be Mahakumbh, like its predecessor Devon Ke Dev.