Oh, those snakes and ladders
by Khalid Mohamed
March 26 2021, 12:00 am
Estimated Reading Time: 6 mins, 40 secs
Khalid Mohamed reviews the politics-as-usual drama Madam Chief Minister, is brain-boggled by Qubool Hai 2.0 and finds solace in the Marathi film Picasso.
MADAM CHIEF MINISTER (NETFLIX)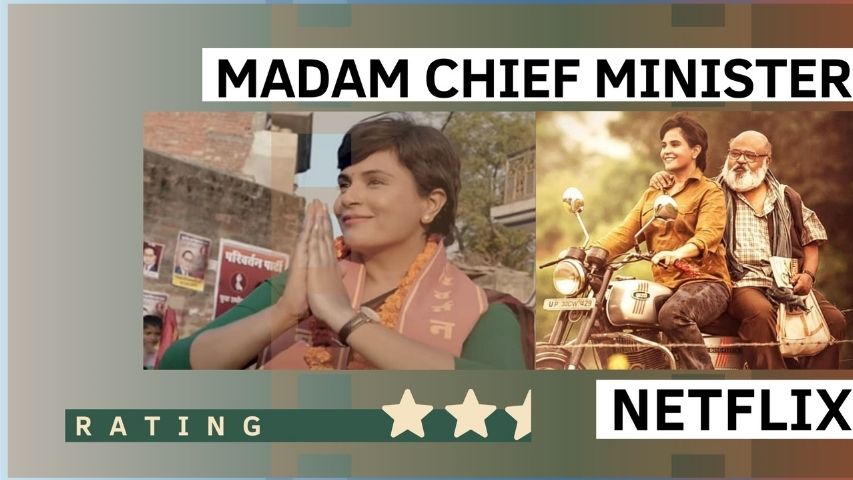 Bad luck or Goodluck Lucknow, the beauteous city, which still retains the allure of old architecture, cuisine and literary tehzeeb, appears to have become a mere sizzling-fizzing hotbed of political power skullduggery and jugglery.
Okay so, in the controversy-assailed Tandav series, all were battling and rattling away to become the PM. In this two-hour-plus feature film, the aspirations are towards the CM's throne. Bemoan. As directed and written by Subhash Kapoor (most famous for the two Jolly MBBS), U.P. is the spot for going down, down, swim or sink, don't think, no exalted power, no glory.
Right-oh, so there's an alliance ('gathbandhan') or rather misalliance of two parties, one's agenda being Parivartan or Change, and the other's Vikas or Development. The Thesaurus might confirm those are synonyms. But gadzooks, shame-o-shame, a sneaky snakes-'n'-ladders game is in progress. Hisssss.
To be fair, this could have been far more plausible and even top-class, only if Subhash Kapoorji hadn't been in a tearing hurry-flurry to get it over with, fast and fumingly. Quantum leap-forwards leave you baffled, like whatever happened to a pregnant woman's to-be-newborn? No need to explain, perhaps, since it's just a weak thorn. Plus, significant characters pop up and vanish, as if they were asked not to return from the lunch break. Quake.
Yet despite the jerky narrative and tropes galore - a meanie sort blessed with an abundant crop of hair shows up bald as an egg later, perhaps to resemble Kojack or Amrish Puri or both. And if the Boss Lady is being killed softly with poison, no hassle, a few scenes later she's as fit as a shopful of fiddles. Divine intervention? To be sure, it's not essential to spell out every bit of cause and effect, the director could leave it to the viewer's imagination. Snag is that Madam CM is not styled as an elliptical, fill-in-the-blanks yourself endeavour.
On the contrary, it belabours every point it predicates, be it by training the camera on the statues and portraits of B.R. Ambedkar, who inspired the Dalit Budhist movement, veiled allusions to the ex-CM of U.P. - Mayawati, a spoken reference to Laloo Prasad Yadav - former CM of Bihar, and those all too familiar cases of horse-trading in forming a kitchen-cabinet.
All this has been done, swabbed and dusted no, before? Still somewhere along the line, you are absorbed primarily because the focus is on Tara Roopram (Richa Chadda), a Dalit, who has endured prejudice and injustice, to now wreak her vendetta against the power-brokers. Invincible, they are not, be it her devious boyfriend (Akshay Oberoi), chauvinistic mantris-'n'-santris, and in a sub-conscious way, her family as well. Reason: she was the fourth girl child who was allowed to be born. Her sisters, because of their gender, had been poisoned. So much poison-talk here. Fear.
Anyway, Tara from the position of a sexually harassed college librarian, won't tolerate subjugation any longer. About time, ma'am. With the infinitely valuable help of a guru (Saurabh Shukla), whose every word is worth its gold to sway public opinion, she steels herself up to make fiery speeches and moves into a cream-'n'-peaches official bungalow on being elected CM. Clap, melikes, especially her startled mother who goes moony-eyed beyond belief on seeing the expensive drapery and furnishings. A poignant moment. Hubble, bubble, toil and trouble ahead.
To assert her secular credentials, our Ma'am marries her devoted Muslim secretary (Manav Kaul in a thankless part) at a public function. Alas, that Amar-Akbari twist in the plot leads to consequences, which are as incredible as Rs.300 currency notes. Gloat, gloat goes the dulha, and even sits on his biwi's CM seat to see how it feels, not quite knowing that his meals are numbered. From this juncture, the dramaturgy is hopelessly punctured.
Now, you wait patiently for the wrap-up, and feel sorry that an enterprise that had tremendous potential to be as hard-hitting as a tight slap on the realpolitik of a beleaguered state, putters to a whimperish end.
Without an iota of doubt, the characterisations of Tara Roopram and her guru, Master Surajban, have a measure of depth. Richa Chadda, in a bravura guts-'n'-entrails performance employs her expressive eyes and accurated-dictioned pitch of dialogue marvellously. Reliably, Saurabh Shukla as the mastermind guru, is in terrific form, never overacting for a nano-second to overshadow his 'shishya'. Such gallantry among co-artistes is rare.
All tasted and undigested, then Madame CM is worth streaming purely for these two actors, who breathe conviction in every frame. As for the technical values, and the direction, they're at best, passable.
Last word: We do need kickass political commentaries in our cinema right now. This one, alas, doesn't dare to kick out, strong and hard.
QUBOOL HAI 2.O (Zee5)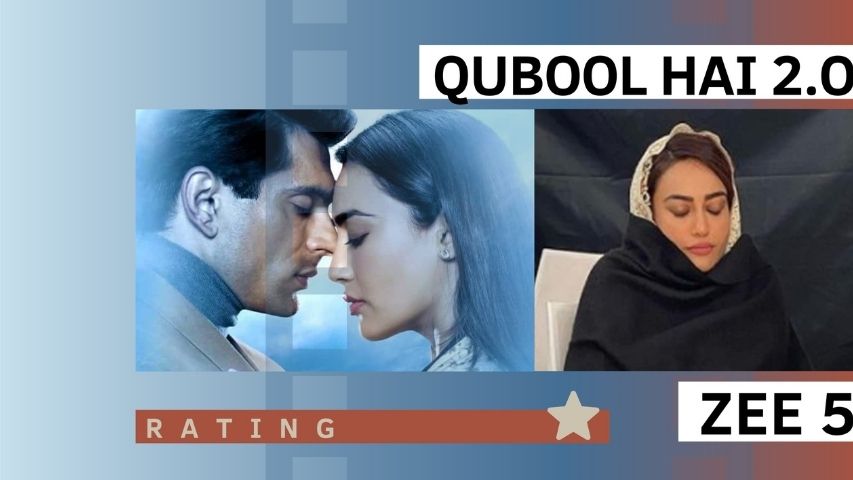 Some seven years later, the oddball series about an Indo-Pakistani romance is back. Located in the postcard vistas of Belgrade, it's quite second-grade though. Directed by Glen Baretto and Ankush Mohla, you're placed in the company of a world champ shooter Asad (Karan Singh Grover), who looks as if he'd seen a ghost on ecountering the runaway bride Zoya (Surbhi Jyoti), from Pakistan. And whaddya know? Secretly he's smitten beyond his woolly mittens and, grativates for a quickie kiss with the jabber-jabberwalli who has changed into his jeans and white shirt in a palatial hotel suite. Noticing his packed rifle, says she airily, "You must be an arms dealer!" She's rude, he broods.
Meanwhile, the bride's family has jetted over a posse of inept goons, who contort their faces into vampirical expressions. By the way, the jazzy jilted fiance is around too to go boo boo. And there are intermittent cuts to a stern-looking invigilator (Mandira Bedi), a hot shot at the Indian National Security Council. If she can figure out the busier-than-a-honeycomb-of-bees proceedings, ulp, why is she only staring into computer consoles? Strange.
Champ shooter and runaway bride, next, land up on a hotel ledge, and frequently engage in querulous conversations, that old Bollywood school device to affirm that they are as nuts about each other as Romeo and Juliet. Bless 'em.
After three taxing episodes, I threw in my towel on the she-and-henanigans. Incidentally, Lillete Dubey is mentioned in the credit rolls. Now that may just prompt me to return to this Belgrade Mein Boom Boom.
Or else I can just save myself from the shockingly teakwood acting of the all-brawn-no-wit Mr Grover complimented by Ms Jyoti who speaks faster than a speeding Land Rover. No, no, thus far zara bhi qubool nahin hai.
PICASSO (Amazon Prime Video)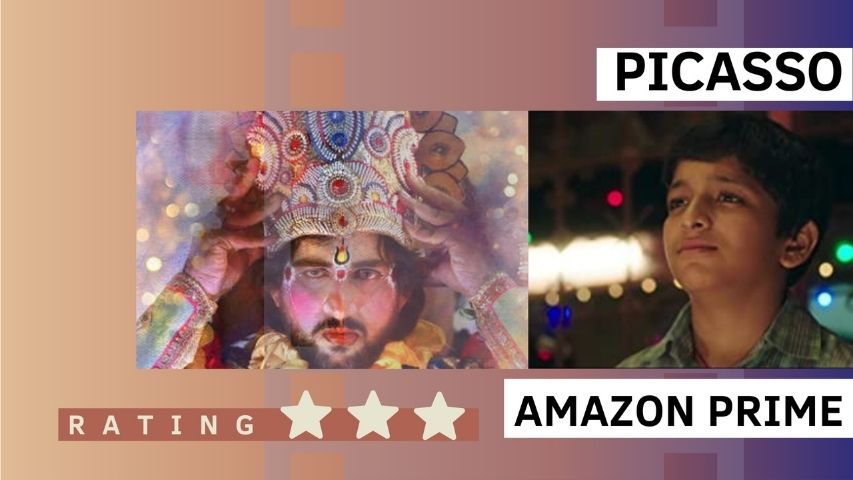 This compact, fluidly narrated Marathi feature gets to your tear-ducts. A promising student artist (Samay Sanjeev Tambe - cute as a button) from a small town school in the Konkan belt - needs Rs. 1,500 with 24 hours to participate in a national competition. Now that might earn him a scholarship to an art academy in Spain. However, his dreams are more than likely to be in vain.
His mother (Ashwini Mukadam) is ailing, his father (Prasad Oak - charismatic) an alcoholic painter of Lord Ganesha idols and occassionally a stage actor at the tradition folklore Dashavatari plays, are helpless to finance their child unless there's a miracle. Can't reveal whether that happens or not. Directed by first-timer Abhijeet Warang, suffice it to say this painted-with-life miniature of a movie is eminently worth a hug.