Rich & Infamous
by Khalid Mohamed
October 9 2020, 12:00 am
Estimated Reading Time: 6 mins, 55 secs
Khalid Mohamed reviews the documentary web series Bad Boy Billionaires, the film Serious Men and more, streaming on channels currently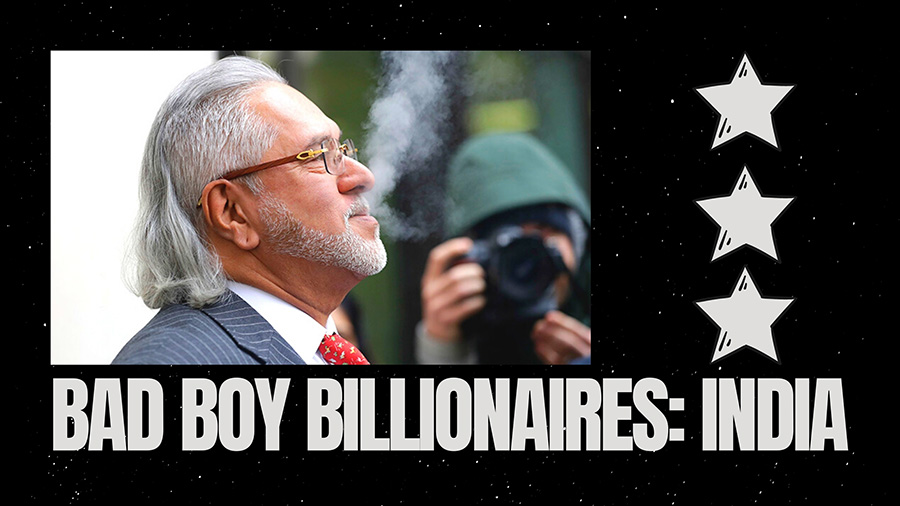 NETFLIX
Right, so here they are - Vijay Mallya the King of Good Times, Nirav Modi the Raja of Diamonds and Subroto Roy, Daddy of the World's Biggest Family - in a documentary web series, which synopsises all their… erm alleged… frauds, scams and miscellaneous misdeeds.
Legal objections had stalled the streaming of this Netblast which was to originally drop on September 2. The episode on Ramalinga Raja, the IT giant of Satyam Computers, is still to be added on, since it hasn't yet been okayed by the law courts.
Now, you don't evidence any new facts or theories, which you didn't know already from the glut of news reports, opinion pieces and one-on-one TV interviews with the gentlemen under fire. Indeed, the series depends excessively on archival footage, bytes from mediapersons ranging from the politically correct to the anger-laced, besides quotes from the trio's executive assistants, and a smattering of those directly affected by the goings-on, which elevated Mallya, Modi and Roy to such dizzy heights that it's a wonder that they didn't suffer from vertigo.
Of the interviewees, an employee of Mallya's Kingfisher Airlines who wasn't paid for months and had to see the pregnancy of his wife through, is particularly poignant. So is the stoic face of a skeletal old woman who continues to pray that her investment in a Sahara scheme, will some day return for her health-care. By contrast, two women rave about diamantaire Modi's generosity in giving them a job and making their everyday life easier. Clearly, the aim of the three different directors who handled each one of the episodes is to perform a balancing act of sorts. Clearly, a social distance is maintained from sheer sensationalism.
The big deal about Bad Boy Billionaires, then, is to be located in its technical efficiency in collating the material in the public domain. The editing, sound and photography teams, not to forget the research squad, are the heroes of the series - which keeps reminding us of Lord Acton's dictum that, "Power tends to corrupt, and absolute power corrupts absolutely."
If some common threads can be discerned about the power-wielders it is their closeness to Bollywood A-listers, their signature sartorial styles, mistrust of the media and yet requiring them for publicity boost-ups. And if you watch closely, a certain savoir faire can be read in the trio's eyes. Mallya is unblinkingly cool, Nirav eyes dart around above an ingratiating smile, while Roy's gaze emphasises 'this too shall pass, hurl any accusations, which you may, I'll survive.'
As a viewer, even though you may be familiar with their differing brands of swag, you're staggered: how could they get away with so much and for so long? The word 'megalomaniac' is applied to one of them. Perhaps that's too facile. Between the frames, you can read that so-called Bad Boys were smart operators and the bubble had to burst some day. Mallya and Modi (plus his ally Mehul Choksi) are still to be extradited, and Roy is out on bail and the story hasn't reached its conclusion yet.
The web series, in sum, is a must-dekko for spelling out the backstory – in a style that has the tempo and plot twists of a thriller.
NETFLIX
The socially-concerned director Sudhir Mishra is back in terrific form (Hostages 2 indicated that he was a bit lost in the bang-bang jamboree). Adapting a 2010 novel by the wryly observant journalist-writer Manu Joseph – his tweets are frequently on realpolitik and constantly hard-hitting – Mishra may have lost some of the punch of the novel in translation. Yet, the 118-minuter is engaging, laced with dark humour and above all, absolutely pertinent in the time of despicable crimes committed in the name of relentless Casteism.
Despite reservations and assorted sops offered to the Dalit community since decades, they aren't accepted within the mainstream as 'us', even if they have attained formal education and jobs, which are seemingly secure. That as many as four writers had to fashion the screenplay however, does point towards the fact that too many brainstorming cooks can spoil the broth. Gratifyingly, it's only to a degree in a bunch of scenes – like an emergency child-birth at a swishy hotel's poolside, the use of the by-now outmoded voice-over device, and the political rally addressed by a Dalit politician's hyper-ambitious daughter.
For the rest of the way, Serious Men is a serious indictment of caste prejudice, which has also percolated deep into the enlightened institutions of the nation's metro cities. This point is represented by the travails faced by a Tamil Dalit migrant Ayyan Mani, who hopes to escape the hellish life led by his wife and 10-year-old son in a chawl room, which was once used as a jail by the British colonialists. From the look of things, quite a few scenes were shot at Worli's BDD Chawls.
The son, unwittingly, becomes a pawn in the chess game played by his father. Showcased as a science prodigy, the kid has no option but to obey his dad's devious tactics to stand out from the herd of convent school students. He listens on mutely as the convent's principal promises a scholarship and other advantages if the family converts to Christianity. Admittedly, this is not fair to the Catholic minority community at all. But for the sake of the dramaturgy, you're willing to overlook the slur.
That Ayyan's Mani plot thickens beyond control, that his child can't endure the burden of pressures any more and that the arrogant chief of the science research institute (devoted to discovering microbes in the stratosphere) eventually has to stumble from his pedestal – these are situations, which are recreated forcefully by Sudhir Mishra. The director wears his suit of conviction perfectly. And, without saying it in so many words, hopes for a triumph of the underprivileged over the exploitative elite, be it in the cities or the rural stretches of the nation.
Incidentally, a truly powerful vignette shows a rain-lashed Ayyan Mani releasing birds to face the storm instead of shuddering helplessly in a cage.
Of the acting crew, Nawazuddin Siddiqui as Ayyan Mani and Nassar as his callous boss, are first-rate. The showstopper however, turns out to be the child actor Aakshath Das as the faux prodigy. His acting instincts are flawless beyond belief.
Here's a slice of real-life cinema, which is fast becoming an extinct genre today.
DISNEY-HOTSTAR
Purported to be a family dramedy set in Allahabad, directed by Sagar Ballary who earlier gave you three Bheja Fries, this one's frankly insufferable. Loud, implausible and straining for laughs, the storyline or a semblance of it revolves around a patriarch Kashiram Nararayan (Gajraj Rao wearing the worst wig in the world). Now in the tradition of Rishi Kapoor in Kapoor & Sons, he summons his children from all over the world to his sick-bed in a hospital.
When they do arrive, he should be on top of the world, no? Far from it. Sons (Yashpal Sharma, Ranvir Shorey) are accompanied by their shrewish wives, and daughter (Nidhi Singh) carries chocolates, which no one devours, not visibly at least.
Next: Patriarch looks more hot and bothered – as a dispute breaks out between his offspring on the family's vast acres of land. To add to the ennui, a theatre actor (Vijay Raaz) covets the property too. What for? Ostensibly, to build a shelter for widowers! Funny or what? And there's a sutradhar (Kumar Varun), the household help, who addresses smarmy comments galore straight into the eye of the camera.
A six-episoder, Pariwar (note the war thing, please if you haven't already), features the kind of family which guarantees a headache, severe or mild, depending on you tolerance threshold.