Deepa Gahlot writes extensively on cinema, theatre, the arts, women's issues for several publications and websites. In the past, she worked for tribal development with an NGO, ran a print features syndicate and wrote for a few short documentaries. She has won the National Award for Best Film Criticism, edited several cinema journals. Her work has appeared in anthologies on women's studies, theatre and cinema. Her published books include, The Prithviwallahs (co-authored with Shashi Kapoor), and biographies of Shah Rukh Khan and Shammi Kapoor, Take 2: 50 Films that Deserve a New Audience and Sheroes: 25 Daring Women of Bollywood.
Related Articles
In common usage, the word chudail describes an aggressive or quarrelsome woman—could be said to be the Indian equivalent of bitch. ...
Read More
A Better Man is the fifteenth book in the Armand Gamache series by Louise Penny, readable as much for the setting of the novels, as for the cri...
Read More
Alfred Hitchcock made Frederick Knott's stage play Dial M For Murder immortal by making a film based on it (in 1954). Vijay Kenkre ...
Read More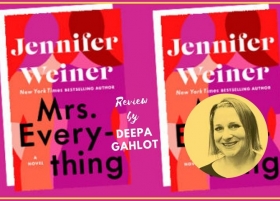 Jennifer Weiner's sprawling novel, Mrs Everything, captures an era in American life, through the criss-crossing lives of two Jewish siste...
Read More
The Gujarati play Shaatir, starring Tiku Talsania in a role quite different from the comic roles he is known for, has been running successfully...
Read More
Where the Crawdads Sing, the debut novel by Delia Owens, a wildlife scientist, has been on the bestseller lists for over a year. Reportedly, Re...
Read More
This is the kind of thing that one could imagine happening in Mumbai. A woman returns from a holiday to find strangers moving into her ho...
Read More
Makrand Deshpande's new play Pitaji Please—should count among his best so far—deals with parental anxiety caused by an offspr...
Read More
This new John Sandford book, Neon Prey, 29th in his bestselling Prey series, is not for the squeamish, featuring as it does, a cannibal as the ...
Read More
There can be no wedding in our country, without high stress and drama, some of which playwright-director Veena Bakshi has captured with humour ...
Read More