Vinta Nanda is the Managing Director of ACEE and CEO of the project THE THIRD EYE. She believes that storytelling and entertainment have the power to change and transform lives, bring well being, security and peace to the world.
Related Articles
I'm a writer, but I am at a complete loss of words when expressing the pain I'm feeling after losing my best friend Rajiv Kapoor, w...
Read More
Vinta Nanda chats with Tarun Agarwal, author of Hope Factory: Business Ideas For Everyone, about his latest book and other thi...
Read More
People are experiences and experiences make interesting stories, says Yashika Begwani to me, writes Read More
Vinta Nanda is on a rollercoaster ride with Renuka Shahane. The two begin from where the actor...
Read More
A secret I have to reveal, if I must go forward with this interview with Varun Inamdar, is that my bedtime stor...
Read More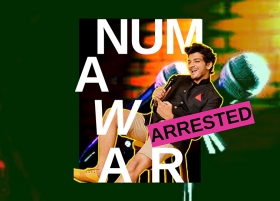 "Twenty minutes ahead in the greatest terrorist attack of the year" – was Arnab Goswami&rsquo...
Read More
Vinta Nanda thinks that one of the greatest pleasures of running The Daily Eye is that you wak...
Read More
Vinta Nanda connects with the film editor Antara Lahiri, and brings to you this very interesting conversation that she had wit...
Read More
Vinta Nanda crosses over from 2020 and opens 2021 with this interesting conversation with Roshmila Bhattacharya - about her bo...
Read More
I first met Suryaveer (it tickles my Panjabiat to call him Veera) in the year 2004, writes Vinta Nanda
Read More