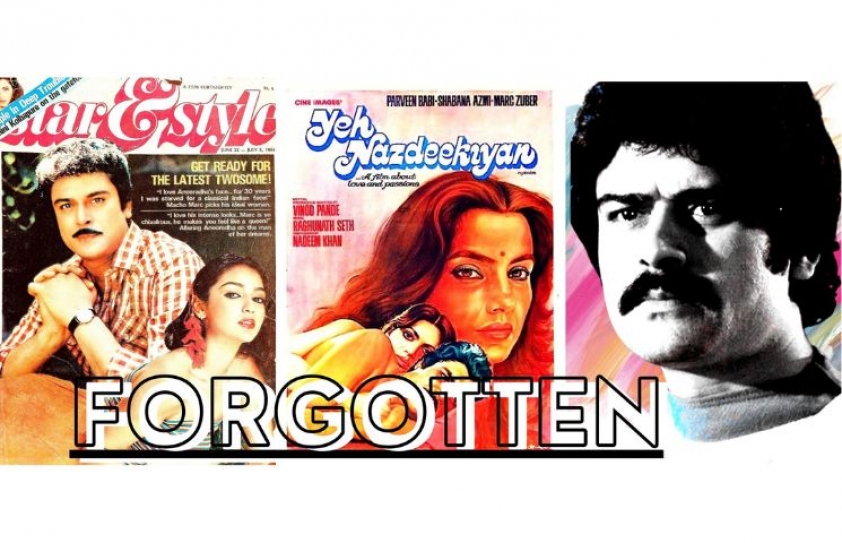 The Forgotten One
by Dhruv Somani
July 3 2022, 12:00 am
Estimated Reading Time: 4 mins, 28 secs
Film historian Dhruv Somani writes on the curious case of Marc Zuber, who had featured in Bollywood and international films.
Right from his unusual name, to his non-desi background with his intense looks, he generated much curiosity from the moment he entered the industry. The mystery of his origins deepened. His several affairs and his fleeting visits to and disappearances from Bombay aroused curiosity. He was the savvy and dashing actor Marc Zuber.
He was born as Zuber Siddiqui on May 5, 1944 in Lucknow. He moved to join his father in London. The name he adopted, Marc Zuber, sounded neither British nor Indian, somewhat like his own predicament then. In fact, he had joked in an interview that the name was suggested by a German girlfriend, who thought it made him sound wealthy.
But in London, filmmakers found the name odd while in Bombay he was thought to be an outsider, an 'angrez', which made him feel rootless. In London then, Indian actors weren't exactly in favor in any case, largely because of the caricatured image created of them by Peter Sellers in the Hollywood comedy The Party (1968).
Marc didn't lose hope though and enrolled in a film training school. Three years of rigorous training in all departments of acting and directing gave him the confidence to kickstart his career. And he hired one of the best agents of London.
In the 1970s, he began with brief roles in A Kiss Is Just a Kiss (1971), Penny Gold and The Satanic Rites of Dracula starring Christopher Lee in the title role (1973), in which he was cast as a guard. Followed blink-and-miss parts in The Wind and The Lion (1975), The Sea Wolves (1980) and The Merchant of Venice (1980).
Plain ennui made him head towards Bollywood. Director Vinod Pande, who was a friend and knew him from London, was making Ek Baar Phir (1980). Soon after that, Pande called him up for a personal meeting. Marc Zuber was about to leave for Sri Lanka for the shoot of a Spanish film but agreed to meet him.
Vinod Pande was so detailed with his presentation and the narration of the role that the actor was impressed. He decided if the film failed, he would return to London and stick to international projects.
Vinod Pande's Yeh Nazdeekiyan teamed Marc with Shabana Azmi and Parveen Babi. It was a film exploring an extra-marital relationship and drew attention as Parveen Babi had just returned from America after a bout of illness. Yeh Nazdeekiyan did fairly well commercially. Marc resolved to remain in Bombay after being uprooted from London where he had spent 30 years of his life.
Fortuitously, his macho image and London accent fetched him modelling and acting offers in Bombay. He would be seen in the company of Shabana Azmi whom he found to be prolific and well read. Parveen Babi and Deepti Naval, too, became close friends, quickly earning him the reputation of a Casanova in the media. This didn't go well down with him though. The image of a hunky male addicted to music, wine and women was contrary to his real-life personality of a shy and conservative loner, quite content with the film offers - both offbeat and masala variety, which came his way.
He was often seen in the company of Mahesh Bhatt and Danny Denzongpa from whom he tried to learn the ropes of direction. Danny had directed Phir Wahi Raat (1980). He was inspired by Shashi Kapoor who made sensible films while being a mainstream cinema hero. Marc had seen 36 Chowringhee Lane produced by Shashi Kapoor and directed by Aparna Sen at a film festival, which left a lasting impression on him. He had also wished to introduce international technicians to Hindi cinema.
After Yeh Nazdeekiyan he was seen in Inteha, Ram Tera Desh, Bhavna, Kanoon Meri Mutthi Mein and Kamla, all in 1984, and Cricketer, Yaar Kasam and Aurat Pair Ki Juti Nahin Hai in 1985. One of his better-known films was released in 1986: R.K. Nayyar's murder mystery Qatl along with Sanjeev Kumar, Sarika and Ranjeeta. The same year he featured in the video film Shingora (1986) enacting bold scenes opposite Persis Khambatta (another actor who had a brief run in Hollywood). He was also cast in Rukhsat (1988) co-starring Mithun Chakraborty and Anooradha Patel, which was directed by Simi Garewal. Rukhsat also got him close to his leading actress Anooradha Patel, which sparked rumors of their involvement. The magazines went overboard reporting their liaison.
Marc Zuber also did three films with the Ramsay Brothers: Telephone and Haveli both in (1985) and Dak Bangla (1987) - they did well at the box office. Some of his other films were Main Tere Liye, Ek Naya Rishta, (1988), Doorie and Sachche Ka Bol Bala (1989), Robin Hood - Prince of Thieves (1991), Divine Lovers (1997) and Jinnah (1998). Jinnah was his last-listed film role that starred Christopher Lee. Zuber played the poet-politician Muhammad Iqbal in this controversial biopic, which drew flak for the casting of Lee over Pakistani actors.
Unfortunately, despite his suave looks and chivalrous attitude, Marc Zuber remained on the sidelines both in India and also in the United Kingdom until his death on May 28 2003. Perhaps today, the scene would have been different for him, as there are many more opportunities for actors both in films and web series.