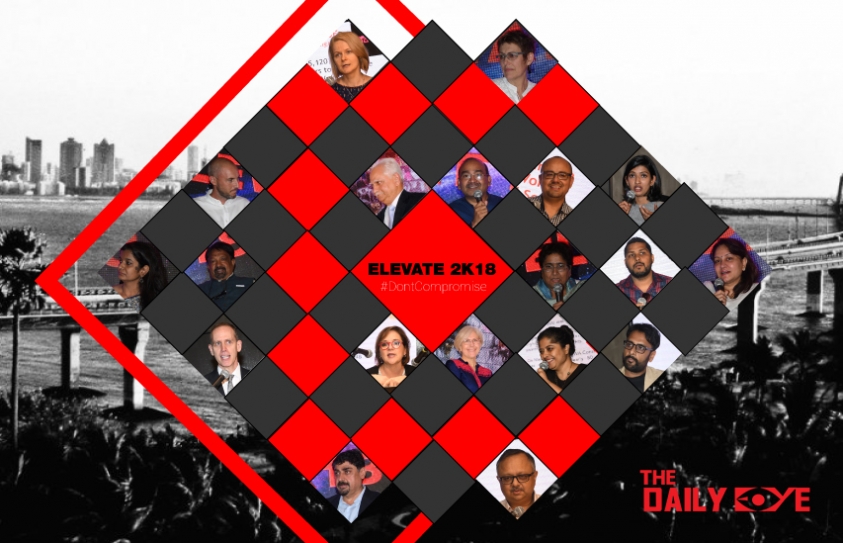 Elevate 2K18 – Deep Gratitude!
by Vinta Nanda
February 28 2018, 7:20 pm
Estimated Reading Time: 8 mins, 46 secs
It was our great pleasure to welcome all our guests to Elevate 2K18 which is Asian Centre for Entertainment Education and its flagship program The Third Eye's, bi-annual conclave for thought leaders of the business of media and entertainment, here in Mumbai. The Third Eye program, which was launched 5 years ago in India, is in partnership with USC Annenberg, Norman Lear Centre's Hollywood Health and Society and funded by the Bill and Melinda Gates Foundation.
Elevate 2K18 was held at on the 15th of February 2018, at a quaint little unassuming hang-out called Tipsy Gypsy at Cinepolis Theatres, Fun Republic, Andheri West, Mumbai.
We are very grateful to our partners for the tremendous support they have provided to us in hosting this meeting of the minds of some of the most powerful people from the field of edutainment in the world, particularly Kate Folb, Director Hollywood Health and Society, Victor Orozco, Economist with the World Bank's DIME unit, Laura Costica, a researcher with the Development Impact Evaluation (DIME) unit of the World Bank's Development Research Group and whose work entails supporting researchers in designing impact evaluations of social programs and coordinating the implementation of these studies on the ground, Maria Correia, Founder of the WeVolve Program and Adriana Cepeda, CEO Cinema Park, a division of Cinepolis Foundation.
I also want to say a very special thanks to P N Vasanti Director General, Centre for Media Studies, Delhi and Alka Malhotra, Communications Specialist at UNICEF India for having gone all out to support this year's conclave.
As we reflect backwards and over the last five years, through the very times in which the industries of entertainment across the world have gone through paradigm shifts because of new and emerging technologies that have reshaped the way we tell stories as well as how we listen to them; we realize how important the idea of edutainment is.
On the 14th February, at a very special reception hosted by us for all our national and international guests, we launched the Raj Kapoor Awards for Excellence in Equitable Media and Entertainment at a wonderful event where we showcased the Unparalleled Showman's works and the inimitable storyteller's life, both of which are a case study in itself on the way we frame the various narratives that define the times that we live in.
Recently when I saw the much-acclaimed film, The Post, and heard the words said by Meryl Streep at the end of the film, "Reporting is the first draft of the history we write", her words struck me.
I started to realize that hundreds of years later, or maybe thousands, when people watch the films we make and listen to the stories we'll have written in this lifetime of ours, they will certainly believe that the way we portray ourselves and our lives today, was who we, their predecessors were once upon a time.
The question is this: Is it really important how the world perceives us after we're dead and gone?
The answer is, yes!
Our identities matter to us.
Who we are and why we behave in certain ways, is a deep concern to everybody.
It is always momentous when such great forces, diverse thought leaders populate a place like the room we inhabited on the 15th February 2018, and when many thoughts connect to each other at one level, and interestingly deviate at another. At Elevate 2K18 this time, it felt like our community was growing in mammoth proportions.
The path we travel in each of our lifetimes is an expansion of the many things that happen around us and which we either absorb or reject, separating the wheat from the chaff at every transformative step of the way that we tread. We may not be aware of it all the time, but we do know that when we take certain decisions, there are very important reasons that help us arrive at them.
So let us admit that we are wired in a way so as not to take things for granted. But then we also end up contradicting this very notion when commercial forces of the business that we work in, compel us to confront the compositions that cable our thoughts on the one hand and on the other hand frame us paradoxically between making us surrender to each other and ironically, challenge each others belief systems as well.
We thought a lot before we started planning Elevate 2K18 and before we themed this years conclave and made it #DontCompromise.
When we don't compromise, we confront and when we bend to ideas that we are in disagreement with, we surrender to forces which negate our identities and perpetuate a fiction that may not be the history we want our future generations to read or for that matter, to believe. Today the world is in turmoil and the only reason for it, I believe is, that the stories we have been telling each other for the last couple of decades, speak down to people.
We were in one room and together on the 15th February 2018, sharing a single space for a whole day in which an array of thought leaders who co-exist within one metaphor which is called the business of media and entertainment, presented their ideas and listened to each other, learning from all the experiences that most of us who are edutainment practitioners, have encountered over the last couple of years; at the time during which we adventured to unknown places and found out how populations from across different parts of the world lead their lives and why their belief systems are at some times similar to ours because we are human beings made from the same flesh and blood and at other times contradictory to each others because our actions are rooted in such different cultures.
I thank all those who made the time from their extremely busy schedules to pitch in their thoughts and take the discussions to a whole new level.
We are in deep gratitude to:
Padmashri Ramesh Sippy - India's best know living legend, who besides being the first recipient of the Raj Kapoor Trophy for Excellence in Equitable Media and Entertainment on the 14th February evening was most powerful as the key note speaker at Elevate 2K18 the very next morning on the 15th February and in which he pledged his absolute support to the Edutainment movement in India.
Kate Folb – Director USC Annenberg Norman Lear Centre's Hollywood Health and Society (HH&S) who shared her vision as well as the milestones achieved by HH&S's experience of working with some of the worlds biggest entertainment
industries.
Dr Shravan Kumar – Joint Secretary Ministry of Culture, Government of India who led a powerful discussion on the several ways in which entertainment becomes the driver of positive change in societies across the world and got his co-speakers Augustine Veliath Co Founder ACEE and Development Consultant and Lee Ritson Co Founder Haylo Media to share their visions as well.
Victor Orozco – Economist with the World Banks DIME unit who walked us through globally acceptable and the most recent paradigms of Impact Evaluation for Edutainment.
Partho Dasgupta – CEO Broadcast Audience Research Council (BARC) who presented how the single most credible audience measurement council which he leads in India embraces diversity and is able to provide the biggest industry of entertainment in the world, accurate cultural and linguistic specific indicators.
Kulmeet Makkar – CEO Producers Guild of India who was candid in his conversation with Victor Olozco and spoke of the challenges faced by an industry, which is globalized today, but which is yet to pierce through the Indian Diasporas to make its presence felt on the world stage.
Laura Costica – Researcher with World Banks DIME unit who shared her experiences of having evaluated interventions in Mexico and Nigeria.
James Fennel – Cultural Affairs Officer US Consulate General Mumbai who showcased the US Consulate Mumbai's partnerships with Indian organizations to provide cultural context to the Gender discourse.
Adriana Cepeda – CEO Cinema Park Mexico who presented the powerful tools adopted by her organization to bring instant feedback and results of audiences reaction to different forms of entertainment.
Raj Shrivastav – Zonal Head West and North India, Network and Brand Solutions at Zee Entertainment Enterprises Ltd., who was generous in sharing the impact of storytelling, targeted to the single TV homes in the Hindi Speaking Markets of India where populations consume Free-To-Air (FTA) channels only.
Varun Gupta – Director Marketing and Creative, Trigger Max Marketing who took the audience through the experience of marketing the recent game-changer, the film Padman.
Manisha Korde – General Secretary Screen Writers Association (SWA) of India who enlightened the gathering about the pivotal role played by one among the most important associations that govern the business of entertainment in India.
And above all else and my most treasured panel of the day which was led by Sujata Khandekar – Founding Director and Secretary, Board of Trustees CORO who was evocative when she parceled her experience of using entertainment as a tool for communication for her work at the grassroots. She talked to a strong set of speakers, whom I also thank from the bottom of my heart.
They were:
Gajra Kothary – Author and writer of Ballika Vadhu among many other TV programs, who talked about how she negotiates powerful content amidst the narrow spaces that the popular and mainstream entertainment industries of India provide her with.
Maria Correia – Founder of WeVolve who talked about how she strategically led the fashion industry to become a powerful platform for the evolution of the Gender discourse.
Noorjehan Safia Niaz – Founder Member of the Bhartiya Muslim Mahila Andolan (BMMA) who was provocative in her conversation when she revealed how difficult it was for her and her colleagues to drive the movement against the practice of Triple Talaq when the universe of entertainment is not supportive in presenting diversity to its audiences and thus limiting the progress of Muslim women because of its near zero portrayal of Muslim cultures or for that matter any of all the other minority cultures among India's diversities.
Anushka Shah – Researcher MIT, Centre for Civic Media, who shared vision on the numerous approaches that are presently emerging in bringing positive change among populations, through media and entertainment.