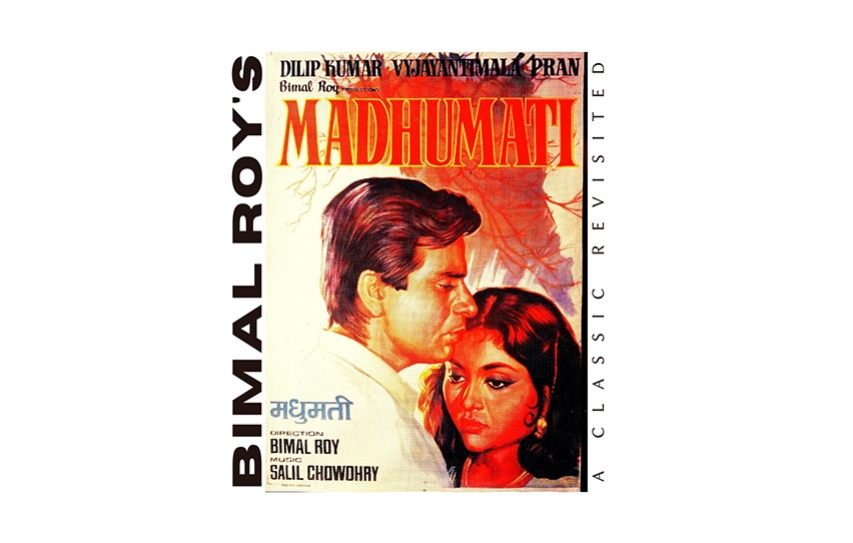 Madhumati: A classic revisited
by Dhruv Somani
January 23 2021, 11:19 pm
Estimated Reading Time: 6 mins, 35 secs
Film historian Dhruv Somani flashbacks to Bimal Roy's classic ghost story, which continues to be mint-fresh today.
Bimal Roy's Madhumati (1958), is an enduring classic. An agonizing saga of love, sacrifice, deceit and suspense continues to inspire filmmakers even today. At times, Madhumati did give you the similar vibe of Kamal Amrohi's Mahal (1949) because of its eerie ambience. Still, in its own way it was unique and trendsetting.
Dilip Kumar and Vyjayanthimala, the stars of the auteur director's widely-lauded Devdas (1955) were paired again supported by Pran, Johnny Walker, Jayant, Tiwari, Jagdish Raj, Sheojibhai and Tarun Bose. Made by Bimal Roy Productions, the story of Madhumati was written by Bengal's eminent director Ritwik Ghatak with the dialogues by Rajinder Singh Bedi. The music, which played a major role in its success, was by Salil Chowdhury, but unbeknownst to many, Dilip Kumar had wanted his favorite Naushad as music composer and Shakeel Badayuni as lyricist. However, Bimal Roy had stuck to his choice of Salil Chowdhury and Shailendra.
A ghost story was in sharp contrast to the style of Bimal Roy's trademark social realism. Indeed, Madhumati continues to raise questions and speculations about its origin even after 63 years of its release.
I was fortunate to come across a vintage interview of cinematographer Dilip Gupta during the research work for my four-volume anthology on Suspense, Thriller and Horror cinema – A Touch of Evil - released in 2018, which had discussed the story and the unforgettable opening scene of Madhumati. The scene was shot at night, a few kilometers from the Khapoli exit on the Western Express Highway. The shooting was done just a little before night, showing Dilip Kumar's car coming through the Ghats. Certain parts of the Ghats were seen through the headlights of the vehicle. The roads had to be depicted as wet because of torrential rainfall with thunder and lightning as the camera moved its focus to a desolated mansion, reviving the memories of Mahal.
The super success of Mahal had opened the doors to the other world of the unknown and unexplained. The audiences seemed to want more servings of Gothic elements, suspense and reincarnation. Similarities were inevitable: in the opening sequence of Mahal its protagonist Harishankar (Ashok Kumar) is shown knocking on a massive door of a mansion he has recently bought. In Madhumati, too, the protagonist Devendra Babu knocks on a massive door, asking for shelter on a stormy night - but the similarity ends there.
Madhumati opens to a stormy night where the two, Devendra and his doctor friend, seek refuge in an abandoned haveli since their journey is stalled because of a landslide on the Ghats. Devendra knocks on the door but there's no response. He then finds a chord hanging by the door and pulls it. Immediately, the door cracks open revealing the massive mansion. Devendra's friend looks amused, wondering how he knew there was a chord for the doorbell.
Once inside the haveli, Devendra feels a certain familiarity, and senses that he has some unfinished business to complete there. A tattered, worn-out portrait of Raja Ugra Narayan takes him back in time to recall his own brush strokes while attempting the portrait. He falls asleep only to be woken up by the sounds of a wailing woman and her anklets. Next, he rekindles his past with the words, "Mujhe Yaad Aa Raha Hai."
Beautifully shot in black-and-white, the torn white curtains fly across his face to kick-start a flashback. In his past life Devendra was Anand, who was newly appointed as the manager of the timber estate of Raja Ugra Narayan. Anand, a no-nonsense guy stops the malpractices followed by the estate workers. During one of his strolls, he hears an enchanting voice echoing from across the valley. The theme song Aaja Re Pardesi, rendered by Lata Mangeshkar, keeps playing at pivotal moments. Apart from its introductory westernized flute, the song sounds eastern, designed for a village girl from the hills. According to an interview with the late Debu Sen, who had been an assistant to Bimal Roy right from his film Yahudi (1958), Aaja Re Pardesi was shot at a dam at Igatpuri.
The mystery is solved when it is realized that the voice is of a beautiful village girl, Madhumati, the daughter of Panraja who was the banished king of the village. Ugra Narayan, the tyrannical landlord, had raised chaos in the village, his horse almost trampling a child. Anand had questioned him for his savage behavior. Consequently, Anand becomes the hero of the village. Madhumati becomes fond of the stranger. Ugra Narayan accidentally sees Madhumati and is mesmerized by her beauty. He hatches a plan to kidnap her in the absence of her father, and Anand is sent away to Neelpur on the pretext of some work. On a dark stormy night, the caretaker of a Dak Bangla is informed about the news of Anand's fake accident.
The news reaches Madhumati who runs hysterically to the haveli to see her beloved. The evil Ugra Narayan tries to molest her, but she escapes into the labyrinthine corridors of the haveli. Both Madhumati's father and Anand are unable to find Madhumati but they learn about the details of the incident. Anand then frantically looks for his love but all he hears is her soulful voice. The plot thickens when he encounters Madhavi, a look-alike of Madhumati, who helps him to compel Ugra Narayan to admit to his crime. Ensues a thrilling, nail-biting climax.
Madhumati went on to become one of the most commercially successful films of the 1950s. Its music is imperishable; a relaxed Dilip Kumar lip-syncing Suhana Safar Aur Yeh Mausam Haseen was his introduction scene, which drove women crazy since he was the undisputed king of romance. Film music lovers cherish all the songs - Zulmi Sang Aankh Ladi, Chhad Gaya Paapi Bichhua, Dil Tadap Tadap Ke, Ghadi Ghadi Mora Dil Tadpe and Toote Huye Khwabon - to date.
Incidentally, the haunting melody Aaja Re Pardesi can be heard in the background score of Raj Kapoor's Jagte Raho. Shailendra was the one to suggest Salida, who happened to be the music director of both these films. Fascinated by the background music of Jagte Raho, the lyricist persuaded the composer to use the melody as a song in Madhumati. Salil Chowdhury won his only Filmfare award for Madhumati. Released on 19 September 1958, it ran for 24 weeks in Bombay's Roxy Cinema just a week short of its silver jubilee.
Pran as Raja Ugra Narayan played a fear-inspiring part, which became a role model for future villains. Pran's association with Bimal Roy can be traced back to Biraj Bahu (1954) and Devdas (1955). It is difficult to write about Madhumati in just one article. I truly recommend fans to read the insightful book Madhumati – Untold Stories from Behind the Scenes (published by Rupa Books) and penned by Rinki Roy Bhattacharya (daughter of director Bimal Roy) to fully understand this masterpiece. I was so awed by the book that I went on to see the film repeatedly.
It's no secret that Madhumati became a source of inspiration for Bollywood films on the subject of reincarnation. Example: Janam Janam (1988) made by Ajay and Sunil Goel starring Rishi Kapoor, debutante Vanita along with Danny Denzongpa, Amrish Puri, Aruna Irani and Gulshan Grover, which however, tanked at the ticket counters.
Then there is the Farah Khan-directed Om Shanti Om (2007) starring Shah Rukh Khan, Deepika Padukone, Arjun Rampal, Shreyas Talpade, Kiron Kher and Bindu, which owes quite a bit of its hit status to the incendiary climax that was, coincidentally or not, pretty similar to that of Madhumati.